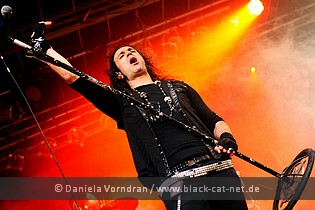 Castle Broich, Mülheim, Germany
1st to 2nd July 2011
Castle Rock Festival 2011 Day 1: Moonspell, End of Green, Merciful Nuns, Leichenwetter

Mülheim's Castle Rock festival, meanwhile advanced to cult status, entered its twelfth year in 2011 and was coming up with a top line-up leaving nothing to be desired for fans of darkly romantic rock music and brachial sounds. That this festival is a highlight in the Ruhr area was once more proven by the fact that it was sold-out. The first day of the festival was placed on dark, guitar tinged sounds being headlined by no one less than MOONSPELL. Apart from the music, the location offers a lot of possibilities to roam the landscape around the castle in-between your favourite bands, get something to eat or drink and just hang around. Sadly, the weather on Friday was not perfect, it was pretty cold and cloudy, but at least there was no rain.



Leichenwetter

LEICHENWETTER were initiated already in 1996 in an effort to bring back to life the poems of dead German poets in a new fashion. The first release accomplishing this was the EP 'Nachtwerke' in 1998, followed by the EP 'Schönheit ist Rauh' in 2001. They remained true to their tradition up to the present day with impressive 6 albums under their belts. The latest one is 'Zeitmaschine' (Timemachine) and as the title indicates is a kind of retrospective, released in this year's May. LEICHENWETTER is Numen (vocals), Dawe (guitar), Lord Hur (E-bass), RaweN (drums) and Der Voigt (orchestral navigation). http://www.leichenwetter.de / http://www.facebook.com/leichenwetter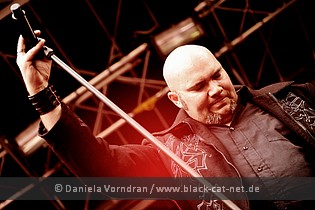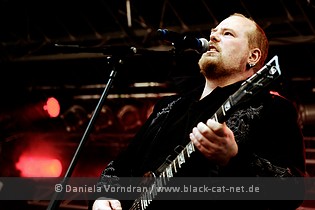 Music & Performance
As already said, LEICHENWETTER clothe poems of dead German poets into an new dress made of dark metal with classic and electronic influences. Even though the band already has released six albums, the set presented at Castle Rock only contained songs out off the latest two, 'Legende' and 'Zeitmaschine', starting off with current 'Altes Lied' (Zeitmaschine) by Heinrich Heine. From same poet, the band later on presented a second song, 'Romanze zur Nacht', released on 'Legende'. All in all, they presented ten songs from well-known German poets, like 'Chor der Toten' (Goethe), 'Sehnsucht' (Schiller) or 'Herbstseele' (Nietsche). With their music, the band definitely divided the audience. Some really loved it, some just hated it. And I really need to say that the stuff presented is nothing easy going. Maybe last song, a cover version of FALCO's 'Out of the Dark', found most lovers in the audience. Before this song was played, the band endured some technical problems, solving took a while, and so, one song ('Herbstseele') had to be skipped.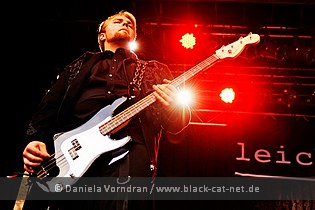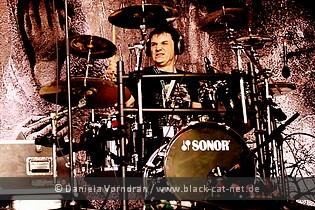 Setlist
01. Altes Lied (Heinrich Heine)
02. O schweig (Clemens Brentano)
03. Schwanenlied (Gottfried August Burger)
04. Letzte Worte (Annette von Droste-Hülshoff)
05. Romanze zur Nacht (Heinrich Heine)
06. Im Nebel (Hermann Hesse)
07. Chor der Toten (Johann Wolfgang von Goethe)
08. Erlkönig (Johann Gottfried Herder)
09. Sehnsucht (Friedrich Schiller)
10. Herbstseele (Friedrich Nietzsche) – planned but not played
11. Out of the Dark (Falco Cover)

Rating
Music: 6
Performance: 7
Sound: 7
Light: - (daylight)
Total: 6.7 / 10


Merciful Nuns

The famous GARDEN OF DELIGHT hardly had been put to rest as the band's mastermind Artaud Seth comes up with a new project, named the "legitimate successor" to the aforementioned band. The band itself calls it "Pure retro Goth". Three years after the last regular GARDEN OF DELIGHT (GOD) album, the new band's first album 'Lib.1' as released in June 2010 on Solar Lodge label announcing a revisiting of the sound of the eighties and early nineties. The EP 'Body of Light' followed also in 2010. In 2011, the EP 'Ancient Astronauts' and a second album 'Hypogeum II' followed. They even released a live DVD/CD so far, called 'Infinite Visions', recorded during a concert in Berlin on 23rd April 2011. MERCIFUL NUNS are Artaud Seth (vocals), Jón (guitar) and Jawa (bass). http://www.mercifulnuns.com / https://www.facebook.com/pages/Merciful-Nuns/145696075454608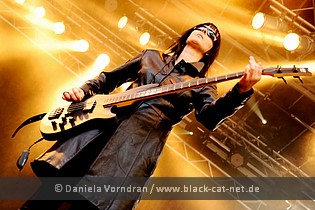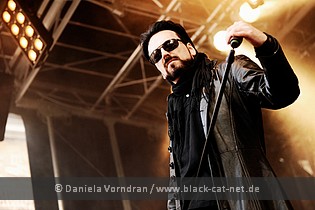 Music & Performance
Second on that Friday evening was Artaud Seth with his NUNS. Since they are only three people without many instruments on stage - there was just guitar, bass and microphone - the stage seemed a bit empty, but smoke covered it most of the set. As said by the band's mastermind, MERCIFUL NUNS play pure retro Goth, and so, they also did not have the intension to do something completely new. They didn't reveal another future sound. Instead, you felt somehow a little like on a show of good old GARDEN OF DELIGHT, just with a smaller line-up and without big banners and flags on stage. What stayed the same were the immense masses of smog blown on stage to create a pure Goth atmosphere and the super cool behaviour of bass player Jawa. If you like old GOD or THE SISTERS OF MERCY, you definitely also like the NUNS.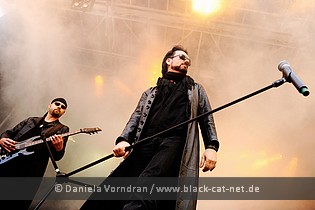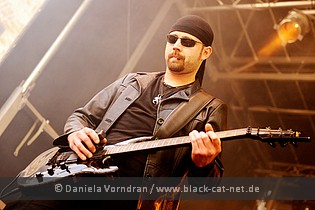 The band presented songs out off all their releases during the Castle Rock show, i.e. as first song 'The Equinox' from 'Lib. 1', a true Goth hymn, or 'God / Aeon' from the same album ending the set. Even though Artaud Seth is usually not speaking to his audience, he at least introduced his band at the end of the show.

Setlist
01. Intro (The Equinox)
02. Body of Light
03. Nunhood
04. Morphine Queen
05. Ancient Astronauts
06. Evolution
07. The Eclipse
08. Hypogeum
09. God / Aeon

Rating
Music: 8
Performance: 7
Sound: 7
Light: 8
Total: 7.5 / 10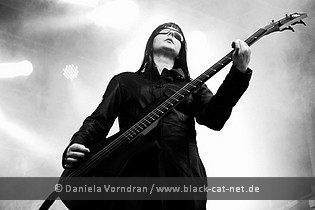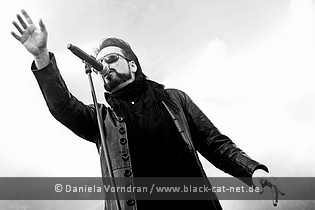 End of Green

The German band END OF GREEN founded in 1992 in Stuttgart and back in the beginnings they played a mixture of Goth Rock and Metal. According to singer Michael Huber, the band name symbolizes the end of hope, associated with the colour Green. A few line-up changes and demos later, they eventually signed a deal with Nuclear Blast and released the debut 'Infinity' in 1996. Soon afterwards the band and the label broke up again and unleash the next album on the new Subzero Records label. Constant touring with acts like PARADISE LOST, IN EXTREMO or IGGY POP provides for a growing fan base that waits until 2002 until 'Songs for a Dying World' is released, finally. It just takes one year for them to come up with the next record 'Last Night on Earth' in 2003. The seventh and newest album 'High Hopes In Low Places' hit the shops in August 2010. The current line-up is as follows: Michelle Darkness (vocals), Michael Setzer (aka Sad Sir - guitar), Oliver Merkle (guitar), Rainer Hampel (bass) and Matthias Siffermann (drums). http://www.endofgreen.de/ / http://www.myspace.com/endofgreen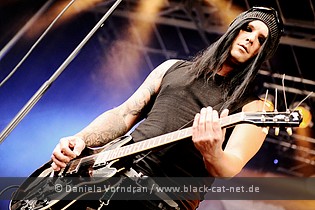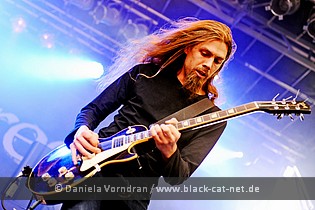 Music & Performance
At this slot, originally ZEROMANCER were planned to play. But there were sad news recently. Band leader and bassist Kim Ljung is very sick and so the band had to cancel. And so, END OF GREEN jumped in. Before the band started, festival promoter Michael Bohnes held a little speech thanking ZEROMANCER and END OF GREEN and especially the fans for understanding. As soon as he left the stage EOG appeared to start the set quite powerful with 'High Hopes in Low Places' from the latest, same titled album, even though the vocals were a bit too low during this first song. But the sound improved latest with second song 'Dead City Lights'. When 'Killhoney' had finished, Michelle took a short break, just to say that guitarist Oliver had his birthday and was turning 34 just the day before. Besides that, Michelle was playing the Goth-Rock star par excellence reminding a bit of Ville Valo (HIM) when holding his cigarette constantly while performing.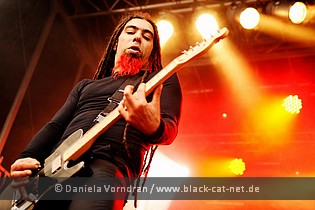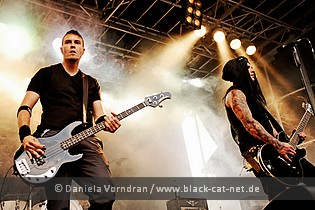 When 'Sunday Mourning' ended, the band wanted to leave the stage but all of a sudden, they realised that there was some time left and so they could play one more song, 'Death in Veins'. When they finally left, loud screams for encores appeared, but now there was finally no more time for an addition.

Setlist
01. High Hopes in Low Places
02. Dead City Lights
03. Demons
04. Under The Sway
05. Killhoney
06. Saviour
07. Hurter
08. Goodnight Insomnia
09. Die Lover Die
10. Tie Me A Rope
11. Sunday Mourning
12. Death In Veins

Rating
Music: 8
Performance: 9
Sound: 7
Light: 8
Total: 8 / 10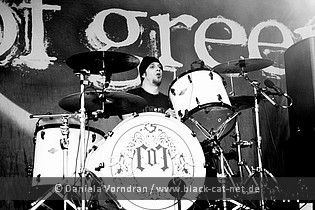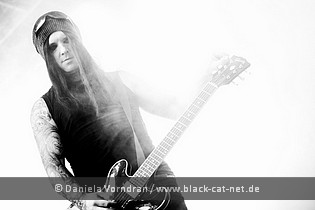 Moonspell

The band was founded as MORBID GOD in 1989 by Fernando Ribeiro. Until 1992 they recorded some demos and then decided to change the name to MOONSPELL. After the release of mini-album 'Under the Moonspell', the band signed with Century Media for six albums. Their debut 'Wolfheart' initially received only sparse attention but later it was to be considered as a milestone in the history of Portuguese Metal. Simultaneously it was the springboard for an emergent career. The second album 'Irreligous' came out in 1996 and sold over 10,000 copies and that only in Portugal. The band entered a rather experimental path with their following albums 'Sin/Pecado' (1998) and 'The Butterfly Effect' (1999) to return into more confided but matured territory after that period. 'Night Eternal' from 2008 is their most recent album, but MOONSPELL are reported to be working on a new one to be released this year. MOONSPELL is Fernando Ribeiro (vocals), Ricardo Amorim (guitar), Pedro Paixão (guitar, keyboards), Aires Pereira (bass) and Miguel Gaspar (drums). http://www.moonspell.com/ / http://www.myspace.com/moonspell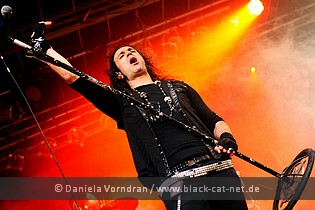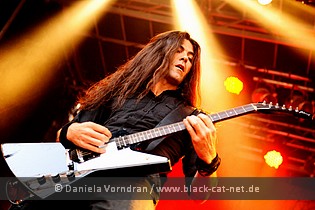 Music & Performance
Announced as headliner of the evening, the band occurred some technical problems during their rebuilding break. And so, the set started 15 minutes later than announced. But when it finally started, it kicked off with full power and the hits 'In Memoriam' and 'Finisterra' from the 2006 album 'Memorial'. Starting as a Black-Metal band, now MOONSPELL presents Dark / Gothic Metal and just delivered an exciting dark show with lots of smoke where also a lot of head banging could be spotted. Even though MOONSPELL are reported to be working on a new album, aimed to be released in 2011, and many people hoping for a new song, no one made it into the set. Instead, the band came up with some really old stuff from the first album 'Wolfheart', namely 'Wolfshade', 'Love Crimes' and '…of Dreams and Drama'.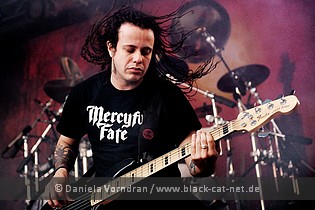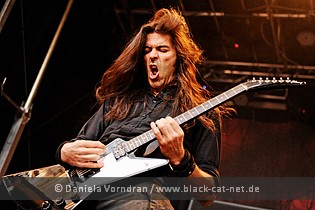 Other highlights of the set were surely 'Opium', 'Nocturna' or 'Alma Mater'.With 'Fool Moon Madness', MOONSPELL was releasing the crowd into the night. This was definitely a pretty good ending of the first festival day.

Setlist
01. In Memoriam
02. Finisterra
03. Night Eternal
04. The Southern Deathstyle
05. Nocturna
06. Scorpion Flower
07. Wolfshade (A Werewolf Masquerade)
08. Love Crimes
09. …of Dreams and Drama
10. Vampiria
11. Alma Mater
12. Opium
13. Awake!
14. (Herr) Spiegelmann
15. Mephisto
16. Full Moon Madness

Rating
Music: 9
Performance: 9
Sound: 8
Light: 8
Total: 8.7 / 10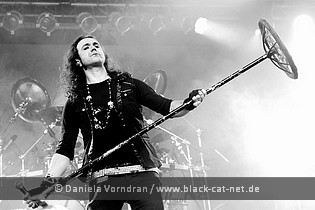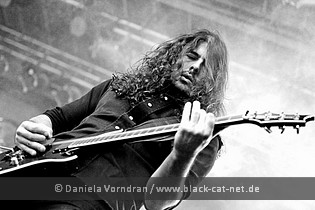 All pictures by Daniela Vorndran (http://www.vorndranphotography.com / http://www.black-cat-net.de/ / www.myspace.com/vorndranphotography / www.facebook.com/blackcatnet)



See also (all categories):