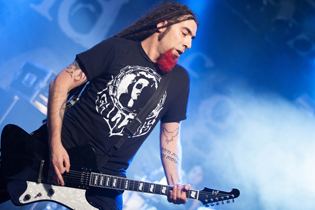 Substage, Karlsruhe, Germany
9th November 2012
End of Green

Happy birthday, END OF GREEN! Under this slogan (OK, granted, it's "20 Years of Selfdestruction", but let's not get picky here), the Goth-Rockers from Swabia are finally touring again. And this fact - plus the announcement of a deluxe-set across 20 years of band-history - were reason enough to take the trip to Substage Karlsruhe and see what END OF GREEN got for their fans.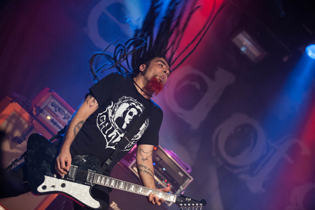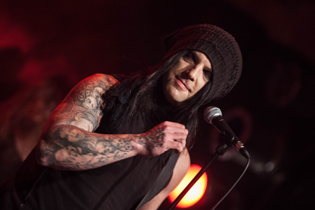 After a true odyssey through Karlsruhe (never trust a map which gives you another zip code for an address of a parking area which should only be hundred meters away from your destination) and parking besides a huge funfair (if that's nothing which creates the right mood for an EoG concert… erm….), the concert could finally begin at about 21:00 in the moderately crowded Substage – with about 150 present people, enough people were there to create a nice atmosphere, less enough to purchase a beer without having to wait for hours), but a little bit disappointing for an anniversary tour…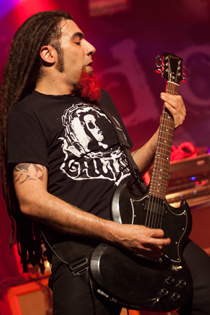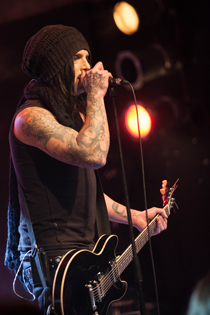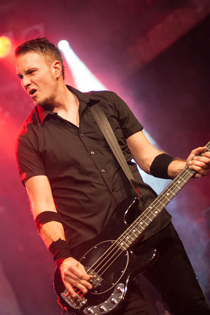 The band entered the stage, being on tour without support band, directly and visibly cheered up, and instantly started rocking the crowd with 'Motor'. Michelle Darkness himself, as usual, got along without huge or enthusiastic stage acting, besides commenting or announcing songs with a dry sense of humour, for example when he joked that he was the only person to smoke within Substage (something he did even while performing), but the string fraction, especially Sad Sir (complete with his trademark red beard and dreadlocks) and Hampez, made up this one by greatly posing, head banging and swaging on the stage cheerfully. Concerning the setlist, END OF GREEN presented their fans a very diversified set – as promised. 'Motor', 'Hurter', 'Speed My Drug' or 'Drink Myself to Sleep' – name any popular song, they played it, from the more calm songs to the rockier ones like 'Goodnight Insomnia' or 'Dead End Hero'.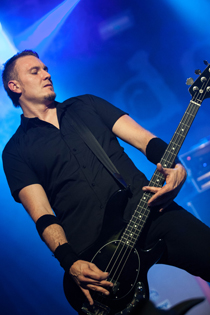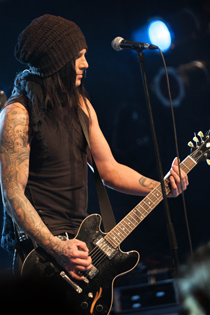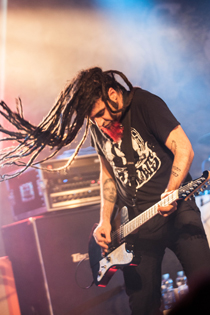 In the middle of the gig, there then was a funny moment when Michelle Darkness asked if anybody brought a cake to EoG's birthday – and a female fan indeed handed him a gingerbread heart, obviously from the nearby vanity fair. A moment of "win" for the girl, leaving Michelle a little bit speechless, but smiling. Summed up, the concert (which sported an insane length of about three hours!) was a great experience: The band had fun, the audience of course too, great sound and photographer-friendly stage lights (which indeed made up for the missing pit) – very much fun for little money. www.endofgreen.de/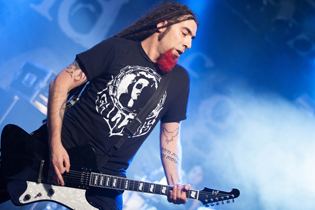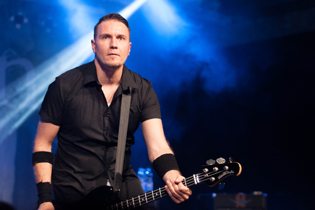 Setlist
01. Motor
02. Away
03. Dead City Lights
04. Evergreen
05. Demons
06. Dying in Moments
07. Under the Sway
08. Killhoney
09. Speed my Drug
10. Hurter
11. Fallen Angel
12. Sick One
13. I Hate
14. Weakness
15. Tormented Sundown
16. The Only One
17. Cure My Pain
18. Pain Hates Me
19. Drink Myself to Sleep
20. Die Lover Die
21. Bury Me Down (The End)
22. Tie Me a Rope... While You're Calling My Name
23. Goodnight Insomnia
24. Death in Veins
25. Dead End Hero
26. Queen of My Dreams
27. Slaves
28. Nice Day to Die

Rating
Music: 8
Performance: 7
Sound:8
Light: 8
Total: 7.7 / 10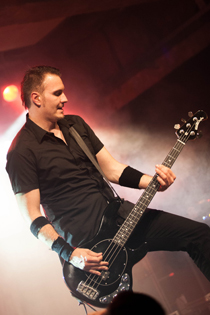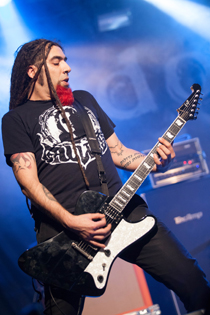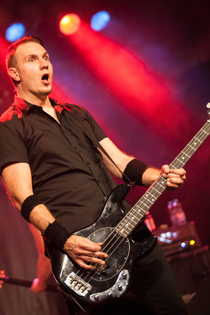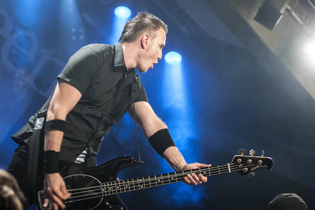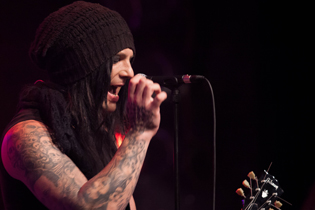 All pictures by Kai Bimber



See also (all categories):