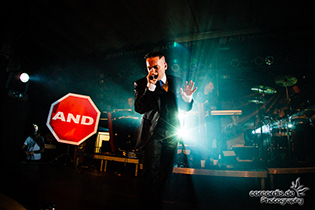 Haus Auensee, Leipzig, Germany
16th November 2012
And One, Welle:Erdball, Melotron, !distain

a lot of trouble happened in the past month about this tour that originally was planned as a DEPECHE MODE cover tour by AND ONE. Lots of things have changed, not only the content of the tour being now a "normal" AND ONE fill-time show, also the line-up and the dates. But finally, there was the concert in Leipzig coming…



!distain

Founded in 1992 by Alexander Braun, Oliver Faig und Sebastian von Wyschetzki !DISTAIN became a well-known German electro-pop band. Several record releases and many concerts later, Oliver Faig und Sebastian von Wyschetzki were leaving the band in 2002 for spending more time with own musical ideas. Lead Singer Alexander Braun and Manfred Thomanser continued the project as a duo. In 2011, already known as a live- member on stage, Rick Prokein became a steady band member and completed the band. This year the band released their song 'Monokultur' and played several live shows also with OND ONE at their "S.T.O.P. fulltime show". www.distain.de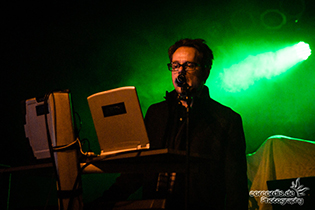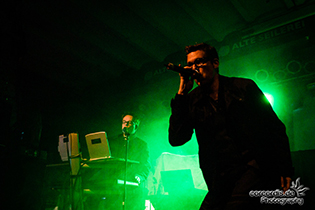 Music & Performance
The first band at a concert has always the hardest part when playing. And so distain had to fight with a really bored and not really interested crowd. Most people ignored just what they did on stage, got another beer or listened to the thoughts in their heads. I didn't even know the band until that evening, but I have to say they were not that bad. They played some kind of dark wave mixed with synth pop and the singer reminded me of Markus Lanz, a German TV presenter. Some people thought the same and were telling their neighbours while laughing. Their show on stage was okay but also made people laugh from time to time. In my eyes, they should improve it a bit to make it look less silly and get some advice from the concert visitors. A performance on stage is not the most important thing of a concert, it's the music and this was really good electro-pop with some dark wave influences.

Setlist
01. Tears Of Joy
02. Why (Bootlicking Hypocrites)
03. Sex'n'Cross
04. Monokultur
05. Confession

Rating
Music: 7
Performance: 7
Sound: 9
Light: 8
Total: 7.5 / 10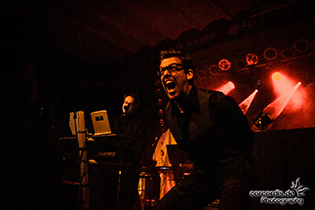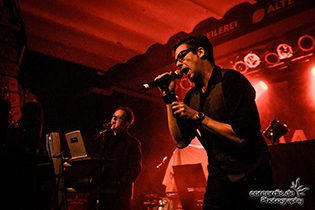 Melotron

MELOTRON is a renowned Synth Pop trio from Germany which was formed in 1996 and is known for their beautiful catchy songs with German lyrics regardless of which they've a still growing international following. Over the years they released six albums; the current album called 'Propaganda' and was out in February 2007.A new yet untitled album is currently in the works. MELOTRON are Andy Krüger (vocals, composition), Edgar Slatnow (keyboard, lyrics) and Kai 'Hilde' Hildebrand (keyboard, programming). http://www.melotron.com

Music & Performance
To be honest, I don't know a lot of lyrics by MELOTRON and have never seen them live before and so I was pretty surprised to see them on stage. I was expecting a more serious atmosphere which is to be found by a lot of bands in that genre.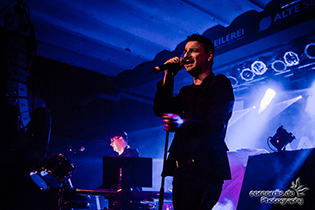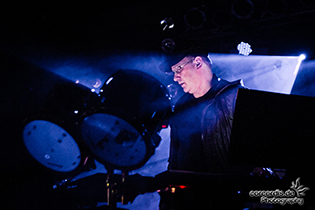 Andy welcomed the audience really cheerful and looked like he had fun. The audience enjoyed his really fun way to lead from one song to another. There were a lot of EBM fans and even they were nodding their heads a bit to the sound of 'Menschenfresser'. I liked the song very much in fact it reminded me of my not so long gone youth when I was going out every weekend to dance to synth pop. They did a really good show – a perfect mixture of infecting the people in the crowd with good atmosphere and really great sounding synth pop music.

Setlist
01. Der Anfang
02. Stuck in the Mirror
03. Gib mir alles
04. Menschenfresser
05. Love is calling
06. Brüder

Rating
Music: 9
Performance: 9
Sound: 9
Light: 8
Total: 8.8 / 10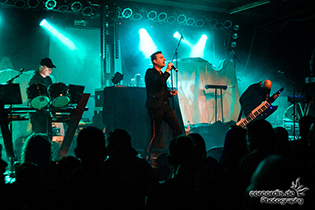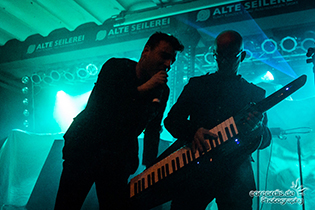 Welle:Erdball

Formed as HONIGMOND in 1990 and renamed to WELLE:ERDBALL in 1993, the German well-known Electro Pop band WELLE:ERDBALL is supporting AND ONE on their "S.T.O.P. Fulltime show". The debut album 'Frontalaufprall' was delivered in 1993, followed up by several albums. With its affinity to Fifties style and their C64 as steady band member the band became really popular in Sweden and Denmark too. WELLE:ERDBALL is Honey (lyrics, vocals), A.L.F. (music, programming), Fräulein Venus (percussions, vocals) and Plastique (percussions, vocals). http://www.welle-erdball.info / http://www.myspace.com/funkbereit / https://www.facebook.com/WelleErdball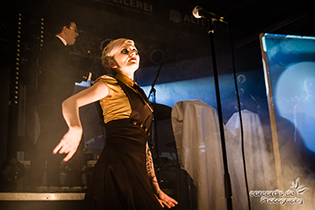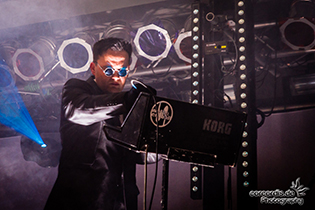 Music & Performance
After having seen 2 bands before the audience reacted less frozen to WELLE:ERDBALL. Some people had been waiting only to see them on stage and so it happened that a mid-thirty woman appeared right next to me in front of stage and amused the people around her. She was not only a huge fan and screaming like a school girl for a boy band but also showed us what she got. She was kissing her boyfriend really intense and started to get rid of her blouse which pretty much entertained the people next to her. The more songs WELLE:ERDBALL played, the more buttons of her blouse seem to be opened by themselves. Some of the EBM fans in the audience didn't like the music they played but got more interested when the girls, especially Plastique, entered the stage.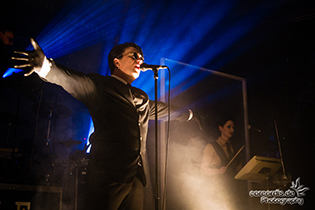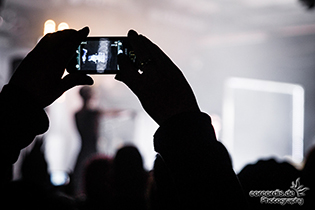 Songs like 'Arbeit adelt' and 'Schweben, Fliegen, Fallen' were song by the audience and the band and even the last not interested guy got his eyes on stage when Plastique and Venus came on stage only wearing underwear while performing 'Telephonsex'.

Setlist
01. W.O.L.F
02. Wir wollen keine Menschen sein
03. Die deutsche Liebe
04. Lass uns ein Computer sein
05. Arbeit adelt
06. Ich bin aus plastik
07. Schweben, Fliegen, Fallen
08. Computerklang
09. VW-Käfer
10. Starfighter F104G
11. Feuerwerk
12. Telephonsex
13. Monoton & Minimal
14. Es geht voran

Rating
Music: 10
Performance: 10
Sound: 9
Light: 8
Total: 9.3 / 10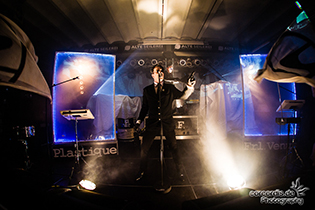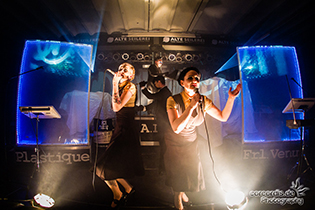 And One

After Chris Ruiz and Gio van Oli leaving the band, AND ONE now consists of Rick Shah, Joke Jay, Nico Wieditz and of course Steve Naghavi. AND ONE released their debut single 'Metalhammer' in 1990. The first album, 'Anguish' followed one year later. Up to the mid-nineties the band released one album every year and of course several singles. The song concept is still the same: significant bass line, typical AND ONE synthesizers and Steve Naghavis great voice. Their latest Album 'STOP' was released this year. http://www.andone.de / https://www.facebook.com/ANDONEoffiziell / www.myspace.com/andoneofficial

Music and Performance
When Steve Naghavi and his band finally entered the stage the audience felt really excited. A good tempered Steve told about his travel to Leipzig, his broken car and how much he paid to get there. Joking about himself wearing always the same suit, he really made the audience laugh.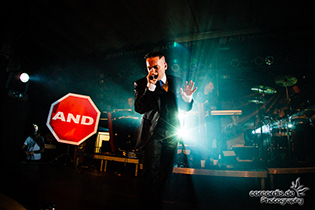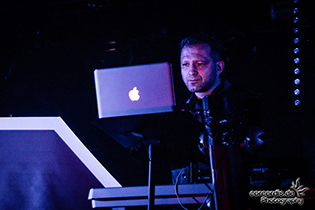 But then, after performing 'Steine sind Steine' which made people sing along with him, things changed and Steve started to be political. First he told the band had never been political and then criticising what was going on in Israel and Palestine at the moment and wanting the audience to applaud for the Palestine citizens he did not get as much agreement as he wanted. After joking about being an anti-Semite ( because of being down on the Israelites), I left the show. And so did others… I was a bit irritated by what he was telling and I don't think that this topic is made for being judged in three minutes between two songs. When leaving the venue, I heard about people shouting "Jew pigs" from the back of the audience which seemed to be a reaction to what Steve Naghavi told. I guess they felt that they have to scream stuff like that after understanding wrong what Naghavi wanted to tell.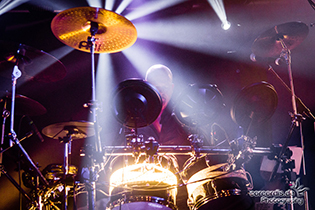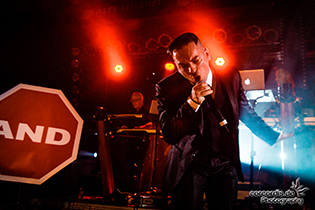 Me and the other people had a good evening until this political discussion was started and I still do think that an artist can tell about his personal opinions about what is going on in the world but then he should be aware how and when he tells about complex stuff like the Gaza conflict…

Setlist
01. Shouts of Joy
02. Zerstörer
03. Back Home
04. Love You to the End
05. Enjoy the Unknown
06. S.T.O.P. The Sun
07. Techno Man
08. Steine Sind Steine
09. Paddy Is My DJ
10. High
11. Uns Geht's Gut
12. Metalhammer
13. Driving With My Darling
14. The Secret
15. Get You Closer
16. Mirror in Your Heart
17. Electrocution
18. Deutschmaschine
19. Seven
20. Traumfrau
21. Sometimes
22. Missing Track
23. So klingt Liebe (Piano Version)
24. But Not Tonight (Depeche Mode cover)
25. Fools (Depeche Mode cover)
26. Speicherbar (with "Fly on the windscreen" … more)
---
27. Killing the Mercy
28. Military Fashion Show
---
29. The Sun Always Shines On TV (A-ha cover)
30. The Walk (The Cure cover)
31. Für
32. Shake the disease (Depeche Mode cover) (Piano Version)
33. Stripped (Depeche Mode cover) (Piano Version)
34. Enjoy the Silence (Depeche Mode cover) (Piano Version)
35. Klaus (Piano Version)
36. Pimmelmann (Piano Version)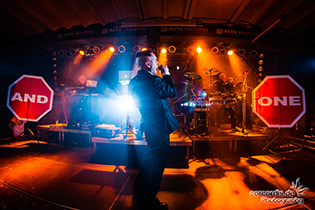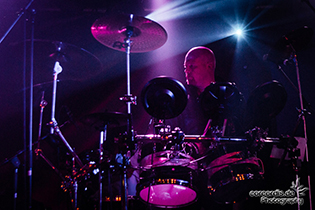 All Pictures from the show in Mannheim by Dominik Herz (http://www.corcordis.de)



See also (all categories):