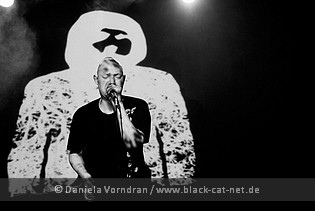 Leipzig, Germany
6th - 9th June 2014
Wave Gotik Treffen 2014 Day 3: !Distain, Metroland, Chrom, Solitary Experiments, MRDTC, No Sleep By The Machine, Vomito Negro, Borghesia, Klangstabil

It was very hot today, though we started the day quite calm and relaxed with a breakfast with some friends at café Stein. The brunch there is highly recommended and we had some nice hours there. For part of our group, the day went on at the Kohlrabizirkus.
And there, a "little" problem occurred. Usually, there was a big parking area besides the venue. This area was sold and the new owner was not allowing parking there. But! There was no signs this is not allowed anymore. Ando f course many people parked their car there… and were towed off for a high fee of 250 EUR. Later on, at the venue there were several announcements that parking is not allowed anymore and it is not "safe" to park the car there. I think for next year, promoters shall go for a commitment with new owner.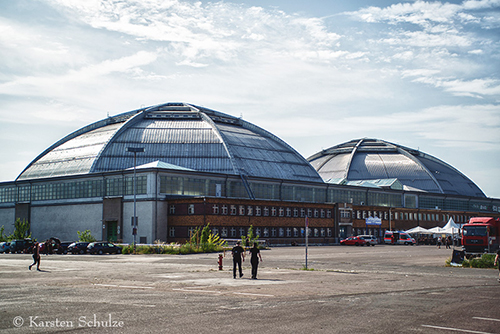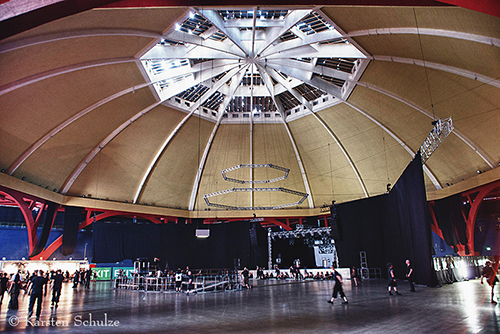 !Distain - Kohlrabizirkus [BP + DV]

But well, we were at the venue without car and waiting for the first band, !DISTAIN, to start the concert day. Punctually at 17:30, the band consisting of Alexander Braun (vocals & instruments), Manfred Thomaser (vocals & instruments) and Rick Prokein (vocals & instruments) was entering the stage. They presented old and new songs and right from the start, they transported their positive vibes into the audience. The hall was already quite well filled and so, the mood was really good. // Setlist: 1. Mein Weg / 2. I beg for you / 3. Tears of Joy / 4. Conversation Overkill / 5. Why / 6. Sex´n Cross / 7. Mandragore / 8. Hole in the Moon / 9. Monokultur / 10. Metal Rules / 11. Strange Affection / 12. Confession / 13. Soldiers //
https://www.facebook.com/pages/distain-Official-Facebook-page/115989415111193
/
http://www.distain.de/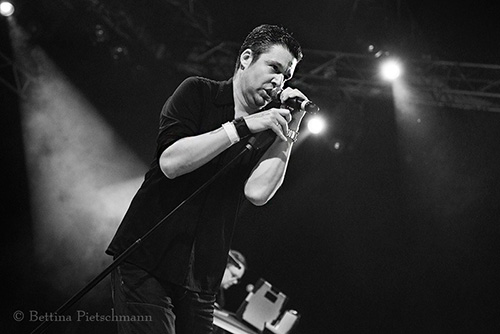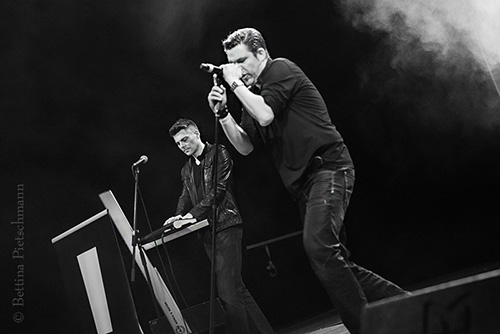 Metroland - Kohlrabizirkus [BP + DV]

METROLAND were a band rather unknown to me. The two musicians, Passenger A and Passenger S; were standing behind their laptops, strongly influenced by and reminding of German pioneers KRAFTWERK and also their show began very KREAFTWERK-like with machine sounds and a vocoded voice. Anything around the band, the artwork, music, lyrics and also the presented video animations, are somehow connected to the subway, or Metro, as you might call it. Supporting the show were video projections dealing also with the Metro topic. All songs have something in common: they take you on a journey through electronic landscapes, , layered with authentic warm sequences and robotic vocals, accompanied by analogue drum machines. //
http://www.facebook.com/metrolandmusic
/
http://www.metrolandmusic.com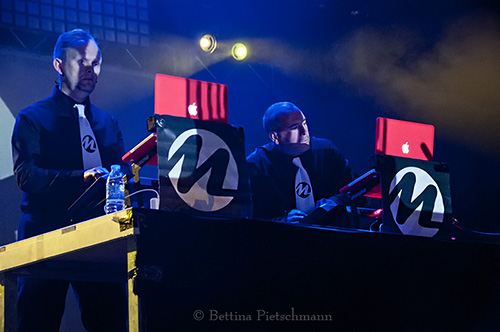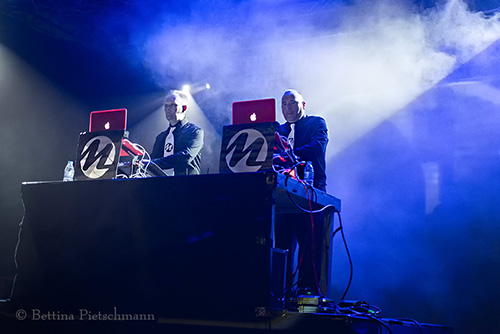 Chrom - Kohlrabizirkus [BP + DV]

German duo CHROM was the next band scheduled for Kohlrabizirkus and entering the stage at 20:00. With a nice and danceable Synth-Pop sound with English lyrics, they gave the audience a good warm up and thus you could see a lot of people dancing, moving to the music and clapping their hands when invited by the singer to do so. Any song announcement was also cheered to. During the last years, the band established its reputation and so, many of the fans at Kohlrabizirkus were just coming to see this band and celebrated until the last song faded. //
https://www.facebook.com/pages/CHROM/106585156057408
/
http://chrom-music.com/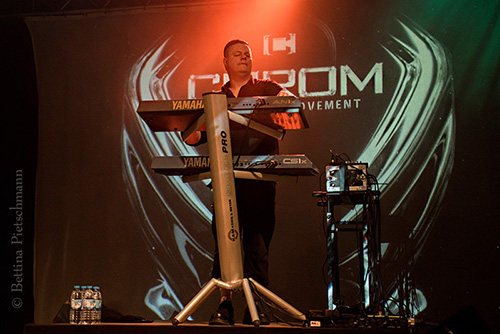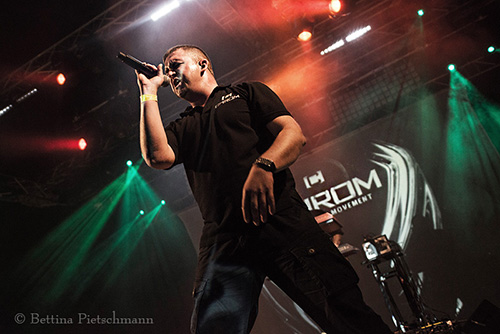 Solitary Experiments - Kohlrabizirkus [BP + DV]

When the worlds of Dennis Schober and Michael Thieleman collided one day, they found out they were like-minded and made their first musical experiences under the name PLAGUE, before they decided to form the project SOLITARY EXPERIMENTS in 1994. By doing that, they were making the foundation for what was to become a successful story in the genre of electronic music, even though the way to getting that status was full of many stones. With every new album, they could enlist a bigger audience and a loyal fan base grew from that. Their album 'In The Eye Of The Beholder', which came out in late 2009 following a long time of dormancy since 'Mind Over Matter' in 2005, marked their triumphant return to the scene with powerful and melodic electro songs carried by a distinctive voice. In October 2013, the band released their new album, 'Phenomena', via Out Of Line Records. This year, the band is celebrating its 20th stage jubilee and this was reason to party. For their show, they brought along great LED illumination and a fantastic show full of power. No question that they were cheered at by the audience. After their show, ANNE CLARK was performing at the venue but we decided to move over to the Landratsamt to see KLANGSTABIL. //
https://www.facebook.com/solitaryexperiments
/
http://www.solitaryexperiments.de/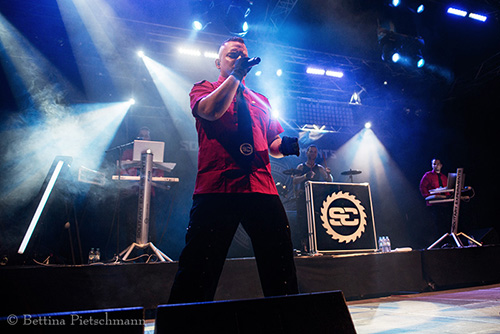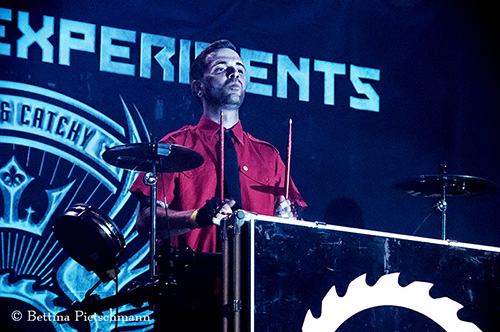 MRDTC - Theaterfabrik [DV]

Today was electro day. While one part of the crew was enjoying the more Synth-Pop oriented sounds at the Kohlrabizirkus, we went to Theaterfabrik to enjoy some old-school electro and EBM sounds. First band at the venue, that was again very hot due to extreme temperatures outside, was German duo MRDTC. MRDTC stands for Mr. Dupont (Christoph Lemke) and Timo Claus (from AMNISTIA). The duo presented old-school EBM / Electro finding surely some lovers within the BIM Fest crowd. The first release was the 7" '#1 (Liar)' in 2012 followed by the first album, '#2 (We Transfer)' in 2013 vial Emmobiz label. Seen the band before and during both shows, they made a good impression with their danceable songs spreading kind of old-school feel. Today, there was, despite the heat, already a good crowd in front of stage dancing to the hard sounds. The bad thing today at Theaterfabrik was the fact, that during each show, more and more people left the hall since it was just unbearably hot inside. They just preferred to stand outside and only listen to the music. // Setlist: 1. For The Good Times / 2. Netwerk / 3. Belief / 4. Brain Talk / 5. Traffic / 6. Discretion / 7. Revenge / 8. Motif / 9. God Of Anger / 10. Liar / 11. Sickness / 12. Massaker (Tommi Stumpff cover) //
https://www.facebook.com/MRDTC.site
/
http://www.9xo.de/mrdtc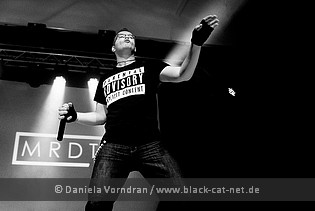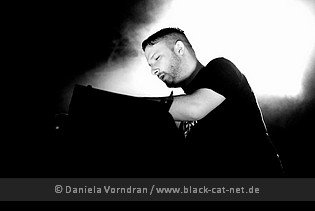 No Sleep By The Machine - Theaterfabrik [DV]

This Swedish band was one of the surprises to me at last year's BIM Fest. NO SLEEP BY THE MASHINE, short NSBTM, came to live in 2004 and was formed by TB and S.Nutzoid after meeting at a party in Swedish Stockholm. Both musicians realized having same interests and musical background and so, they soon found themselves recoding music together in their home studio. The first years saw the band testing themselves out, but finally in 2009, TB left the band he was singing in before to concentrate more into NSBTM and soon, the band was asked to perform at festivals and clubs. Some self-released CDRs followed and then, their first full album, 'Close', saw the light of day in 2010 via Sham Recordings, followed in 2012 by a limited double album, 'Quadrilateral', via Dödsdans Rekords. In 2014, the band released a full-length CD, 'Splice'. Also during their WGT show, NSBTM did not disappoint me. Anything was merging perfectly together. I love that old-school dark electro touch in the means of SKINNY PUPPY or FRONT LINE ASSEMBLY in their music. Also this time, there was a lot of energy on stage. Band and audience really had a good time. Recommended if you like this musical style! //
https://www.facebook.com/nosleepbythemachine
/
http://nosleepbythemachine.se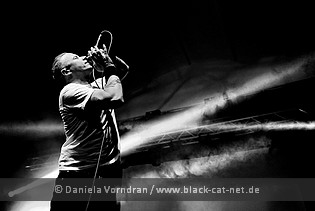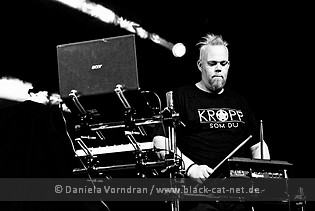 Vomito Negro - Theaterfabrik [DV]

Started in 1983, VOMITO NEGRO built themselves a legendary reputation in the years to come, coinciding with a great following. The band name is Latin for 'Black Vomit' which is a phenomenon that arises in the last stage of the disease yellow fever, when the patient throws up his putrefied intestines and ultimately dies. Of you take a deeper look into their discography starting with the very first self-titled release back in 1985 and rolling forward to discs such as 'Dare & More' (1987) or 'Schock' (1989) you can hear their music always was in a constant state of flux, never sticking to any particular formula or following one scheme. Following a dormancy period after the album 'Fireball', it was decided to bring the beast that was VOMITO NEGRO back to life. The newest album, 'Black Sun', was released in March 2014. For the first song, Gin Devo went without lyrics instead he operated some electronic devices himself. After this calmer intro into the set, the band started with a full-force electro set - gloomy, disquieting collages unfolded, occasionally broken by the sound of a bomb crashing in. The band was offering something danceable, enriched with lively percussion work and were rewarded. Cool show and the songs of the new album, especially 'Fighting The Force', are real stomper! //
https://www.facebook.com/vomitonegro
/
http://www.vomitonegro.com/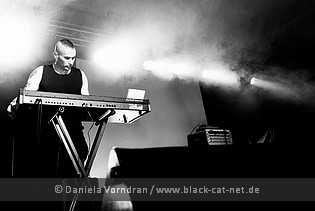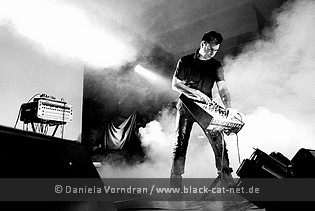 Borghesia - Theaterfabrik [DV]

The show of BORGHESIA was one of the ones I was looking most forward to. This Slovenian band just released a new album called 'And Man Created God'. The electronic band was created back in 1982 in Ljubljana. While the first recordings were influenced by new wave, electro-pop, disco and EBM, the band took then a more pure EBM direction from the third album on. Recordings and videos were back then often influenced by fetishism. In 1995, BORGHESIA stopped its activities until they came back in 2009, releasing a compilation CD including tracks from their previous albums in January 2010. And now, they are back with a brand-new album, bearing lots of political content and having many references to the style LAIBACH presents currently. The line-up currently consists of Dario Seraval (vocals, programming) and Aldo Ivančič (drums, programming), but for their live show it was extended by a full band, including a female singer.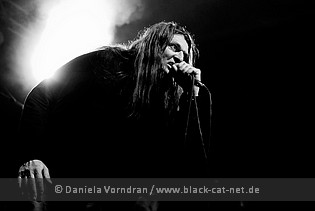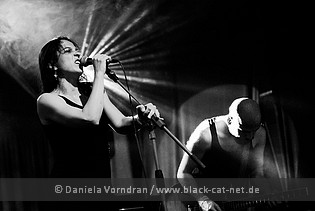 The live show was really intense and especially the female singer's voice fitted perfectly. Goose bump feeling! For their show, BORGHESIA chose a good selection of old and new songs, perfectly fitting together and especially the new ones transported their political and social critic message. Just to name the song 'Kaufen macht frei'. You really should listen to it! Really sad that it was now so hot in the room that half of the audience was standing outside to get some fresh air. // Setlist: 1. My Life is my Message / 2. Ni Upanja, Ni Strahu (No Hope, No Fear) / 3. Pasto Nudo / 4. C'est La Guerre / 5. Profit, Power and Lies / 6. Kaufen macht frei / 7. Blato / 8. Tako Mladi / 9. Young Prisoners / 10. 194 / 11. Goli, Uniformirani, Mrtvi //
https://www.facebook.com/pages/Borghesia/162162863861625
Klangstabil - Altes Landratsamt [BP + DV]

The end of our all-electro day was made by KLANGSTABIL at the Landratsamt. Right on time at 22:40, Maurizio Blanco and Boris May entered the stage. As usually, Boris was firstly putting off his shoes to have close contact to the floor during his show. The venue was packed and from the very start, the band was celebrated. Very emotionally, Boris was talking about the media, news and his emotions because of that all… taking the words right out of our mouths. According to him, most important is friendship, one of the topics on the band's latest album 'Shadowboy'. During the show Boris asked the audience who in the audience has a son of an age of eleven. A young man answered and was allowed to enter the stage where he received a 'Shadowboy' book from the band. As always, the whole concert was very expressive, emotional and full of energy. People were dancing and singing loudly. At the end they were clapping so extensively that the band could nothing else than giving an encore. Also for us this was a very emotional concert and another big highlight of this year's WGT. //
https://www.facebook.com/pages/Klangstabil/7403019660
/
http://www.klangstabil.com/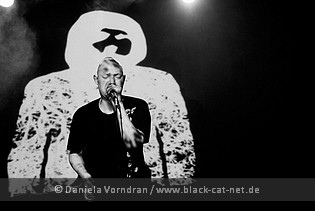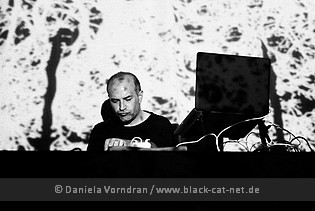 Actually we wanted to see PSYCHE at K3 Lounge afterwards. But sadly, this basement club – which is btw really nice – was so packed that we could not get in. I really would have loved to see the Dark Wave band PSYCHE, existing for more than three decades now, playing in a larger location since so many people wanted to see Darrin Huss and his band.
Full Gallery

Pictures by Bettina Pietschmann & Daniela Vorndran (
http://www.vorndranphotography.com
/
http://www.facebook.com/blackcatnet
)
Witten by Bettina Pietschmann [BP] & Daniela Vorndran [DV]
See also (all categories):