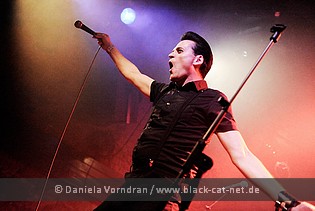 Leipzig, Germany
6th - 9th June 2014
Wave Gotik Treffen 2014 Day 2: Delivered Soul, I-M-R, Albireon, Sieben, Argine, Sonne Hagal, Schneewittchen, Lebanon Hanover, Placebo Effect, The Klinik, Robert Enforsen

We started the day with a visit at the Leipzig automotive fair "Auto Mobil International" – AMI – where for the WGT a special exhibition was installed presenting historic mortuary vehicles. Entrance was for free for WGT visitors. The exhibition presented vehicles from four periods, reaching from a mortuary carriage from 1980 to a mortuary trailer from 1970. Besides carriages from the 19th and 20th century you could also see the Cadillac offering the funeral cortege for Marlene Dietrich. Sadly, we did not have enough time to see the Design de luxe Collection of fashion designer Lucardis Feist from Bad Lauterberg (Harz) at Hotel Fürstenhof Leipzig on this Saturday afternoon. Designer Lucardis Feist creates extraordinary dark and individual wedding outfits.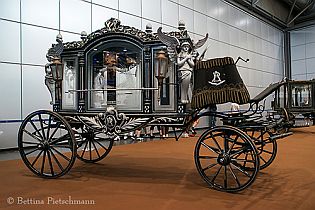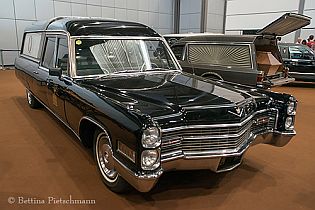 Delivered Soul - Sixtina Absintherie [BP+DV]

The Sixtina was moving last year to a new location and the new place was a little hard to find, being situated behind the Ring Café. But a few chalk marks on the floor were leading us and other interested people the right way. DELIVERED SOUL started around 14:00 at the Krypta, meaning in the cellar of the club. It was quite small, but just enough room for singer Stefan and his keyboarder Micha from SYNTHLABOR, offering a cosy club atmosphere. It was a really relaxed concert and Stefan was playing and talking a lot with the audience. At the end, they were playing the song 'Made my Day' where the audience was asked to sing along loudly. An encore was heavily requested and so, they played 'Ich will doch nur tanzen' as final song. // Setlist: 1. It doesn´t always have to be war / 2. Trust / 3. Eternity / 4. Kein Weg / 5. Und dabei / 6. Weit weg / 7. Wegweisend / 8. Gefangen / 9. Break out / 10. Never ending Time / 11. Liar / 12. Don´t give up / 13. Make my day / Encore: 14. Ich will doch nur tanzen //
https://www.facebook.com/pages/Delivered-Soul/135103476523168
/
http://www.delivered-soul.de/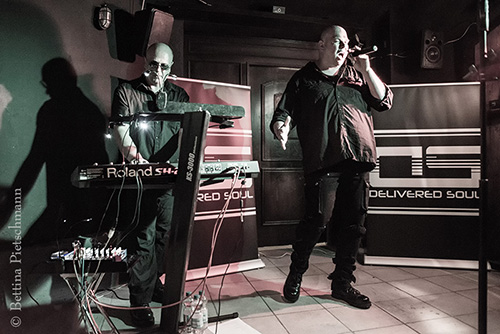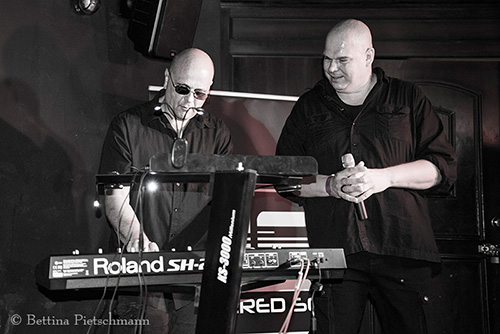 I-M-R - Altes Landratsamt [BP+DV]

We spent the rest of the day at Altes Landratsamt. First band of the day was I-M-R, a continuation of the musical idea of IN MY ROSARY, a project started in 1992 and developing to a constant in worldwide Darkwave and Alternative scene with the first album release, 'Those Silent Years' in 1993. To far, Ralf recorded all productions alone so far, but now he invited his long-time live musicians Martin von Arndt, Holger Diener and Hansi Hünig into the studio do develop his artistic idea further in the future. On 15th October 2011, this new constellation was officially born under the name I-M-R. We were really curious what to expect now. Sadly, the venue was still half empty when the group started at 17:00. The melodic sound of E-guitar, acoustic guitar and saxophone, reminding me of the eighties, resounded in wonderful harmony. Other special sounds were created with a cuitar being played with a violin bow. The audience was excited and the band was said goodbye with big applause. // Setlist: 1. Alibis / 2. Confused by the time / 3. Anesidora / 4. Paper Garden / 5. Why we cried / 6. Little Death / 7. Night Owl / 8. Poisoned Eyes / 9. Just like you / 10. By the Fire / 11. Uniforms / 12. GT / 13. Believe Because //
https://www.facebook.com/imrproject
/
http://www.i-m-r-project.de/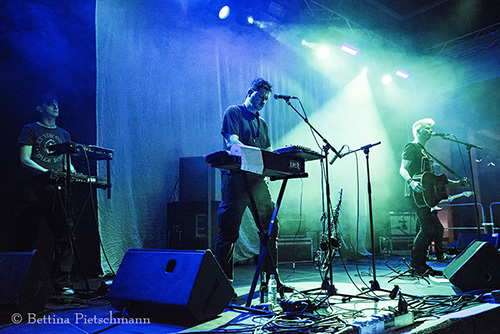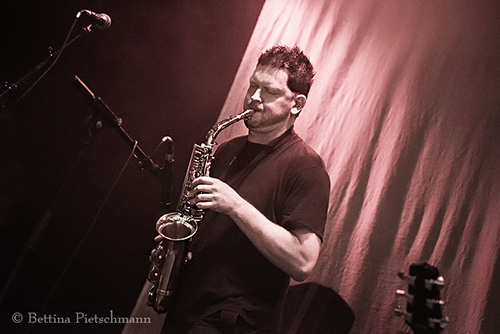 Albireon - Altes Landratsamt [BP+DV]

Next band on stage was Italian ALBIREON. Behind that name, artists Davide Borghi, Carlo Baja Guarienti, Stefano Romagnoli, Elia Albertini, Lorenzo Borghi are hidden, creating together a very experimental piece of work, combining the genres (Dark) Folk, Industrial (Noise), Drone and Ambient in a very emotional outfit. //
https://www.facebook.com/pages/Albireon/36906691255
/
http://albireon.wordpress.com/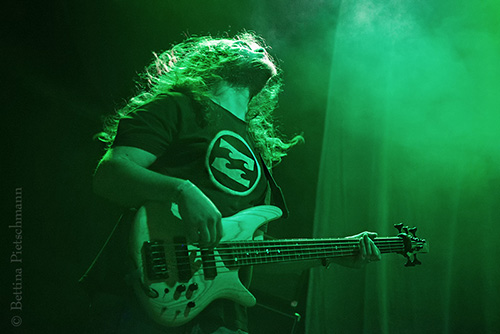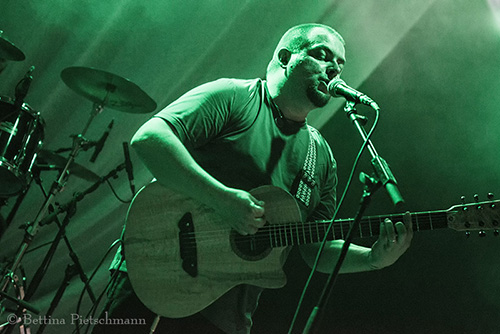 Sieben - Altes Landratsamt [BP+DV]

SIEBEN, that's Matt Howden and his violin. The man is looping himself and his violin play continuously, placing one melody layer over another. It is really exciting how his violin can turn into drums or emerging other unusual sounds. He just was swirling across the stage and his excited audience was celebrating the show until the last second. //
https://www.facebook.com/TheMightySieben
/
http://www.matthowden.com/
/
https://www.facebook.com/MattHowdenMusic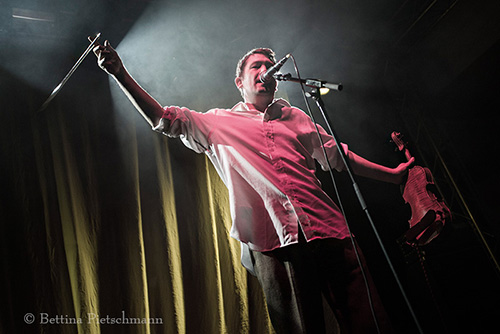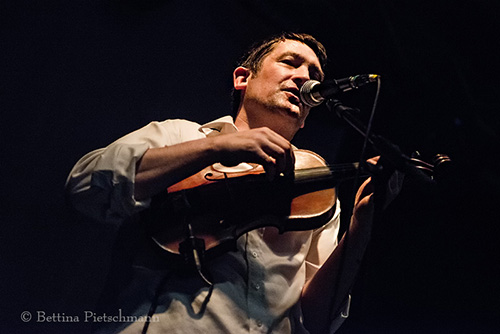 Argine - Altes Landratsamt [BP+DV]

ARGINE is an Italian Neofolk band, consisting of Corrado Videtta, Alfredo Notarloberti, Cecilia Videtti, Ricardo Sabeti and Alessio Sica, being founded in 1992. Were the songs at the beginning relatively calm, they were developing during the show into a more powerful and more energetic directing being taken by the audience excitedly. //
https://www.facebook.com/pages/Argine/41700503949
/
http://www.argine.net/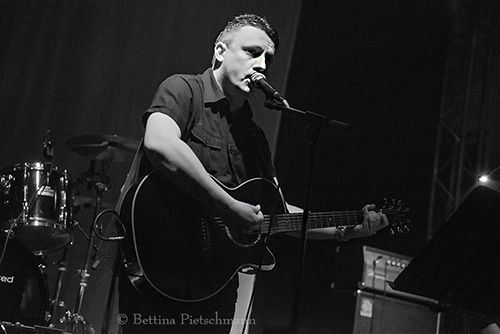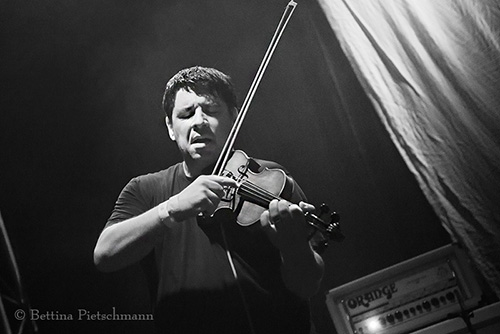 Sonne Hagal - Altes Landratsamt [BP+DV]

Last band at the venue was German Neofolk band SONNE HAGAL from Brandenburg. According to own statements, their music is marked by traditional treasury of songs and modern instrumentation. Among others, live as well as in studio, there is strong collaboration with artists like Matt Howden, we already saw earlier on stage. Calm but demanding sound was arising and the audience was excited, of course demanding an encore at the end. // Setlist: 1. Memory, Hither Come / 2. Midgard / 3. The Three Ravens / 4. The Shapes Of Things to Come / 5. Vengeance / 6. Gold / 7. Silence / 8. Eismahd / 9. To the Muses / 10. The Horse With No Name / 11. Black Spring / 12. Mediocrity / 13. Das letzte Lied / 14. Sonnenwende / 15. Midwinternight / 16. Midsummernight / 17. Ragnarök / Encore: 18. Futhark / 19. Odin //
https://www.facebook.com/sonne.hagal.5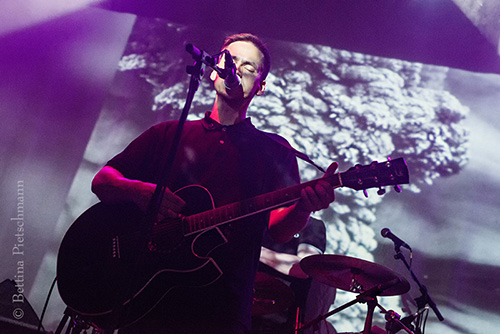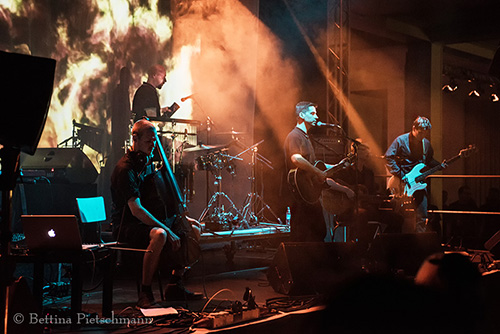 Schneewittchen - Parkbühne [DV]

While one part of the Crew was watching the bands at the Landratsamt, I decided to stop at Parkbühne first and then move on to other locations. First band at Parkbühne was SCHNEEWITTCHEN (Snow White), one of the most interesting German alternative bands. Marianne Isar (vocals) and Thomas Duda (instrumentals) are working together since 1996 when they were simply using their names as a band name. In 2000, they renamed the project into SCHNEEWITTCHEN. Successfully, they mix successfully elements of very different styles, and as per their own disclosure, they are influenced both by the classical German songs written by Schubert and Schumann and by the French chanson, but also by Punk and other styles. On this Saturday, they were opening the program at Parkbühne and despite the heat and early hour, a big crowd was waiting for entrance. With their unusual program, they entertained very well. //
https://www.facebook.com/schneewittchenmusik
/
http://www.schneewittchenmusik.de/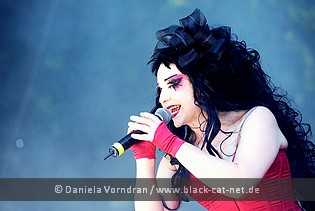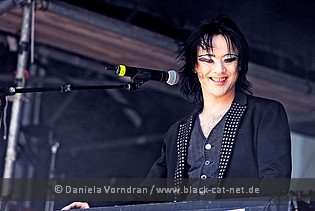 Lebanon Hanover - Theaterfabrik [DV]

I heard a lot of that band before and only positive things. So WGT 2014 was my chance to check their show finally out. The Theaterfabrik is a newly chosen venue for WGT and situated a bit farther away from anything else. But still a huge crowd was waiting for entrance and later on, they even stopped admission since there were so many people in. I heard later that during all following concerts on that evening there was much less interest in the bands playing there. Seems LEBANON HANOVER have quite some fans admiring the stunning combination of dark girl/boy vocals, razor sharp guitars and brooding bass-lines to create some sort of synthetic apocalyptic pop, reminiscent of SIOUXSIE, THE CURE, BAUHAUS or XMAL DEUTSCHLAND.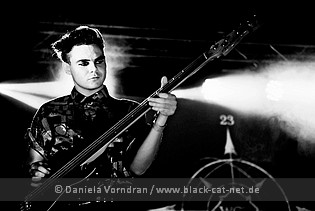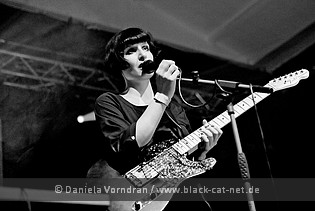 And so, their show at WGT was celebrated, despite the extreme heat in the venue. I enjoyed the concert a lot and it was surely not the last one for me. // Setlist: 1. A Very Good Life / 2. Saddest Smile / 3. Albatross / 4. No One Holds Hands / 5. Hall of Ice / 6. I Believe You Can Survive (Elegy For The Introvert) / 7. Die World II / 8. Die World / 9. Invite Me To Your Country / 10. Gallowdance / 11. Midnight Creature / 12. Kunst //
https://www.facebook.com/lebanonhanover
/
http://lebanonhanover.bandcamp.com/
Placebo Effect - Agra [DV]

From Theaterfabrik to Agra, where sole old Electro heroes were playing. One of them was PLACEBO EFFECT. This German dark electro / EBM band makes music in the likes of FRONT LINE ASSEMBLY, FRONT 242 or SKINNY PUPPY. At WGT 2003, the band played their last concert and since then, all members had gone off to other projects. In 2011, Infacted Recordings released out 'Gargoyles & Galleries', an album of re-mastered material, the first fourteen tracks having comprised their first album 'Galleries of Pain' (1992) and the rest of the songs having been on the demo tape 'Gargoyles' (1990). On this year's WGT, Axel Machens (vocals, synth, harmonizer, drum computer), Christoph Kunze (vocals, synth, sampler, percussions) and Achim Windel (vocals, sampler, sequencer, synth) performed a onetime show, exciting old and new fans.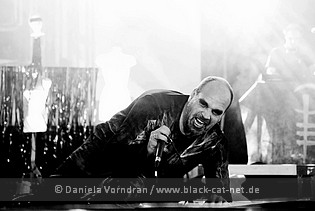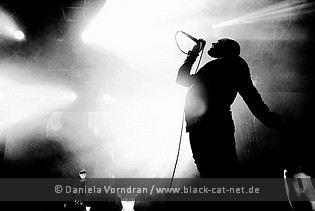 And the band, especially front man Axel, really know how to deliver a good show and how to build an atmosphere within the songs. I don't regret visiting this show, even though I also had loved to check out HUNDREDS playing at the theatre at the same time. PLACEBO EFFECT were definitely one of my festival highlights where the band even presented new songs. So maybe there is a new album coming? // Setlist: 1. Intro - Eisen / 2. Devoid of Soul / 3. Mistress / 4. Nothing to Cry (new) / 5. No Man's Land / 6. Chlorid / 7. Galleries of Pain / 8. Psychotrauma / 9. Pinhead / 10. Slave (new) / 11. Hard Work / 12. Dawn on Death / 13. Decay / 14. Painted Flowers in a Picture / 15. Last Walk / 16. Poison Tree / 17. Agony of Mind / 18. Slashed Open / 19. Move (Tape Version - Gargoyles) //
https://www.facebook.com/PlaceboEffect.official
/
http://placeboeffect.ecwid.com/
The Klinik - Agra [DV]

With THE KLINIK from Belgium, another grandmaster of Electronic music was entering the stage at Agra. I always liked the shows of this band and so there was no question I would be here. The Belgium Electronic-Industrial band was originally formed around 1982 and it is considered as one of the most influential Belgian bands from that genre. Started in the early years as quartet, soon THE KLINIK was alive as the classical duo of Dirk Ivens and Marc Verhaeghen. After the debut album `Sabotage´ (1985), THE KLINIK released full-length milestones such as `Face to Face´ (1989) and `Time´ (1991) that established its reputation as a ground-breaking formation in the Electro / Industrial genre. Their live shows were also always kind of spectacular with both musicians performed with their heads wrapped in gauze, wearing long black leather coats. THE KLINIK members since 2009 are Dirk Ivens (voice/ lyrics), Marc Verhaeghen (music/ instruments) and Peter Mastbooms aka BORG (visuals and video images) backed up with Eric van Wonterghem for live-mixing. Because of health problems, Marc Verhaegen is unable to join the band live on stage.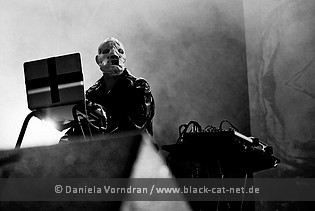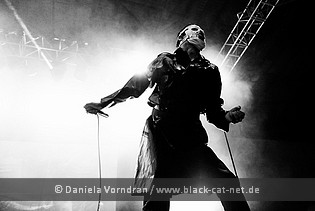 On July 4th, 2014, THE KLINIK Is releasing a massive 8-CD Box set containing all album releases from the years 1984-1991, recorded by the classic line up comprised of Dirk Ivens and Marc Verhaeghen and also all rare and out-of-print tracks, plus a plethora of unreleased studio and live recordings from the same era. The live shows are always fantastic but this time, I had the impression Dirk Ivens was bearing more energy and anger within that had to come out. And so, the show turned out more powerful and aggressive than usually. // Setlist: 1. Walking With Shadows / 2. Murder / 3. Bite Now Bite / 4. Quiet In the Room / 5. Black Leather / 6. Hours and Hours / 7. Mindswitch / 8. In Your Room / 9. Pain and Pleasure / 10. Obsession / 11. Sick In Your Mind / 12. Moving Hands / 13. Memories / 14. Lies / 15. Braindamage / 16. Talking to a Stranger / 17. Go back //
https://www.facebook.com/TheKlinikDiveSonarAbsoluteBodyControl
/
http://www.dirkivens.com/
Robert Enforsen - Moritzbastei [DV]

After THE KLINIK, the program at the Agra would move on with more Dark Electro, meaning FRONT LINE ASSEMBLY from Canada. But for me, a venue change was duty. At the Moritzbastei, ROBERT ENFORSEN, formerly head of Swedish Synth-Pop band ELEGANT MACHINERY and later on HYPE was playing at the Moritzbastei. And he brought lots of hits from his former bands. The sound of the Swedish band was influenced in the early years by electronic bands like DEPECHE MODE, HUMAN LEAGUE and YAZOO. The debut album, 'Degraded Faces', was released more than 20 years ago, starting point of a career as one of the finest bands in Synth Pop. After a split in 1998/1999, the band reunited in 2005 and released with 'A soft exchange' a new album in 2008. Two singles and several live performances later, ELEGANT MACHINERY was again put to rest in 2011. Robert is also known as singer of several synth and electro pop projects like HYPE, their great album 'Desperately Yours' from 2006 unfortunately never had a follow-up. His show at WGT was simply amazing. From the very beginning, there was an unbelievably good mood in the room. Not many songs were needed to make the audience dance and sing extensively.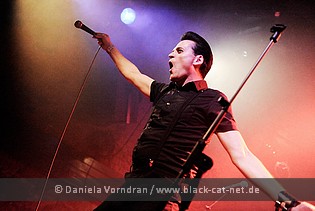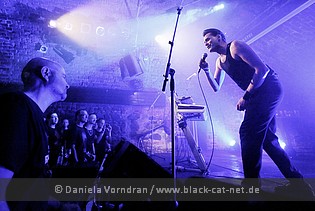 Latest during 'Black Town', anyone was singing along. During 'Restrain', his friend, DJ Elvis, was accompanying him on stage. As second guest, originally Darrin Huss from PSYHCHE was planned to perform the HUMAN LEAGUE cover 'The Things That Dreams Are Made Of' with him. Sadly, he could not make it, but surprisingly, Elvis helped out again. The crowning final of the show was definitely the ELEGANT MACHINERY hit 'Save me', being played as second encore. First, there were some technical issues and so, the audience was singing all alone. Goose bump feeling! And then, anyone was singing together with Robert. What a great end of Saturday evening! // Setlist: 1. A Decade Of Thoughts (EM) / 2. Entwined (EM) / 3. Hard To Handle (EM) / 4. Move (EM) / 5. Black Town (EM) / 6. Process (EM) / 7. Restrain (EM) / 8. Feel The Silence (EM) / 9. Bounce (Hype) / 10. The Things That Dreams Are Made Of (The Human League Cover) / 11. Watching You (EM) / 12. Love To Cry (EM) / Encore: 13. Say Goodbye (EM) / 14. Save Me (EM)
Full Gallery

Pictures by Bettina Pietschmann & Daniela Vorndran (
http://www.vorndranphotography.com
/
http://www.facebook.com/blackcatnet
)
Witten by Bettina Pietschmann [BP] & Daniela Vorndran [DV]
See also (all categories):