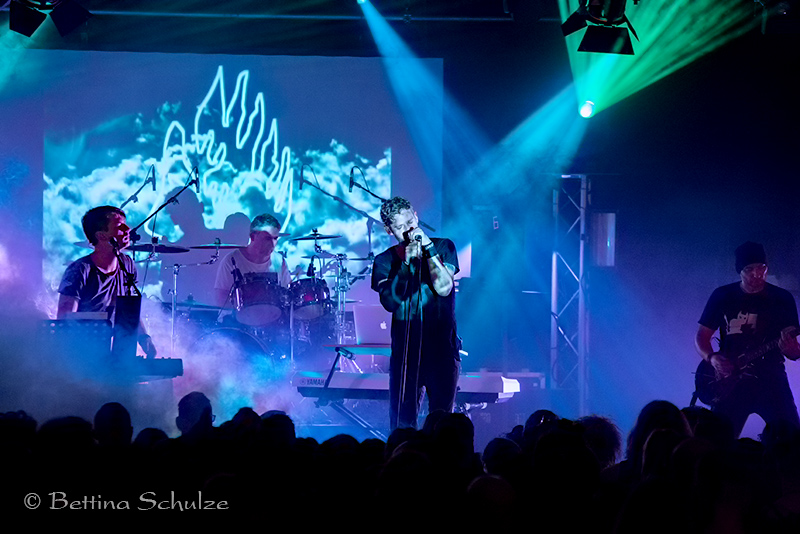 Leipzig, Germany
18th - 21st May 2018
Wave Gotik Treffen 2018 (Day 2) with Victorian Village, Steampunk Picnic, Catafalque Meeting, Sascha Lange, Zeromancer, 3Teeth, Monica Jeffries, Diorama, Readership Hostile, Joy / Disaster, Second Still, Frank the Baptist and All Gone Dead

The second festival day welcomed us with perfect weather: sunny and not too warm. Perfect to get the day started with the Victorian Village, Steampunk Picnic and the Catafalque Meeting. Further things that were planned were the reading of Sascha Lange, of course the concerts of ZEROMANCER and DIORAMA and for the rest of our team, some old-school Goth music was planned with ALL GONE DEAD and several more.
Victorian Village, Steampunk Picnic and the Catafalque Meeting (Betty)

This year, the Victorian Village opened its doors again in the orangery and garden of the small castle "Gohliser Schlösschen". There you could have a picnic, visit the restaurant, browse stalls and watch artist performances in a wonderful ambience. Well, we also found out that not everyone had access, but really only the photographers of the WGTs and guests in beautiful robes. So it was very pleasant and it was not as crowded as in the Clara-Zetkin-Park the day before. Then we drove to the German allotment museum where the Steampunk Picnic was taking place. This year, unfortunately, extraordinary-looking Steampunks were not enough for me. So we decided for another program point: The catafalque meeting started at 2:00 pm at the central station. With a convoy we went from there to the South Cemetery, where we also arrived and admired some beautiful hearses with trailers.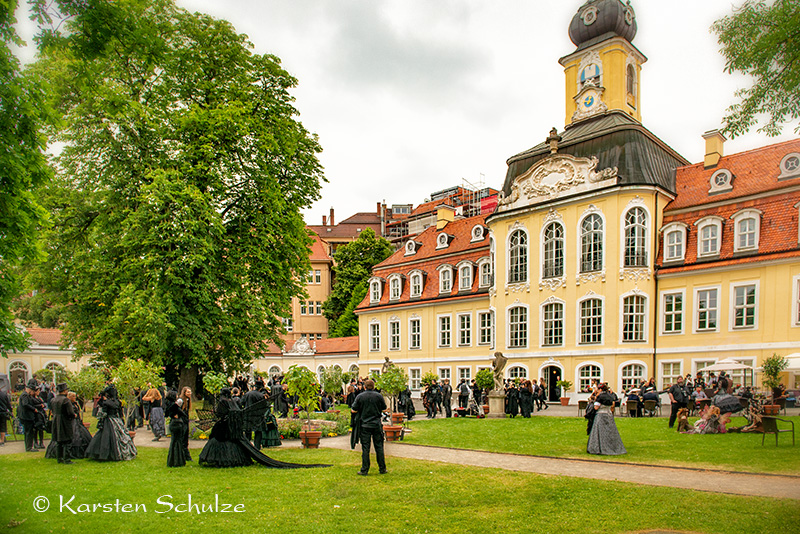 Reading: Sascha Lange - Central Kabarett (Dani)

While some of our team enjoyed some outdoor activities, I decided for a special reading for me: Sascha Lange was reading from his book 'Behind the Wall', dealing with the DEPECHE MODE fan culture in the former GDR and the sole Depeche Mode concert taking place in East Berlin. This was in March 1988, when I was only thirteen years old but already a huge DEPECHE MODE fan for a few years. In funny little excerpts, Lange brought us back to the times when we knew the band only from West-German radio or TV, were changing tapes with their music and when a lot of small fan clubs arose… and to the experiences of the special concert in East Berlin. After the reading, a documentary from that time was shown, original footage accompanying the work of one of those fan clubs. Great stuff! More about the book via https://www.facebook.com/DepecheModeMonument
Zeromancer - Agra (Betty & Dani)

From the Catafalque Meeting and from the reading, we had to hurry to the Agra, because at 5:30pm ZEROMANCER were appearing, and we did not want to miss them. ZEROMANCER is a Norwegian Synth Rock band that was formed from members of SEIGMEN. It was founded on October 24, 1999 in Los Angeles and up until 2003 included the former SEIGMEN members Kim Ljung, Alex Møklebust and Noralf Ronthi, the unofficial Seigmen member Erik Ljunggren and the American Chris Schleyer. The current line-up consists of Alex Møklebust (vocals), Kim Ljung (vocals, bass), Dan "Electro" Heide (since 2003, guitar), Noralf Ronthi (drums) and Lorry Kristiansen (since 2003, keyboard). ZEROMANCER knows how to light up an audience. Their show at the Agra was amazing and powerful with a greatly chosen setlist and wonderful light show. They were the first band playing at Agra on this Saturday, but the hall was already very well filled up. And the audience was on fire, as was the band too. I am always amazed how much energy this band can bring onto stage. One of my personal highlights is always 'Ammonite' when Kim and Lorry are standing behind smaller toms left and right of Alex, hitting them with so much power that the spread water jumps into the air… // http://www.zeromancer.com / https://www.facebook.com/zeromancerzentral // Setlist: 01. Intro / 02. V / 03. Auf Wiedersehen Boy / 04. Opelwerk / 05. Clone Your Lover / 06. Sinners International / 07. Mercenary / 08. Mint / 09. The Hate Alphabet / 10. Neo Geisha / 11. Cupola / 12. Fade To Black / Encores: 13. Doctor Online / 14. Ammonite / 15. Photographic (Depeche Mode cover)
3Teeth - Agra (Dani)
After ZEROMANCER a band was on the bill which I missed just a day before my travel to Leipzig when they were playing in Bochum: 3TEETH from Los Angeles. 3TEETH are pure aggression. Founded in 2013, singer Alexis Mincolla, guitarist Chase Brawner, keyboarder Xavier Swafford and drummer Andrew Means very quickly established themselves as one of metal's most distinctive industrial projects. Their (occasionally) disturbing music and their artfully twisted videos are full of cynical humour and biting comments that reflect their take on American society. Inspired by bands like MINISTRY and NINE INCH NAILS, 3TEETH have developed a powerful stage show. And so the one at WGT was too, my premiere to the band! Their brutal sound and the wild performances of charismatic front man Mincolla, supported by fantastic visuals, leads to the regulated chaos that triggers in the listener either a catharsis or at least carries them deep into the mosh pit. The big Agra stage offered them all possibilities for visuals and light and the band itself was full of power. Great! // https://www.facebook.com/3Teeth
Monica Jeffries - Felsenkeller (Betty & Dani)

As fast as possible we went to the Felsenkeller as we were looking forward to seeing DIORAMA at 8:40 pm and we did not want to miss a bit! The Felsenkeller itself is a beautiful building in the district Plagwitz. The current building was built in 1890 in the style of the Neo-Baroque as a replacement for the old, northern rock cellar. The most striking feature is the two-storey corner tower crowned by a neo-baroque dome. In the autumn of 2005, renovations began inside, and after so many years being vacant, the building could be used again. In the first phase, the large hall with the two aisles as well as the foyer were extensively renovated. Parking spaces for cars and buses were created in the immediate vicinity. Since 2014, cultural events such as concerts and readings as well as parties have been held in the Felsenkeller, with the building being renovated at the same time. But back to the concert! Once we arrived something was strange and we soon were disappointed because MONICA JEFFRIES was just doing sound check. She was supposed to play already at 7:30 pm, but they still did not even start their show. To check the sound in front of audience for over 45 minutes is really not pleasant. This of course delayed the whole program. When Monica and her band finally started, the sound was still not very good, but the band gave it all to please the audience. // https://www.facebook.com/monicajeffriesofficial
Diorama - Felsenkeller (Betty & Dani)

Finally around 21:20pm - with about an hour delay - DIORAMA entered the stage. Singer Torben Wendt apologized for the delay and made a joke that they will just have to play faster. But of course they played in their usual speed giving everything to make up for the delay. Unfortunately, the room acoustics was very bad… at least further away from stage. And the venue was very crowded and hot. So we did not really enjoy the show as much as we usually do. It was, in the end, still a good concert by DIORAMA and the fans, especially in front of the stage, celebrated hard with the band. The mood in the audience was excellent and with people in the back of the hall and bar area also appreciating the band. You could clearly see that DIORAMA have made a name for themselves in recent years and many people wanted to see them. Due to the huge delay, there was no chance anymore to change the venue after the show and so, we decided for a calm evening once again at the hotel bar, especially since we had planned a big program for the upcoming day. // http://www.diorama-music.com / https://www.facebook.com/dioramawastaken
Readership Hostile - Täubchenthal (Judith & Marko)
While part of the crew was at Agra and Felsenkeller, the rest enjoyed the full program at Täubchenthal, starting with READERSHIP HOSTILE, a US band hailing from Los Angeles. The band was founded by former members of bands MEPHISTO WALZ and CHRISTIAN DEATH. They have released an album, an EP and several singles. Day two and the Täubchenthal door had opened a little earlier, but not yet many people had arrived at the location. It was still fairly empty, and the programme was delayed 15 minutes. The wait was definitely worth it, because when READERSHIP HOSTILE started, the hall was by then half full. The concert started with a long guitar intro followed by singer Adrienne entering the stage. The band played a great mix of Death and Gothic Rock and the Punk-style voice of the singer proved pretty interesting. The set included 'Who Buried God?', their latest single from May 2018, as well as a cover version of CHRISTAN DEATH. The audience received them very well and the band appeared to be having fun too. // https://www.facebook.com/ReadershipHostile / Setlist: 01. Lost Tapes / Who Buried God? / 02. Favorite Heavens God / 03. Ho, Darkness / 04. Failing Fools / 05. Unconscious Favors / 06. Damaged Parts / 07. Ghost Lived Fire / 08. Death Wish (Christian Death Cover) / 09. Chemical Embrace / 10. Shadows Of Pure Delight
Joy / Disaster - Täubchenthal (Judith & Marko)

JOY / DISASTER is a post punk band from France, founded in 2005. They have released several albums, including live albums. The current release from March 2018 is 'Resurrection'. The timetable in Täubchentahl was now somehow confused and the French band took over the stage 15 minutes earlier than planned and faced a well-filled hall. Vocalist Nicolas and the guitarists jumped wildly around on stage, providing a fun, very energetic show. In the program were many songs from the current album, but also some older pieces. The concert overall was great fun and Nicolas addressed us as "A wonderful crowd". After an hour-long show JOY / DISASTER were rewarded with great applause. // http://www.joydisaster.com / https://www.facebook.com/joydisasterofficial // Setlist: 01. Incest / 02. The Light / 03. Whispers / 04. Fade Away / 05. The Last Day / 06. My Secret Garden / 07. Paranoia / 08. Hate You / 09. Kisses & Pain / 10. White Attraction / 11. Something / 12. Falling Angel / 13. Lobotomy / 14. Artemis / 15. Resurrection / 16. Yesss Yess Yes
Second Still - Täubchenthal (Judith & Marko)

SECOND STILL is an American Post Punk / Coldwave band. In April they released their new album 'Equals'. The band integrated the performance at the Wave Gotik Treffen into their current big European tour. Misty fog and dark light heralded the appearance of SECOND STILL. This perfectly matched the atmosphere of the music, which took the audience on a journey into the "underground" of the 80s. However the extremely heavy fog meant the band could hardly be seen from the gallery, even hiding the red vinyl clothes of the singer! People danced regardless and had fun to this perfect post-punk music with its deep, dark bass. It was a grand premiere for these Americans at the Wave Gotik Treffen. // https://www.facebook.com/secondstillband // Setlist: 01. Echelons (For Against Cover) / 02. Recover / 03. You Two So Alike / 04. Untitled New Song / 05. Sleep / 06. Strangers / 07. Ashes / 08. Altar / 09. Automata / 10. Opening / 11. Judgment / 12. Try Not To Hide
Frank the Baptist - Täubchenthal (Judith & Marko)

The band FRANK THE BAPTIST was founded late 90 in San Diego / USA. For over ten years, singer Frank Vollmann lives in Berlin now. In 2015, the band's fourth album was released, titled 'As The Camp Burns'. The running order had returned to its schedule and FRANK THE BAPTIST entered the stage punctually at 9pm. The Täubchenthal was now almost full again, and all who were there enjoyed a fine mix of Alternative and Death Rock. The concert started after an intro with the song 'Letters To Earth'. Singer Frank, who usually carries a black cylinder as a trademark, really convinced the fans with his powerful live voice and I found the holder for a beer bottle on the bassist's mic stand really funny. One of the songs was from the new EP, which was almost sold out at the merchandise stand and Frank thanked the audience for that. // http://www.frankthebaptist.com / https://www.facebook.com/frankthebaptist
All Gone Dead - Täubchenthal (Judith & Marko)

The band ALL GONE DEAD was founded in 2004 by singer Stitch, previously a member of the band TRAGIC BLACK. Their album 'Fallen and Forgotten' was released in 2006 and in 2008 the band announced their breakup. Full of anticipation, the fans were waiting for the gig of ALL GONE DEAD. For a band that really does not exist anymore, the Täubchenthal was bursting at the seams and none of them would be disappointed that night. Even a few small technical problems did not disturb the band - they said that they have more of a problem with Trump than they did with the technology! With an awesome atmosphere in the club, singer Stitch really hyped up and many in the audience dancing wildly all meant a really cool performance by a band that has not existed for about 10 years. ALL GONE DEAD, please come back! A great end to the second day in Täubchenthal. // http://www.allgonedead.net / https://www.facebook.com/All-Gone-Dead-151124128274630
Pictures by Marko Jakob, Betty & Karsten Schulze and Daniela Vorndran (
http://www.vorndranphotography.com
/
http://www.facebook.com/blackcatnet
)
See also (all categories):