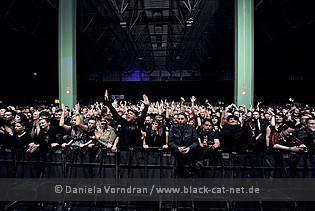 Leipzig, Germany
22nd to 25th May 2015
Wave Gotik Treffen 2015 Day 3: Dupont, Arise- X, Empathy Test, Dalriada, Keluar, Clan of Xymox, Veil of Light, Arkona, King Dude, Tempers, Mono Inc., Latex fashion show by Bella Holmes, Party Hopping

Funny Netherlanders with laser words, latex fashion show and DM party! After our party hopping deluxe on the day before, the sun was shining wonderfully when we fell into our beds and when we got up a few hours later again it still did. Sunday was promising a lot of good bands, one could meet all the old-school EBM friends in the Stadtbad at DUPONT, NZ or JÄGER 90, explore new bands at the Volkspalast or enjoy some synth pop at the Kohlrabizirkus.
In the Agra, one could go back to the beginning of the WGT in 1992 with GOETHES ERBEN and leave with today's headliner MONO INC. into a misty party night with Thomas Rainer and Steve Weeks. Disregarding the decently drunk, circle-dancing Netherlanders in front of the Agra with their laser swords and SCOOTER CD, quite a good musical gain. But before we get lost in the fog of the night, let's go back to the beautiful sunshine since Sunday was the warmest day of this year's WGT and what is better than visiting a latex fashion show in the Sixtina or the Heidnische Dorf (=Heretic Village)? The Heidnische Dorf is my personal salvation again and again. Is there a more beautiful thing than sitting with friends on a blanket, drinking delicious Federweißer surrounded by many like-minded people, yummy food, great stalls where one could buy a lot of beautiful things, some even handcrafted caringly for a few thalers and listening to the sounds of the bands who played on the Heidenbühne? [Linda Jane]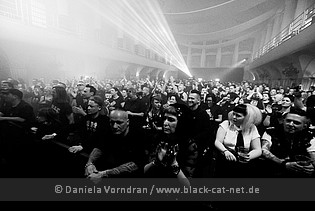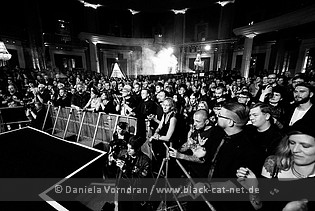 Dupont – Stadtbad [Daniela Vorndran]

Swedish Dark Electro Pop / EBM band DUPONT came into being in 1997 and debuted with the release of the demo 'Deliver'. Back then the band consisted of Riccardo, Danucci and Johan Damm on vocals releasing the first official single 'Behave' at the beginning of 2000, followed by the debut album 'Ukrainia' in 2001. End of 2002 the guys supported COVENANT on their "Northern Lights" tour. During the recording of the second album 'Intermezzo', singer Johan Damm called it quits leaving Danucci and Riccardo without a vocalist. Everything went on hiatus for quite some time and solution on how to continue the band were considered which eventually led to Riccardo becoming the new singer so they could finally complete and release 'Intermezzo' in 2005. The duo's newest long player 'Entering The Ice Age', released in August 2009. While officially the band still consists of Riccardo and Danucci only, I was surprised to see Johan back on stage. And as the band explained, he came back to join the band for some old-school performance. Oh how I wanted to see my good old Swedish fellows. But well, I literally saw nearly nothing. The whole stage was covered in thick smoke, enlightened only by some strobe light from the back every now and then. In fact, you could only hear the band.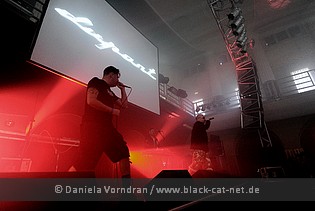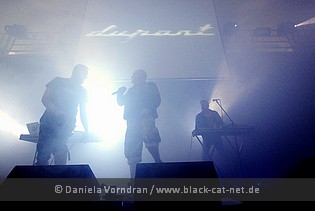 To my surprise, Johan shared vocal duties with Danucci and not Riccardo, who was singing when I saw the band for the last time. Still, it was a show making you dance and the sound was ok. But the band (or the venue?) should really think about some more light… //
https://www.facebook.com/dupontmusic
// Rating: 8 / 10
Arise- X – Nontox [Josie Leopold]

ARISE-X proved on Sunday that electro can come from the Allgäu. The formation entered the stage in the Nontox on Sunday with new singer Alena who had to learn all songs quickly by the way, a borrowed keyboarder, an industrial dancer and Andy who still sounded like CENTHRON vocally. The background video which was only finished in the morning was working, the lyrics hit home except for one song during which Alena did get confused for a while but smiled it away absolutely professionally. Andy – dressed in black, dark makeup – was the complete opposite of his outfit on stage. In-between songs he communicated brilliantly with the audience and catered for many laughs while he impersonated perfectly the evil singer during the songs. It's actually a pity that so few people found their way into the Nontox in the afternoon since Andy's transition skills and his singer's smile would have been worth the journey. //
http://www.arise-x.de
/
https://www.facebook.com/official.AriseX
// Setlist: 1. We' re Stars / 2. Ich fress dich auf / 3. Weg ins Licht / 4. Der dunkle Engel / 5. Angel in Bondage / 6. Die Hard / 7. Wahre Lügen / 8. Reich der Nacht / 9. Digitale Kampfmaschinen / 10. Nekromanie // Rating 8 / 10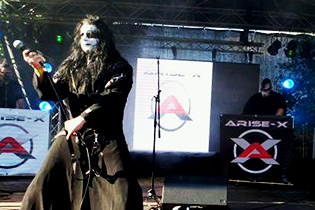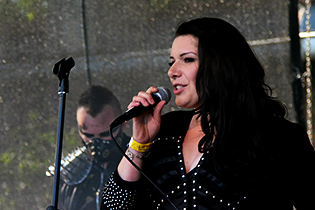 Empathy Test – Kohlrabizirkus [Daniela Vorndran]

Before DEPONT started, we were not sure where to stay that day, but since the light was so band and was not good the day before, we decided to change to Kohlrabizirkus for a young Synth Pop band called EMPATHY TEST. The band came alive last year and already picked up lots of fans. They signed to Brooklyn's Stars & Letters Records in the spring of 2014 where they released their second EP 'Throwing Stones' in December 2014, following the self-released EP 'Losing Touch' from February. The duo Isaac Howlett (vocals) and Adam Relf (production) was for live performances enlarged by Adam Casey (drums). Right from the start, I was positively surprised by the likable attitude of the boys. And the Synth Pop they were playing was very pleasant too. Really nice and I am curious about the debut album to be out soon. //
http://www.empathytest.com
/
https://www.facebook.com/empathytest
// Setlist: 1. Here Is the Place / 2. Kirrilee / 3. Throwing Stones / 4. By My Side (New Song) / 5. Hope For Me / 6. Last Night On Earth / 7. Siamese (New Song) / 8. Demons (New Song) / 9. Where I Find Myself / 10. Holding On / 11. Losing Touch / 12. Sleep (New Song) // Rating: 7 / 10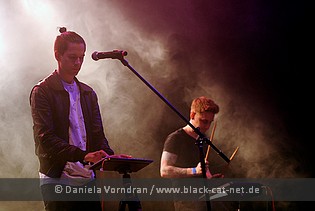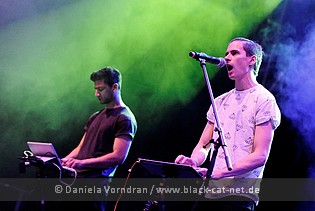 Dalriada – Heidnisches Dorf [Linda Jane]

DALRIADA are the most popular Folk Metal band from Hungary and were founded in Sopron in 1998. The seven band members have dedicated themselves to Hungarian folklore and the legends and sagas of the Carpathian Basin and interpret those in Hungarian language and with female vocals. Laura was really good vocal-wise and one could listen to her entire vocal range. A new song called 'Dozsa' was performed and generally, light, sound and the interplay of the band were very good. The audience was dancing, pogoing, chanting and clapping. //
http://www.dalriada.hu
/
https://www.facebook.com/Dalriadahu
// Setlist: 1.Saltarello / 2.Kinizsi Mulatsága / 3.Napom, Fényes Napom / 4.Dózsa 1 / 4.Nap és szél háza / 5.Ígéret / 6.Borivók éneke / 7.A Dudás / 8.Hajdútánc // Rating: 10 / 10
Keluar – Volkspalast Kuppelhalle [Daniela Vorndran]

First we wanted to stay at the Kohlrabizirkus for more Synth music, but since we will see BEBORN BETON soon at Blackfield, have seen VIVE LA FETE at Eurorock and also saw KIRLIAN CAMERA several times, we opted for another location change to close Volkspalast where some bands were playing I even haven't heard of. WGT is always good for some new bands to explore. First of them was KELUAR where we saw the last few songs of. KELUAR emerged from the roots of Synth Pop / Dark Wave band LINEA ASPERA and SCHWEFELGELB with its more punkish attitude, mixed with elements of NDW and EBM. Zoè Zanias aka Alison Lewis and Sid Lamar were vocalists in each of these bands and decided to form a band together, releasing 'Ennoea' on vinyl in 2013. KELUAR was quite interesting with its experimental New Wave sound and strong lyrics. While Sid was operating the technical part, Zoè was a real front woman, acting close to the audience of the Kuppelhalle. Definitely a band to have a closer look on! //
https://www.facebook.com/keluar
// Rating: 8 / 10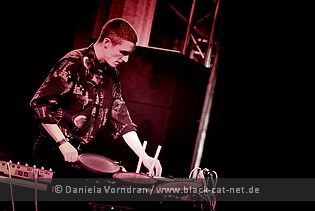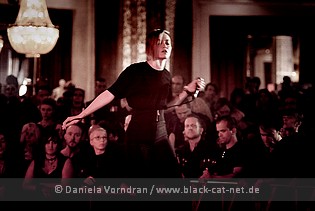 Clan of Xymox – Agra [Susann Lucas]

The Dutch band CLAN OF XYMOX was founded in Nijmegen in 1984. The band had a few successes in the 80s. After it got a bit more quiet about the band and it couldn't take up its old successes in the 90s, it got better after a few new line-ups within the band in 1997. The band found its way back to its own style and toured many festivals. I was especially looking forward to this performance on Sunday. When I entered the Agra hall, it wasn't filled entirely which didn't kill the mood, however. I thought it was rather comfortable to have some space for dancing without getting intimate with my neighbour. One could see many people dancing and I had the impression that they simply had fun at the show. Personally, the show could've been a bit longer since I always feel very comfortable with the sounds of CLAN OF XYMOX and I miss such a relaxed atmosphere at many shows. //
http://www.clanofxymox.com
/
https://www.facebook.com/pages/clan-of-xymox/111769160178
// Setlist: 1. Stranger / 2. She Is Falling in Love / 3. Love's on Diet / 4. In Love We Trust / 5. Hail Mary / 6. Muscoviet Musquito / 7. Emily / 8. Louise / 9. Jasmine & Rose / 10. Farewell / 11. A Day // Rating: 9 / 10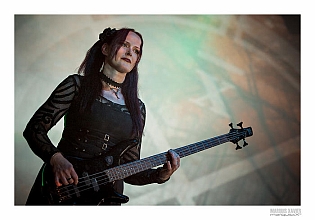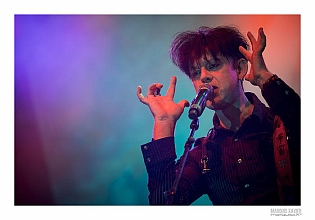 Veil of Light – Volkspalast Kantine [Daniela Vorndran]

Staying at Volkspalast we changed from Kuppelhalle to the smaller Kantine where Zurich based project, VEIL OF LIGHT, was up next. Even though VEIL OF LIGHT is a one man project, on stage there was additional support on guitar to add more depth and probably make the live performance more attractive. The band itself describes its music as Cold Wave, Post-Punk and "Gothgaze". The music is kind of dreamy and catchy, reminding a bit of CURE or JESUS AND THE MARY CHAIN. Still, lve they could not convince totally. Even though both guys were supported by video animations in the back, there was something missing in their performance. Besides every now and then the music sounded out of tune. I think I first have to check their recorded music out. //
https://www.facebook.com/veiloflightmusic
// Rating: 6 / 10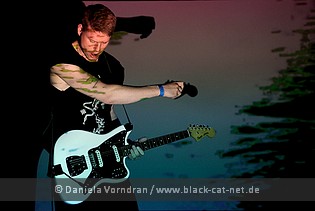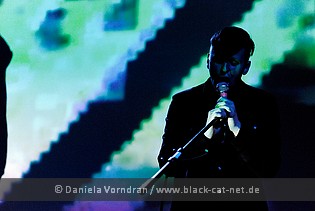 Arkona – Heidnisches Dorf [Linda Jane]

The Pagan Metal ensemble surrounding Masha Scream was founded in Moscow / Russia in 2002. Their songs deal with Slavic mythology. Masha Scream's versatile vocals are style-defining for the band's compositions. At the latest after the first song one knows why the singer chose the alias Masha Scream, this lady can definitely scream very well. The audience space in front of the Heidenbüne was filled very well and the band received lots of applause. People danced and partied exuberantly. It was luck for the visitors of the show or those who had missed the performance that ARKONA played in the Kohlrabizirkus on Monday again. //
http://www.arkona-russia.com
/
https://www.facebook.com/arkonarussia
// Setlist: 1. Yav / 2. Ot Serdca k Nebu / 3. Goi, Rode, Goi! / 4. Serbia / 5. Zakliatie Na strazhe novyh let / 6. Slavsia, Rus! / 7. Chado Indigo / 8. Katitsya Kolo / 9. Pamyat / 10. Stenka na Stenku / 11. Yarilo // Rating: 10 / 10
King Dude – Volkspalast Kuppelhalle [Daniela Vorndran]

Hinted to KING DUDE's performance earlier that day, I was really curious what would come up. According to the WGT program, some refer to him as the reincarnation of Johnny Cash. "While not entirely accurate, the sombre American folk of Thomas Jefferson Cowgill is certainly thrilling in its own way and capable of producing a consensus among members of widely varying sub-scenes." KING DUDE released the first album, 'Tonight's Special Death', in 2010. 'Fear' from 2014 is already the fourth studio album. According to the Facebook page, KING DUDE is TJ Cowgill along with Tosten Larson and August Johnson. But at the stage of Kuppelhalle, TJ was standing all alone, quipped with an acoustic guitar and a bar chair besides him where an half-empty Whisky bottle was placed whereof he took a sip every now and then. Maybe that's the reason for his raspy voice? The gloomy sounds, mixing Dark Folk Neo Folk and also American Folk, together with his voice were really impressing. In-between the songs, he told little anecdotes making everyone laugh. Cool show, was happy to check out this dude! //
https://www.facebook.com/kingdudemusic
// Rating: 9 / 10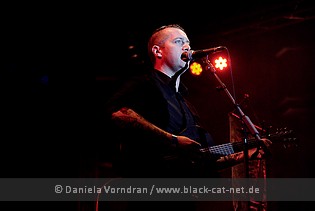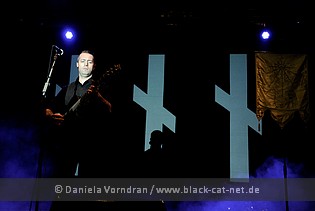 Tempers – Volkspalast Kantine [Daniela Vorndran]

Last band for me on that day was NYC-based duo TEMPERS, comprised of Jasmine Golestaneh and Eddie Cooper, blending ice-cold electronica and slow static disco with danceable beats. It was kind of flash-back to the eighties where you got the feel of JOY DIVISION and maybe SIOUXSIE SIOUX playing at a tiny club. The stage was mostly illuminated in red, creating a cosy atmosphere. If you want to put this band in a drawer, it might be Post-Punk or Cold Wave, maybe imprisoned in an almost gothic, industrial soundscape. The duo had quite a few fans in front of stage and I must say, even though the stage show was not really extraordinary, they had something… something to dig in further. Guess this was not the last time I heard of this band. //
http://www.tempersmusic.com
/
https://www.facebook.com/pages/Tempers/111084818978003
// Rating: 8 / 10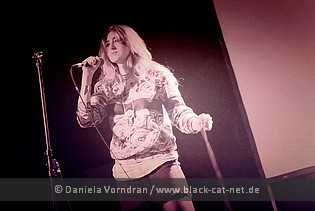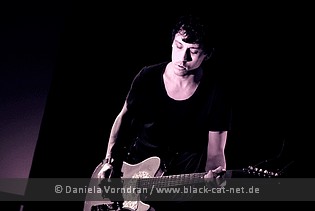 Mono Inc. – Agra [Josie Leopold]

What should I write about MONO INC.? Well, I saw them live more than once in the last few months and was always in rapture over the audience reaction. Those who go to MONO INC. are delivered emotions and a collection of people who soak in every song sung by the singer like a sponge. Musically the band is somewhere between guitar-strong and a bit over-emotional. Disregarding the announcement of individual songs and the in-between parts. The whole band and its enactment aim at a mix of heartbreak and ''going along'' which is a bit too much for me personally. One doesn't get more authentic with transitions which verge on kitsch and one has to be careful to not get the ''Schlager Goth music'' stamp one day. But whatever: The people in the Agra liked MONO INC., they clapped, danced, sang along and partied hard and got quiet almost per demand when calmer sounds were intonated. Perfect interplay of music and audience reaction, to put it shortly. //
http://www.mono-inc.com
/
https://www.facebook.com/monoinc
// Setlist (order might be wrong): 1. Arabia / 2. Symphony of Pain / 3. Gothic Queen / 4. Never-Ending Love Song / 5. Get Some Sleep / 6. Seligkeit / 7. Revenge / 8. It Never Rains / 9. Kein Weg zu weit / 10. After the War (Gary Moore cover) / 11. Voices of Doom / Encore: 12. Tag X // Rating: 7 / 10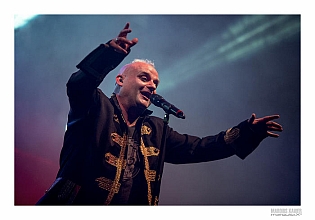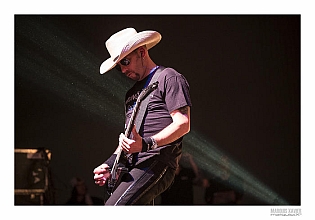 Latex fashion show by Bella Holmes – Sixtina [Linda Jane]

Bella Holmes from Leipzig presented her current collection on scene-famous models like Lady Lila from WELLE:ERDBALL, Loki from ELECTRONIC NOICE and the popular blogger Adora BatBrat from Sweden. six ladies and four men in beautiful and caringly designed latex clothing were all over the Sixtina's catwalk and delivered a phenomenal, kinky show.
Party-hopping after the shows

Party Agra 4.2 [Josie Leopold]

Pitch-black night in the Agra 4.2? A little bit since already after entering the room it was foggy-dim. Some festival visitors were deep in conversations on the side and electro lovers were dancing along in front of the stage to harsh industrial sounds which were chosen by among others Thomas Rainer (NACHTMAHR). From EBM lover to cyber lady in tutu, everything was stomping to harsh beats. A nice change to MONO INC.'s kitschy-sentimental sounds but still somehow too foggy to stand it for the rest of the evening. Our party journey lead us to the city centre.
Party 4 Rooms: Depeche Mode and Minimalkompromiss [Josie Leopold / Linda Jane]

WGT parties only playing Batcave, Wave and Industrial? That's not true at all, 4 Rooms proved that something different is possible. There was a DEPECHE MODE party. Finally something for my ears. Now, 4 Rooms is not very huge nor air-conditioned well so the people were not only pushing towards the dance-floor but also to the alleys and in front of the bar. Putting a unicorn on the DJ table and rocking along to a Best-Of-Depeche-80's with glow sticks is also rare. Disregarding that I still think after all those years DJ Martin should pay more attention to the mood of his visitors and not dig in the band's slow box for like an eternity, I found the 4 Rooms very convenient what might have also depended on my funny party company. One shouldn't leave the Minimalkompromiss party on 4 Rooms' second floor unattended either. DJane Sheatle (Chemnitz) and DJ robertianjim (Hamburg) were playing a colourful mix of minimal synth, cold wave, new wave, NDW, Italo Disco and 80s there. This floor was also filled well and people danced properly. Whether to Ofra Haza or Italo Disco sounds, the dance floor wasn't getting any emptier in the early morning hours. Once I will be back in Hamburg I will probably visit parties by and with DJ robertianjim more often.
Written by Josie Leopold, Linda Jane, Susann Lucas (with translations by Alex UltraRiot) and Daniela Vorndran
Pictures by Daniela Vorndran (
http://www.vorndranphotography.com
/
http://www.facebook.com/blackcatnet
), Xavier Marquis (marquis(pi)X) and Andy Geray
See also (all categories):