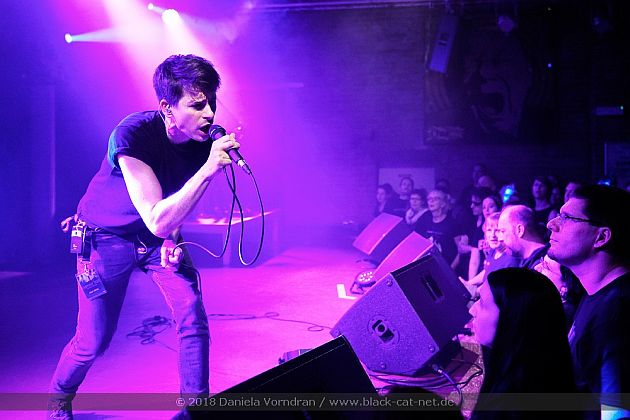 Interview with
Isaac Howlett (vocals) from Empathy Test

They surely took the scene by storm. Since they were formed in 2013 they have been climbing up the music hill expanding their impact and fan base in an incredible way. With numerous concerts played and numerous ones still ahead, great reception from both fans and critics, fantastic music combining electronic and synth elements with an impressive emotional load and vocalic power - they seem to prove there are no limits in musical creativity and the future is bright for the talented artists from EMPATHY TEST. Their most recent release, 'Holy Rivers' of 2018, only proves their talent in unquestionable. I had a chance to ask a few questions to Isaac Howlett, who, as he says - was born to do music. About tour life, fans, feedback and live shows... with the vocalist of EMPATHY TEST.
Reflections of Darkness [RoD]
: You mention on your website VNV NATION's Ronan Harris described you as "the solution to most of the world's problems" - what do you think he meant by that?
Isaac
:
Ronan said that after the first show we did together. We were filming some footage for our tour video at the merch stand after the show. He came out to meet his fans and sign some autographs. When he saw we were filming he leaned over and said, "I think EMPATHY TEST is the solution to most of the world's problems". We guess it was partly joke about our name being EMPATHY TEST but also, he's a fan of our music and hopefully he sees us as "the next big thing" in the scene.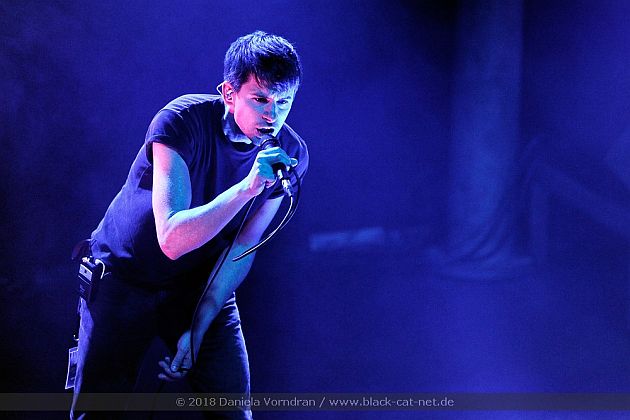 RoD
: You were on tour with giants such as VNV Nation, Mesh, De/Vision, Covenant or AESTHETIC PERFECTION - actually you are on tour even now with some more shows to come in January - and I must say you play insane amount of concerts, it's very intense! At some point in Germany you played every day - how do you handle that? You're Energizer bunnies or just love it; do you feel this is the right moment and should be lived up to 100%?
Isaac
:
2019 is looking like it is going to be our busiest year yet. We've already announced a week of UK shows in January with VNV NATION and then we'll go straight into a month of German shows with COVENANT in February and early March. Then we're touring North America with AESTHETIC PERFECTION in September and October. We are booking as many shows as possible. I, Chrisy and Sam all love performing and we love touring, so that keeps us hungry for more.
RoD
: What is the lifestyle of touring like in your case? Which band did like the touring with the most? I've heard AESTHETIC PERFECTION was an interesting one - are there any stories that may leak out from Vegas?
Isaac
:
We used to party a lot on tour and we still do here and there. But gradually we are learning that it is not possible (or healthy!) to keep doing that for very long. We are learning to drink less alcohol, try and stay fit and healthy and get as much sleep as we can, when we can. When we toured with AP and WILLIAM CONTROL it was a lot of fun and some crazy stuff happened - explosions, and concussions - but it was kind of a relief to get back on the bus with MESH after that. It's a lot safer!
RoD
: You mentioned to me before, as we were setting for this interview, you were born to do this (*to make music) - Could you develop on that? Was there any particular moment you felt you wanted to create music and perform live?
Isaac
:
My mother says I was always performing, from when I was very little. I would stand on a box and make theatrical speeches about nothing in particular. I formed a band with a friend when we first started school, it was called SPACE RAVERS. I think it would have been a synth pop band if we could have actually played instruments at that time. For a while I wanted to be an actor, but I hated learning lines and rehearsing. When I was about 17, a guy brought an electric guitar to drama class and I ended up borrowing it. It was that point I worked out what I really wanted to do.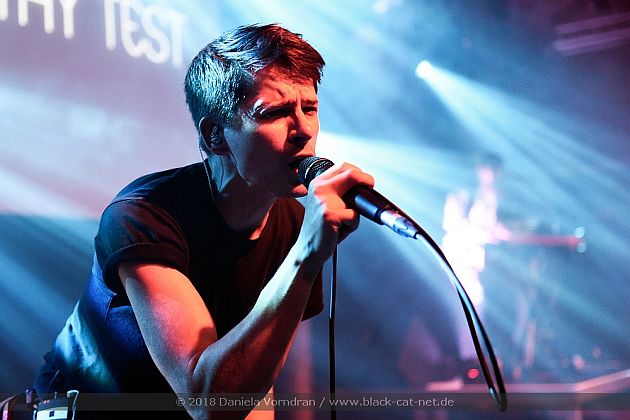 RoD
: We also touched a topic of feedback you get from various people - what's your approach towards the opinions you get - do you actually consider them valuable or rather try to stick to your vision of concerts and music in general?
Isaac
:
Dealing with criticism is difficult and it's hard not to take things personally when someone says something bad about something that is very personal and close to you. It's very easy to be critical of things - far easier than creating something - and people are lazy with it. They tend to dislike something for their own reasons and therefore be unnecessarily dismissive. But if someone has a valid criticism I will take it on board, we are always looking to improve all aspects of what we do, from the music itself to our performance, on every level. It's just important to choose which advice or criticism you take.
RoD
: Every artist has his/ her own way of interacting with audience - what's your approach? What are live performances to you?
Isaac
:
I have had people be annoyed with me for even saying thank you to the audience between songs. They felt that our music is very sad and emotional and that by speaking to the audience I am somehow betraying the art, or breaking the spell. I see what they mean but I think breaking down the barrier between the artist and the audience is important, because I feed off their energy and they feed off mine. The best shows are the ones where the audience and the artist are working together. That's not going to happen if I don't talk to them and encourage them and vice versa. Plus, our songs are very emotional and there needs to be some comedy too, right?
RoD
: Your music and lyrics carry a huge emotional load. It's also the case in your recent releases - new single 'Holy Rivers' that was out in October 2018 and the albums 'Losing Touch Remastered' and 'Safe From Harm' of 2017. Is this the way you approach life? Would you call it emotional or rather analytical? Do you feel either is easier?
Isaac
:
I would say I am a very emotional and sensitive person, yes. My songs are a way of dealing with those emotions. An outlet for them. Adam is more analytical. I think he has an easier time in that respect, yes! I tend to react emotionally to situations and then over analyse them. Adam is a lot calmer and less emotional, most of the time, anyway. I think perhaps the combination is what makes Empathy Test special. I am impulsive and emotional, Adam more measured and methodical. You could call us the unstoppable force and the immovable object!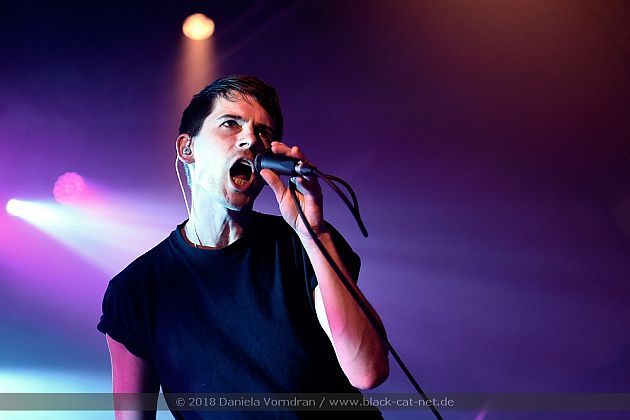 RoD
: You handle majority of your matters on your own - starting with music to promo etc. (apart from booking which - as I understand - is handled by Pluswelt). Is the fact that you have everything under control make it easier for you to promote your music or rather complicate things, disrupts, for example, creative process?
Isaac
:
I have a lot of work to do (ordering merch, posting merch, answering emails, sending emails, posting on social media etc.) which is not writing or performing music and it is a big distraction, but not having a full time day job is making things easier. I am working on EMPATHY TEST full time. It's incredibly liberating to be my own boss for the first time in my life, really. I genuinely enjoy everything that I do, even packaging and posting CDs, so that helps. And the ideas for new songs and lyrics are starting to flow again, so it is all good.
RoD
: Do you find the "scene" (and by the word scene I mean the dark wave one) in e.g. Germany different from the UK one? If yes - in what way?
Isaac
:
I think the scene is smaller in the UK, but the fans are just as loyal. There is a better infrastructure of smaller but well-equipped venues to play in Germany, a lot of the ones in the UK are closing down, it's really sad. We are hoping by touring the UK with VNV NATION in January we can pick up some more fans and be able play shows in more UK cities as a headline act in the future.
RoD
: In one of my favourite songs created by you ('Kirrilee') you sing:
"We've only a short while here
To be, ourselves
We're only a short while here
So just be yourself now"
Is this the way you live it? Is it possible at all or being yourself is just another mask we are wearing?
Isaac
:
For me, 'Kirrilee' is about remembering to have a good time and enjoy life, more than anything else. "We are only a short while here", after all. The song was written about an Australian girl I met when she was travelling in Europe. The Australians I have met in England have on the whole had a very relaxed outlook to life and travelling makes you more open to new experiences and living in the moment. The truth is that really, I was the one that needed to relax and embrace the moment, not her!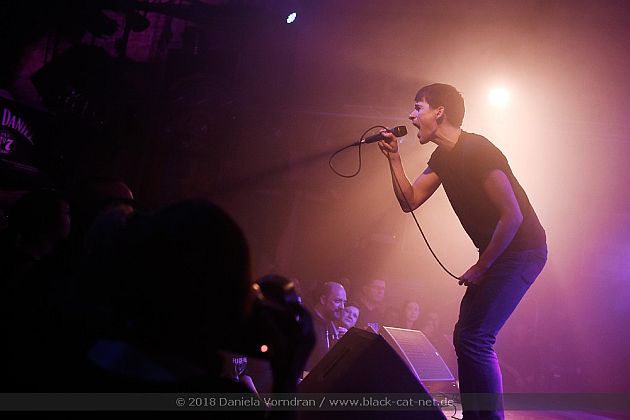 RoD
: In one of the interviews you say that Adam Relf, who is responsible for creating music for ET, is influenced by soundtracks to a great extent. I personally do hear a sense of sonic "space" the film music usually represents in your music as well - but why soundtracks, what do they stand for that you want to feature in your songs? Is it only soundtracks or movies as well that inspire you? Any movies in particular?
Isaac
:
Adam says that he likes movie soundtracks because they tell a story without words. A soundtrack compliments the action and heightens the emotion. A movie would be nothing without a soundtrack. And it is the same with our songs. When you listen to an EMPATHY TEST track you are really hearing two voices, mine in the vocals, and Adam's in the music. You will often hear a call and answer occurring in our tracks, between the vocal and lead synth melody. The best example is in the chorus of 'Holding On', where I sing a line and then the synth hook replies. Adam's music compliments and heightens the emotions I'm expressing with my voice and lyrics.
RoD: You are very active in social media - what do they stand for in your case? Is it just networking? Do you think it's still possible to control the content of the media like Facebook or is it living a life of its now?
Isaac
:
We would be nothing without Twitter, SoundCloud and Facebook. I was able to use those platforms to tell people about our music all over the world, without the need for a record label or record deal. It's getting harder and harder now to get your message to everyone via those platforms as they seek to make money from everything, but it is still very powerful and a great way to bring you closer to your fans and vice versa. You just have to keep evolving what you do, keep your ideas and music fresh.

RoD
: Standard question - what are you brewing for us? What's next in terms of new releases, concerts, music?
Isaac
:
As I said, we're doing a lot of touring in 2019, with VNV NATION in the UK, COVENANT in Germany and AESTHETIC PERFECTION in America. We're also joining VNV NATION in Barcelona and Madrid in May and we will be returning to Russia and Poland towards the end of the year. We will also obviously be bringing out a new single as soon as possible and working towards a new album to be released at the beginning of September. The new single/ EP will feature two new songs as usual, at the moment it looks set to be 'Dreaming of Trees' and 'Empty Handed'. There's also talk of a music video for 'Incubation Song', so watch this space.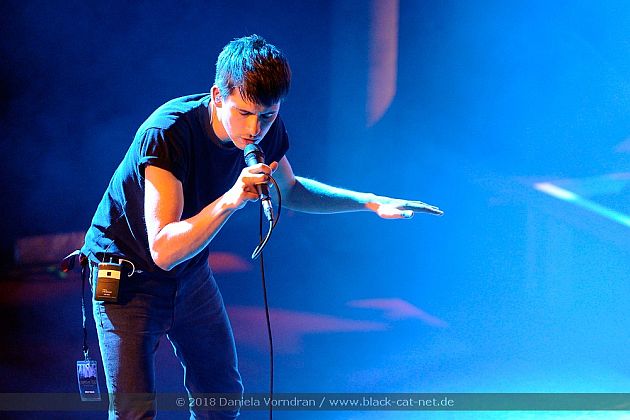 RoD
: It seems like things are turning really well for you - is there anything else you'd wish for?
Isaac
:
I'd like to perform on 'Later With Jools Holland' and on the 'Pyramid Stage' at Glastonbury. It would be cool to do a track with Robert Smith and to tour with some bands like CHVRCHES, EDITORS or WHITE LIES. I think Adam would love to do a movie sound track too, obviously. We will keep pushing, onwards and upwards!
All pictures by Daniela Vorndran (
http://www.vorndranphotography.com
/
http://www.facebook.com/blackcatnet
)
See also (all categories):