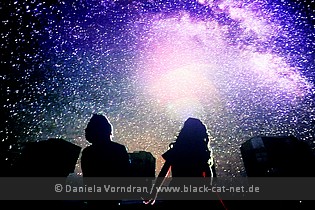 Essigfabrik, Cologne, Germany
20th September 2016
Mesh, Aesthetic Perfection & Empathy Test

On occasion of the recently launched new album, 'Looking skyward', MESH are on tour again with the kick off in the UK and now having some dates in Germany, amongst them a show in Cologne. On the first leg of 'Touring skyward', the band is supported by AESTHETIC PERFECTION who is already well known in the alternative/ gothic scene and the not so well known EMPATHY TEST.
Empathy Test
The quite young band from London, UK, was founded in 2013 by Isaac Howlett (vocals) and Adam Relf (production). Unsigned yet, the Electronic Pop duo has already produced two critically acclaimed EPs and thus gathered a growing fan base worldwide. Its music has been featured by the like of MTV's Catfish, XFM, KCRW, BBC Introducing, Clash, Idolator, Earmilk, PopMatters. The duo has already performed at festivals like the Wave Gotik Treffen in Germany and the Riba Rocks Festival in Spain and was support for BOMBAY BICYCLE CLUB, THE SUNSHINE UNDERGROUND, THE JAPANESE HOUSE, SUMMER HEART, DE/VISION and now MESH. Currently EMPATHY TEST is working on its first album.
http://www.empathytest.com
/
https://www.facebook.com/empathytest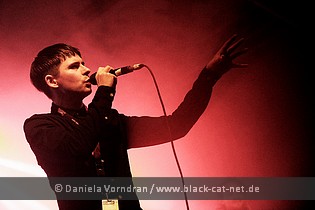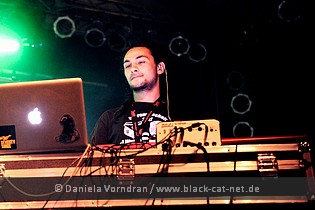 Music & Performance

For the live show, Isaac had Pristine on E-drums on board and a new keyboarder while Adam was not present. After the first song, the singer stated that it is the first time they are performing in Germany - if you neglect the fact that the band performed on a German festival. Anyway, you could clearly see how happy the guys were to perform here on this evening. The band performed a nice set of Synth Pop songs that were well received though for my taste one or two more up tempo songs would have been great. After the third song Isaac asked if there were by chance fans of them among the crowd and indeed you could hear some cheering. Quite happy with the next song was dedicated to them.
Setlist

01. Kirrilee
02. Last night on earth
03. Seeing stars
04. Holding on
05. Losing touch
06. Demons
07. Here is the place
Rating

Music: 8
Performance: 8
Sound: 8
Light: 6
Total: 7.5 / 10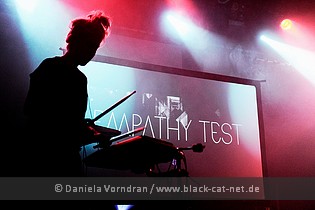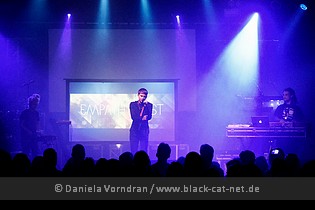 Aesthetic Perfection


This American Electronic project is founded by Daniel Graves in 2000. Formerly an insider's tip for the friends of Aggrotech/ Industrial sound with influences of Pop and Alternative it has quickly gained a growing fan base, especially after being supporting act for COMBICHRIST in 2009 USA and Europe. Up to now, five albums have been released. Also several songs can be found on numerous compilations. Furthermore, Daniel Graves has established his reputation with a lot of brilliant remixes amongst others recently for the new EP of IAMX. For the live shows on this tour he is supported by Elliot Berlin on the keyboard. For this tour Daniel announced to perform a more Pop -heavy set.
http://aesthetic-perfection.net
/
https://www.facebook.com/aestheticperfection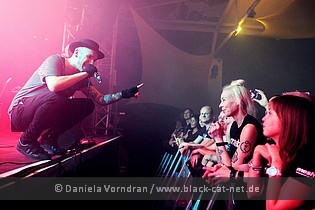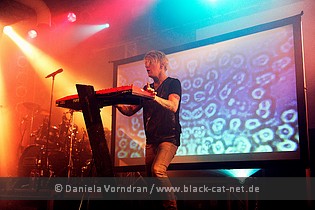 Music & Performance

When Daniel and Elliot hit the stage the venue has noticeably filled as there were also a lot of AESTHETIC PERFECTION fans amongst the crowd. Right from the beginning Daniel got the people going and almost everybody was moving and dancing to the songs and those who were familiar with the lyrics were singing along. Most of his fans could witness that he had an operation and treatment at his vocal chords a while ago. But as we could all hear the treatment was successful as Daniel showed up with excellent vocal qualities, be it his growling, screaming or clear singing. Apparently Daniel was in an excellent mood and gave a fulminant performance topped off with his posing which is just pure fun to watch as you perceive that he is not taking himself too seriously but giving also the photographers good opportunities to take a good shot of him while Elliot climbs on his keyboard every now and then. Definitely a felicitous concert.
Setlist

01. Forever
02. Tomorrow
03. Antibody
04. Vapor
05. The little death
06. Big bad wolf
07. Never enough
Rating

Music: 10
Performance: 10
Sound: 9
Light: 7
Total: 9 / 10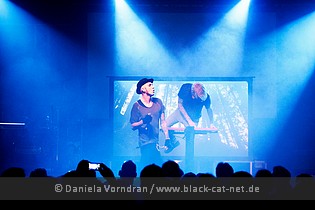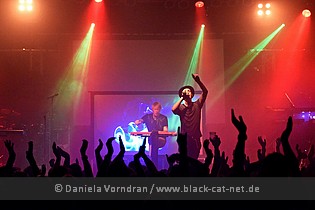 Mesh

For 25 years, the British Synth Pop/ Synth Rock band from Bristol delights the fans of this musical genre with catchy melodies and smart lyrics. While in their home country woefully ignored the guys have a steadily growing fan base in other countries in continental Europe and especially in Germany. Founded by the threesome of Richard Silverthorn, Neil Taylor and Mark Hockings, the band reduced in 2006 to a duo as Neil left the band for personal reasons. While Mark writes the lyrics, Richard does the songwriting and composing. For live shows they are supported by Sean Suleman on drums and Lord Richard Broadhead on keyboards and backing vocals.
http://www.mesh.co.uk
/
https://www.facebook.com/meshtheband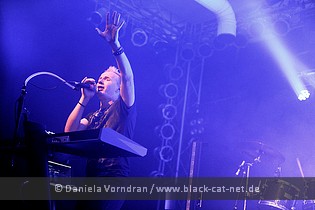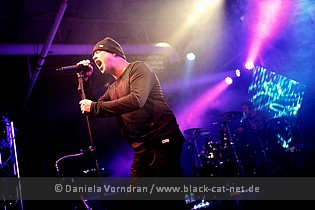 Music & Performance

During the stage rebuilding that didn't take long you could have a first glimpse of the stage setting that consisted, apart from the instruments, of a big screen in the background and four square LED screens hanging off-centre. Then the big screen displayed the tour and we could hear a speaker from the playback as an intro, followed by the announcement of the names of the band members: Sean, Lord Richard who appeared first on stage, greeted with a big applause, and took their positions and then Richard and Mark accompanied with even louder cheering. In high spirits they started the show and had the audience going right from the first tunes. Most of the audience knew the lyrics by heart, even of the new songs and so they all sang along with the band and danced along. As a fan for quite some years I have attended a lot of concerts not only in Germany. And looking around I could see many familiar faces of the fans who also visited a lot of shows and apparently are willing to travel far to see MESH. But of course there were a lot of other fans and people who had just discovered the band.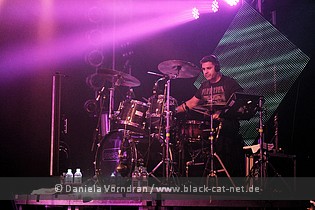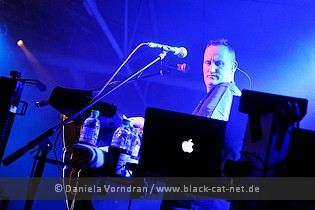 The show started with a couple of songs from the new album and then a brilliant mixture of old and new songs. To the delight of many die-hard fans they even performed 'Waste of time', a song of the very early beginning. And they had some other nice surprises in stores as three songs were played in alternative and extended ways which was really excellent. The whole show was topped off by a great light show, videos on the big screen and special effects on the small screens. In the beginning there were some slight sound mishaps as the backing vocals of Lord Richard at 'Hold it together' was a bit too loud and you almost got the impression that he is screaming but that was fixed immediately. The experiences of the last years shows had shown that 'Taken for granted' from the former album 'Automation baby' is THE song to finish the main set as the fans then start to sing the refrain in order to call the band back on stage for an encore. And of course we got our encores.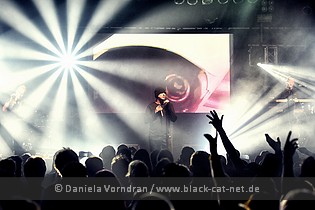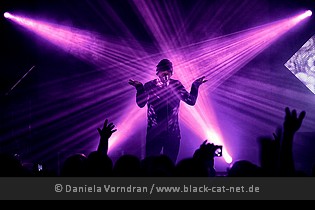 The first one consisting of two songs and the second one that invited everyone to raise ones last bits of energy for one more wild dancing, jumping and singing to 'From this height' before the band left the stage for good and left a happy crowd. After the show the fans had the chance not only to buy some of the nice new merchandise items but also have a little chat and taking photos with all members of the bands of that evening.
Setlist

01. Intro (End of the world)
02. My protector
03. Once surrounded
04. Paper thin
05. Hold it together
06. Little missile (alternative live version)
07. The ride
08. Tactile
09. Waste of time
10. The traps we made
11. Last one standing
12. To be alive
13. Circles
14. Kill your darlings
15. Runway
16. Just leave us alone
17. The fixer (extended live version)
18. Friends like these
19. Taken for granted
---
20. Before this world ends
21. Born to lie (extended live version)
---
22. From this height
Rating

Music: 10
Performance: 10
Sound: 9
Light: 9
Total: 9.5 / 10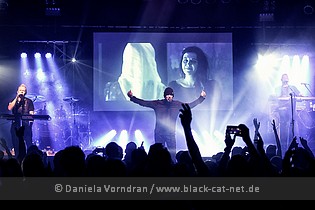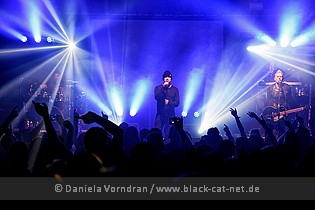 All pictures by Daniela Vorndran (
http://www.vorndranphotography.com
/
http://www.facebook.com/blackcatnet
)
See also (all categories):