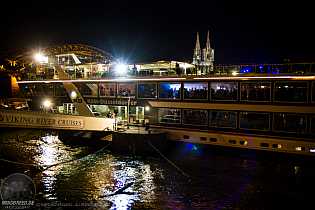 MS RheinEnergie, Cologne, Germany
19th July 2013
Amphi Opening Event 'Call the ships to port': Classic & Depeche, Welle:Erdball, Covenant

The Amphi Festival 2013 was already opening on Friday, 19th July, with an exclusive event aboard the "MS RheinEnergie", Europe´s biggest and most sophisticated domestic event ship, cruising the Rhine river. What a brilliant idea that was! This special opening event featured a programme with 3 live-acts, performing unique sets they never played before or which deviate from their regular festival setlists. And with COVENANT as headliner the organiser of the Amphi Festival had the perfect title for their new and exclusive event. Even the ticket in form of a pass at a lanyard was quite special as it came with a lush metal box. In the box there was a program (log book), a postcard and a sticker, too. Further you got a T-shirt at the check-in. This special box set was limited to 1,111 units and was already sold out months ago. The "MS RheinEnergie" is a big catamaran with a main, an upper and a foredeck. The stage was at the main deck but the audience had also a great view to the stage from the upper deck.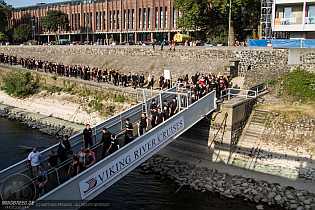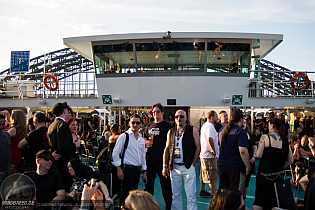 With CLASSIC & DEPECHE the cruise started. The musician Lars Arnold opened the evening with a bunch of DEPECHE MODE songs played on the grand piano. And with his performance you could have the feeling of being in bar of an exclusive hotel. To me it was a new sensation to listen to DEPECHE MODE songs this way and I have to admit that it was not so easy for me to guess the titles immediately. The place was not crowded but the people who gathered in front of the stage enjoyed the performance. // Setlist: 1. Stripped / 2. Enjoy the silence / 3. Never let me down again / 4. Heaven / 5. Freelove / 6. A question of time / 7. Sister of Night / 8. Walking in my shoes / 9. When the Body speaks / 10. Somebody // Rating: 7 / 10 // http://veranstaltungen-hausdorf.de/classicanddepeche/ / https://www.facebook.com/classicanddepeche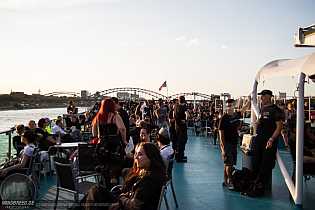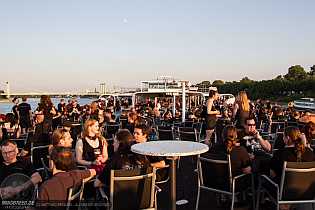 None other than Dr. Mark Benecke introduced the following act WELLE: ERDBALL. On the occasion of their 20 years anniversary the German band played a special selection of their early songs as a duo consisting only of Honey and Alf. By using a C64 and showing old commercials in black and white on the screen it is like a time travel and you find yourself back in the 80's, the time of the Neue Deutsche Welle and Wave music with the typical Minimalist Electro / Electro Pop sound. Additionally to their recognisable sound they are wearing consequently a special outfit consisting of a black suit, white shirt, black ties, black leather gloves and sunglasses. The place was almost packed and the audience was dancing and enjoyed the show quite a lot. As we were not so into their music we left at half of their show in order to enjoy the view on the fore deck. // Setlist: 1. Intro / 2. The love boat / 3. Berühren / 4. Wir spielen Gott / 5. Telefonsex / 6. Kleptomanie / 7.Nyntändo- Schock / 8. Monoton & Minimal/ 9. VW Käfer / 10. Graf Krolok / 11. Starfighter F- 104G / Encore: 12. Arbeit adelt! // Rating: 8.5 / 10 // http://www.welle-erdball.info/ / https://www.facebook.com/WelleErdball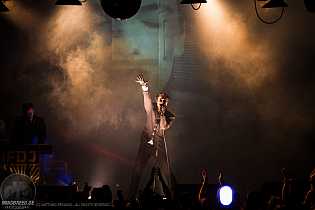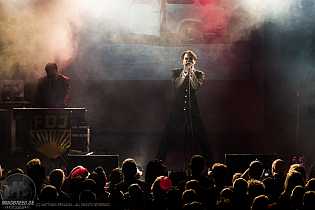 Headliner and eponym of this event was COVENANT, performing now again as pure Swedish band. The band was founded in 1986 by Joakim Montelius, Clas Nachmanson and Eskil Simonsson. Nowadays COVENANT is Eskil as the musicians who is the only live constant since the live line-up changed several times. So now Andreas Catjar took place for Daniel Myer as the latter is now focussing more on his own projects. Furthermore, live on stage you'll find Daniel Jonasson (DUPONT). Joakim Montelius for now is only working in COVENANT at the studio. Quite typical for COVENANT is that Daniel Jonasson and Andreas Catjar did the sline-check themselves and I guess it's due to their own high standard to have a perfect show. Finally Eskil in a good mood entered the stage and the party started.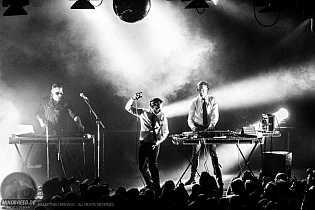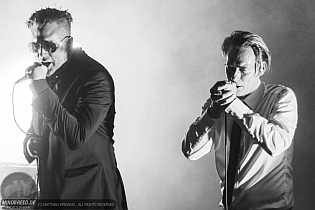 Throughout the years I have seen several shows of COVENANT and all I can say is that Eskil knows how to entertain the audience even though I would not call myself a fan. And what you get is quality. I have not experienced yet that his vocals failed. But there was a moment where my friend and I missed Daniel Myer badly as we didn't like the performance of 'Lightbringer' from Daniel Jonasson using a vocoder for his singing parts. Nevertheless it was a great concert. And when the show was finished we were at the landing again short before midnight. // Setlist: 1. Ritual noise / 2. Prime movers / 3. Edge of dawn (duet with Daniel Jonasson) / 4. Invisible & Silent / 5. Get on / 6. Figurehead / 7. We stand alone / 8.Lightbringer (Daniel singing with vocoder) / 9. The lasast dance / 10. Call the ships to port / 11. Encore: Dead stars // Ratings: 9 / 10 // http://www.covenant.se/ / https://www.facebook.com/pages/Covenant-OFFICIAL/156626197713557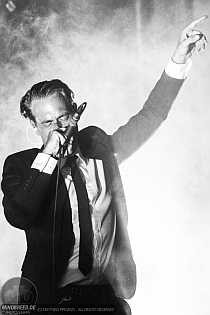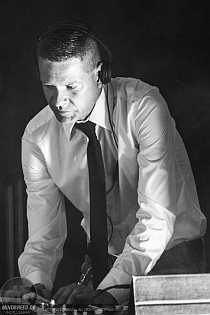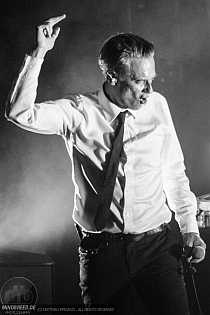 Roundabout half of the people left the ship but the rest enjoyed their drinks on the fore deck or danced at the after show party where DJ Honey (WELLE: ERDBALL) was at the turntables. In summary I have to say this was really a fantastic event with a perfect organization and so I hope that it will become integrated to the Amphi Festival.

All pictures by Matthias Irrgang (www.mindbreed.de)



See also (all categories):