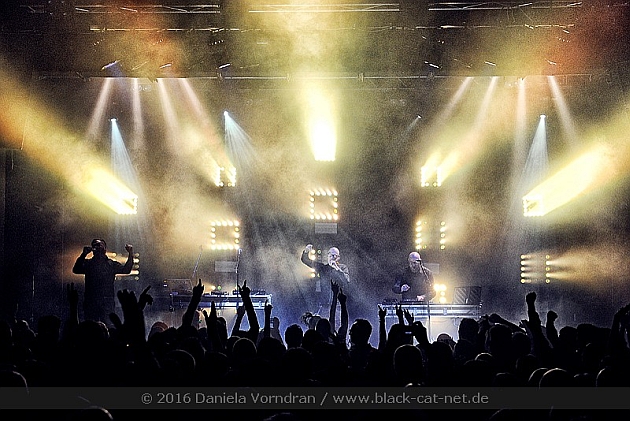 Kulturfabrik, Krefeld, Germany
26th November 2016
Covenant, Faderhead & Iszoloscope

Black is the colour of the night when I arrive at the Kulturfabrik in Krefeld. It is a cold evening in late fall but inside the venue, a cool yet cosy club, it is going to be hot. COVENANT are touring Germany and the show in Krefeld is sold out. Tonight's line-up is completed with ISZOLOSCOPE and FADERHEAD so I expect a fun night. Time to get into the club to be roused and driven by pulsating beats and vibrating basses.
Iszoloscope

Brought to life in 1999, the Canadian electronic project ISZOLOSCOPE aims at spheres and dimensions one can barely grasp - but still hear. Yann Faussurier, founder and heart of ISZOLOSCOPE, has created and released various albums and EPs, among them the first CD, 'Coagulating Wreckage' from 2001, or 'The Audient Void' in 2005. The music touches multiple genres, ranging from rhythm 'n' noise to industrial and ambient, reaching out to movie soundtracks and playing with psychedelic sounds. Visit the official website
https://www.iszoloscope.net
and discover more music by ISZOLOSCOPE on Facebook
https://www.facebook.com/iszoloscope
.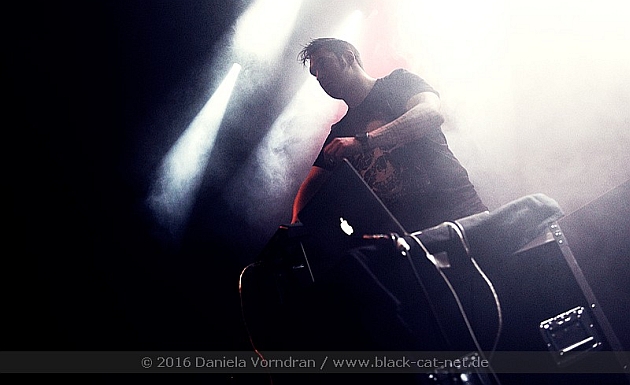 Music & Performance

At eight, ISZOLOSCOPE enters the stage and Yann starts right off. There is no time to breathe or collect oneself. The set begins noisy and raw, just as it is supposed to be, but the crowd does not catch fire immediately. Barely ten minutes into the performance, speed and drive increase and people start to move and eventually dance. ISZOLOSCOPE plays for roughly forty minutes, an energetic performance full of dedication and entertainment. Hard beats and rough sounds go hand in hand and make for a set full of fierce and powerful music. Unfortunately, the sound is - compared to the ISZOLOSCOPE CDs - a bit blurred at times and just a bit too noisy, and the basses lack pressure. Despite these sound issues, listening to and watching ISZOLOSCOPE on stage is great fun and a sweet foretaste of what else is to come tonight.
Rating

Music: 8
Performance: 8
Sound: 6
Light: 6
Total: 7 / 10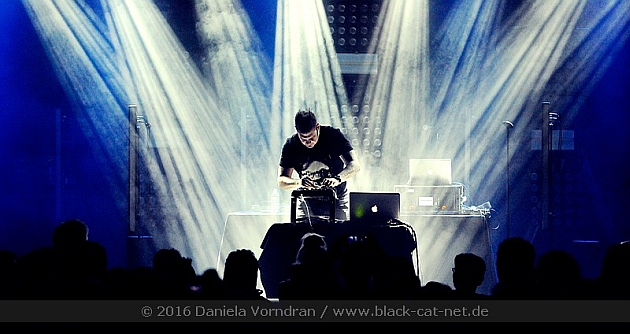 Faderhead

If you enjoy electronic music and have never heard of FADERHEAD, you might want to hurry to keep up with the sympathetic German producer from Hamburg. Sami Mark Yahya has been active as FADERHEAD since 2004 and has released several EPs and eight studio albums so far, with his debut 'FH1' from 2006 being an instant, well-acclaimed success. His latest album, 'FH-X', has been out since February this year. Throughout the years, FADERHEAD has worked with various musicians and DJs on stage and has played with bands such as DIARY OF DREAMS. His music is an attractive and versatile mix of electro pop, synth pop and EBM, the perfect recipe for a great listening pleasure and to get your body moved. Check his official website
https://www.faderhead.com
and keep in touch with FADERHEAD on his Facebook page
https://www.facebook.com/faderhead
.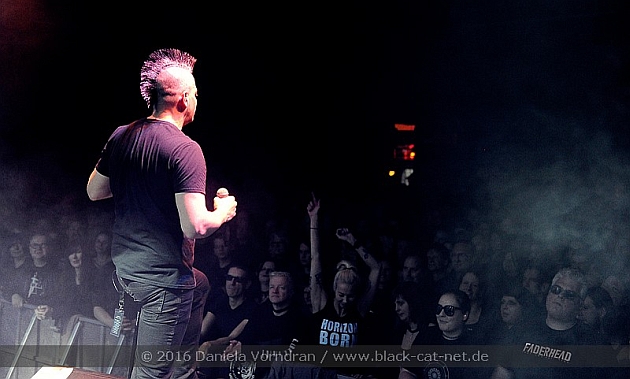 Music & Performance

FADERHEAD enters the stage at nine, accompanied by his DJ Joel Meyer and in a bright mood. The crowd cheers, the sold-out club is getting packed. There is some space left to dance though, and people start to move as FADERHEAD performs his first songs. The sound is crisp, the basses vibrate, and the vocals are on point. During 'Every Hour Kills', being supported by Daniel Myer on the DJ desk, the crowd gets more animated, and the little speeches FADERHEAD gives in between the songs are greeted with laughter and applause. The set varies between faster EBM tracks and catchy electropop that makes it hard to stand still. The atmosphere is great, very positive, joyful even. It has been a decade since the first album and the audience is clearly having a lot of fun. Unfortunately, the performance ends after thirty minutes, after FADERHEAD puts much energy into 'Generation Black' from the recent release and the last song, the well-known 'TZDV'.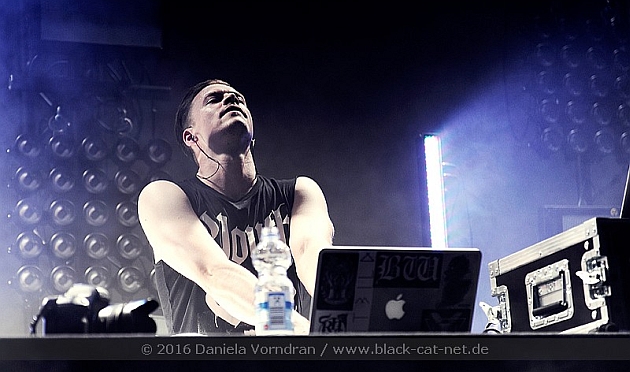 Between these two, FADERHEAD thanks the audience and receives loud cheers and applause in return. It is evident that artist and audience likewise enjoy the show. Now everyone is ready and warmed up for tonight's main act.
Setlist

01. Intro + Shame
02. Baby + Horizon
03. Every Hour Kills
04. Vanish
05. Naughty H
06. Sick City
07. Generation Black
08. TZDV
Rating

Music: 8
Performance: 9
Sound: 8
Light: 7
Total: 8 / 10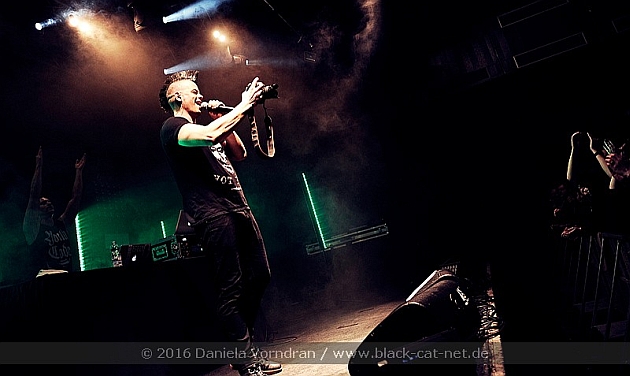 Covenant

It is 1986 when three friends start to compose and produce their own kind of electronic music, calling themselves COVENANT. Based in Helsingborg in Sweden, the band soon produces their first track, 'The Replicant', which becomes so successful that an album follows. Since then, COVENANT have released nine studio albums, two live albums, and various singles and EPs. This month, the two founding members Eskil Simonsson and Joakim Montelius have given their fans their newest album 'The Blinding Dark'. COVENANT play an almost sensual mix of synth pop, future pop, EBM and industrial, sometimes hitting you right in the gut and sometimes dreamlike, with Simonsson's voice ranging from distant to deeply emotional. Listening to their music, you may dance or you may dream – or do both. And if you want to learn more about their music, make sure to visit their website
http://www.covenant.se
or check their Facebook page
https://www.facebook.com/Covenant-OFFICIAL-156626197713557
.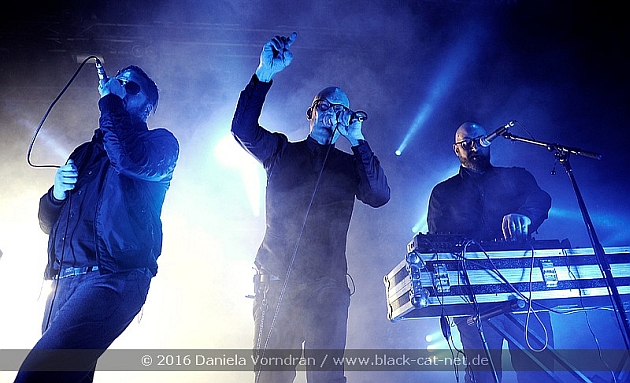 Music & Performance

By the time COVENANT are expected on stage, the Kulturfabrik has become packed. Remember that the show tonight is sold out; the club is almost bursting with fans, among them youngsters who want to feel the sound and dance as well as people in their forties and above who have been following the band since their first releases. It is dark when the first lights flare up on stage and fog fills the room. The synthesizers are waiting to be played, and they seem as expectant as the people are in front of the stage. As the intro unfolds and the members of COVENANT enter the stage, cheers erupt from the crowd and the club is set in motion soon. As Eskil Simonsson joins and starts singing 'Der Leiermann', the excitement increases. People are clapping their hands and move to the pulsating rhythm and the pitching synth sounds of the song.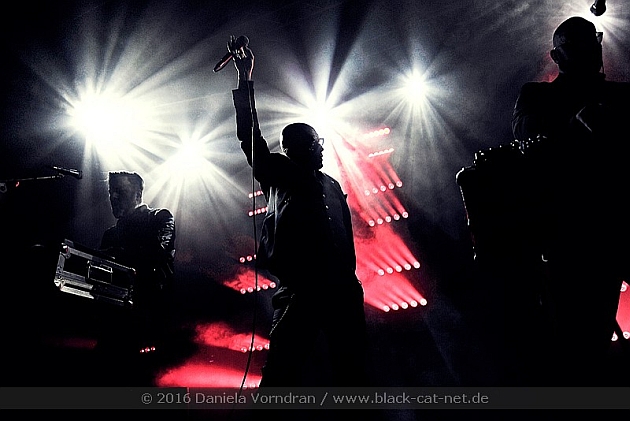 After performing 'Bullet', Simonsson takes his time to welcome and greet the audience and introduces 'I Close My Eyes' from the latest release. The song is kept mid-tempo and the passionate vocals carry the happy fans away. The set combines tracks from all COVENANT areas, albums, and EPs although it is clearly centred around the new album. Especially in the beginning, tracks from 'The Blinding Dark' dominate. During the night, COVENANT travel all the way through over twenty years of versatile electronic music with performances of classics like 'Figurehead' and 'Stalker' from the nineties, driving and fast tracks like 'Edge of Dawn' up to more recent songs like 'Lightbringer' from 2010. The audience sways and dances and sings along happily. All the while, spot lights on stage and the well-dosed use of fog ensure an atmosphere to get lost in. Tiny tales in between are used to keep in touch with the audience as well as to tell them more about the songs.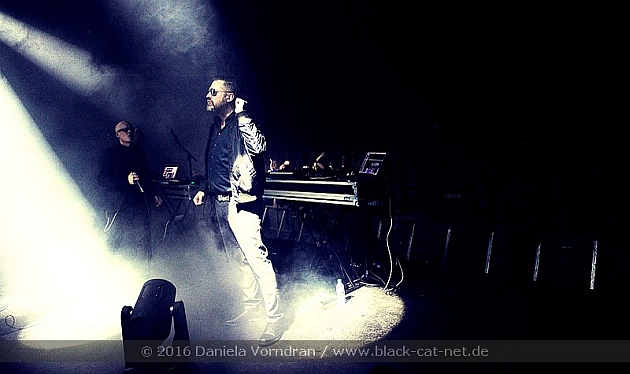 A double synth solo near the end of the set demonstrates how technical COVENANT are, even though their music sometimes feels as if one is caught in a dreamlike state of mind. The regular set ends after ninety minutes of soundscapes, sweat, and screams of joy when COVENANT perform 'Ritual Noise'. But the night does not end here. It is nearing half past eleven, midnight inching closer. COVENANT have left the stage only to return for the first encore barely five minutes later. The fans get three more songs, the first of them being 'Dies Irae' from the new album, dark yet appealing, and the feet will not stand still. During the second encore, 'Dead Stars' rain on the audience, synthesized and up-tempo and full of energy, until the show concludes with 'One World One Sky'. It is hot in the club as the lights fade. I feel exhausted. It has been an entertaining night.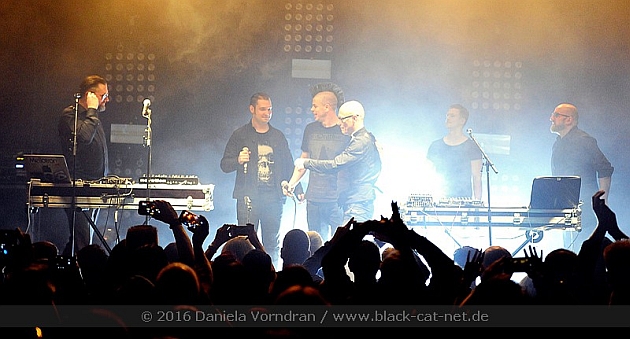 COVENANT have delivered a rock-solid performance, demonstrating both passion for their music and their experience as a live act. I would have wished for a more intense light show and for a more differentiated sound to capture the multiple layers of effects in the music even better. Apart from these aspects, I enjoyed seeing COVENANT on stage.
Setlist

01. Death of Identity, Fulwell (Intro)
02. Der Leiermann
03. Bullet
04. I Close My Eyes
05. Morning Star
06. Cold Reading
07. Figurehead
08. Edge of Dawn
09. The Beauty and the Grace
10. Go Film
11. The Men
12. 20 Hz
13. Ignorance & Bliss
14. Stalker
15. Lightbringer
16. Ritual Noise
---
17. Dies Irae
18. Sound Mirrors
19. Call The Ships To Port
---
20. Happy Man (Vocals)
21. Prometheus
22. Dead Stars
23. One World One Sky (with all bands)
Rating

Music: 8
Performance: 9
Sound: 8
Light: 8
Total: 8.3 / 10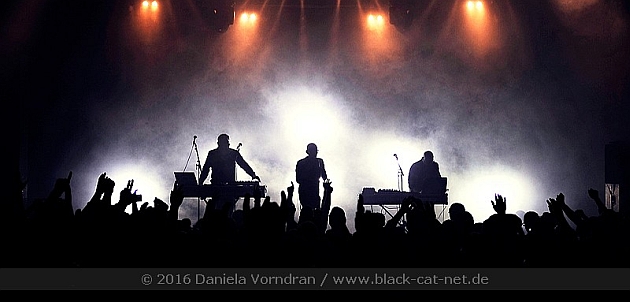 All Pictures by Daniela Vorndran (
http://www.vorndranphotography.com
/
http://www.facebook.com/blackcatnet
)
See also (all categories):