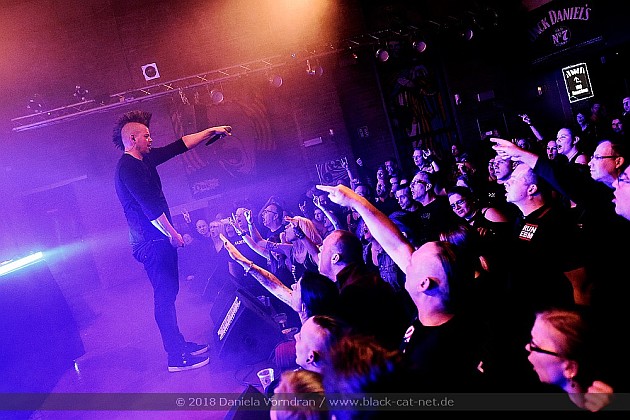 Kulttempel, Oberhausen, Germany
9th February 2018
Faderhead "Night Physics Tour" - Support: Future Lied To Us

Twelve years and eleven albums into his career, FADERHEAD promotes his latest output 'Night Physics', released last November, with a series of live gigs in February and March this year. We checked out the gig at the Kulttempel in Oberhausen, as this is the best place to do that!
Future Lied To Us

It's perhaps a bit too much to talk about a super group but the three members of
FUTURE LIED TO US
are certainly some very experienced musicians. Vasi Vallis (Frozen Plasma/ NamNamBulu), Tom Lesczenski ([:SITD:]) and Krischan Wesenberg (Rotersand) came together to form this new project, and as luck would have it the day of their gig in Oberhausen was also the release date of their debut album 'Presence'. If you're looking for perfectly produced, catchy Synth Pop and Future Pop, then this album is for you! To me it's a little too perfect and too smooth, if you know what I mean, but in Oberhausen FUTURE LIED TO US proved that being performed live and blasted through a big PA makes all the difference… https://www.facebook.com/futureliedtous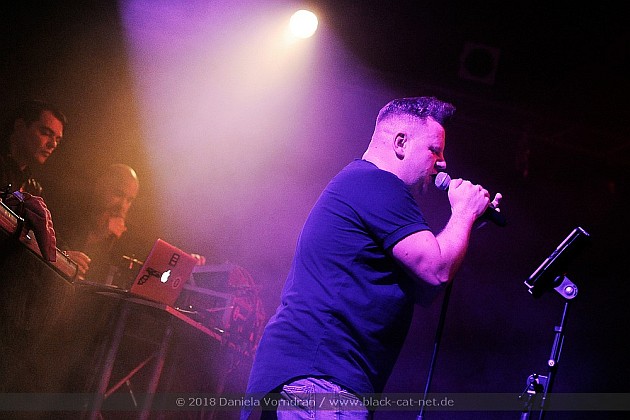 Music & Performance

Tom Lesczenski takes over vocal duties, while his two comrades stand on the right hand behind a desk full of laptops, synths and gear. The two successful club singles 'Falling' and 'Born In Silence' stirred enough interest to attract a nice crowd for the gig of the support act, and FUTURE LIED TO US proved that they are much more than just a support. The experienced performers they are, they quickly won over the audience and after all it was for two thirds of the trio some sort of home gig, so there were many friends and long-time supporters in the crowd. Best thing about FUTURE LIED TO US is to see Tom Lesczenski as a full-time vocalist, finally. For his main project [:SITD:] he only sings a couple of songs and leaves the bulk of lead vocals to founding member Carsten Jacek. A pity, as in my book Lesczenski is the superior vocalist, and in Oberhausen he proved that he is also able to shoulder a 45-minute gig as a front man easily.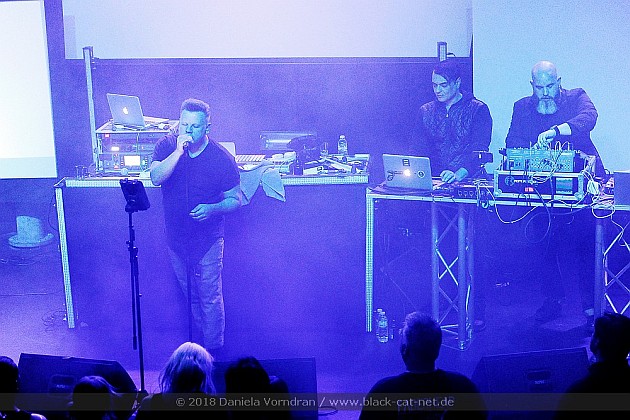 I'm pretty sure that FUTURE LIED TO US is a project that we're gonna hear a lot more from, after all this is just their start. Meanwhile the first edition of the 'Presence' is sold out and got a second run, and the album also entered the German Alternative Chart at number three in its first week. Not too bad!
Setlist
01. Suffocate
02. Intentions and Masks
03. Drops
04. Lost
05. Surrender and Pain
06. Blue Light
07. Faces
08. Falling
09. Born in Silence
Rating

Music: 8
Performance: 8
Sound: 9
Light: 7
Total: 8 / 10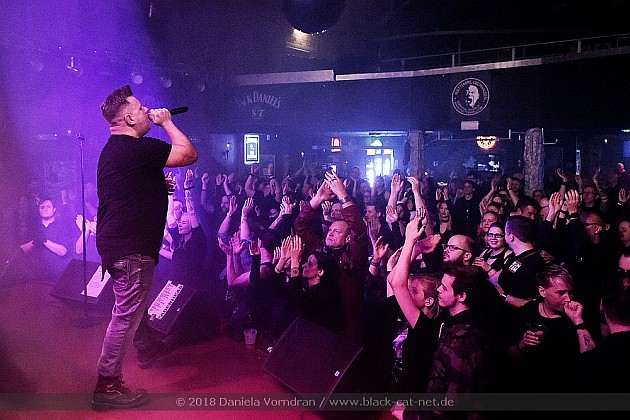 Faderhead

Sami Mark Yahya aka
FADERHEAD
doesn't seem to be a person who would care too much about genre clichés or musical borders. Of course his work is rooted in EBM, Industrial and Synth Pop but Yahya unashamedly slips in a pretty high share of Dance, Techno, House and other styles outside "Goth" stereotypes, both musically and visually. More often than not, FADERHEAD is the most "ungoth" act at the festivals of the scene. Which is a good thing! FADERHEAD is a multi-faceted beast, and while the stompy Techno/ Industrial crossbreeds as 'TZDV' or 'Destroy Improve Rebuild' are arguably the project's most popular tracks as they've been played to death in underground clubs across the continents, there's also an all-ballad EP, sleazy Trance numbers, some acoustic songs, even a *gasp* JUSTIN TIMBERLAKE cover, and melancholic Synth Pop - plenty of it! Especially the latest album 'Night Physics' delves even deeper into electronic Pop but of course there are still the irresistible beats and shouty EBM elements, too. http://faderhead.com / http://www.facebook.com/faderhead
Music & Performance

Last time I saw FADERHEAD live they operated as a trio, for this tour it was just Jörg Lütkemeyer from STRAFTANZ supporting Yahya as commander-in-chief regarding sound and keys. Starting with the title track of the new album, it soon became clear that this is gonna be a big, big party. Not just because of the bottle of something the boys shared on stage, and despite the fact that the Kulttempel wasn't exactly packed, thanks to fierce competition in the Ruhr area this night. At least this way there was enough space to dance and jump around, and most in the crowd did just that, even though many were already senior members of the scene. 'Generation Black', a track from the 2016 album 'FH-X' and second song of the night, described the crowd perfectly. With the third song things got a little chaotic, but in a pretty hilarious way.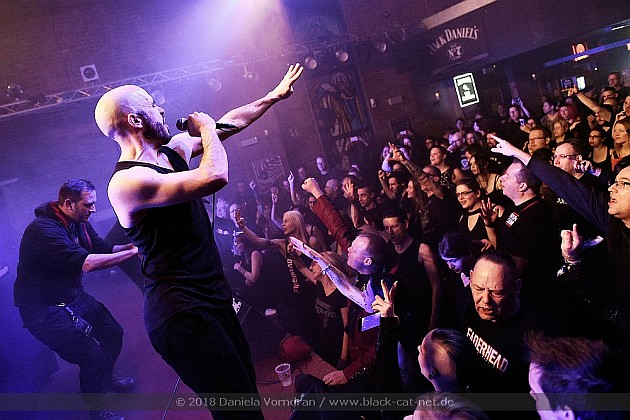 Lütkemeyer accidentally started the wrong track, and after a short discussion and some banter Yahya just said "alright, play this one, anyway!" Not the last little glitch, and soon they gave up on the pre-planned setlist and simply took requests from the crowd or just played what the two boys felt like in this moment. Spontaneity and chaos just added to the fun, and thankfully FADERHEAD didn't forget all the important crowd bangers such as 'No Gods, No Flags, No Bullshit' or 'Swedish Models and Cocaine'. With 'O/H Scavenger' there was even a rare cut from FADERHEAD's debut album, and 'Know Your Darkness' proved to be the strongest song from the new album. Yahya had a pretty talkative night, at times a bit too much, to be honest. All his crosstalk is fine between songs, during the songs it gets a bit lost. Anyway, it was another highly entertaining night with FADERHEAD and if they are in a city near you should just grab some vodka and have some fun.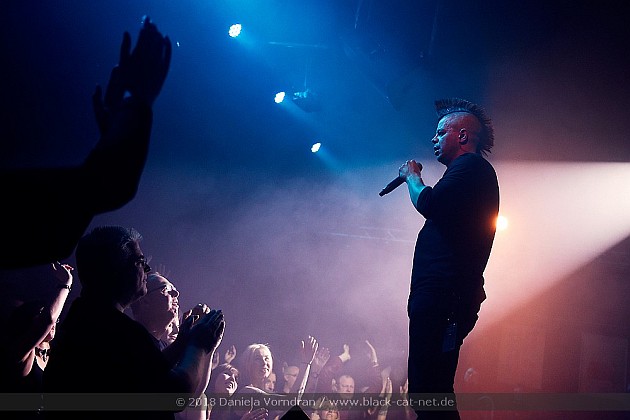 Setlist

01. Night Physics
02. Fistful of Fuck You
03. Generation Black
04. Champagne & Real Pain
05. Escape Gravity
06. Swedish Models and Cocaine
07. Destroy Improve Rebuild
08. Know Your Darkness
09. Every Hour Kills
10. Someone Else's Dream
11. Dancers
12. Noise. Voices. Noise. Silence.
13. Vanish
14. All the Devils
15. O/H Scavenger
16. No Gods, No Flags, No Bullshit
17. Take Your Fuckin' Meds
18. Sexy Back
19. Home of the Creeps
20. TZDV
Rating

Music: 8
Performance: 8
Sound: 9
Light: 8
Total: 8.2 / 10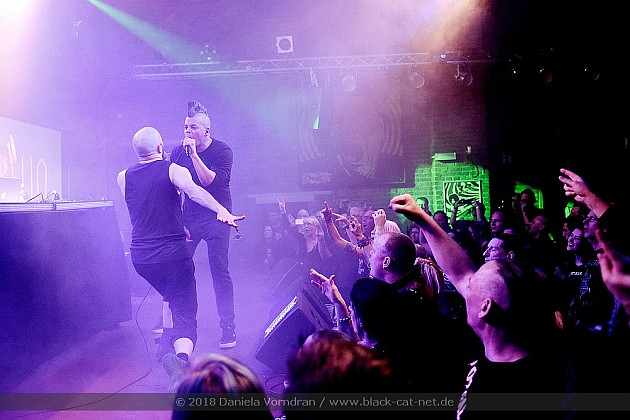 All pictures by Daniela Vorndran (
http://www.vorndranphotography.com
/
http://www.facebook.com/blackcatnet
)
See also (all categories):