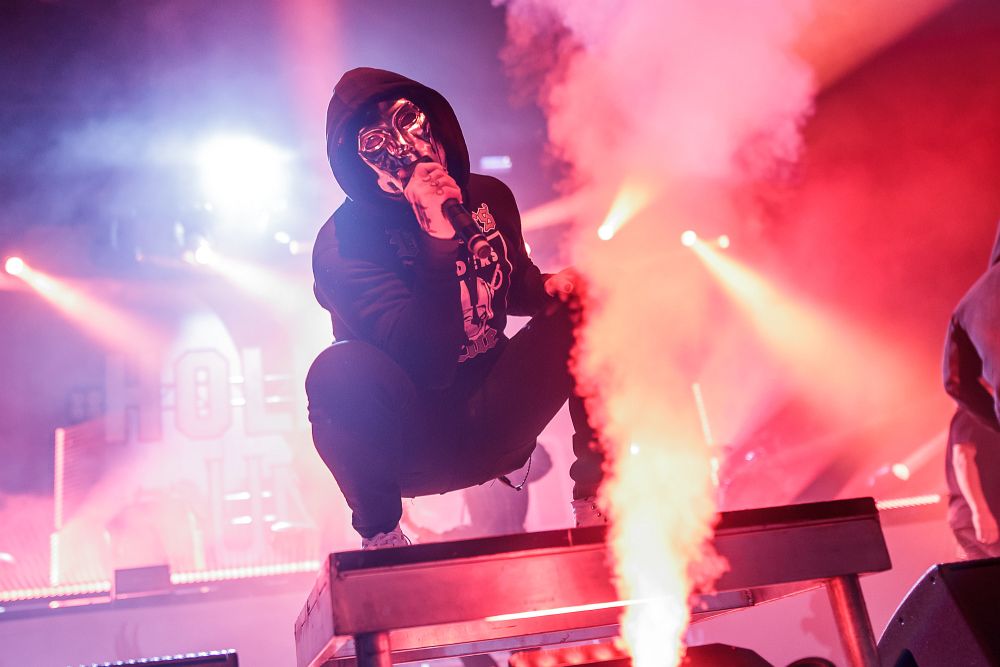 Palladium, Cologne, Germany
4th February 2018
Hollywood Undead - "European Tour 2018" - Special guests: Astroid Boys

February started off with a bang for lovers of Rap Rock music in Cologne, as the L.A. based combo HOLLYWOOD UNDEAD made the Palladium one of their stops on their tour through Europe.
Astroid Boys
The Welch band
ASTROID BOYS
from Cardiff, UK opened the evening for HOLLYWOOD UNDEAD. However, since their last support show for ENTER SHIKARI in December, they seem to have lost one of their shouters, as they now appeared with five members on stage. Their debut album 'Broke' has been released in September 2017 and contains an eclectic mix of punk rock and so-called "grime" music. https://www.facebook.com/astroidboys / www.astroid-boys.com
Music & Performance

At around 7:45pm, the band's DJ entered the stage and started to spin a continuous mix of Hip Hop tracks. 15 min later he was joined by the rest of the band, two shouters, a drummer and one guitarist. Their first two songs were met with little reaction from the crowd. The up-tempo Song No. 3, 'Dirt', struck a chord with several people, who began bouncing and dancing. Unfortunately, the rest of the performance grew a little monotonous, and the band just did not seem to gain traction. Maybe it just was not their day, as ASTROID BOYS left a much more energetic impression during their last gig in December 2017. So this time the majority of people seemed to be relieved when their gig ended shortly after 8:30pm.
Setlist

01. Mask
02. Cheque
03. Dirt
04. Razz
05. Foreigners
06. Ghost
07. Kill
08. Lost
09. Minging
10. Dusted
Rating

Music: 6
Performance: 5
Sound: 5
Light: 5
Total: 5.3 / 10
Hollywood Undead

The quintet from Los Angeles, California has been pushing boundaries since its formation back in 2005. The band spent one year recording their first album 'Swan Songs' and spent another two years looking for a record deal, which would guarantee them artistic freedom (e.g. no censoring of "vulgar" language). Since then they have released four more albums, the latest of which, 'Five' was released end of 2017. www.hollywoodundead.com / https://www.facebook.com/hollywoodundead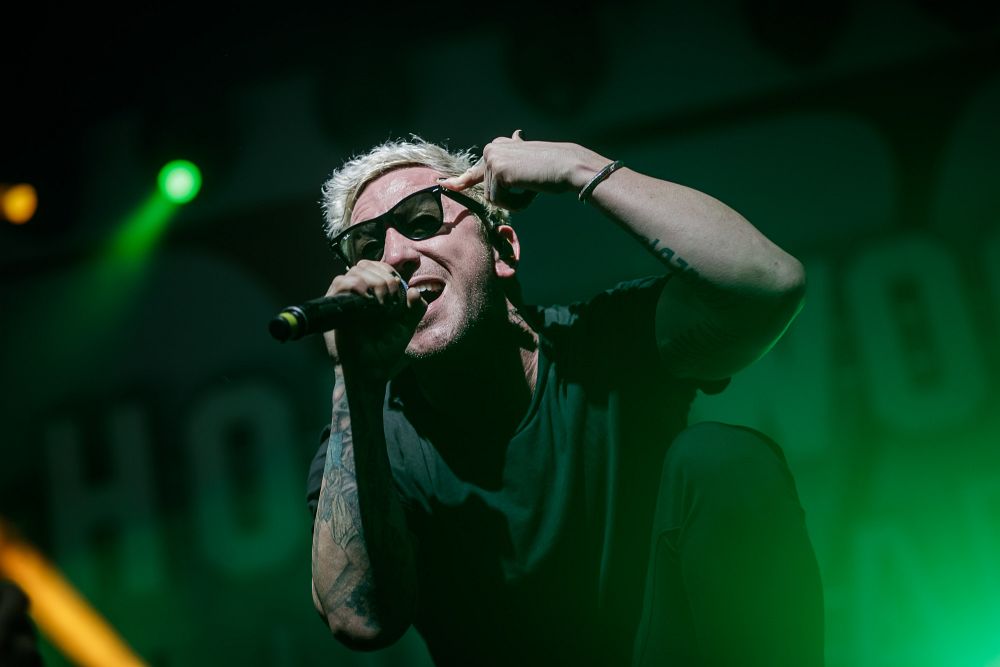 Music & Performance

During the change-over, a huge black curtain - displaying the characteristic band logo - shielded the stage from the gaze of an excited audience. This curtain finally came down with the first vocals of the opener 'Whatever it takes' around 9:15pm. The five band members all wore their trademark masks for the first three songs. After that, the performance really started to build up steam, and the first circle pits started to appear. Before the song 'Comin' in Hot', the band asked for "a really good guitar player" from the audience. The choice fell on a young guy named Toby, who had to endure a few challenges (e.g. like being forced to give a speech and then having his words replaced by pre-recorded profanities), before he could perform the song together with the band, a job which he finished remarkably well. After the highly anticipated and ecstatically received song 'Bullet', touring drummer Matt Oloffson was introduced to the audience, and was forced to sing a playback version of BON JOVI's 'Living on a Prayer'. This made it abundantly clear that
HOLLYWOOD UNDEAD
did not just come to Cologne to perform their music. They were here to entertain, which they managed to do in an excellent way without taking themselves too seriously.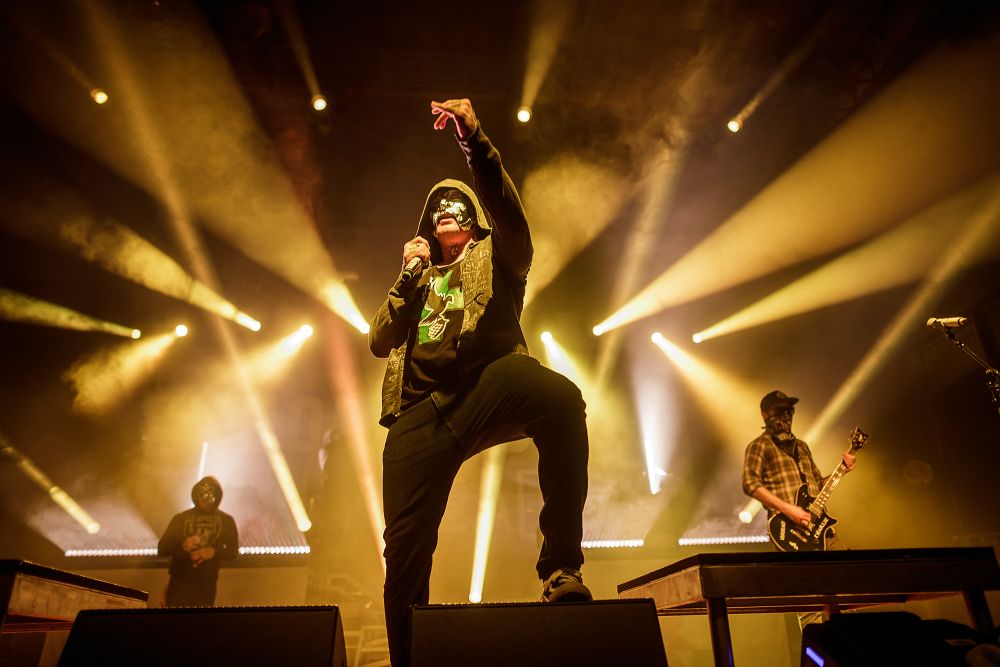 Their creativity and wit did make this a show well worth watching, especially as the band members kept alternating vocals and switching instruments amongst themselves. The two highly clamoured for encore songs included the all-time party classic 'Everywhere I go', to which the people in the audience sang their heart out. This brought the playtime to a solid 90 minutes, so every fan could go home with the content feeling of having witnessed a truly vitalizing performance of their favourite act.
Setlist

01. Whatever It Takes
02. Undead
03. Been to Hell
04. California Dreaming
05. Dead Bite
06. Renegade
07. Gravity
08. Comin' in Hot
09. War Child
10. Tainted Love (SOFT CELL cover)
11. Bullet
12. Another Way Out
13. Riot
14. Cashed Out
15. Bad Moon
16. Day of the Dead
---
17. Everywhere I Go
18. Hear Me Now
Rating

Music: 8
Performance: 7
Sound: 8
Light: 9
Total: 8 / 10
All Pictures by Rainer Keuenhof
See also (all categories):