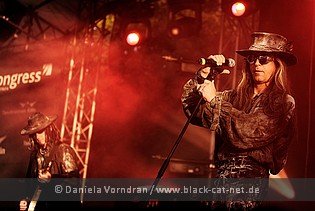 Tanzbrunnen, Cologne, Germany
20th to 21st July 2013
Amphi Festival 2013 Day 2: Chrom, [x]-RX, Ben Ivory, Tyske Ludder, Classic & Depeche, The Beauty of Gemina, Santa Hates You, Icon of Coil, Faun, Letzte Instanz, Alice Neve Fox, Umbra et Imago, Diary of Dreams, Die Form, Rosa Crvx, Oomph!, Anne Clark, 20 Years Welle:Erdball, Fields of the Nephilim, Peter Heppner plus lectures of Christian von Aster and Dr Mark Benecke

It was already hot on that summer Sunday when we woke up. And during the day, it nearly became unbearable. Bright sunshine and temperatures far beyond 30 degrees Celsius were awaiting us at the Tanzbrunnen. Luckily, there were some points where you could fill up your bottles with drinking water and besides, the security were also providing water for the people in front of stage. Early, short before twelve, the first band of the day entered the stage in the Staatenhaus.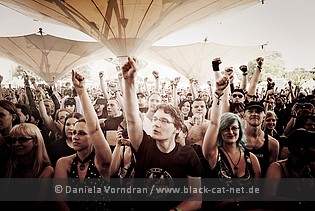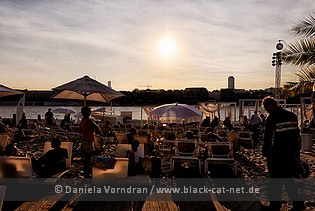 Chrom – Staatenhaus [JS]

As the main stage has been prepared for the first act this day, CHROM already started their gig in the Staatenhaus. I remember two years back as I saw Tom and Chris at the Amphi as guests. And now they are playing at the Amphi Festival 2013 themselves. Congratulations! It was a good venue to start this festival day as I want to underline the extreme heat outside. CHROM played different songs, from their debut album and as well from the last one. It was a good mixture to get started for a new day at this superb Festival. Both were in a good mood and delivered a very good show. It was a pleasure, as always. With their mix of synth pop and EBM, CHROM, despite their relatively short existence now, found a solid fan base. // http://chrom-music.com / https://www.facebook.com/pages/CHROM/106585156057408 // Setlist: 01. Morbid Mind / 02. New Impression / 03. In My World / 04. Losing Myself / 05. We´ll be alone / 06. Slave / 07. Loneliness / 08. Memories // Rating: 7 / 10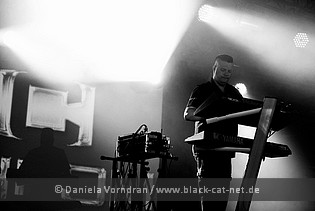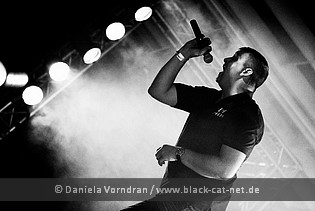 [x]-RX – Main Stage [SK]

Local boys [X]-RX certainly get stuck into day 2 at Amphi on the main stage. Smeared in tribal paint, and bursting with a frightening level of energy, it may be only noon on another blistering hot day but that's not going to spoil the party. The crowd was eager to get the dancing started, some even breaking cover from the shade and throwing shapes in the glorious sunshine. "Welcome to the show" the energetic one offers us from the stage. And it's quite fitting, both for their performance, and indeed as an introduction to a promising Sunday of music and mayhem. // https://www.facebook.com/XRxmusic // Setlist: 01. The Update / 02. Hit the Drums / 03. Virus Infect / 04. Kein Herz / 05. Escalate / 06. Hard Bass Hard Soundz / 07. Tanz Schlampe / 08. Stage 2 // Rating: 6.5 / 10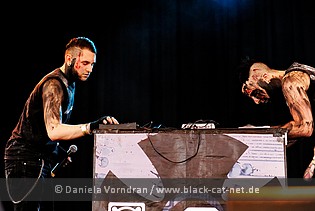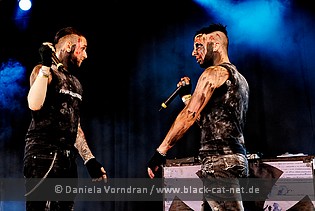 Christian von Aster (Lecture) – Theatre [DV]

Writer Christian von Aster, born 1973, was reading at Amphi on both days. At the first day, his first part of 'Schwestern der Begrenzten Barmherzigkeit' was on focus, today it was the second part, with the holy sisters having their residence in Cologne. What would be more fitting. His humoresque story about the Sisters Gracia, Hippocratia, Schickse (only wearing pink!) and Superbia, brother Knuspe and their fight together with Cardinal van Doom against demon Heuchiel caused lots of laughs in the theatre. Besides that, sitting there was really nice, no heat, darkness and time to relax. The entertaining reading of von Aster was not our last visit at the theatre during the day… // http://www.vonaster.de / https://www.facebook.com/pages/Christian-von-Aster/83507056711 / https://www.facebook.com/SchwesternDerBegrenztenBarmherzigkeit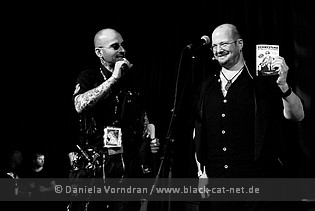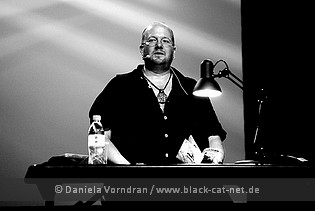 Tyske Ludder – Staatenhaus [JS]

TYSKE LUDDER is Claus Ålbers (vocals, performance), Ølåf Å. Reimers (synths) and Rålf Homann (percussions, shouts). The phrase TYSKE LUDDER means German whore in Danish and Norwegian. It was a hard decision weather I was going to see BEN IVORY or TYSKE LUDDER in full as they played more or less at the same time. But I got to the point that I wanted to see both, so I saw the half gig of each one. Seeing TYSKE LUDDER live is quite a rare commodity. There, the trio was already in full activity and pleased the audience with hard-headed electro, spiced up with a lot of videos that were shown in the background. TYSKE LUDDER's style is a bit harsh with a mix of catchy melodies which made me dance along the provoking songs. The show was worth to see, as they wore masks and looked very special. The Staatenhaus was nearly completely filled this early time in the "morning". All seemed to had a lot of fun and enough energy to get through this second day. // http://www.tyske-ludder.com / https://www.facebook.com/tyskeludder // Setlist: 00. Intro / 01. Androgyner Held / 02. EUGENIX / 03. Hexenjagd / 04. Shokkz / 05. Bastard / 06. Canossa / 07. Bambule / 08. Panzer / Rating: 7 / 10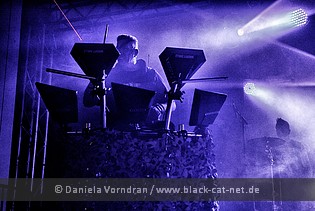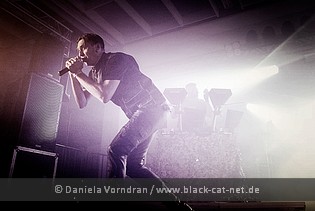 Ben Ivory – Main Stage [JS]

As I reached the main stage it was at the first time a bit strange. This is because BEN IVORY's music is way different to the stuff I heard minutes before. But it was a perfect deal to come down a little bit and relax. I enjoyed his voice and really liked the instrumentals. It was hard to see the lightshow at the main stage because of the sun but I realized some really nice effects according to the different moods in the presented pop songs. Besides model and front man Ben, also the female keyboarder was an eye catcher, adding wonderful backing vocals as well. // http://www.benivory.com / https://www.facebook.com/benivoryofficial // Setlist: 01. Neon Cathedral / 02. Come Undone / 03. YSGAHM / 04. Remedy / 05. Glow / 06. Bright Lights / 07. Sound Of The City / 08. The Righteous Ones // Rating: 7 / 10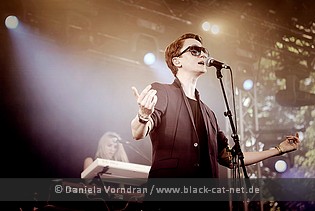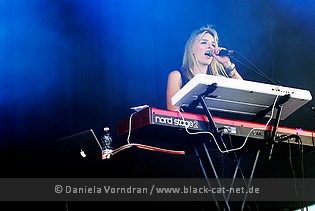 Classic & Depeche – Theatre [DV]

CLASSIC & DEPECHE is a project by piano player Lars Arnold, interpreting various DEPECHE MODE songs on his grand piano. He already played at the Amphi opening event "Call the Ships to Port". While he was playing some well-known songs and bigger hits there, the setlists presented on Sunday in the cosy theatre also contained some instrumentals, like 'Pimpf' or 'Sibeling' and some lesser known songs, just to name 'Corrupt' or – if you are not a fan – 'Goodnight Lovers'. But of course there was also room for big hits like 'Never let me down again' or the first single from the new DEPECHE MODE album, 'Heaven'. Interpreting all those songs on piano only gave them e special feeling and sometimes it was even hard to recognize which song was played. Nevertheless his performance was great and I just regret that I could not see the whole show. // http://www.classic-and-depeche.de / https://www.facebook.com/classicanddepeche // Setlist: 01. Pimpf / 02. Shake the Disease / 03. Everything Counts / 04. Home / 05. Master & Servant / 06. Goodnight Lover / 07. Strangelove / 08. Heaven / 09. Policy of Truth / 10. Never let me Down Again / 11. Precious / 12. Corrupt / 13. Sibeling / 14. People are People / 15. Question of Lust / 16. Somebody // Rating: 8 / 10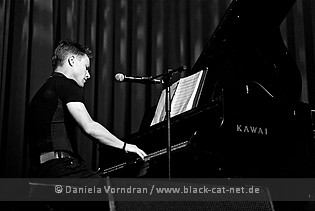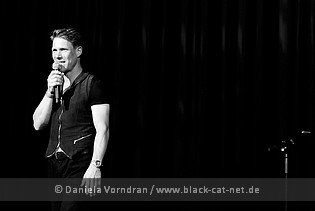 The Beauty of Gemina – Main Stage [SK]

Switzerland's finest export (surely we've had enough of chocolate and Roger Federer by now?) take to the main stage after an introduction from renowned forensic biologist Dr Mark Benecke. There's no messing about here, the band launching into a ferocious 'Victims of Love' and starting a short, sharp shock of a set that is wisely picked to give the most to a festival crowd. Front man Michael Sele, immaculate despite the heat, works the stage throughout – and it's a big stage – which keeps the large crowd feeling involved, a vital part of this performance. 'The Lonesome Death Of A Goth DJ' keeps things going and manages to sound deliriously funky, whereas 'Suicide Landscape' drips with the dark gravitas it deserves, a bleak hymn to lost lives. The real show-stopper comes in the form of 'Dark Rain', radically reworked for recent acoustic album 'The Myrrh Sessions' and presented here as a gothic-blues, porch-front jaunt. A few bemused faces soon melt when they get it, and by the mid-section, and some nifty fretwork from Marco Gassner, the whole crowd are enjoying it. Why stick to formula? This version should surely now stay in the set-list. Good stuff.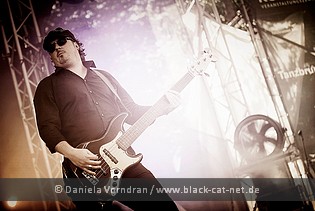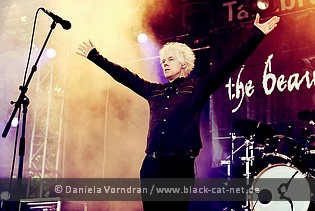 'Dark Revolution' is despatched efficiently, and familiar behemoth 'Rumours' gets the huge cheer it always craves and deserves. One small gripe is with set-closer 'Last Night Home'. There is no doubt it is a stately and magnificent song, but it's too long and ponderous for a finale, especially after the crowd involvement and enthusiasm for 'Rumours'. But this is a small detail. THE BEAUTY OF GEMINA took the Amphi crowd by the scruff of the neck and gave them a spirited and professional performance, no doubt winning over many new fans, as well as keeping the regulars more than happy. // http://www.thebeautyofgemina.com / https://www.facebook.com/TheBeautyOfGemina // Setlist: 01. Victims of Love / 02. The Lonesome Death Of A Goth DJ / 03. This Time / 04. Suicide Landscape / 05. Dark Rain (Acoustic Version) / 06. Dark Revolution / 07. Rumours / 08. Last Night Home // Rating: 8.5 / 10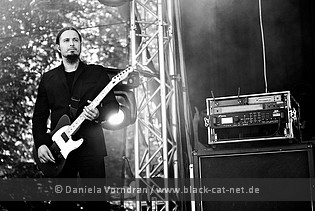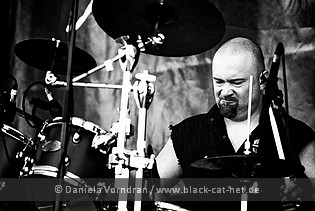 Santa Hates You – Staatenhaus [JS]

First I thought SANTA HATES YOU wouldn't really suit my taste but I was wrong. Peter Spilles, also founder of PROJECT PITCHFORK, rocked the stage. He had female assistance by his wife Jinxy and two other men who were performing throughout the show as a pig and a bunny. These two man in costumes did something like magic tricks, playing puppet theatre and business stuff on stage. It wasn't meant to be understood but it was yet quite funny. The stage was decorated very special. With many screens on it and even a sofa. It created a nice atmosphere and it was a pleasure seeing the show even if you don't like the music. As I do know that many of you do really like PROKECT PITCHFORK I was wondering why SANTA HATES YOU just has 9,000 likes on Facebook, whereas Pitchfork has over 39,000... Hey, c'mon people... // http://www.santahatesyou.com / https://www.facebook.com/pages/Santa-Hates-You-Official/465972230537 // 01. In the Laboratory / 02. Independence / 03. Raise the Devil / 04. How to Create a Monster / 05. Rocket Heart / 06. Prepare to Be Boarded / 07. Hexenpolizei / 08. Fight Truth Decay / 09. Z.O.M.B.I.E. / 10. Scum / 11. It's Alive! // Rating: 8 / 10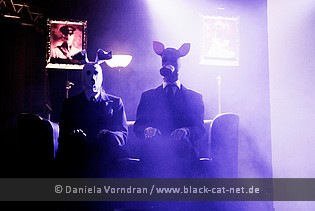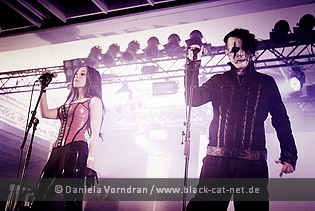 Dr Mark Benecke (Lecture) – Theatre [DV]

Also forensic biologist Dr Mark Benecke (born 1970) was holding a lecture the day before. As criminal biologist, Benecke studied biology, zoology and he is specialist for forensic entomology. As forensic expert he sees a crime scene as a treasure box and source for evidences. He loves the details and deals in his search for evidence with traces of blood, sperm, excrement and urine - always looking for the genetic fingerprint – but more than that with insects and maggots on cadavers. They are his personal assistants. In his metier, he counts as one of the most noted experts worldwide. Besides his work, he also holds lectures at selected festivals, like at WGT or at Amphi festival, where he talks about various topics and criminal cases out of his daily routine. And so he was also holing a very interesting lecture this day, highly appreciated by the audience. The lecture dealt with vampirism – people killing others because thinking the others were vampire, or because they saw themselves as vampire. Many people missed it though since the theatre was overfilled and no one else was allowed to enter it anymore. // http://www.benecke.com / https://www.facebook.com/markbenecke


Icon of Coil – Main Stage [JS]

Long before Andy LaPlegua turned into COMBICHRIST, he shared huge success with Sebastian Komor und Christian Lund as founder and front man of the Norwegian electro pop formation ICON OF COIL. On the peak of their success, with their latest album 'Machines Are Us', the band took a time off and concerts became highly anticipated gems, while LaPlegua's alter ego COMBICHRIST " started its worldwide triumph! The more excited I was to see ICON OF COIL for a live show at Amphi Festival 2013. Andy entered the stage and looked as good as always with an enormous presence. He tried to interact with the people. But the audience was a little bit too shy, even restrained.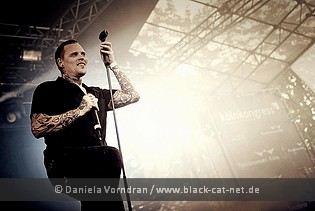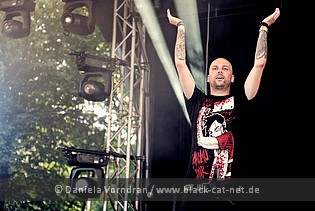 Although Andy asked them to dance along they didn't. The audience's behaviour was very different according to the COMBICHRIST shows, I guessed Andy was a bit too fastidious. He didn't accept the audiences behaviour and told them that they are like a half hard penis. And even this didn't work. So it came to the point that Andy jumped into the audience in front of the stage and walked through the crowd during he sang his last song. That was really cool and the people finally had tons of fun trying to dance with Andy, to sing along with him or at least trying to touch him. That was the highlight of the day. // http://www.reverbnation.com/iconofcoil / https://www.facebook.com/IconOfCoilOfficial // Setlist: 01. Situations Like These / 02. Regret / 03. Thrillcapsule / 04. Existence in Progress / 05. Shallow Nation / 06. Shelter / 07. Dead Enough for Life / 08. Floorkiller / 09. Pursuit // Rating: 9 / 10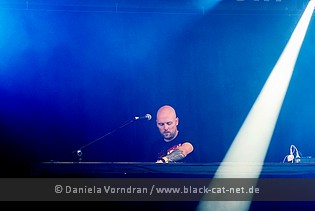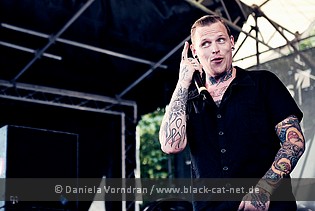 Faun – Staatenhaus [SK]

German pagan-folk/ Darkwave/ medieval band FAUN gracefully take to the Staatenhaus stage, and there's a relaxed and patient atmosphere here, the venue about three quarters full. The spooky stage lights perfectly compliment the ghostly shapes that emerge from the fog, and it feels special before a note has been played. And the music is sublime. It's a real thrill and joy to see a group of multi-instrumentalists playing in harmony, tackling cross-genre styles with ease, and creating a sound that is uniquely their own. The range of instruments being played here, many a complete mystery to me it has to be said, makes for a mesmerising show as they appear and disappear and get passed around. But it's the voices at the heart of FAUN that are the key. The male and female interchange on 'Diese Kalte Nacht' is simply stunning for example, haunting, transporting us off to some distant time and place. I love that I had no idea what they were singing about on many of the songs, German, Latin, Greek and Scandinavian all in full use (so I am told).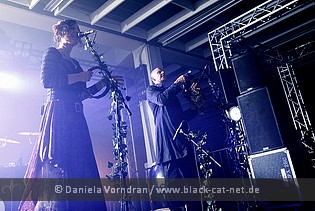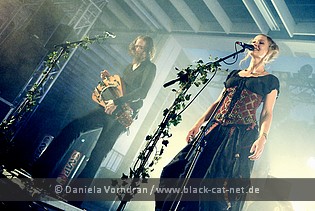 At one point some frantic percussion hints at DEAD CAN DANCE, building up into a wild gypsy-dance before the sublime singing joins in to fulfil the picture. Six or seven minutes of sheer bliss. And there is a huge response after a big drum introduction to 'Rhiannon', the best song of the set, delivered with ease and poise, and sweeping over the crowd in waves. At times the instrumental sections of the songs can drag things down slightly, some sameness creeping in here and there, but let's face it, no-one is expecting FAUN to suddenly don neon and do an Aggrotech number. At what they do, they are excellent, and they turn in a darkly enchanting set of songs that leave the audience soothed and satisfied. // http://www.faun-music.com / https://www.facebook.com/FaunOfficial // Setlist: 01. Andro / 02. Zeitgeist / 03. Diese Kalte Nacht / 04. Iyansa / 05. Iduna / 06. Rhiannon (with drum intro) / 07. Tinta / 08. Wind & Geige / 09. Hymn to Pan // Rating: 8.5 / 10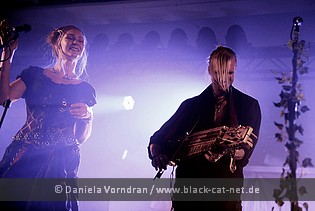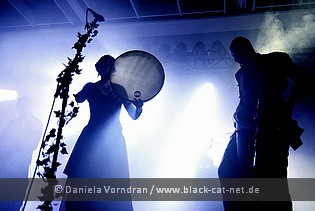 Letzte Instanz – Main Stage [SK]

I took to this lot instantly, they seemed the perfect band for a sunny, festival afternoon. Their catchy, medieval rock sound was tuneful and melodic from the start, and the crowd welcomed them with wide open arms. The twin assault of violin and cello give this Dresden band an edge, gifting their occasionally flaccid heavy-riffing a graceful make-over. A fast-strummed intro to 'Der Garten' gets a roar of approval before a sneaky violin refrain steals the show and the song really gets going. It's a great song, the vocals very clear here, and the abrupt and dramatic ending is perfect. Singer Holly revels in getting the crowd as involved as possible, pitting males against females in a battle of noise between songs, creating a sea of waving hands, and over-seeing the release of giant black and white balloons into the audience for their endless amusement.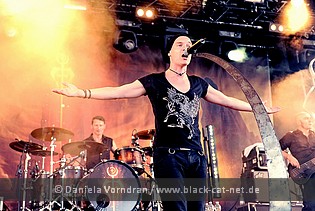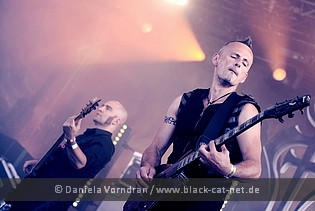 Add to this some crowd surfing from one of the band, shirts-off full-paced rock songs, and some tricksy, almost prog-rock time changes, and this is indeed a lively and enjoyable set. Violinist M. Stolz and cellist Benni manage to bounce in unison with Holly at one point, a bizarre and entertaining spectacle. But the best is saved for last. Big ballad 'Wir Sind Allein' has everything going for it, a slow build up to a breathless chorus, and a mass sing-along of "nah na nahs". It's cheesy, definitely, but being over-cynical during such a fine performance would just feel wrong. Most excellent. // http://www.letzte-instanz.de / https://www.facebook.com/letzteinstanz // Setlist: 01. Intro + Flucht ins Glück / 02. Nur für uns / 03. Blind / 04. Komm! / 05. Schwarzer Sand / 06. Der Garten / 07. Von Anfang an / 08. Finsternis / 09. Sing! / 10. Wir sind allein // Rating: 8 / 10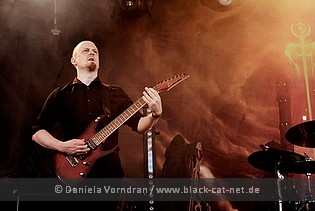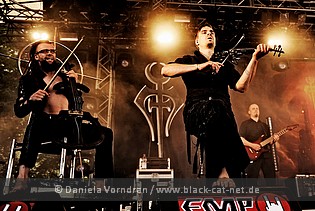 Alice Neve Fox – Theatre [DV]

While the party got started with LETZTE INSTANZ at the main stage, a special event was awaiting anyone at the theatre. Elena Alice Fossi, front woman of KIRLIAN CAMERA, was presenting aspecial acoustic-oriented show with her solo project ALICE NEVE FOX. For this show, where she of course delivered her unmistakable lead vocals, she was supported by Kyoo Nam RossI on acoustic guitar, Andrea Artusi on double bass, Alessio Rubens Richard Tedeschi on cello and finally by MarIa Chiara Ugolotti on grand piano. Her show surely bewitched the audience. Her set presented several KIRLIAN CAMERA songs in a really new frame, but also some songs of her all-female band SPECTRA*PARIS. Furthermore, you were listening to a few cover versions, like MUSE's 'Time is running out' or 'No Sound But The Wind' by EDITORS. Wonderful show! // https://www.facebook.com/elenaalice.official //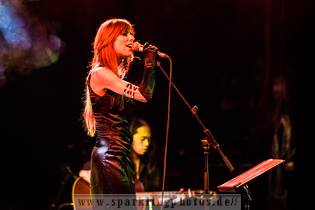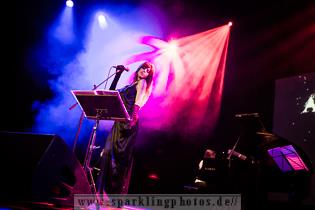 Setlist: 01. Declamato from "Suite for Cello solo no. 2" by B. Britten / 02. Dead Zone In The Sky (Kirlian Camera Song) / 03. Time Is Running Out (Muse cover) / 04. Falsos Suenos (Spectra*Paris song) / 05. No Sound But The Wind (Editors cover) / 06. Movie Ghouls (Spettri del Cinema) (Spectra*Paris song) / 07. Mad World (Spectra*Paris song written by Roland Orzabal) (Tears for Fears cover) / 08. Helden Platz (Kirlian Camera Song) / 09. The Fountain Of Clouds (Kirlian Camera Song) / 10. Nightglory (Kirlian Camera Song) / Encore: 11. Odyssey Europa (Kirlian Camera Song) // Rating: 8 / 10


Umbra et Imago – Staatenhaus [JS]

UMBRA ET IMAGO surely had the intention to rock, but for some reason they failed to accomplish that mission. The voice of the singer Mozart was really bad at that day and if that wasn't enough, the sound was also not that good altogether. What a pity... Because I was happy to see them live, finally. And the only thing I can tell you is that I left the Staatenhaus after a few miserable performed songs... I was really disappointed. I'm sorry that I cannot give you another opinion. It is, as it is. But as I do not want to talk too bad- I'll take the chance to say that UMBRA ET IMAGE are going to play two UNIQUE EROTIC CONCERTS in Erfurt and Dresden. Maybe these are going to be better than this year's Amphi Festival appearance. // http://www.umbraetimago.de / https://www.facebook.com/umbraetimago.official // Setlist: 01. Liebeslied / 02. Perfect Baby / 03. Gebet Nr. 1 / 04. Machina Mundi / 05. Kleine Schwester / 06. Alles Schwarz / 07. Ohne Dich / 08. The Final Last Dream / 09. Amadeus // Rating 2 / 10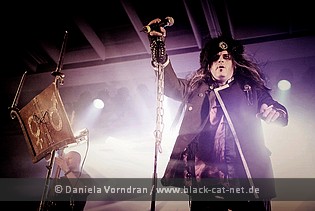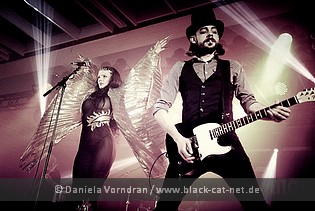 Diary of Dreams – Main Stage [JS]

Many of you requested this magnificent band to join the Amphi Festival again for quite a while. And there they were. The band around Adrian Hates did know how to impress the audience. I was completely overwhelmed as the intro from EGO:X began. Then the tempo raised and the next song came along: 'The Wedding'. The audience finally woke up and started to dance and sing along. It seemed that many of us waited there just to see DIARY OF DREAMS. And yeah, it was worth waiting there at 33 degrees. The band and Adrian were in a good mood and had lots of fun themselves. The setlist was superb. From classics to the newest ones. It was a good mixture which pleased me and obviously the others, too. They ended their gig with the well-known song 'Traumtänzer' on which Adrian made a joke as he said that this song was never ever played on stage before.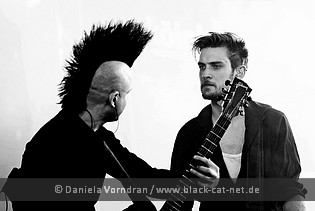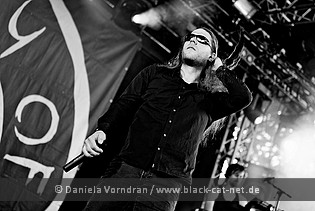 But you wouldn't believe me if I tell you that I met a girl who's never heard from DIARY OF DREAMS before. I was so happy that she was standing next to me while they were playing so that this mission is finally accomplished. Now… what is left to say?! Altogether... The audience was stunned! Great show of DIARY OF DREAMS indeed! // http://www.diaryofdreams.de / https://www.facebook.com/officialdiaryofdreams // Setlist: 01. Intro / 02. The Wedding / 03. Chemicals / 04. Butterfly:Dance! / 05. Lebenslang / 06. MeinEid / 07. MenschFeind / 08. King of Nowhere / 09. Undividable / 10. The Curse / 11. Kindrom / 12. Traumtänzer // Rating: 9 / 10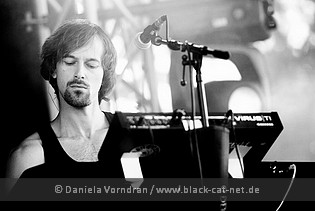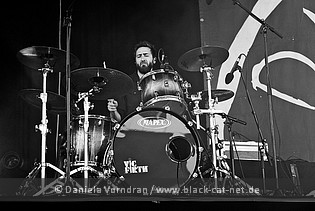 Die Form – Staatenhaus [SK]

Elegantly pervy French experimentalists DIE FORM were up next, bringing their own unique vision to the Staatenhaus masses. The stage area was enclosed by high wire fences, and a screen projected random images in the background as the slow, sinister intro heralded the arrival of an erotic, acrobatic dancer. Best described as Fetish Ballet, the seductive gyrations behind the caged front gave the impression of an "us-and-them" world, a voyeuristic and rarefied glimpse into some subterranean members-only club. She ends her act in a perfect handstand before the DIE FORM sound begins to churn itself out. 'Bite Of God' is sparse and sleazy, sinister and scratchy. 'Chronovision' is a similar enigma, the almost cheery segments of synth clashing furiously with Philippe Fichot's distorted vocals. Another stark contrast can be heard when the gently swaying figure of Elaine P starts to sing, her powerful hypnotic voice seductive. But you wouldn't trust her.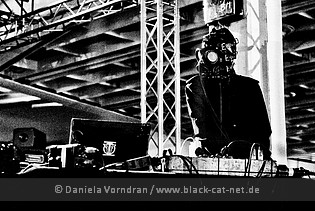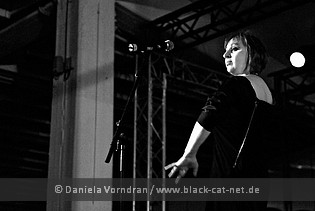 There's something of the Siren in that otherworldly trill. It's these contrasts, and the constant edginess that make DIE FORM such a thrilling proposition live, the stage barrier a constant reminder that it's a look, don't touch tease they are delivering. Manic, kaleidoscopic images fill the back-screen at one point, and over an industrial thump, the dancer is back, and it's fascinating stuff. Towards the end of the set, some of the audience have drifted away, and this is certainly not for everyone, but if you let yourself be immersed in their dark, sometimes dirty, but always erotic underworld, it's a spine-tingling experience. Better in a smaller, more intimate venue, but powerful all the same. // http://www.dieform.net / https://www.facebook.com/pages/Die-Form-Official/194166877267285 // Setlist: 01. Maldoror / 02. Bite Of God RMX / 03. Voltaic Control System / 04. Chronovision RMX / 05. Erotic Non Stop RMX / 06. Silent Order RMX / 07. Schaulust (Unreleased New Track) / 08. InHuman / 09. Doctor XY RMX / 10. Psychic Colours / 11. Her(t)z Frequenz / 12. Savage Logic RMX / 13. Masochist RMX / 14. Tote Kinder // Rating: 8 / 10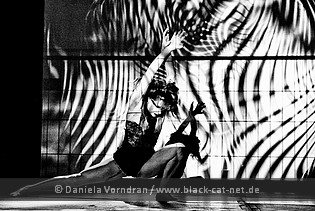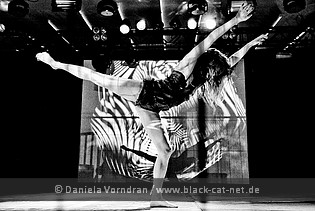 Rosa Crvx – Theatre [DV]

Last time I saw this extraordinary band was also at the theatre during Amphi festival 2009. This French formation was already founded in 1984 and is known for their unique shows, being rather an art performance than a mere live show. The band's first release, 'Livre 01: Eli-Elo', was out in 1990 while the latest release is also a few years old; 'Lvx in Tenebris Lvcet' was out in 2008. Just as last time, the stage setting was amazing with a huge bell mechanism, old piano and mechanical tambours. Singer Oliver Tarabo in the middle stood in front of a huge screen showing very fitting black and white images while playing his guitar and singing, accompanied by cello, piano and various bell sounds. The dark cool theatre was the right place to fall deeply into the mystical and mesmerizing music. It was a fantastic atmosphere, pushing you back to a medieval France, dark and sinister. // http://www.rosacrux.org / https://www.facebook.com/rosacrux // Setlist: 01. Adorasti / 02. Invocation / 03. In Tenebris / 04. Terribilis / 05. Hel Hel / 06. Tonitrvi / 07. Aglon / 08. Venite / 09. Moritvri / 10. Ante-A / 11. Svrsvm Cor / 12. Noctes Ins / 13. Eli-Elo / 14. Omnes / 15. Vil / 16. Incendere // Rating: 8 / 10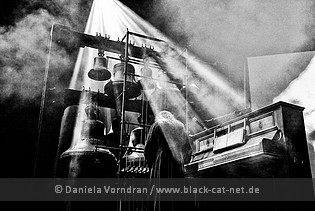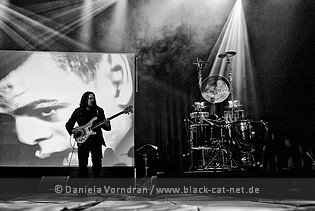 Oomph! – Main Stage [JS]

The latest OOMPH! album 'Des Wahnsinns fette Beute', takes their trademark-sound to a new level with uncompromised courage to step far beyond the borders. OOMPH!'s music is really not my taste and I also do not like the every 3 minutes "hands in the air" thing. But I had a good place in front of the stage that I've fought for before the DIARY OF DREAMS show and... The changing masquerades, outfits and stage scenes of the band provided variety and proved some, not so important participant self-mockery of the entire crew. Front man Dero is simply an entertainer without ifs and buts! He also did stage diving, so the show was worth seeing and a pleasure for our eyes. // http://www.oomph.de / https://www.facebook.com/oomphband // Setlist: 01. Intro + Unzerstörbar / 02. Labyrinth / 03. Das weiße Licht / 04. Träumst Du / 05. Der neue Gott / 06. Kleinstadtboy / 07. Niemand / 08. Gekreuzigt / 09. Seemannsrose / 10. Sandmann / 11. Augen Auf! / 12. Aus meiner Haut / 13. Gott ist ein Popstar / 14. Always Look on the Bright Side of Life (Monty Python cover) // Rating: 7 / 10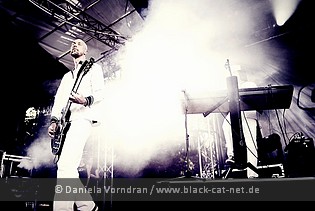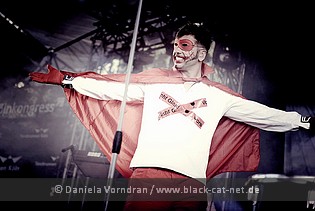 Anne Clark – Staatenhaus [SK]

Bathed in soft blue light, and taking the stage with a full band, English poet and singer ANNE CLARK could provide no greater contrast to the knowing sleaze of the previous two performances. Assured and dignified, the rousing chorus of opening song 'Full Moon' sets the tone perfectly. These are classy songs; some of them nicely aged and matured over time, delivered in the unique half spoken and whispered, half sung style of Ms Clark. 'Alarm Call' is held together elegantly by a simple piano refrain and is joined by an electric cello, and the crowd make their approval known during the familiar chorus. It's a stunningly good, complex song made to sound so simple, and the audience response is justified. 'Short Story' threatens to break into 'Golden Brown' by THE STRANGLERS, but thankfully doesn't, and the cool, calm sophistication of 'Leaving' is just pure poetry. The sound quality is faultless throughout, and the subdued lighting never changes, which is a wise move, letting everything fall to the music and the performance, no distractions needed.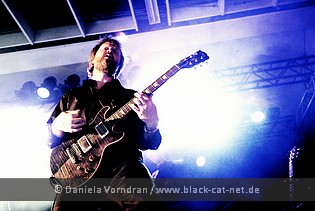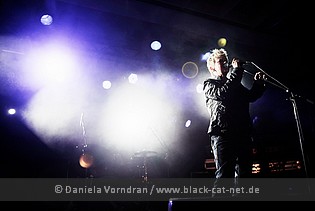 An acquired taste at times, the spoken word oddities of mini-epics like 'Killing Time' would begin to grate, if they weren't interspersed with more choral-sounding songs, and in that respect ANNE CLARK knows not only her limitations, but makes them her strengths, creating a set varied and interesting throughout, old and new linking arms quite happily. And her band is thoroughly professional, gently moving in time, not fussing or trying to steal the show. The last song for me, as I had to make my way to the main stage at this point, was 'Shell Song'. There is a gorgeous piano sweep intro, before the rest of the song builds towards a sumptuous and sophisticated close. A pity I couldn't see the end of the set, but a superb performance all round, and one this much-loved veteran can be proud of. // http://www.anneclarkofficial.com / https://www.facebook.com/anne.clark.music // Setlist: 01. Full Moon / 02. Alarm Call / 03. Short Story / 04. Leaving / 05. Heaven / 06. Killing Time / 07. The hardest Heart / 08. Echoes remain forever / 09. Shell Song / 10. Seize the vivid Sky / 11. Ajde Jano / 12. Elegy for a lost Summer / 13. The haunted Road / 14. Sleeper in Metropolis / 15. Boy Racing / Encore: 16. Our Darkness // Rating: 8.5 / 10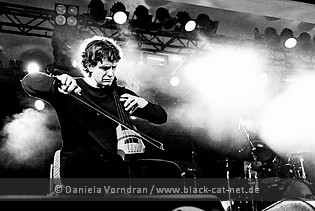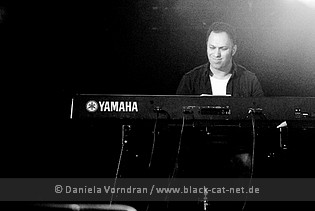 20 Years Welle:Erdball – Theatre [DV]

Just like the day before, the end at the theatre stage was marked by the presentation of the WELLE:ERDBALL 20 years best of DVD. Today, the band played two songs instead of only one after the film. // http://www.welle-erdball.de / https://www.facebook.com/WelleErdball // Setlist: Presentation of DVD '20 Jahre – Best of' + Live songs 'Sternenkind' and 'Lieber Gott'


Fields of the Nephilim – Main Stage [SK]

UK occult gloomies FIELDS OF THE NEPHILIM have been treading the dusty boards since the Eighties, their flour encrusted gothic-cowboy outfits a familiar sight in venues and at festivals around the world. If ever a band deserves to play during the failing light of a late evening it is FOTN, however the sun is still out and Carl McCoy and co just have to make do with – yikes! – daylight. What follows though, is a master class in how to headline a main stage at a major festival. Breaking through the smoke to Ennio Morricone's distorted 'Harmonica Man', the band burst into 'Endemoniada' a thunderous roar dominated by the singer's grave-deep rasp, hugely powerful tonight, unmistakeable and persistently chilling. Massive hit 'Moonchild' follows and it's good to see this early in the set, the band having no need to rely on any one song to set the venue alight. It is magnificent though, and the crowd know it, hands punching the air and voices in unison during the chorus.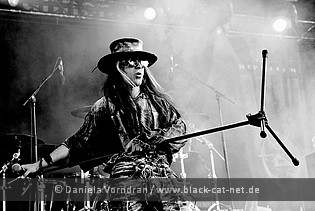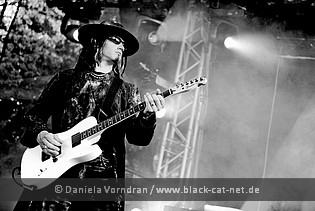 The sound quality throughout is commendable, and the band look superb, the rock-god poses never faltering into cliché, McCoy commanding the front of stage like he has majority shares in it. 'New Gold Dawn' and 'From the Fire' are suitably grand, and the intro to 'Preacher Man' gets a loud approval from most of the crowd. Not as packed as for VNV NATION the night before, and certainly not to everyone's taste during some of the slower moments – and The Neph have always been about smouldering and anticipation rather than merely in your face – but any doubters were surely won over by the closing trio. A note perfect 'Dawnrazor', brooding and sinister as the sky begins to dusk, and the long version of the bass-heavy 'Psychonaut' are simply perfect, vast and portentous, and in the latter, infectiously memorable. A shame that the crowd has thinned slightly (PETER HEPPNER is doing his thing inthe Staatenhaus by now) because the encore of 'Mourning Sun' is a revelation.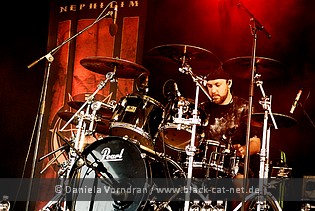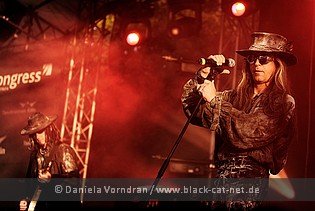 It's a song that surely wasn't simply written, but spawned in some vast, deserted power-station sometime in winter during an electrical storm. It's frankly terrifying, and it rolls around the outdoor arena like a barrage of thunder. And then it's over, spent and exhausted. FIELDS OF THE NEPHILIM, despite years on the scene, managed to look and sound fresh and invigorated, vital and relevant to a dark, alternative festival, and absolutely worthy of headline act status. A towering performance! // http://www.fields-of-the-nephilim.com / https://www.facebook.com/FieldsOfTheNephilim // Setlist: 01. Harmonica Man / 02. Endemoniada / 03. Moonchild / 04. Love Under Will / 05. New Gold Dawn / 06. One More Nightmare / 07. From the Fire / 08. Preacher Man / 09. Watchman / 10. Dawnrazor / 11. Psychonaut / Encore: 12. Mourning Sun // Rating: 9 / 10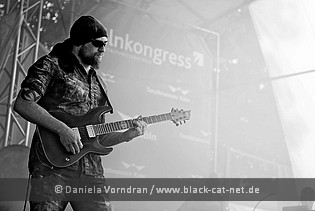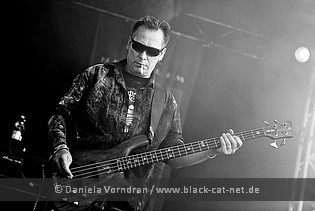 Peter Heppner - Staatenhaus [JS]

Heppner... the most memorable voice of Germany. I don't try to hide that I'm a fan of him and I want to underline his perfect melodic voice. I've never heard a more remarkable sound in a voice then his. His latest solo release was 'My Heart Of Stone' and simply one of the best albums last year. The songs are still catchy and I do still hear them very often. So it was clear that I was looking forward to see him on stage. But I have to tell you that you better do not expect an energetic live performance of Peter himself. He's just standing there instead and knows how to impress the people with simply his voice. There's no need for interacting or acrobatic deposits. I realized that it was not that full this time, although he was the last act and no one was in competition at the main stage anymore. Obviously many people had to leave the venues this Sunday evening because they had to work on Monday. But at least it wasn't this bad because I had enough space to dance or meet people in the Staatenhaus.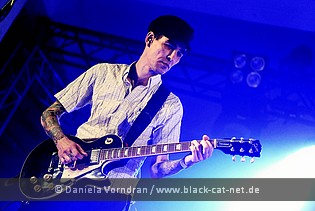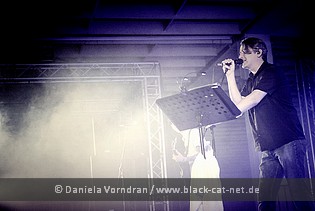 Peter played songs from his solo album and as well songs from WOLFSHEIM. And he did "encores" although everyone knew that the timeline was fixed. I found it quite funny, as people left, although there were 35 minutes left for him and simply clear that he might have to come back. // http://www.peter-heppner.com / https://www.facebook.com/peterheppneroffiziell // Setlist: 01. Intro / 02. I Won't Give Up / 03. Alleinesein / 04. Meine Welt / 05. Vielleicht / 06. Being Me / 07. Once in a lifetime (Wolfsheim song) / 08. Künstliche Welten (Wolfsheim song) / 09. Deserve to Be Alone / 10. God Smoked / 11. Cry Tonight (missing intro due to technical problems) / 12. Dream Of You / 13. Kein Zurück (Wolfsheim song) / 14. Give Us What We Need (Truth Is Not the Key) / 15. The Sparrows And The Nightingales (Wolfsheim song) / 16. Das geht vorbei / Encore 1: 17. Leben... I Feel You / 18. Wir sind wir / Encore 2: 19. Whenever I Miss You / 20. Die Flut // Rating: 8 / 10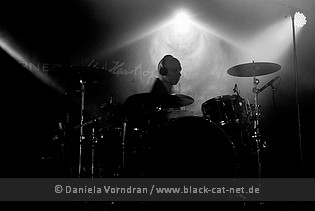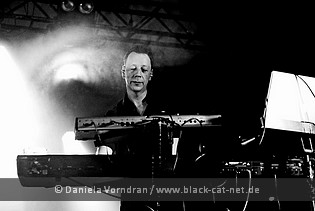 With Heppner, the concerts but not the festival was over. All those who still had power were celebrating at the after show party. Again, the promoters managed to set up a great festival, just I wish there was more variety in the line-up compared to the last years. So, let's see what wil be up for next year's edition, the 10th anniversary.

Written by Janine Szakacs [JS], Stephen Kennedy [SK] & Daniela Vorndran [DV]
All pictures by Daniela Vorndran (http://www.vorndranphotography.com / http://www.black-cat-net.de/ / http://www.facebook.com/blackcatnet) except Alice Neve Fox by Michael Gamon (http://www.sparklingphotos.de)



See also (all categories):