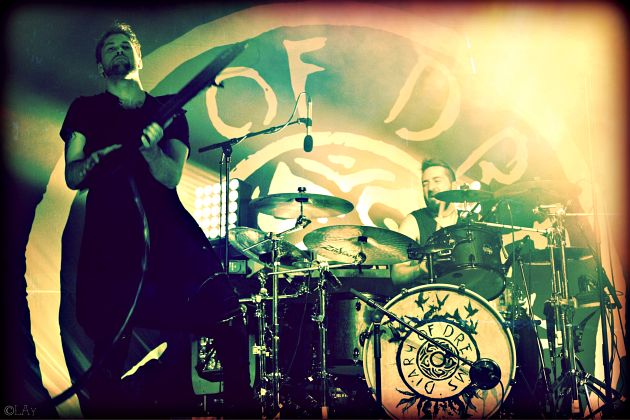 Kulturfabrik, Krefeld, Germany
13th October 2017
Diary of Dreams & Slave Republic

Live music is always fun, needless to say. And then there are gigs that immediately put a smile on your face when you think back, no matter how much time passes. I'm talking about those truly memorable concert nights thanks to high-class bands that take you on a thrilling and touching sonic journey as only the best of the best can do. Here's a confession: Friday 13th has kind of always been a lucky day for me. Also this October when I was on the road heading to the Kulturfabrik in Krefeld. Why? To see one of my absolute favourite band again. Who? The one and only DIARY OF DREAMS. The creative combo around maestro Adrian Hates was in town for their second gig of the "hell in Eden Tour 2017" and there was no way I was gonna miss this. As always, expectations were high, and as always, DOD managed to exceed them. The Krefeld crowd, that came out to celebrate Electronic Dark Wave at its finest, had a blast.
Slave Republic

The electro duo
SLAVE REPUBLIC
from Dusseldorf, Germany, who likes to tell people that they're based in Berlin, opened the evening presenting their modern New Wave sound. Their debut 'Electric One' saw the light of day back in 2010, 'Quest for Love' (produced by Daniel Myer) followed three years later, and this year, Alec Fu and Alex Alice surprised their fans with the new 'Songs for Sinners' (2017), which was released via Accession Records. As their gig in Krefeld proved, the duo are great guests to support their manager's own band, DIARY OF DREAMS. http://www.slave-republic.com / https://www.facebook.com/SlaveRepublic.Official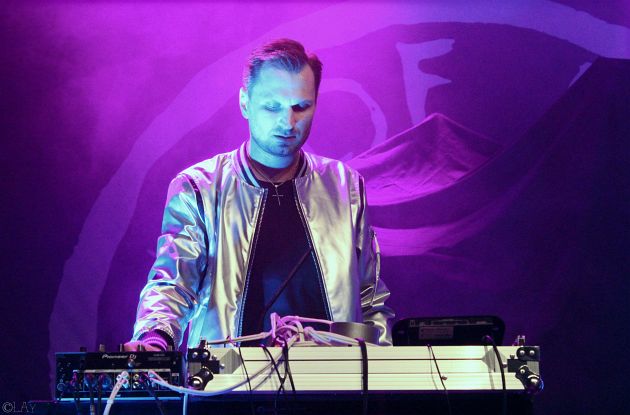 Music & Performance

With their "star-crossed lovers" tune 'Walking Ghost' from their second album SLAVE REPUBLIC kicked off a poppy show full of catchy choruses and sweet, clear vocals inviting us to shake a leg. Those who weren't familiar with the act got the chance to learn and memorize the band's name when the guys played their new tune 'Welcome (To the Slave Republic)'. With the single 'Sinner', also from the latest record, the duo spread some
IAMX
mixed with
ZEROMANCER
vibes - thumbs up! After the atmospheric 'Godspeed' it was time for the EDM track 'Promises and Broken Hearts' - good times! The initially small crowd grew as the show went on and more and more people decided they felt like dancing. "Promises... Hey, hey!... and broken hearts… Never let me go!" The minimalist 'Primärreiz' was up next and might be familiar to
DIORAMA
fans as its CD version features guest vocalist Torben Wendt. Another song sung in German to be shared that night was the new tune 'Klarer See' from the current album. It was interesting to hear these songs live, for sure, but to be honest, I find that English lyrics (with just a few German lines thrown in, as SR sometimes do) just suit the SLAVE REPUBLIC sound better.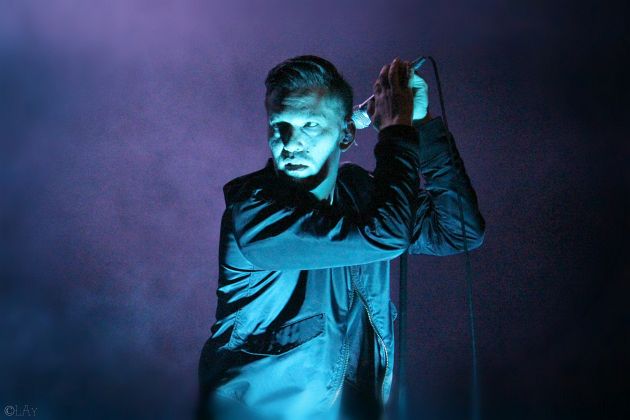 And so the poppy 'Paint my Heart Black' was pure fun as it conjured up a darkly 90ies feel; not to be missed on the setlist that one. On the whole, it's been a pretty good show, even though personally, I was missing the live guitars/bass and was bummed that SLAVE REPUBLIC didn't play one or two older tunes from their debut. Nevertheless, the duo was a great supporting act and in the end, after the closing title 'Something Inside You', the grateful audience gave Alec and Alex a big hand - two rounds of applause to be exact as the boys were leaving the stage.
Setlist

01. Walking Ghost
02. Welcome (To the Slave Republic)
03. Sinner
04. Godspeed
05. Promises and Broken Hearts
06. Primaerreiz
07. Paint my Heart Black
08. Klarer See
09. Something Inside You
Rating

Music: 7
Performance: 7
Sound: 7
Light: 7
Total: 7 / 10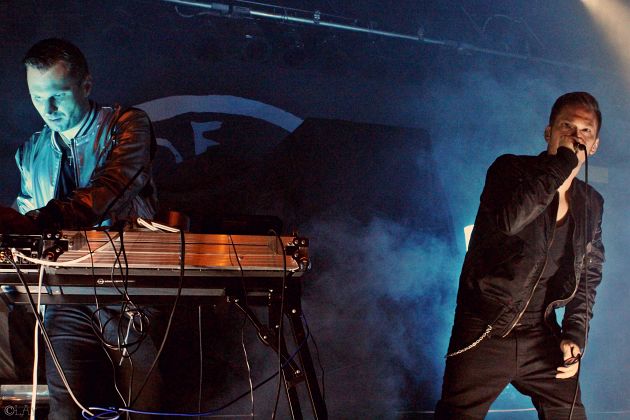 Diary of Dreams

It's been for over two decades that this mighty band has been sharing unique compositions that combine beauty and bombast, the atmospherically cinematic with in-your-face Electronica enriched by energetic live drums and guitars. Since their debut 'Cholymelan' in 1994,
DIARY OF DREAMS
have been offering dark music lovers, who're craving melodic melancholia as well as brute force, captivating and energizing "chapters" full of sound-spaces to get lost in. As the title of the current tour suggests, the band is on the road this October and November to celebrate their latest masterpiece titled 'hell in Eden' (out since Oct 6th) with their fans. You can read up why we consider it a milestone and the album of the year over
here
! The brilliance of 'hiE' will never go dim! http://www.diaryofdreams.de / https://www.facebook.com/officialdiaryofdreams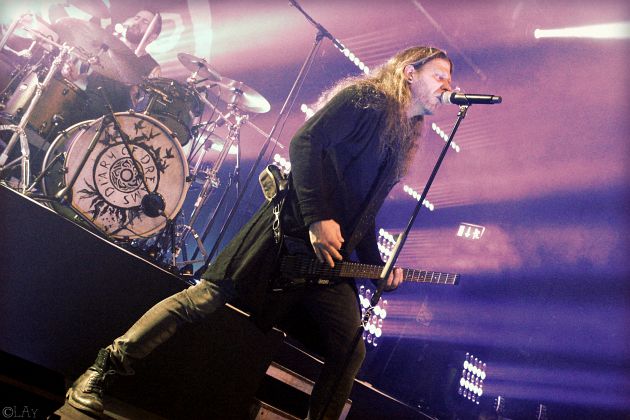 Music & Performance

The suspenseful intro sounds of the new album's first title: the doomingly divine 'Made in Shame', started to fill the darkened venue, that had filled up by now. Max (keys, background vocals) was the first band member to hit the stage in the dark, drummer Dejan and guitarist Hilger followed soon and the DOD crowd kept waiting silently and as it seemed mesmerized by the first sounds. Then, when the stage lights were turned on slowly, the apocalyptic opening track took its full force and vocalist Adrian Hates entered to take his place at the front, the audience finally greeted the band with a burst of applause. Another confession: The following tune 'Epicon' made things very hard for me. How was I supposed to take photographs in the pit when those hammering and growing drums of this raw and powerful track took possession of me? Man, what a beginning! DIARY easily swept us of our feet right from the start. About one thing I was certain: This would be a gig making me whistle after every single song as loud as possible.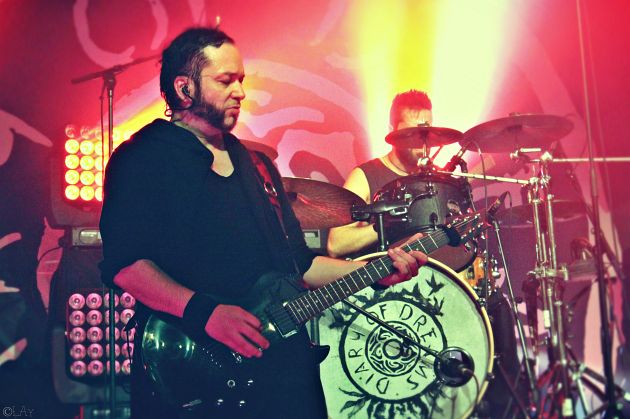 The marvellous mid-tempo "dance" tune 'decipher me', which wonderfully shows Daniel Myer's influence as co-producer, and the faster-paced 'Sister Sin' were also picked from the new opus for the night in Krefeld earning some thundering applause. "You are fantastic," the smiling front man announced. Of course DOD also brought along some beloved ballads allowing the machinery called Eden some silent running and all dreamers attending the gig to catch a breath in between older smashing fan favourites such as the 'Nigredo' hit 'kindrom' (2004), the wickedly epic and sinister 'the Wedding' from 'if' (2009), the apocalyptic and crushing 'Malum' and 'the Luxury of Insanity' from 'Elegies in Darkness' (2014), just to name a few. And so, the new title track 'hell in Eden' sung in German made us stand still and listen and when the initial cello sounds of beseeching single 'hiding rivers' resounded a murmur went through the awestricken crowd. During the entire show, the diverse vocals ranging from clear and lyrical to doomy and dark, from calmly spoken lines to fierce screams, were superb. Also hats off to Max's contribution and the amazingly effective keyboard sound.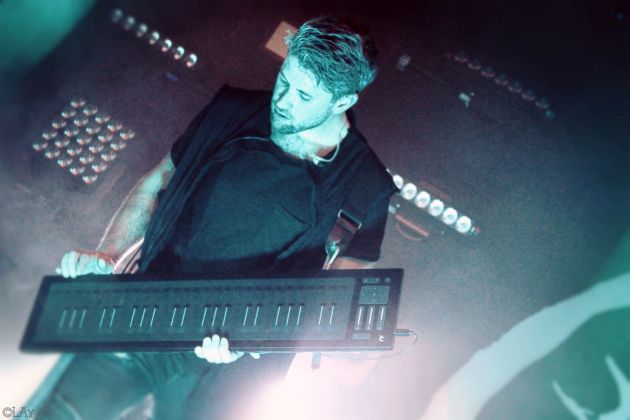 Like a choirmaster, Adrian was spreading his arms or holding the mike towards the crowd that gladly took the invitation to sing and scream along, such as during 'AmoK' and of course the touching classic 'Traumtänzer'. About the latter Adrian commented: "That one is actually a lot of fun, if you let it rest for a while." 'Undividable' from 'Ego:X' (2011) marked the "initial" end of a grand show and it didn't take the band long to be back on stage for the encore. The calmer title track from 'Grau im Licht' and 'the Curse' from the 'Freak Perfume' album (2002) were like the icing on tonight's cake. And still this seemed not enough for the dedicated DIARY addicts who were calling for more. One can always have some more chocolate sprinkles on the icing, right? The band gathered at the side of the stage and finally came out for a second encore making their audience lose it thanks to the incomparable and dynamic 'Butterfly:Dance!', the oldest track on set taken from 'One of 18 Angels' (2000).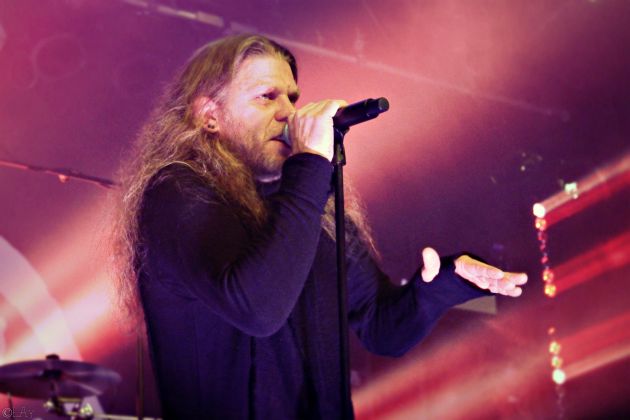 The Krefeld audience was lucky to enjoy all in all twenty songs selected from DIARY OF DREAM's vast discography and on the clock stroke of eleven it was finally time for the instruments to be packed up for the trip to Hamburg, the next city in line. For over an hour the band kindly took the time to meet up with their fans after the show at the merch stand for a chat in German, French or English. A beaming guy, who travelled with a group of friends from Belgium to the Kulturfabrik, was happy to get hold of that night's setlist. Wherever you are, don't hesitate and go to hear DIARY OF DREAMS live! This band is full passion and never fails to nail it, trust me. We can't wait to see them again sometime soon to hear even more songs from the new album.
Setlist

01. Made in Shame
02. Epicon
03. kindrom
04. the Wedding
05. Charma Sleeper
06. hiding rivers
07. Echo in me
08. Malum
09. Gifttaum
10. hell in Eden
11. AmoK
12. decipher me
13. Sister Sin
14. Traumtänzer
15. Endless nights
16. the Luxury of Insanity
17. Undividable
---
18. Grau im Licht
19. the Curse
---
20. ButterFly:Dance!
Rating

Music: 10
Performance: 10
Sound: 8
Light: 10
Total: 9.5 / 10
All Pictures by LAy
See also (all categories):