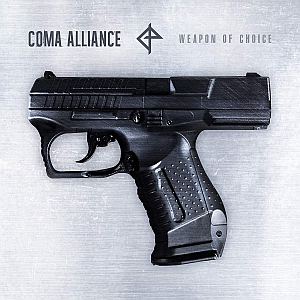 Artist: Coma Alliance
Title: Weapon Of Choice
Genre: Dark Alternative / Trip Hop / Minimal Electro
Release Date: 16th November 2018
Label: Accession Records
Album Review
When you are listening to an album for the very first time and get tears in your eyes because of the apocalyptic intensity of the songs on the one hand and due to the fact that your highest expectations were exceeded, you realize that you just became part of something very special.
When DIARY OF DREAMS and DIORAMA announced a mini tour called "Coma Alliance" two years ago, I already knew that I should try to catch them up as much as possible. Due to the long distances it was only possible for us to make it to Krefeld and Dresden, and even that took us really long, but we were sure it's worth it. Though both gigs were great and we also really enjoyed the few guest appearances, the real fusion was not completed yet. So when both bands announced a new music project called COMA ALLIANCE earlier this year along with a debut album, no doubt, I knew that this was gonna to be special and the dreams I had about this collaboration seemed to come true. But also it was barely possible to boost the expectation higher than they already were.
For the first listening session there were just two candles, a big cup of black tea and the music around me. No distractions, no notes, nothing but the music. 'Unusual' - nomen est omen - starts really unusual and could make it to a horror movie intro - which 'Weapon Of Choice' might actually be - being critical and speaking about several difficult political and society related topics. I can't remember a listening session being much more intense than this one. And with 'Sepia' the intensity of the music increases even more. You can feel the apprehension through every beat. It envelops you and doesn't let you escape until the end of the album. 'Royd' was chosen to be the song for the first video of COMA ALLIANCE and was released a few days ago. And the choice was perfect. I listened several times to it the day it was released and was fascinated by the interaction of Adrian Hates and Torben Wendt and how beautiful and perfect all the details in the song are.
'Starfruit' is one of the songs that surprises in so many ways. The way it's arranged cannot be compared with any of the members' main projects. Honestly, I cannot free myself from comparing or looking for details that remind me of one band or another. After all they are both very high in my favourite band list for eight & fourteen years now. BUT: I'd say at least 70 - 80 % of this piece of art do not remind me of DIORAMA or DIARY OF DREAMS at all. Even the prominent vocals of both masterminds are able to create here a very own COMA ALLIANCE atmosphere, an unprecedented sound and unexpected epic mood.
'Trembler' has such a cool Trip-Hop vibe completed by a dark background. So refreshing and the interaction of both vocals is once more beyond perfection. It's unusual to hear the Trip-Hop elements along with this voices and this makes the song so amazing and interesting to explore. The beat is great and I am really looking forward to hear this one live. Dark & groovy! 'Dark Vibes' starts in a way that first seems kinda familiar to me and then just does a 180 degrees change. I really see this kind of vibes conquering the dark dancefloors. Do you believe in miracles? You should! 'Miracle' seeds more hope and breaks up the pure darkness of this album a bit. And these beats just make you wanna dance until 6 am.
'Finsta' is probably my favourite song of this album, though it is absolutely difficult to choose one. This one really starts like a spooky scene in a horror movie. Halloween just passed by, so it feels so right in this dark November night. And then Torben's voice begins. Just clear and with a mission, to enter your mind and never ever leave it again. Then both voices merge into each other and sing this chorus that you just wanna put on endless loop forever. After using some trip hop elements that make it sound very clear and modern, the end surprises with some hard guitar riffs. Wow!
How about some Industrial and epic vocals? Welcome to 'CA2'! This one feels like two completely different songs first being separate and merging more and more together. 'Coma Supreme' sums up everything what COMA ALLIANCE is for. Trip-Hop is also kinda dominant here. The way the intro is arranged is very heavy, the vocals carry the burden of the world in them. Torben and Adrian alternate their singing parts here which makes them even catchier and more urgent. 'Buttons' keeps the groove and is catchy as hell. And then the really heavy Noise / Industrial beats - something I'd never expect from DIARY OF DREAMS or DIORAMA - and therefore I love it! And 'Trip Job' is just the perfect song to finish this debut album that kept me with open mouth, realizing that COMA ALLIANCE exceeded any expectations I had.
Keep listening to this masterpiece of my personal music history, counting days to the first real COMA ALLIANCE tour in January and hoping that this was just the beginning.
Tracklist
01. Unusual
02. Sepia
03. Royd
04. Starfruit
05. Trembler
06. Dark Vibes
07. Miracle
08. Finsta
09. CA2
10. Coma Supreme
11. Buttons
12. Trip Job
Line-up
Adrian Hates
Torben Wendt
Zura Nakamura (live)
Max (live)
Website
https://www.facebook.com/comaalliance/
For album and tour tickets: https://www.diaryofdreams.de/shop/produkt-kategorie/coma-alliance/
Cover Picture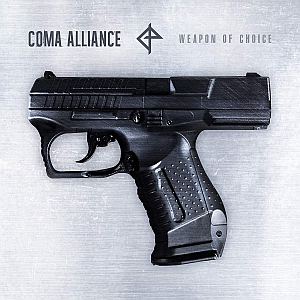 Rating

Music: 10
Sound: 10
Total: 10 / 10
See also (all categories):