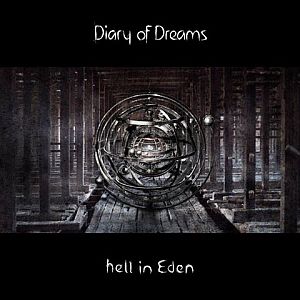 Artist: Diary of Dreams
Title: hell in Eden
Genre: Electronic Darkwave
Release Date: 6th October 2017
Label: Accession Records
Album Review

'hell in Eden' is like a dream. Captivating… stunning… unreal! And yet the mighty maestros of DIARY OF DREAMS have made it come true. 'hell in Eden' feels like coming home. Due to the distinct and doubtlessly one-of-a-kind DIARY sound, that's been accompanying us since their debut 'Cholymelan' in 1994, there's always this certain feeling of familiarity right from the first listening of a new DIARY piece. The thirteen new tracks on the album immediately click and it's just as if they've already been ones favourite tunes for as long as one can remember. And yet, the impressive freshness of the truly original compositions make the band's thirteenth opus outshine everything as it sparkles with brilliant blackness from beginning till the end. What a sonic paradise - even though the Eden in the album's title doesn't refer to the Biblical place - what sound-spaces DoD share with us that one gladly gets lost in! Never ever is there a same old, same old and tiring moment; "boring" is an adjective that simply doesn't exist when talking DIARY OF DREAMS. And especially now, with the exciting compositions on 'hell in Eden' the act around Adrian Hates has created indeed quite a milestone.
Two years after 'Grau im Licht' the new DIARY opus is finally ready to see the light of day and the waiting was more than worth it. Having heard the album title for the first time, I initially read it entirely in English just as others might have been making sense of it only in German - the translation would be "Bright in Eden". Interestingly, there's the word "hell" in both languages with these rather contrastive concepts behind them. A great way to play around with bilingualism and ambiguity and suddenly I'm thinking of the character "Hel" from the classic expressionist sci-fi silent film "Metropolis" by Fritz Lang. Back to the record: With the threatening opening piece 'Made in Shame' we dive into the album- a captivating track leading us right into the mystic machinery of 'hell in Eden'. Yes, machinery, for "Eden is no place. Eden is a machine." In the elaborative booklet you will find out more: "There is a construction from bygone times, encasing an incomprehensible machine ceaselessly working. It was built at a secret place, from wood and steel, and lies forgotten, yet still indefatigably mirroring our consciousness. Within this machine originate the dreams of men and have done so from the beginning of time..."
As the myth goes, the exchange between man and the machine Eden has become twisted: Eden turns more and more darker as
"the diseases, perversions and the abysms of humanity are being sent back to it"
, as Hates explained in our
interview
, and the machine causes confusion by sending out dreams to the wrong people. With the existence of such a machine Hates has come up with the reasoning of why people have developed the way they are now. And so, DIARY OF DREAMS start off the album with the questions
"Where are we?"
and
"How do we feel?"
on 'Made in Shame'. The song conjures up an apocalyptic scenery and there's so much ear candy in this wicked tune; electronica that kind of sound like tribal didgeridoos, some Gothic sounding bells, and much more - perfect opener!
The album goes on posing further questions:
"Where are we coming from? What have we done and what has changed us? What creeps up on us and what are our dreams doing to other people?"
The forceful 'Epicon' follows being introduced by some guitars. Its relentlessly hammering drums, the dramatic strings with the operatic choir, and Hates' demanding shouts of
"Tell me, tell me now!"
represent fittingly the human need for answers in life. This thrilling tune voices mankind's feelings of emptiness and loss as well as the frustration of being denied any explanations. The powerful 'Epicon' is like a boisterous river gone wild and perfectly shows how the band has succeeded in intensifying the characteristic DIARY sound. This should be a quite intense song also live on stage with those raw vocals and amazing drumming.
Then the calmer intro of 'decipher me' spreads some underwater vibes and DoD share a highly melancholic yet danceable tune with a wonderful chorus.
"Is this not how you wanted me to be?"
is just one of many lines that I just love on the record. Content-wise the song deals with the meaning behind the dreams one has received from Eden, their impact on the self and the reason behind it all. Another highlight follows: the title track and beautiful ballad 'hell in Eden' with its nostalgic feel, but without any speck of cheesiness. In focus are the honest and touching lyrics that are sung calmly in German. The repeating sample of the word "perfect" running through the entire track titled 'perfect halo' hints towards the song's cynicism. For the blissfully ignorant ones who walk the earth with blinders on not seeing the suffering all around, as Hates explains, life indeed must seem quite perfect and without any shame.
After the catchy tune with those deep lyrics 'hell in Eden' carries us away with another calmer piece: 'Beast of Prey' leaves one speechless with its gripping piano tunes and its dramatic growth in volume with moving string orchestrations and breath-taking background vocals. The beats and the drums of 'listen and scream' make the following electro smasher a powerful song to be celebrated live greatly. In its chorus there's interplay between the repeated words
"listen and scream"
and harsh screams of
"I don't let you in!"
After this burst the wonderful title 'Traces of Light' follows. As its title already suggests it is a bright and beautiful tune and Hates' vocals are higher and softer for a change making the drifting 'Traces of Light' shine even more brightly. In the background we're hearing some clicking noises here and there. Eden is doing its work and this is might the most uplifting "dream" on the record.
Then, 'mercy me' convinces with its Oriental touch towards the middle with even more prominent "female" sounding background vocals. With 'Bird of Passage' another stunner is in line beginning slowly and calmly with some piano chords and Hates' dark baritone vocals. It's misleading though during the first listening making one expect it will go on as a ballad. But then towards the middle the drums set in and 'Bird of Passage' grows to impress even more as an instrumental before the amazing chorus resounds one more time. And with a calm closure we come full circle again. The faster-paced 'Sister Sin' presents more dynamic violins while the dramatic mid-tempo tune 'nevermore' sets in atmospherically and holds up the tension during the entire piece.
In the end, the mournfully melancholic and yet liberating ballad 'hiding rivers' closes this chapter. There has always been an orchestral feel to DoD despite being all electronic and next to the piano sounds it's particularly the new string instruments that enrich the compositions. The long and moody cello lines with short staccato notes on top suit the creative DIARY OF DREAMS very well. How interesting that the final 'hiding rivers' has been presented as the first "single". It's video release, another collaboration with Rytis Titas that has given us the first glimpse into the album on 1st September, visualises escapism in an intimate and touching way as the protagonist, a little ballerina, dances away the difficulties of life out in the fields where the river keeps running on and on.
The last track is a peaceful tune full of longing with wonderfully warm, deep and dark vocals. There are even some spoken words in the beginning of a calm and atmospheric C-part before the 'hiding rivers' grows getting more dramatic towards the end. Finally, 'hiding rivers' fades away with the help of various electronic noises, leaving behind a stunned listener. Overall, the combo around Hates manages to grab their listeners not only with elaborate orchestrations and electronica but also with gripping minimalism that is simply magical. The sound on the album is crystal clear and the production presents a grandiose wholeness that's in motion just like a cold river stream. There's no need and it's actually impossible to tell you about all those special effects on the record - you simply need to listen and discover for yourself. One indeed goes through a lot when getting to know Eden.
So, on the whole: album of the month? You bet. And hell! What's more, you're actually missing out on the release of the year, if you don't grab this one! Most certainly this album is a must-have for all DIARY-die-hards and those who still have to become one. There's simply no way around 'hell in Eden', if you are into dark electronic music that is impressively eclectic, grippingly atmospheric, beautifully calm but also brute, music that's deeply moving with meaningful lyrics, all in all, simply intense music giving you goosebumps. From 'Made in Shame' till 'hiding rivers' the band manages to captivate all senses being darkly but yet light-bringing, bursting with energy and still soothing. 'hell in Eden' is inner cinema at its finest with melancholia and sonic bombast going hand in hand - "Listen and Scream!" I guess 'hell in Eden' won't be just Adrian Hates'
"all-time favourite DoD-album"
- if you have to pick just one. And thus, the project's latest chapter proves yet again that if there is a powerful band that can take you someplace entirely else and at the same time deep inside, a band whose work is heart-touching and electrifying at the same time, it's DIARY OF DREAMS.
Tracklist

01. Made in Shame
02. Epicon
03. decipher me
04. hell in Eden
05. perfect halo
06. Beast of Prey
07. listen and scream
08. Traces of Light
09. mercy me
10. Bird of Passage
11. Sister Sin
12. nevermore
13. hiding rivers
Line-up

Adrian Hates - vocals, lyrics, music
plus currently
Dejan - drums
Max - keys
Hilger - guitar
Flex (album only) - guitar
Gaun:a (currently live only)
Guest Musicians: Ella and Sophie
Websites

http://www.diaryofdreams.de / https://www.facebook.com/officialdiaryofdreams
Cover Picture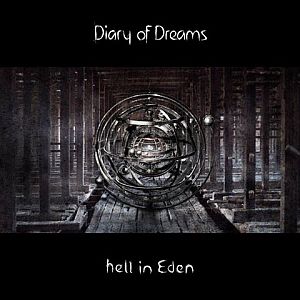 Rating

Music: 10
Sound: 10
Total: 10 / 10
See also (all categories):