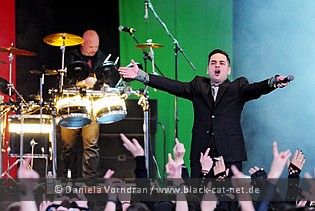 Amphitheater, Gelsenkirchen, Germany
28th to 30th June 2013
Blackfield Festival 2013 Day 2: Formalin, NOYCE TM, Aesthetic Perfection, Lord Of The Lost, Merciful Nuns, [:SITD:], Zeromancer, Samsas Traum, Project Pitchfork, And One

The early morning didn't look very promising but the weather Gods showed some mercy as the sun came out when we arrived to see the opening act of the day FORMALIN.



Formalin

The Electronic/ Industrial Berlin based duo, founded roundabout 2009 from the sources I could find with Tominous (vocals, composing, lyrics)and Gabor (drums, production, lyrics) had released in 2010 the album 'Bodyminding', the single 'My Fetish' in 2011 and their second album 'Wasteland Manifesto' in 2012 under the label of Out Of Line. Their songs are about sex, dirt, destruction, decay, fashion, art and the search for extremes describing the real life in their hometown underlined with a forceful and hard sound. All in all this is not something really new. However they met a small but interested crowd in front of the stage. // http://www.formalin-music.com / https://www.facebook.com/formalin.music // Setlist: 1. My fetish intro / 2. My fetish / 3. Tied and blinded / 4. Faker / 5. This isn't love / 6. End of all suffering / 7. Resistance // Rating: 5 / 10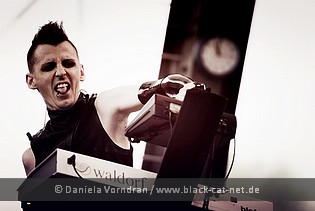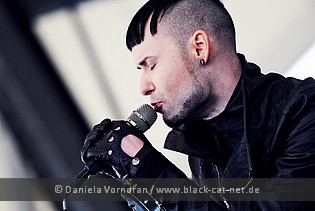 Noyce TM

NOYCE TM from Düsseldorf was to follow and had the chance to play to a growing crowd as more and more people arrived. Founded in 1996 they gathered some live performing experiences. They have been supporting act for bands like VNV NATION, FUNKER VOGT, DIARY OF DREMAS and THE CRÜXSHADOWS and played also at various festivals. Their music can be described as electro pop with some classical elements but also with guitars and driving beats of the drums and Florian Schäfer showed good live vocal qualities. During their show they were for the first time supported by Jessica Keuther at the violins to some songs. They could stimulate here and there some people to dance to their songs at this early time of day. // http://www.noycetm.de/ / https://www.facebook.com/noycetm // Setlist: 1. Headland / 2. Tagwerk / 3. Man on the Moon / 4. Panique / 5. Fall[out] (new song) / 6. Year 03 / 7. This world // Rating: 6 / 10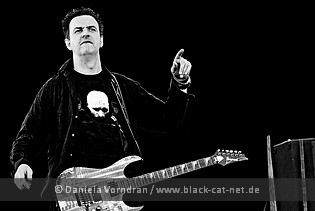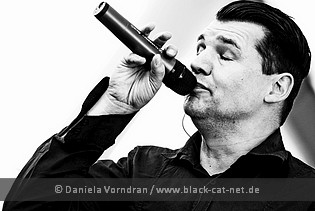 Aesthetic Perfection

AESTHETIC PERFECTION entered the stage next. AP was founded 2000 in Hollywood by mastermind Daniel Graves and released some albums via the label of Out Of Line. In 2009, AP was supporting act for COMBICHRIST in the USA and Europe. Live, Daniel is supported by Tim Van Horn at the drums and Elliott Berlin on keyboard. The music can be described as aggrotech / electro / alternative. The guys entered the stage each one with a different make-up. Daniel looked like someone smacked in his face leaving a black trace of a hand while Elliott's looked like an old fashioned doll with a head of china. The performance was fine and animating many people to dance or move and helped to awake the last sleepy heads but for real I have seen some better and more energetic shows of AESTHETIC PERFECTION. Probably there was already too much vodka involved as Daniel saluted the Leipzig audience instead of Gelsenkirchen. // http://www.aestheticperfection.carbonnine.com/ / https://www.facebook.com/aestheticperfection // Setlist: n./a. // Rating: 7 / 10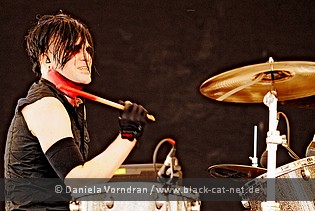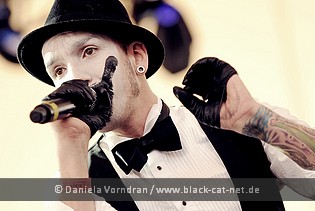 Lord of the Lost

With LORD OF THE LOST the music changed into the dark rock genre. Founded 2007 in Hamburg by the singer Chris Harms, their debut album 'Fears' was released in 2010 also via the label Out Of Line. They gathered lots of live experiences by touring intensively in the recent years, performing at several festivals and being supporting act for MONO INC. and LETZTE INSTANZ. The venue was filled more and more and the audience received a solid show which was quite appreciated. Chris showed as well that he has a good live singing quality. // http://www.lordofthelost.de/ / https://www.facebook.com/lordofthelost // Setlist: 1. Intro 'Live today' / 2. Live Today / 3. Black Lolita / 4. Shut up when you're talking to me / 5. Heart for sale / 6. Sex on Legs / 7. Prison / 8. Undead or alive / 9. Dry the Rain / 10. Blood for Blood / 11. Die tomorrow / 12. Credo // Rating: 7.5 / 10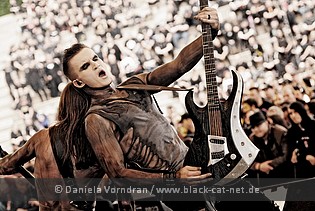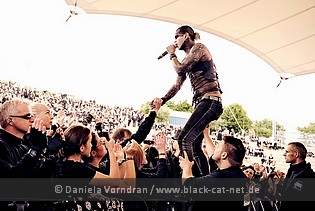 Merciful Nuns

So with AESTHETIC PERFECTION and LORD OF THE LOST the people were awake, warmed up and ready to party and enjoy themselves as well as the music and then came MERCIFUL NUNS. The German Goth rock band evolved in 2008 from the band GARDEN OF DELIGHT. From the technical point the band sure has its qualities but I missed an own style. From the presentation on stage as well as from the music, for me it was just a copycat of THE SISTERS OF MERCY and THE FIELDS OF THE NEPHILIM. Using a drum machine instead of hiring a drummer was not helpful for the life performance during daylight of a quite big stage either. And obviously I was not the only one who felt it that way as soon after the beginning more and more people left the space in front of stage and even their seats. So the cheerful mood of the people who were ready to party was gone. Guess the band intended do behave different to all those party bands… // http://www.mercifulnuns.com/ / https://www.facebook.com/pages/Merciful-Nuns/145696075454608 // Setlist: 1. The Portal / 2. Hypogeum / 3. Body of Light / 4. Ancient Astronauts / 5. Genesis revealed / 6. Kybalion / 7. The Maelstrom // Rating: 6 / 10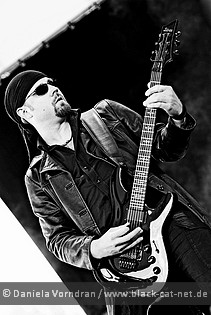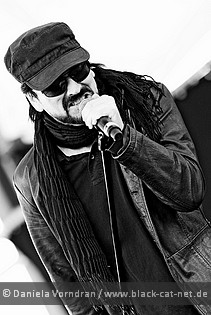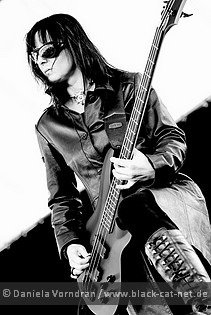 [:SITD:]

So what MERCIFUL NUNS ruined had to made good by [:SITD:]. And they did, at least in the eyes of the biggest part of the audience! [:SITD:] founded in 1996 in the Ruhr area are quite well known for their dance tracks, a mixture of electro, aggrotech and future pop which you can hear on almost every dance floor as well as from being frequently at festivals. Successfully they filled the venue already after their first songs and when they left the stage the venue was almost packed. The biggest surprise of the set was surely the EDITORS cover version of 'Papillon', being presented by keyboarder Tom. // http://www.sitd.de/ / https://www.facebook.com/SITDofficial // Setlist: 1. Snuff Machinery / 2. Code Red / 3. Lebensborn / 4. Richtfest 2 / 5. Papillon (Editors Cover) / 6. Rot / 7. Richtfest / 8. Herbsterwachen // Rating: 7 / 10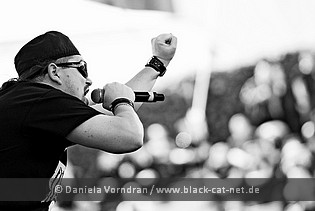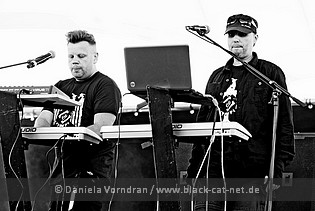 Zeromancer

The Norwegian Synth-Rock band ZEROMANCER were the next to enter the stage. Formed 1999 in Los Angeles they released 5 albums and after a pause of 3 years they finally released a new one this year, 'Bye Bye Borderline'. Lots of fans have waited a long time to see their favourite band perform again at the Blackfield Festival and we learnt that this band was top on the wish list. There were some small technical issues right in the beginning as parts of the band's own equipment got lost at the airport so they had to perform with the one the organiser kindly provided them with. But for the rest of the show everything went fine. Of course they played the songs 'Clone your lover' and 'Doctor online' that are known from the dance floors or several sampler album even by the people who are not so into ZEROMANCER. The show was solid and they left happy fans who enthusiastically celebrated their band. // http://www.zeromancer.com/ / https://www.facebook.com/zeromancerzentral // Setlist: 1. You meet People / 2. Doppelgänger / 3. Chrome Bitch / 4.Auf Wiedersehen Boy / 5. Sinners International / 6. Hate Alphabet / 7. Tortured Artist / 8. Clone your Lover / 9. Photographic (Depeche Mode Cover) / 10. Dr Online / 11. Ammonite // Rating: 8 / 10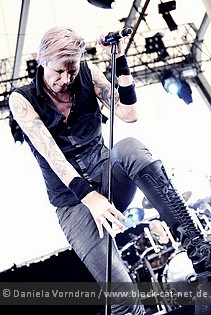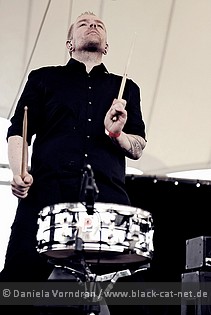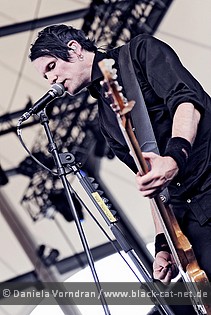 Samsas Traum

After AESTHETIC PERFECTION this band was my personal highlight of the day. But this band also causes quite some discussions, you simply love it or hate it. I obviously loved it. Founded in 1996 by mastermind Alexander Kaschte, the music can be described as dark metal, symphonic metal. Alexander himself is a mixture of enfant terrible and prodigy. By producing his albums he always likes to collaborate with guest musicians. His latest album 'Asen'ka' was just released a couple of weeks ago but he did not only present songs of this album but a good mixture of old and new. Unfortunately they had technical issues, too, as the metronome for the drummer didn't work correctly. But Alexander took it in a relaxed way saying "This is live. Things can break but we are professional. So you have to bear my chatter." When everything was fixed he asked the audience to act as if they have just entered the stage and thus give them a big applause. And so it went.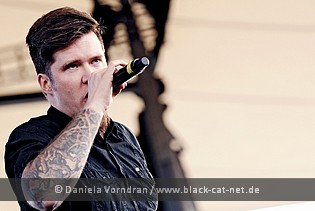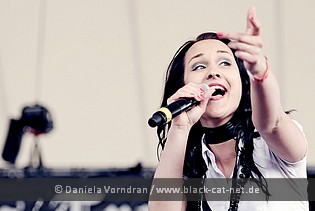 Despite the previous problem Alexander was in a cheerful mood entertaining the people between the songs and invited them to interact with him. Also he gave away some T-shirts with the print "I hate Alexander Kaschte" on it (well, the man has some self-irony) and a copy of his recently printed fairy-tale book. As guest singer the incredible talented VIC ANSELMO appeared on stage to sing 'Niemand, niemand anderem als Dir' from the above mentioned new album. Actually this song is sung by the wonderful LIV KRISTINE on the album but VIC did a great job as well. All in all this concert was great and very entertaining and the audience just had fun and enjoyed it very much so that it was no wonder that they asked for an encore for the first time of this day. // https://www.facebook.com/AlexanderKaschte // Setlist: 1. Intro / 2. Ein Name im Kristall / 3. Für immer / 4. Igel im Nebel / 5. Stromausfall im Herzspital / 6. Heiliges Herz / 7. Niemand, niemand anderem als Dir / 8. Im Zeichen des Wurms / 9. Endstation Eden / 10. Die Zärtlichkeit der Verdammten / 11. Ein Foetus wie Du / 12. Kugel im Gesicht (planned but not played) // Rating: 8 / 10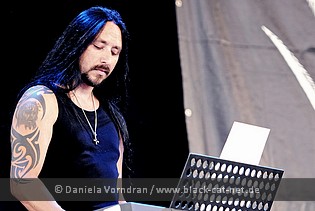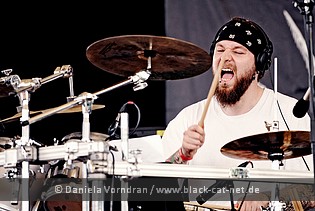 Project Pitchfork

From symphonic metal the genre changed with PROJECT PITCHFORK into industrial electronic music. The band was founded in 1989 in Hamburg and so they have a long history with lots of experiences. With this they entertained the audience with a bunch of songs and of course 'Timekiller' was not missing. It was a solid gig with three drum kits on stage and the audience of the almost packed venue liked it very much although I have to say that his live vocals are not really good. // http://www.project-pitchfork.eu/ / https://www.facebook.com/pages/Project-Pitchfork-Official/65663206412 // Setlist: 1. Intro / 2. Lament / 3. Conjure / 4. Endless Infinity / 5. Timekiller / 6. An End / 7. Queen of Time and Space / 8. Pitchblack / 9. Rain / 10. Steelrose / The Circus / 11. Beholder / 12. Existence / 13. Enchanted // Rating: 8 / 10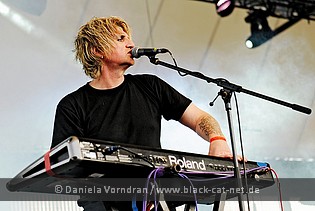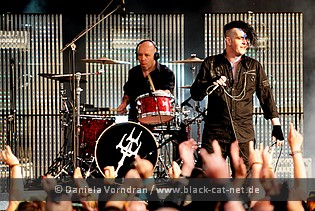 And One

Last band and headliner of the day was AND ONE. They, too, have a long history, founded in 1989 in Berlin around the charismatic singer STEVE NAGHAVI. Their music is a mixture of synth pop, pop and wave and it's no big secret that they are big fans of DEPECHE MODE and are influenced by them. After a 25 years career they announced the end of AND ONE in 2014 with an intensive farewell tour. Well, we will see. Personally I cannot imagine that a STEVE NAGHAVI can live without the stage. He is what we call "Rampensau", someone who loves to perform to an audience. But here they gave an energetic ally show that left no one on his seat and almost everybody in the crowded venue danced and enjoyed themselves.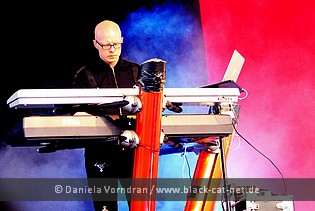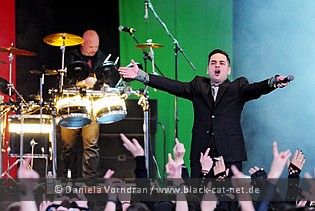 Naghavi was during several songs accompanied in front of stage by Joke Jay, who was otherwise operating the percussions. I missed a bit the entertaining between the songs like Steve did two years ago at the Blackfield Festival but once again AND ONE left the people at the end of the gig in a cheerful mood. // http://www.andone.de/ / https://www.facebook.com/ANDONEoffiziell // Setlist: 1. Back Home / 2. Stop the Sun / 3. Wasted / 4. Stand the Pain / 5. Love you to the End / 6. Missing Track / 7. Metalhammer / 8. Steine sind Steine / 9. Traumfrau / 10. Mirror in your Heart/ 11. Electrocution / 12. Deutschmaschine / 13. Seven / 14. The Walk (The Cure Cover) / 15. High / 16. Sometimes / 17. Für / 18. Technoman / 19. Get you closer / 20. Military fashion show / 21. Shouts of Joy // Rating: 8 / 10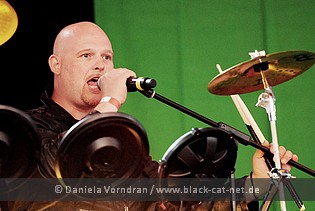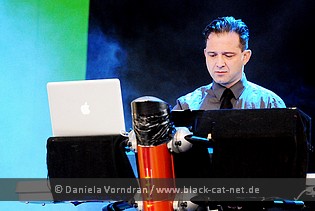 All pictures by Daniela Vorndran (http://www.vorndranphotography.com / http://www.black-cat-net.de/ / http://www.facebook.com/blackcatnet)



See also (all categories):