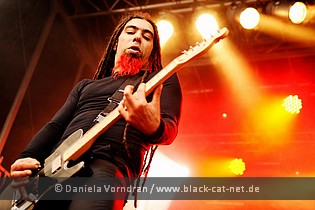 Interview with
Michelle Darkness (vocals & guitar) and Sad Sir (guitar) from End of Green

The last Blackfield Festival in Gelsenkirchen is over and there were many great bands playing whom we interviewed in the course of the festival. One of them was German END OF GREEN, speaking with us about their collaboration with Liv Kristine, their latest album, the Gothic scene in Germany and about the festival.
Reflections of Darkness [RoD]
: First a question to Michelle. Recently you and Liv Kristine recorded a song called 'Love Decay' for her new album. How did you meet Liv? How did you come to the idea of working together?
Michelle
:
Oh, she just called me. We've been friends with the Krull family ever since we recorded 'Dead End Dreaming' at Alex' Mastersound Studio. Back when I recorded a duet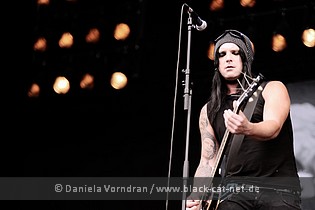 with Liv's Sister Savn, Liv said she'd really like to do a song together with me.
RoD
: An amazing music video was done for 'Love Decay'. As far as I understand action takes place somewhere in Germany? Tell us how the shots were going.
Michelle
:
Alex Krull and Rainer Fränzen shot that one. We had two locations: an old cemetery in Stuttgart and an old castle near Heilbronn. We had two long but great days with lots of sunshine and cigarettes - I hate sunshine. Everybody did a great job on that one - especially Liv climbing rocks and wandering on those rocky paths in high heels. Respect.
RoD
: You released your eighth studio album called 'The Painstream' at the Napalm Records label. It's been some time already – you probably, already can say how it is to work with Napalm Records?
Sad Sir
:
Actually, it's not that much of a big deal. Nobody told us what to do. They support us - oh, and they even sell our records in the bargain section of their store (laughs). Although, I must admit, none of us ever got birthday cake from Napalm Records.
RoD
: Are you working on the new album? Maybe there will be some guest stars, including vocals? ;-)
Sad Sir
:
I think we have a pretty good singer, in case we don't find any guest vocalists we'll probably be still fine. But you're right: we're writing songs at the moment and as soon as we think they're kicking we'll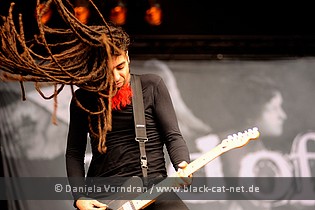 think about a new record.
RoD
: What do you think of nowadays Gothic scene in Germany? Do you think the quantity of its audience reduced promptly? If yes, how does END OF GREEN take it?
Sad Sir
:
I guess it strange to label a scene to everyone's favourite colour. I'd like to think of people gathering to listen to big variety of slightly dark music and enjoy their selves. The "dark scene" has such a big variety of really different bands – and this is what keeps this all fun and interesting. For example VNV NATION, DEINE LAKAIEN or bands like us.
RoD
: You are playing on Blackfield Festival this year? It's not your first time on this stage. What did you expect from this show? did you prepare some surprises?
Sad Sir
:
Actually it's not our duty to expect anything. At least nothing but a great day and hopefully lots of sunshine. You know, Michelle hates sunshine. But it's always a win at Open Air Festivals. Everyone coming to the show should probably expect loud guitars.
RoD
: And in the end, a few words to our readers.
Sad Sir
:
Take care, stay healthy.
Written by Viola Noir and Daria Tessa (Ukrainian Gothic Portal). The Russian version of the article is available
HERE
!
All Pictures by Daniela Vorndran (
http://www.vorndranphotography.com
/
http://www.facebook.com/blackcatnet
)
See also (all categories):