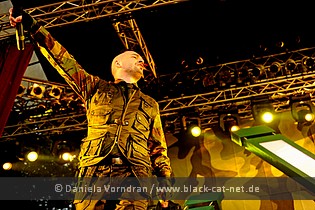 Tanzbrunnen, Cologne, Germany
24th & 25th July 2010
Amphi Festival 2010 Day 1 Main Stage:
And One, Anne Clark, Blutengel, Welle:Erdball, Ashbury Heights, End of Green, Din [A] Tod, Zin
We started very early on this Saturday morning and surprisingly arrived in Cologne without any traffic jams. Also, our hotel room was already prepared and so, we arrived very early at the festival ground, enough time to check out the area, have some coffee and meet up with some friends. The main stage offered a mixed program being headlined by Synth poppers AND ONE and starting with ZIN, the winner of Friday night's newcomer contest.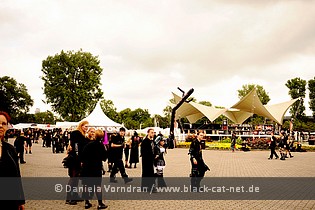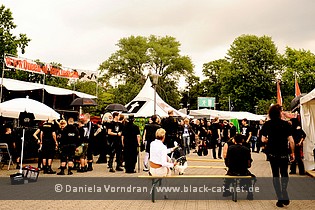 Zin (Dajana Winkel)
ZIN started out in 2005, conceived as a duo, but was eventually expanded to a fully-fledged band and together they released their first demo 'Valuable Demo' on the label which would go on to sign them. The first full-length album came out in 2007 and was called 'Tourists to this World', followed by various live shows, amongst others with PHILLIP BOA. The band took the following time for the production of the second album 'The Definition', to be released in October 2010. ZIN is Iven Cole (vocals), Vincent Oley (guitar), Markus Estbourg (electronic arts) and Mika (drums).
http://www.zin-music.de/
/
http://www.myspace.com/zinworld
Music & Performance
The AMPHI FESTIVAL got a new institution: the New Talent Special. Beside the "blockbuster line-up" the organizers made it to their business to find new and fresh talents and to expose them to a wider audience. Well, generally a good idea I really like to support, but here it got just half-hearted realized. If you really wanna give new bands a chance, why not one new band each day? Even better would be 2 opening newcomers each day. Instead we got the same bands from the last year's billing…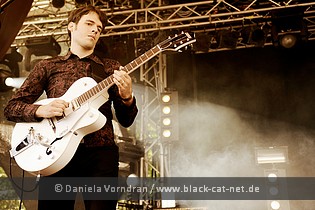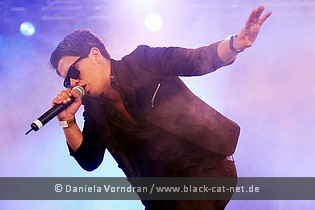 However, German act ZIN won the first competition, out of four, on the day before and opened the first festival day on the main stage. I was quite surprised and really liked their blend of Electronics and Alternative. PLACEBO obviously left a huge impact, especially on singer Iven Cole, who really sounds like the little brother of Brian Molko. But also a bit of IAMX was to sense out, especially when it came to the synth parts. Though ZIN have an own sound and an own attitude. They might sound a bit reserved, melancholically nonchalant on CD, but live the gents have a much gruffer approach and rocked the stage at this early time. Yeah, I think there's a bright future ahead for the band. Half of the songs came from the 2007 debut record 'Tourists to this World', the other half from the brand new album 'The Definition', set to be released in October 2010. Great band, great show to open a festival!
Setlist
01. 2010
02. HSH
03. Pilgrim
04. Kiss The World Goodbye
05. Symbiosis, Swim!
06. Tourists To This World

Rating
Music: 8
Performance: 8
Sound: 8
Light: - (daylight)
Total: 8 / 10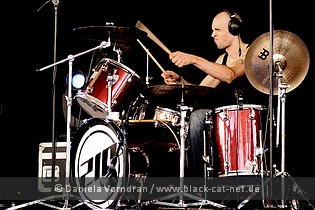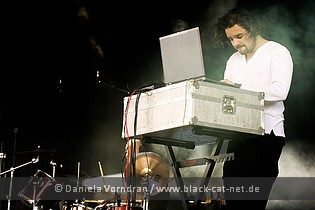 Din [A] Tod (Dajana Winkel)
Sven Clausen and Claudia Fasold , who had played in several other bands before, decided to work as a duo because they were tired of smelly rehearsal rooms and people interfering with their musical preferences. The first release of the project DIN [A] TOD was the 'Living Dead EP' in 2005 which was released on a 10" Picture Vinyl Disc. The title track became a scene-wide hit in the clubs. Over two years and lots of hard work later, they could finally present their first full time album 'The Sound of Crash' and all the hard work paid off as both fans and press loved their uncommon music style. On the Out of Line Festival Tour, taking place in November 2007, they also performed their material live in several German cities. In the meantime, that is in2009, they've already released their second album 'Westwerk' DIN [A] TOD is Sven Clausen (vocals, guitar, construction), Claudia Fasold (synths, vocals, construction) and Phelix Schneefeld (synths, sounds, construction), who was not present at Amphi.
http://www.dinatod.de/
/
http://www.myspace.com/dinatod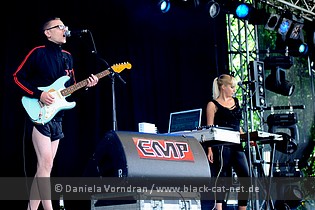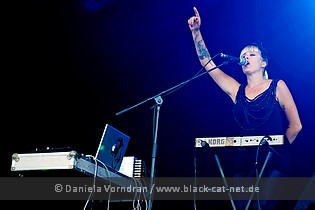 Music & Performance
Next up on the main stage was DIN [A] TOD. The Berlin-based duo first shocked with the outfit by sound wiz Sven, who actually appeared in shorts on stage, showing his hairy and pale stork-like legs. Female singer Claudia cut a much better figure, visually, but when it came to their live performance both pretty statically stood behind their keyboards. Their blend of Electro and Wave, with such presented songs like 'Some Kind of Hate' or 'Vorwärts', might be much danceable on the dance floors and perfect for your good-mood-home-entertainment but live on stage DIN [A] TOD remained just unspectacular. Out of sight, out of mind. Aside from these hairy legs…
Rating
Music: 6
Performance: 4
Sound: 6
Light: - (daylight)
Total: 5.3 / 10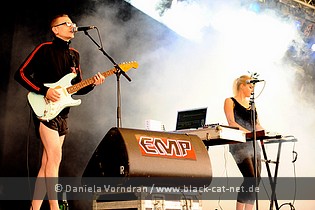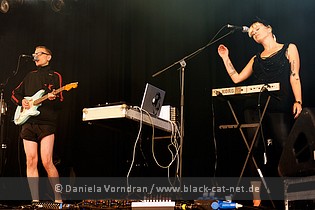 End Of Green (Janine Szakacs)
The German band END OF GREEN was founded in 1992 in Stuttgart and back in the beginnings they played a mixture of Goth Rock and Metal. The band name symbolizes the end of hope, associated with the colour Green. END OF GREEN is Kerker (guitar), Lusiffer (drums), Michelle Darkness (vocals& guitar), Sad Sir and Rainer Sicone di Hampez (bass).
http://www.endofgreen.de/
/
www.myspace.com/endofgreen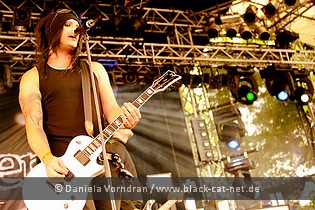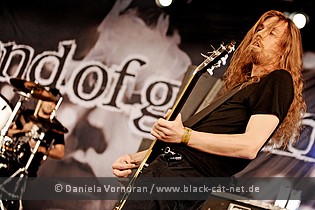 Music and Performance

The first time I saw them was in 2008 when END OF GREEN performed their Dark Rock music on a sunny afternoon at the Blackfield Festival in Gelsenkirchen. This time on Amphi it was also a sunny afternoon - which is probably not the perfect setting for END OF GREEN's sound, which the band itself labels "Depressed Subcore". Well, this term wouldn't tell you too much about the music - just image a morbid mix of Gothic, Metal and Grunge. And I appreciated it a lot that with a band like END OF GREEN brought some variety to the festival's line up.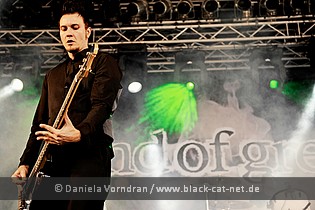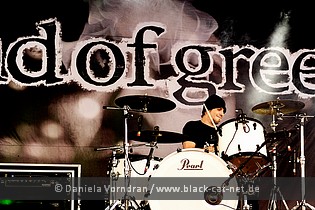 I always love their songs like 'She's wild' or especially 'Drink myself to sleep'. A lot of people obviously agreed. But in the back where I stood, you saw only a few people dancing or head banging. By comparing the mood of the listeners, I can tell you that the performance of the crowd at the Blackfield Festival in 2008 was much better. What a pity because END OF GREEN proved that they know how to deliver a good show. But they performed as I already said in the early hours of the first festival day… I had to leave, because I had another appointment at the Staatenhaus now. So I finally saw just 20 minutes of the set, but the songs I heard, are my personal favourites.
Rating

Music: 9
Performance: 7
Sound: 7
Light: - (daylight)
Total: 7.9 / 10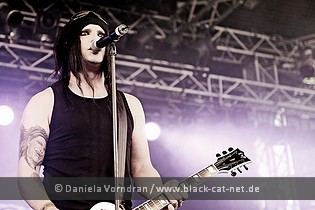 Ashbury Heights (Carsten Leopold)
ASHBURY HEIGHTS is an electronic music band formed in 2005 in Sundsvall, Medelpad, Sweden. The group's original line-up was Anders Hagström (male vocals, songwriter, music and programming) & Yasmine Uhlin (vocals). Yasmine left the band after the release of their EP 'Morning Star in a Black Car' and was replaced by Kari Berg (female vocals) who started as the new female vocalist at the end of 2008. Live on stage, they were supported by the keyboard player Johan Andersson. The current album called 'Take Cair Paramour' was released just in July 2010.
http://www.myspace.com/ashburyheightsmusic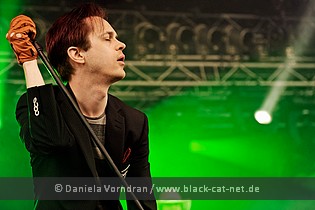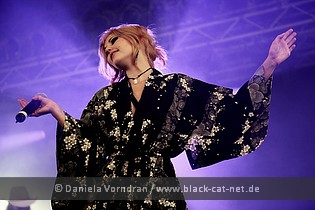 Music & Performance
After the change over, ASHBURY HEIGHTS entered the stage in the afternoon and pleased the crowd with their set. After the first song they had some problems with their new equipment but after a short break the next track started and the show went on. The fresh sound, the pushing rhythms and the pleasing voices of the both singers - which harmonized perfect together - enjoyed the crowd and infected the legs to move. The set ran about 50 minutes and presented songs out off the already released albums and very new stuff from the 'Origin' release. The set finished with danceable 'Spiders' when Kari - wearing some kind of Japanese Kimono - was even stealing the Cowboy hat from keyboarder Johan.
Rating
Music: 8
Performance: 8
Sound: 9
Light: - (daylight)
Total: 8.2 / 10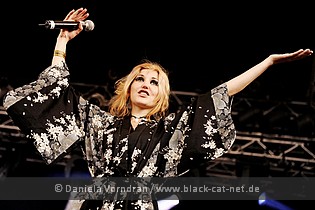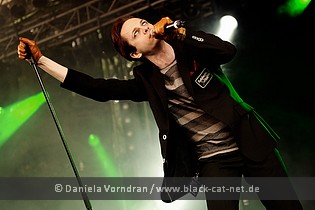 Welle:Erdball (Carsten Leopold)
This band connects the aesthetic and elegance of past days with the conveniences of the present. Since 1994, the radio station WELLE:ERDBALL broadcasts 24 hours a day, with 1000 giga watts. The very first broadcast 'Frontalaufprall' established a trademark sound dominated by sounds, coming out of a C64, which remained fixed element of their style ever since. In April 2010 they released a movie called 'Operation : Zeitsturm' which included the soundtrack on an audio CD. WELLE:ERDBALL is Honey (sounds, lyrics, vocals), ALF (planning, conception, programming) Plastique (vocals) and Frl. Venus (vocals)
http://www.welle-erdball.info/
/
http://www.myspace.com/funkbereit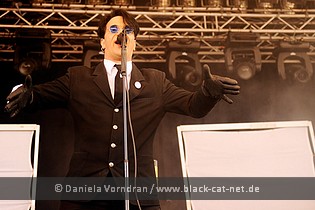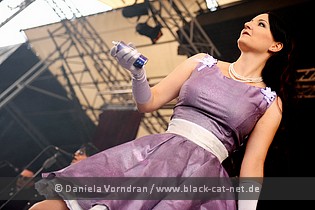 Music & Performance
After the next change over, WELLE:ERDBALL entered the main stage and entertained the crowd with their funny show. The set was started by a cover version of 'Wir sind die Roboter' (KRAFTWERK), performed with a kind of slow motion dance performance by the both female band members before the both male band members completed the line up for the second song. Like usual, WELLE:ERDBALL impressed with a crazy performance and also the usual show elements of a WELLE:ERDBALL show like sparklers, balloons, paper planes or flying C64 computer were not missed. The crowd was pleased by the show. Own songs like 'Schweben, Fliegen, Fallen', 'Ich bin aus Plastik' or 'Starfighter F104G' were alternating with some nice cover versions just like already mentioned KRAFTWERK song, 'Fred vom Jupiter' or 'Es geht voran', even highlighted by a cover version of 'Ein bischen Frieden' - the winner song of the Eurovision song contest 1982. The show finished after about 50 minutes with 'Starfighter F104G'.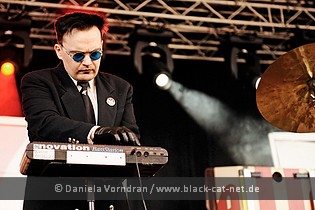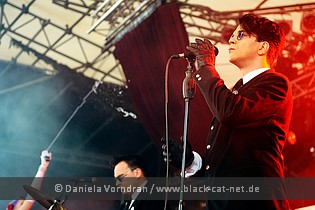 Setlist
01. Wir sind die Roboter (Kraftwerk)
02. ?
03. Es geht ab
04. Fred vom Jupiter (Andreas Dorau)
05. Poupee de cire
06. Es geht voran (Fehlfarben)
07. Ein bischen Frieden (Nicole)
08. Schweben, Fliegen, Fallen
09. Ich bin aus Plastik
10. Die falsche Front
11. 0173-1923954
12. Die Stunde: NULL
13. Monoton und Minimal
14. Starfighter F104G
Rating
Music: 8
Performance: 10
Sound: 9
Light: - (daylight)
Total: 8.9 / 10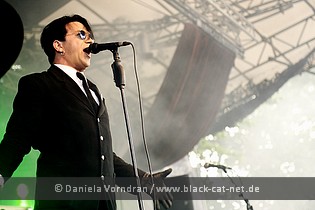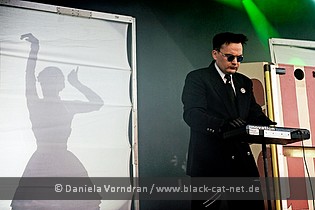 Blutengel (Janine Szakacs)
BLUTENGEL arises in 1998 from SEELENKRANK, the former band of initiator Chris Pohl who released with 'Child of Glass' its first album in 1999 and with that album began a matchless career in the Goth scene and beyond as with the kind of music BLUTENGEL creates the project had some considerable successes in the regular German album charts. BLUTENGEL released album after album and meanwhile have reached an ionic status in the scene. BLUTENGEL is Chris Pohl (programming, lyrics, vocals), Ulrike Goldmann (vocals, lyrics) and as the official MySpace site states, Constance Rudert (vocals, lyrics). At the Amphi show, they had a new singer with them though as well as six dancers.
http://www.blutengel.de/
/
www.myspace.com/officialblutengel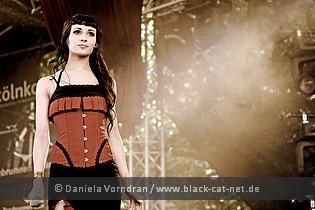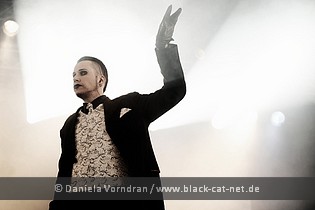 Music and Performance

The Berlin Dark-Pop band BLUTENGEL came up with their appearance at this year's Amphi Festival with a special surprise. In collaboration with the Dance Theatre of Quilla, the Swiss choreographer Sarah Keusch with the dancers of Naway Dance Company carried the audience into a different world. Dance performances by world-class in a stunning combination of concert was really eye-catching! With his side-project MISS CONSTRUCTION, Chris Pohl activated the people really early this day, and then with entering the stage with BLUTENGEL he reactivated the crowd. The stage decoration was sappy but got the expected attention. Many people shot pics. Chris joked on stage with his fans and distributed water. Constance wasn't on stage this time; many men waited for her and expressed their displeasure with shouting for her. But Chris and Ulrike played very well together and the dancer fitted totally to their style. It was an erotic show, with some "games". That's everything…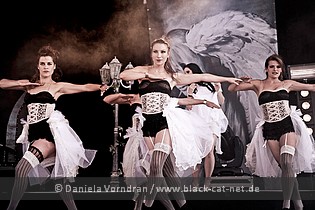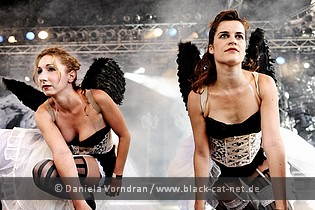 BLUTENGEL is a phenomenon in the Goth scene that actually isn't so phenomenal if you just take a closer look at it. It's a cavalry of clichés from death to suicide over fallen angels to Lucifer and on a related note. Why is it that BLUTENGEL enjoy such popularity in this scene, while other bands have to struggle? I saw them the first time and the next time I'll be better with using the time to have some drinks. Really, that's just show… semi-good rating because of the good light show and the enthusiastic dancers!
Setlist
01. Behind The Mirror
02. The Oxidising Angel
03. Soul of Ice
04. Winter of My Life
05. Schneekönigin
06. Dreh dich nicht um
07. Vampire Romance
08. Soultaker
09. Bloody Pleasures
10. Love Killer
11. Engelsblut
Rating
Music: 2
Performance: 8
Sound: 3
Light: 9 (as far as you could see)
Total: 5 / 10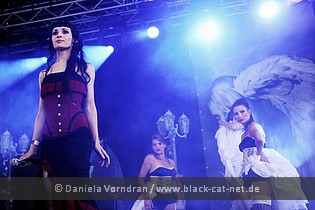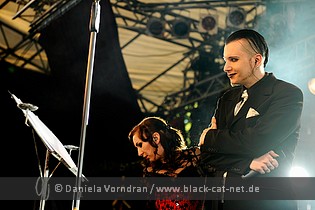 Anne Clark (Dajana Winkel)
Her rather experimental approach to music is encompassed by electronic elements, just as it incorporates orchestral incursions with a romantic flavour. However this can only be used to give a small hint on the variety of styles she's processing and the emotionality of her music. Other than many, ANNE CLARK is a spoken-word artist and so it's more like a narration, when she's performing her lyrics, often critically dealing with the imperfections of humanity, everyday life, and politics and it's always an experience for those who attend her live shows. Throughout her nearly 30 years spanning career, she's released over a dozen albums.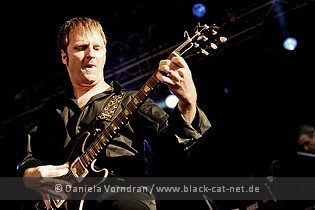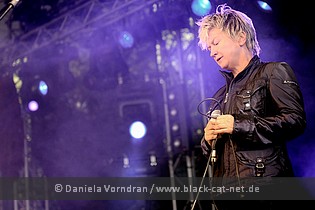 In 2008 she eventually returned with her first new album in 12 years 'The Smallest Act Of Kindness' in September 2008. On stage she's supported by Jeff Aug (guitar), Tobias Haas (drums & percussion), Murat Parlak, (piano), Jann Michael Engel (cello), Xabec & Steve Schroyder (programming).
http://www.anneclark.de/
/
http://www.myspace.com/anneclark
Music & Performance
ANNE CLARK is without a doubt one of the heroes of the glorious 80's. And finally I could see her playing live. Unfortunately, Anne got the full afternoon sun in her face, so she stood like nailed behind her microphone, with closed eyes and spoke. Her voice is still so mesmerizing, so clear and expressive… just magical. And I liked that cello, which added such an emotional touch. I guess an ANNE CLARK show works best in a small and intimate club, much better than on a huge open air stage on a sunny afternoon. Too bad I was again in a hurry due to overlapping stage times and could not experience the grandiose classics ANNE CLARK played at the end of her set…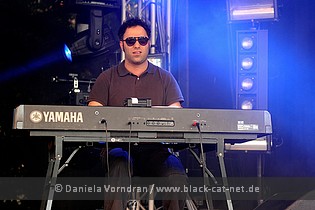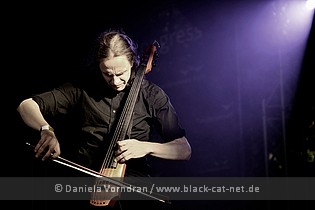 Setlist
01. The Third Meeting
02. Killing Time
03. Echoes Remain For Ever
04. Alarm Call
05. Short Story
06. The Healing
07. Waiting
08. Off Grid
09. Heaven
10. The Haunted Road
11. Seize The Vivid Sky
12. Full Moon
13. Our Darkness
14. Abuse
15. Boy Racing
16. Sleeper in Metropolis (was on the list but has not been played)
Rating
Music: 8
Performance: 6
Sound: 8
Light: - (daylight)
Total: 7.3 / 10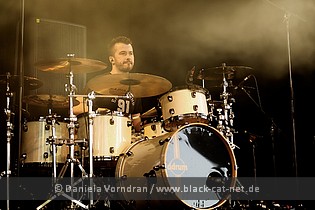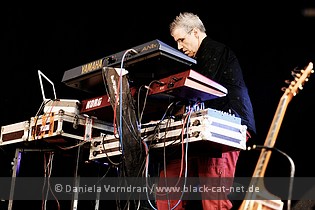 And One (Carsten Leopold)
If the name AND ONE is mentioned in the line-up of a festival or a concert, then wild partying is guaranteed and usually when Steve Naghavi enters a stage, hell breaks loose on and in front of the stage. Songs like 'Technomann' or 'Deutschmaschine' can't be missed out on any party and still belong to the fixed repertoire of most DJ's but only the music excites thousands of people since many years, it's also Steve's "special" form of lyrics that always cause discussion amongst fans and press alike. Just remember the text of 'Pimmelmann'. After a longer absents, amongst others caused through the events of 9/11 and their harsh consequences for Steve Naghavi, AND ONE returned in 2003 with a new album 'Aggressor' and three years later 'Bodypop' the ninth AND ONE studio album sees the light of day. AND ONE is Steve Naghavi, Chris Ruiz and Gio Van Oli.
http://www.andone.de
/
http://www.myspace.com/andoneofficial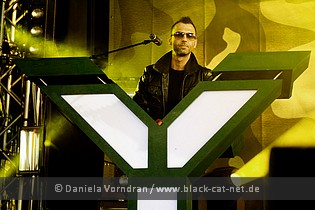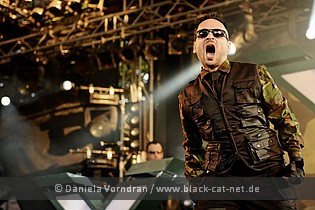 Music & Performance
Saturday evening, half past 8, the stage was ready for the headliner and hidden behind a red curtain which was removed at the start of the show. In the centre of the stage a big "Y" (This letter is a synonym for the German army) was arranged and the keyboard racks were formed like a "Y" as well. The background of the stage was military painted and the band members were clothed in military outfits. Quickly, the spark went over to the crowd and the audience celebrated a big party together with AND ONE. The set list included - besides a lot of own songs - also the AND ONE remix of 'Timekiller' (Project Pitchfork) and cover versions of 'The sun always shines on TV' (A-HA) and 'The Walk' (The Cure). For the pleasure of the fans, Steve announced a new album which will be called 'Tanzomat' and will be released in near future.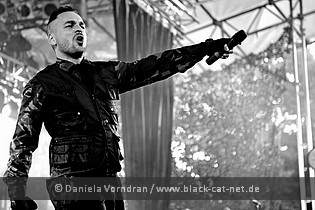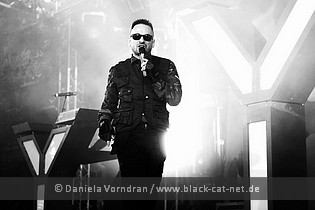 After about 80 minutes, the show was finished with 'Für'; an encore was not allowed because it was 10 o'clock and open air music after 10 was prohibited by the authority, wherefore Steve performed a part of 'Klaus' as an acoustic version unplugged before they finally left the stage.
Setlist
01. Die Mitte
02. Deutschmaschine
03. Timekiller (Project Pitchfork - And One Remix)
04. Love to the End
05. High
06. The Sun Always Shines On T.V. (A-HA)
07. Traumfrau
08. Sometimes
09. The Walk (The Cure)
10. Schwarz
11. Over There
12. Steine Sind Steine
13. Body Nerv
14. Military Fashion Show
15. Get You Closer
16. Techno Man
17. Für
Rating
Music: 9
Performance: 9
Sound: 9
Light: 9
Total: 9 / 10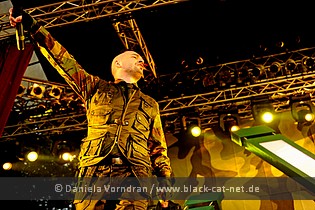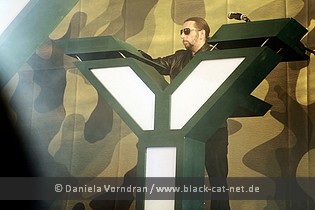 During AND ONE's show, SKINNY PUPPY already started playing at the indoor stage. When the open air stage finished its program, several more people entered the Staatenhaus to see the rest of SKINNY PUPPY's show or moved over to the Theater, where the after show party was already in progress…
All pictures by Daniela Vorndran (
http://www.vorndranphotography.com/
/
http://www.black-cat-net.de/
/
www.myspace.com/vorndranphotography
)
Written by Daniela Vorndran (common parts), Dajana Winkel, Janine Szakacs and Carsten Leopold
{jos_sb_discuss:17}
See also (all categories):