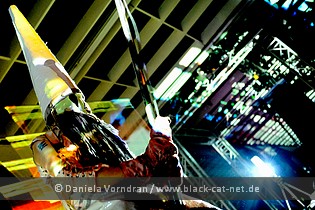 Tanzbrunnen, Cologne, Germany
24th & 25th July 2010
Amphi Festival 2010 Day 1 Staatenhaus:
Skinny Puppy, Project Pitchfork, The Crüxshadows, Funker Vogt, Nachtmahr, Solitary Experiments, Faderhead, Destroid, Miss Construction
The indoor stage was situated in the "Staatenhaus", former "Rheinparkhalle". This year, the ceiling stayed where it needed to and so, the whole program was taking place in the hall… not a very nice venue I must add. It was hot inside, the ceiling was pretty low and the sound very difficult and in different areas far too loud. Anyway, with SKINNY PUPPY headlining the program there, the indoor stage had my personal festival highlight in stock…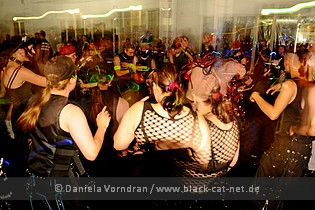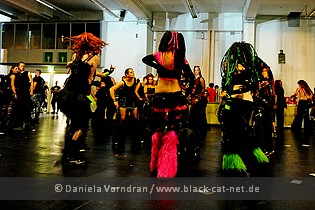 Miss Construction (Janine Szakacs)
TUMOR is dead - Chris Pohl created another project out of its ashes which goes by the well sounding name of MISS CONSTRUCTION for which he joined forces with his TERMINAL CHOICE fellow Gordon M who is responsible for the vocals here. MISS CONSTRUCTION is Chris Pohl (music) and Gordon M. (vocals).
http://www.missconstruction.de/
/
www.myspace.com/missconstruction
Music and Performance

The first day started for me in the Staatenhaus with MISS CONSTRUCTION. The planning did not intend for the visitors to have any quiet start of the festival .Their show was absolutely a musical wake-up-call- which worked! The people woke up very early and pointed out their enthusiasm with clapping hands. If the Staatenhaus had been brighter, you surely have had seen shining eyes when MISS CONSTUCTION entered the stage - wearing nice costumes and with cool projector pics.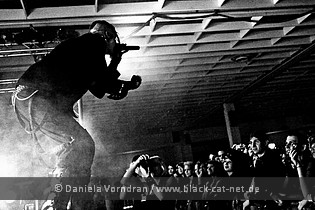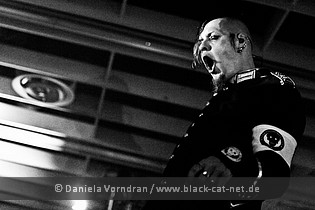 MISS CONSTRUCTION also understands how to entertain people - Gordon took time to talk to the people and give some extra-ordinary interludes. One example was the song 'Hass & Liebe' which was sung in a suspicious way. Yes, he got talent for acting as an actor - he also has got the mimic for that. In the Staatenhaus, I saw many Cyber-Goths dancing (e.g. at 'Kunstprodukt' - such an irony); that fact would give you an impression of what the music sounds like.
Setlist

01. Slaughterhouse
02. Fuck you BITCH
03. Totes Fleisch (Terminal Choice Cover)
04. Hass & Liebe (Eco Cover)
05. Lunatic
06. Kunstprodukt
Rating

Music: 8
Performance: 8
Sound: 7
Light: 9
Total: 8 / 10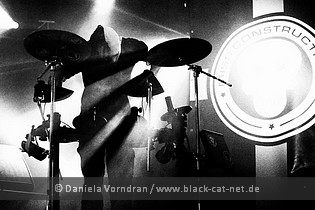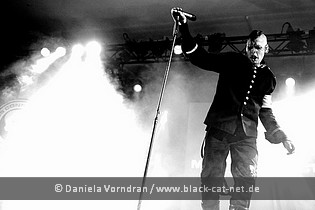 Destroid
(Janine Szakacs)
DESTROID is a project of Daniel Myer, who is also well-known for his other projects, e.g. HAUJOBB and ARCHITECT. They feel at home in hard floor, the classic EBM-style, in Synth- and Future pop, and are not in fear of churning out the odd dark ballad either. The result is a mind-blowing acoustic journey. DESTROID is Sebastian Ullmann (music), Daniel Myer (music, vocals), Achim Färber (live drums) and Tony D'Oporto (key, USA).
http://www.destroid.de/
/
www.myspace.com/destroidmusic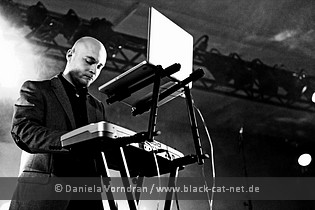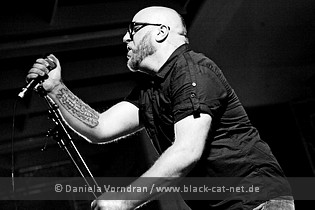 Music and Performance

I always love to see DESTROID and so it was this time again. I highly expected Daniel Myer entering the stage. While they did the sound check he joked with the audience, but then - the show begun. After a long intro they finally broke the silence with the 'Silent World' - the last EP which DESTROID had released (in February 2010). Daniel Myer screamed out the lyrics with a vehemence and power that was absolutely remarkable. 'Judgment Throne' is one of my all-time DESTROID favourites I can't listen to often enough. That was the absolute highlight of this show and made everybody (at least these ones which surrounded me) overjoyed. This song always indicates a total explosion of emotions.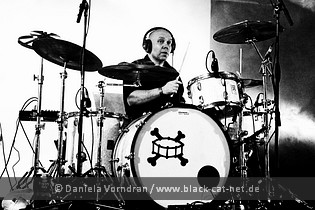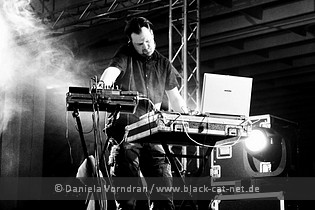 At the last years Blackfield Festival they played only with computers, but at this year Amphi Festival, Daniel is supported by two men, responsible for synthetic sounds. Even with live drums, which made DESTROID one of the highlights this day.
Setlist
01. Silent World
02. Friend or Foe (The Betrayal)
03. Revolution
04. Run and Hide
05. Mourn
06. Leaving Ground
07. Lucretia My Reflection (Sisters of Mercy Cover)
08. Judgment Throne
Rating

Music: 10
Performance: 8
Sound: 7
Light: 7
Total: 8.5 / 10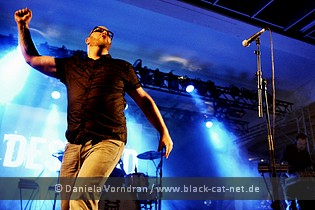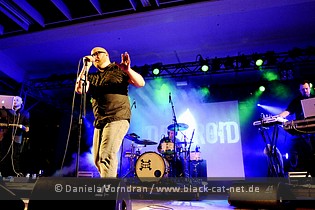 Faderhead (Janine Szakacs)
It's 2010 and FADERHEAD's electronic music assault is in full swing. Three highly acclaimed albums in 3 years - and 2 massive worldwide club hits with 'Dirtygrrrls / Dirtybois' and 'TZDV' - have moved the producer from Hamburg / Germany into the limelight of the harder electro scene. From stomping techno to synth-pop to dirty groove-laden electro reaches his repertoire. FADERHEAD is responsible for song writing, production, vocals. Live on Amphi stage, he was again supported by Joel and Daniel Meyer of SAM, by jl of STRAFTANZ and one more man I could not clearly recognize.
http://www.faderhead.com/
/
www.myspace.com/faderhead666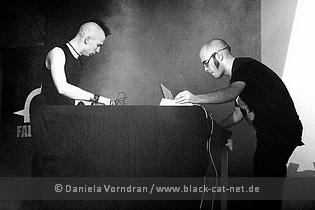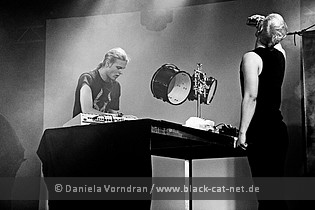 Music and Performance

Hard-hitting club tracks and balladry ones are remarkable for FADERHEAD. But he's not one of my favourite artists so I didn't set high expectations… As better as otherwise, because he did a "remarkable" show - a bad one - in my opinion! But the crowd although had fun - especially Cyber-Goths! One of these few songs I like, 'Horizon Born', was sung in such a bad way, that I already wanted to leave… Maybe it was just the bad sound in the hall, that gave me this opinion… maybe it was his miserable voice on that day… or maybe I just stood at the wrong spot. Nevertheless, he rocked the stage (thumbs up for that) and the reaction of the listeners was fantastic. There's no need for discussion, the crowd had fun!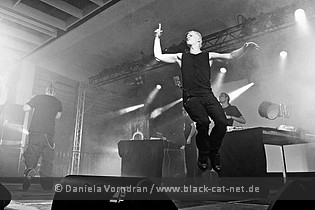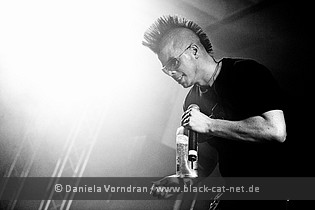 Setlist

01. Girly Show
02. Acquire the Fire
03. Electrosluts Extraordinaire
04. Zigzag Machinery
05. Destroy Improve Rebuild
06. Horizon Born (Electric Paradise Club Edit)
07. Houston
08. O/H Scavenger
09. Dirtygrrrls / Dirtybois
10. TZDV
Rating

Music: 6
Performance: 8
Sound: 5
Light: 7
Total: 6.6 / 10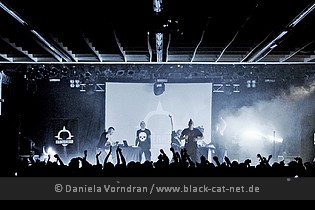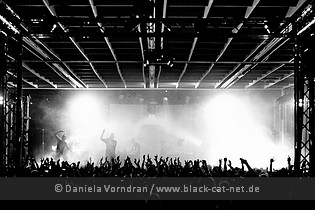 Solitary Experiments (Janine Szakacs)
After they made their first steps into music under the alias PLAGUE, Dennis Schober and Michael Thielemann decided to found the project SOLITARY EXPERIMENTS in 1994. At that time, they hat even a female background singer who left the project in 1998. That was also the time when Steve Graeber joined in and in 1999, the first album 'Final Approach' was released. SOLITARY EXPERIMENTS is Michael Thielemann (sampling, programming, engineering, recording), Dennis Schober (lyrics, vocals, effects, performance), Steve Graeber (programming, sampling) and Frank Glassl (live E-drums).
http://www.solitaryexperiments.de/
/
www.myspace.com/solitaryexperiments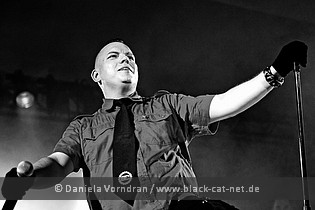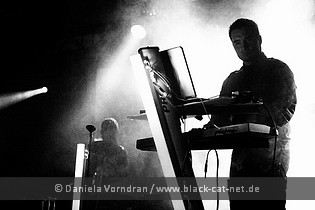 Music and Performance

I highly expected the show of SOLITARY EXPERIMENTS because I missed the chance to see them live since the announced show in Krefeld was cancelled…. Lots of fans of Berlin's Electro formation SOLITARY EXPERIMENTS took their places right in front of the stage to celebrate the band. The members were dressed as normal in red shirts with black ties with the band logo. As they started the melodic Electro sound coupled with hard EBM tones went straight to the legs. The band delivered crackers like 'Delight' or 'Seele Bricht' and a grandiose show.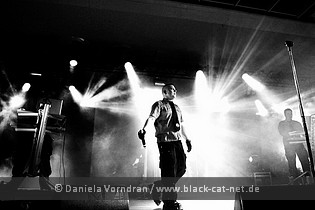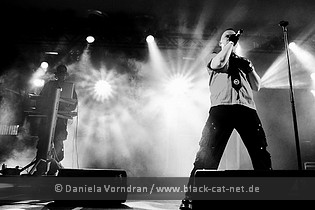 Especially Dennis' deep, memorable, not too raw voice was a pleasure for my ears. The catchy melodies and massive beats were going down well with the audience. Singer Dennis kept heating us up and animated to dance along. My fear - I always have, when I see one of my favourite bands live for the first time - they could disappoint with their live shows wasn't justified.
Setlist

01. Road to Horizon
02. Pale Candle Light
03. Immortal
04. Déjà vu
05. Delight
06. Seele Bricht
07. Point of View
08. Rise and Fall
Rating
Music: 9
Performance: 9
Sound: 9
Light: 9
Total: 9 / 10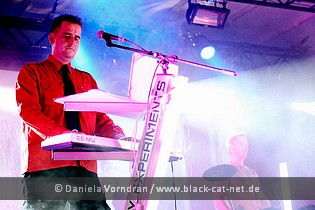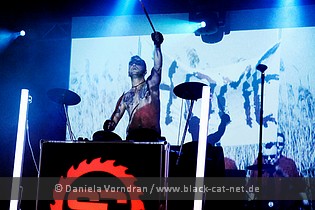 Nachtmahr (Janine Szakacs)
Thomas Rainer created his new musical project NACHTMAHR in 2007. After the Austrian artist has achieved worldwide success with L'AME IMMORTELLE and SIECHTUM in the past 11 years, he returns to his roots: the boiling dance floors of industrial and Goth clubs alike. NACHTMAHR is Thomas Rainer (vocals, keyboard).
http://www.nachtmahr.net/
/
http://www.myspace.com/nachtmahrprojekt
Music and Performance

NACHTMAHR were welcomed by the well-filled area in front of the stage with applause when they entered the stage and began their show. They impressed the crowd with their powerful and dedicated performance right at the beginning. I don't like this kind of music, but the performance I saw was powerful. And the fans seemed to be pretty satisfied and made a good party.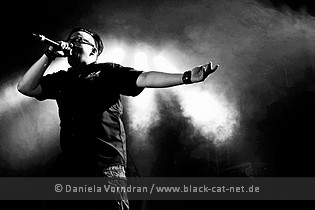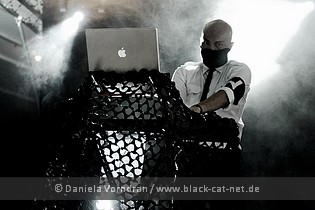 The energy was beyond belief and the "troops" supported the imperial guard's frontal assault on the Staatenhaus. Later this day I spoke to a lot of people who named this show as THE highlight of the festival. The set ran about 40 minutes, but what I've heard so far was a bit too hard for me and I did my way back to the main stage after a few minutes. The people inside the Staatenhaus enjoyed the show a lot. BUT the sound was really bad! The audience didn't seem to care about and ignored that obviously.
Setlist
01. Deus Ex Machina
02. Leistung
03. Mädchen in Uniform
04. Boom Boom Boom
05. Tanzdiktator
06. War on the Dancefloor
07. Weil ich's kann
08. Feuer frei!
09. Katharsis
Rating
Music: 5
Performance: 6
Sound: 5
Light: 6
Total: 5.5 / 10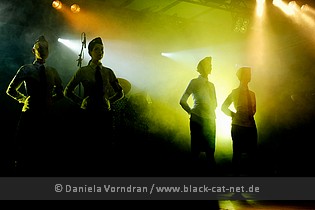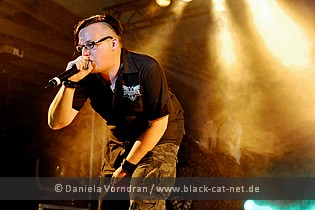 Funker Vogt (Carsten Leopold)
Next band on the second stage were FUNKER VOGT. The band was founded in 1995 by band members Gerrit (Route X), Thomas and Jens Kästel. FUNKER VOGT was originally a side project to Gerrit's main project (at the time) RAVENOUS. Well, things didn't work out too well for RAVENOUS and FUNKER VOGT quickly became front stage for Gerrit and the rest of the group. All the band members are from a town called Hameln in Germany. In English, the band name means "radio operator" (Funker) Vogt (one of the band's friend's last name). The majority of the songs of FUNKER VOGT revolve around war and some involve politics and others deal with world problems. Although the band sings much about war, they are almost militantly opposed to it. FUNKER VOGT produced four full albums before introducing a fourth member to the band Björn Böttcher (who now also manages the band with Kai). More recently the band also brought Frank Schweigert on board. The last studio album was released in 2007, in 2009 they released a live album. FUNKER VOGT is Gerrit Thomas (composition, production, backing vocals, keyboards) and Jens Kästel (lead vocals); live they were supported by Björn Böttcher (keyboards) and Frank Schweigert (guitar).
http://www.funkervogt.de/
/
http://www.myspace.com/funkervogt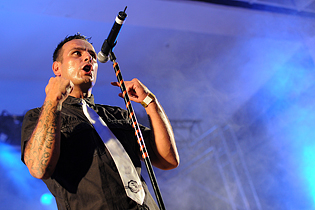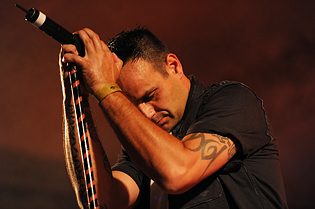 Music & Performance

Just in time, FUNKER VOGT entered the second stage and began their show with 'Child Soldier'. The music of FUNKER VOGT was powerful, pushing and danceable EBM. They, especially Jens, animated the audience and the people followed them willingly. Band and audience were in a good mood and the available 45 minutes of playing time went by quickly.
Setlist

01. Child Soldier
02. White Trash
03. Arising Hero
04. Date of Expiration
05. Maschine Zeit
06. City of Darkness
07. Thanatophobia
08. Subspace
09. Gunman
10. Tragic Hero
Rating
Music: 6
Performance: 8
Sound: 8
Light: 8
Total: 7.2 / 10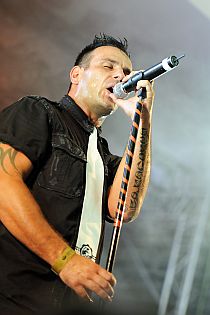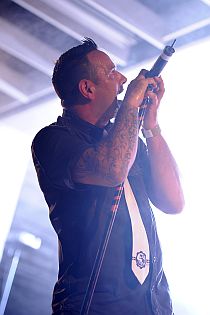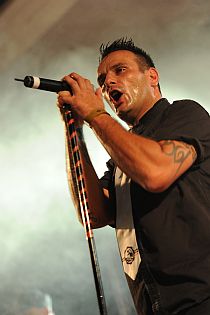 The Crüxshadows (Carsten Leopold)
The band was originally formed in the early 1990s by Rogue, Sean Flannigan and Tim Curry in Florida. Soon afterwards, they came up with their first album '...night crawls in', a self-release under the "Black Widow Music" label. It took three years for them to release their first real CD 'Telemetry of a Fallen Angel' in 1996. It was at that time when Curry and Flannigan left the band. Rogue assembled a new line-up and recorded the two next albums from 1998-2000. With every of the following releases - and not less because of extensive touring throughout the years - they reached global popularity, adding to this surely was the performance of the charismatic front man Rogue, who's barely standing still for a minute.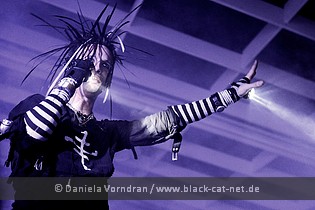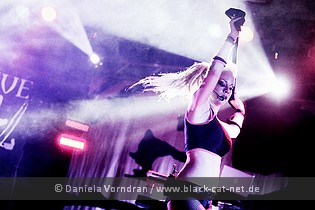 Today, the band can look back in an impressive discography of several singles and EPs, as well as eight albums with 'DreamCypher' being the latest one, released in 2007. The line up changed over the years several times. THE CRÜXSHADOWS currently is Rogue (vocals, violin, music), Pyromantic (keys, synths, backing vocals), Mike Perez (guitars), David Wood (violins), Johanna Moresco (violins), Jessica Lackey (lead dancer, backing vocals) and Jenne Vermes (dancer, backing vocals).
http://www.cruxshadows.com/
/
http://www.myspace.com/cruxshadows
Music & Performance

The show was started with 'Quicksilver', followed by 'Immortal' and right from the start the whole crowd was bewitched by the rousing and charismatic performance. But also there was no doubt that Rogue's voice was not in best condition during this show. The people were dancing and singing along anyway and had a good time. Like usual, THE CRÜXSHADOWS impressed with a fantastic stage performance and once again Rogue was climbing the stage and walking through the crowd. But I wonder why they had such bad light with this performance. Don't they want people to see what's going on onstage?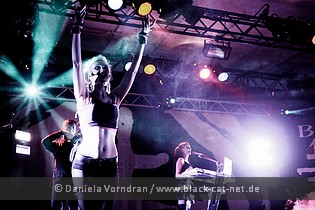 Setlist

01. Quicksilver
02. Immortal
03. Solus
04. Sophia
05. Deception
06. Avalanche
07. Dragonfly
08. Winterborn
09. Happy Birthday
10. Marilyn, my bitterness
Rating
Music: 7
Performance: 10
Sound: 8
Light: 5
Total: 7.8 / 10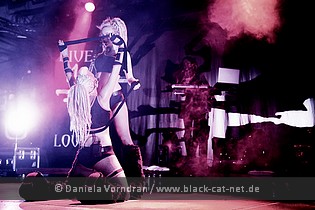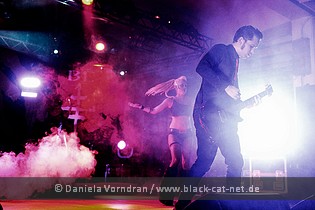 Project Pitchfork (Janine Szakacs)
The legends of the dark scene, PROJECT PITCHFORK have started their way in the remote 1989 and crossing the borders of styles and genres, disregarding the criticism and accusation, have won the cult status with eleven albums, numerous EP and singles and highest positions in the charts. They recently released their new album 'Continuum Ride' - a masterpiece, which starts at the point were the last ended. PROJECT PITCHFORK is Peter Spilles (composition, lyrics, vocals), Dirk Scheuber (keyboard), Jürgen Jansen (keyboard), the live members are Achim Färber (drums) and Carsten Klatte (guitar). Peter Spilles is also known as the mastermind of IMATEM and SANTA HATES YOU.
http://www.pitchfork.de/
/
www.myspace.com/projectpitchfork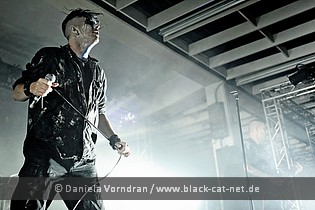 Music and Performance

First thing you recognized was that Dirk Scheuber was missing. Like Peter told us, he was still recovering and not fit enough to be on stage. Well, with this part of the festival I highly expected to hear some of the songs from their new album 'Continuum Ride', which is from my point of view absolutely fantastic. Finally I left this concert with just one performed song of this album, 'Endless Infinity', at least. 'Timekiller', an absolute anthem of the band, was played really badly, from my point of view. Generally I would say that this wasn't one of the good PROJET PITCHFORK concerts, I've seen a "few" better performances of the band. The sound in the Staatenhaus was miserable (not the fault of the band though), the show was just average, but the fans were really awesome and did a big party. I saw dancing people around me all the time and many exercising a rather little urge to move.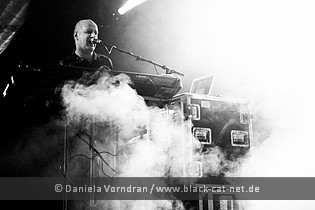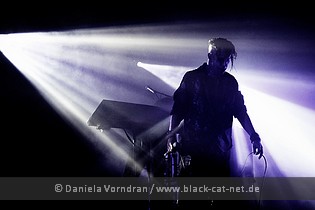 Setlist

01. God Wrote
02. Conjure
03. Timekiller
04. Endless Infinity
05. Carrion
06. Teardrop
07. I Live Your Dream
08. Mine
09. Darkness
10. Souls
11. Steelrose
12. I Am
13. Existence
Rating
Music: 7
Performance: 7
Sound: 5
Light: 8
Total: 6.9 / 10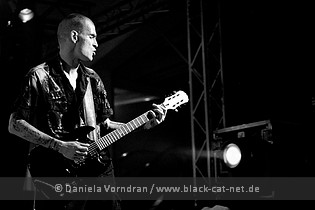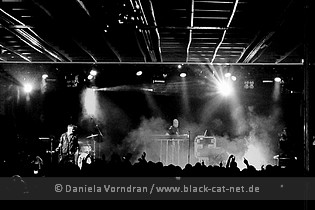 Skinny Puppy (Janine Szakacs)
Since their foundation in the early 1980s, SKINNY PUPPY managed to become one of the most influential bands of EBM and Industrial, the scene which they are mostly associated with, and in the whole genre of electronic music for many people. SKINNY PUPPY is cEvin Key and Nivek Ogre.
http://www.skinnypuppy.com/
/
www.myspace.com/skinnypuppy
Music and Performance

SKINNY PUPPY from Canada were great to be expected, since the Belgian Gothic Festival in Waregem a week earlier which they have already cleared powerful, as I was told. The stage consists of a drum set, one hung with white sheets cage decorated as keyboards, a video screen and a number of beamers.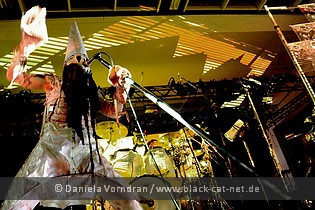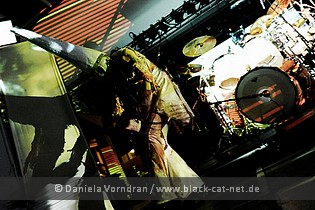 The lighting system created a totally surreal atmosphere, the effect on the tissues and body of Ogre is absolutely intoxicating. A scary mask on the face, the head is a huge pointed hat, joined hands, and an equally veiled body as well as numerous blood stains. The outfit and the music made you feel like a horror movie or a bad nightmare. The setlist was fantastic but unusual, having not too many big hits in stock but pleased also the ones to too familiar with the band finally with 'Assimilate' ending the main set. With 'Brap' and 'Shore Lined Poison', the audience was then released into the cool night in Cologne. What a crazy good show - it seems impossible. Their kind of music is nothing I prefer to, but it was definitely something for my eyes.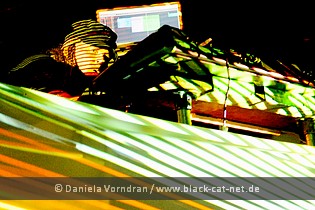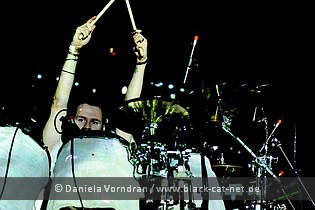 Setlist

01. Love In Vein
02. Hatekill
03. Addiction
04. Dogshit
05. Deadlines
06. Politikil
07. Pedafly
08. Rodent
09. Tormentor
10. Pro-Test
11. Morpheus Laughing
12. Ugli
13. Assimilate
---
14. Worlock
15. Brap
16. Shore Lined Poison
Rating
Music: 8
Performance: 9
Sound: 7
Light: 8
Total: 8.2 / 10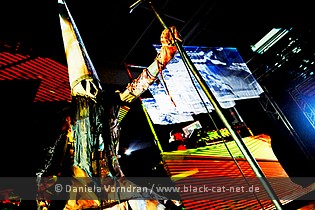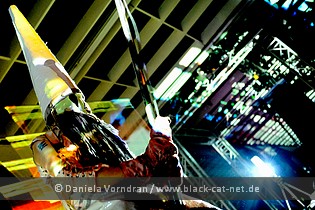 After SKINNY PUPPY ended their set, people were up to enter the after show party to celebrate into the early morning hours. We rather took it calm and sat together with some other press people at the VIP area to finally have some beer… and discuss the things happened earlier that day at the Loveparade. Back in the hotel we were constantly checking news and still could not believe the things happened there while we were celebrating a big peaceful festival…
All pictures by Daniela Vorndran (
http://www.vorndranphotography.com/
/
http://www.black-cat-net.de/
/
www.myspace.com/vorndranphotography
) except FUNKER VOGT by Thomas Nattermann
Written by Daniela Vorndran (common parts), Dajana Winkel, Janine Szakacs and Carsten Leopold
{jos_sb_discuss:17}
See also (all categories):