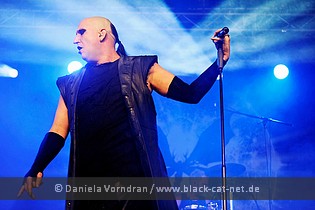 Tanzbrunnen, Cologne, Germany
24th & 25th July 2010
Amphi Festival 2010 Day 2 Main Stage:
VNV Nation, ASP, Combichrist, Mesh, Leaves' Eyes, Rabia Sorda, Mono Inc., Ext!ze
Sunday morning started grey and it looked like rain. Luckily, the rain came towards the end of the festival. When we arrived at the area, we had a lot of time to have coffee and something to eat. Breakfast! This should be the only food until the late evening since we simply had no time and were rushing from one stage to the other and back. The main stage had mostly electronic bands in stock for today headlined by VNV NATION who are always good for a big party.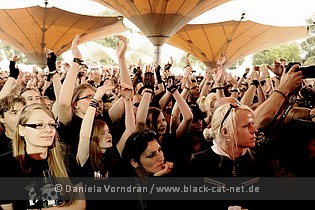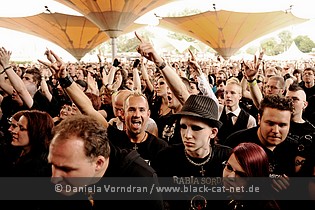 Ext!ze (Carsten Leopold)
EXT!ZE is a "cyber-trance-industrial" band and was founded in 2007. Started as a solo project of "Cyb3rella" EXT!ZE developed to a band with 4 members. 2009, the label Trisol Music Group signed the band. EXT!ZE are "Cyb3rella" (vocals, programming, keyboard), "Cyb3rSlut" (drums), "DJ Barus" (sampling and programming) and "Ionic Matrix" (Keyboard).
http://www.extize.com/
/
http://www.myspace.com/ext1ze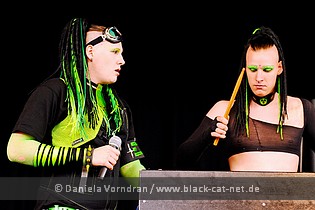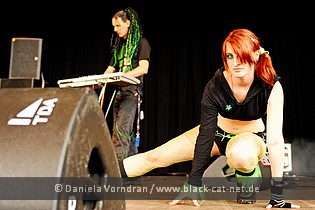 Music & Performance

Sunday 12 o'clock, the second day of Amphi festival started and a few people already had found their way to the main stage when EXT!ZE opened the festival day. They did a powerful performance with boring stupid electro sounds and two female dancers who tried to run a professional dance performance. The set included six songs, inclusive the single releases 'Hellektrostar' and 'Gothic Pussy'. After 30 minutes the torture was finished with the song 'Boyz Love Girlz' and EXT!ZE left the stage. Definitely not my kind of "music"! But there were lots of Cyber Goths who danced extensively.
Setlist

01. Poser Play
02. Hellektrostar
03. Electronic
04. Dead Bang
05. Gothic Pussy
06. Boyz Love Girlz
Rating

Music: 3
Performance: 5
Sound: 7
Light: - (daylight)
Total: 4.4 / 10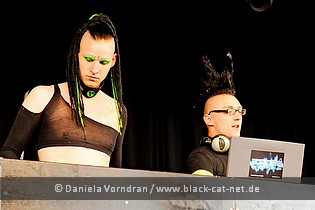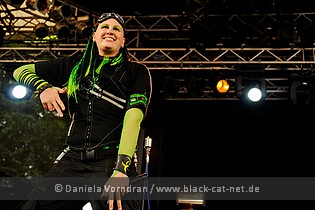 Mono Inc. (Carsten Leopold)
Before altering their name into MONO INC., the band was founded in 1998 under the name MONO69! Beginning of 2003, Manuel Antoni fills in the vacant position as bassist and hence completes the line-up. The self-released debut 'Head under Water' followed then in autumn 2003. The year 2006 brought one of the worst surprises a band is able to encounter. The departure from their former singer, however a proper replacement was to be found quickly with drummer and songwriter Martin Engler. Katha Mia would take over drum duties for him from there on. As it turns out, the idea to put Martin to the front wasn't a bad one at all; ever since the band has grown more popular than ever expected.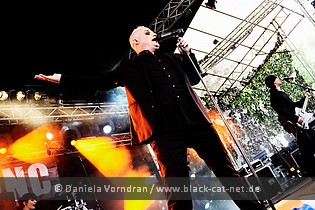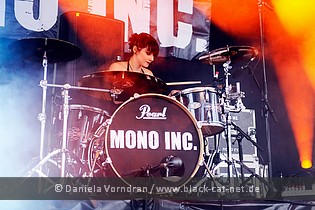 2007 sees the release of the next record 'Temple of the Torn' to be followed only one year later, exactly in June 2008, with the third album 'Pain, Love & Poetry'. MONO INC. is Martin Engler (vocals), Manuel Antoni (bass, vocals), Katha Mia (drums) and Carl Fornia (guitar, vocals).
http://www.mono-inc.com/
/
http://www.myspace.com/monoincmusic
Music & Performance

The next band on the main stage was MONO INC. who was welcomed with ample applause by the meanwhile well-filled area. They started their show powerful and the pushing rhythms and the harmonic voice of the singer pleased the crowd. In spite of the early hour the temper in the crowd was very well and the people were clapping hands and dancing along. Highlight of the show was a special version of 'The passenger' (Iggy Pop) which was performed mostly acoustic only by the singer with an acoustic guitar together with the crowd. Quickly the time went over and MONO INC. finished and left the stage after about 40 minutes.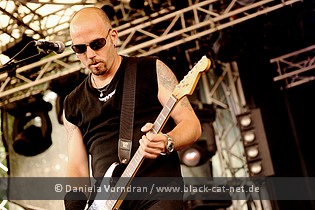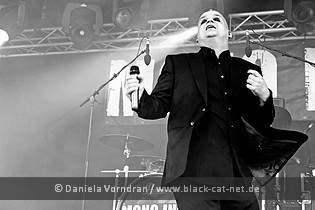 Setlist
01. This Is the Day
02. Temple of the Torn
03. Come Down
04. Just Because I Love You
05. Forgiven
06. The Passenger (Iggy Pop cover)
07. Voices of Doom
08. Get Some Sleep
Rating
Music: 8
Performance: 9
Sound: 8
Light: - (daylight)
Total: 8.4 / 10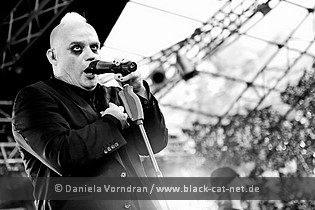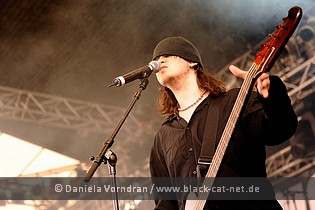 Rabia Sorda (Carsten Leopold)
RABIA SORDA is a solo project of Erk Arcraig, front man of HOCICO. It was founded in 2003 and the first album the project had under its belt was: 'Métodos del Caos' that was released in November 2006 followed by the single 'Save me from my curse'. The following time would be occupied again by works for the revived beast HOCICO, before first preparations could be started for the RABIA SORDA sophomore 'Noise Diary', eventually released to the public in September 2009. On stage, Erk is supported by an additional keyboarder and even one drummer.
http://www.rabiasorda.com/
/
www.myspace.com/rabiasorda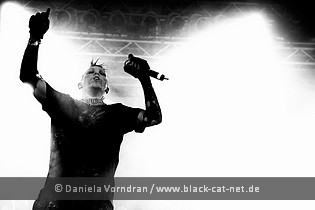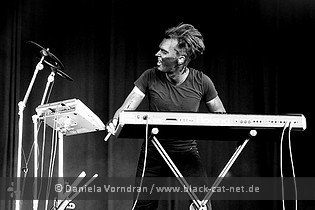 Music & Performance

After the change over RABIA SORDA entered the stage and started their set powerful. Quickly the crowd was infected by the powerful electro sounds combined with the distinctive voice of singer Erk who also is known as a part of the famous Mexican band HOCICO. The set was started with 'Monkeyland' and included all in all nine songs. In spite of the announced rain the sun still was shining and the people enjoyed the show with heavy dancing. Erk was running across the stage like a devil delivering a very powerful performance that made anyone moving.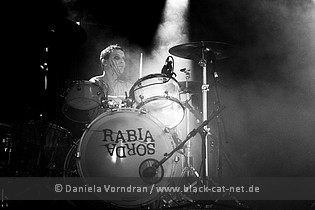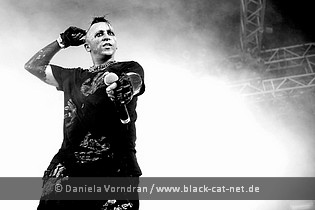 Setlist
01. Monkeyland
02. Out of Control
03. ?
04. Radio Paranoia
05. ?
06. Save Me from my Curse
07. ?
08. ?
09. ?
Rating
Music: 8
Performance: 8
Sound: 8
Light: - (daylight)
Total: 8 / 10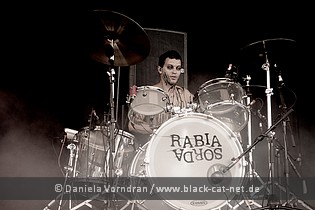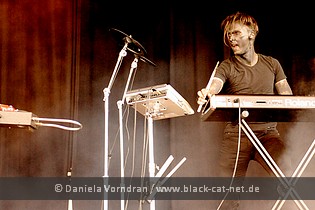 Leaves' Eyes (Carsten Leopold)
Leaves' Eyes is a German-Norwegian Gothic metal band from Stavanger, Norway and Ludwigsburg, Germany. They were formed in 2003 by Liv Kristine, the former lead singer of THEATRE OF TRAGEDY and the entire line-up of Atrocity shortly before Liv Kristine was fired from THEATRE OF TRAGEDY. To date, the band has released three studio albums, a single, three EPs, and one live album and DVD. Current members are Liv Kristine Espenæs Krull (vocals), Alexander Krull (death grunts, keyboards), Thorsten Bauer (guitar), Sander van der Meer (guitar), Alla Fedynitch (bass guitar) and Roland Navratil (drums).
http://www.leaveseyes.de/
/
www.myspace.com/leaveseyespage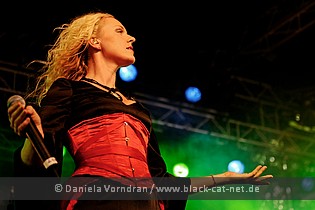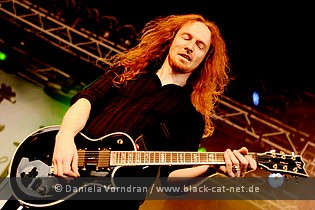 Music & Performance
The next place in line was LEAVES' EYES who entered the stage some minutes delayed because of some technical problems (and maybe that's why also the Setlist was shortened by two songs) and started their show. They did a dedicated performance underlined by a wonderful light show that came to effect since the sky went darker and darker by now. The crowd was pleased by the powerful performance. The set ran about 50 minutes presenting famous songs such as 'My Destiny' or 'Elegy'. The temper on and off stage was pretty good, even LEAVES' EYES was one of the few non-Electronic bands on that stage during the day.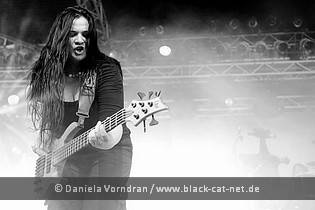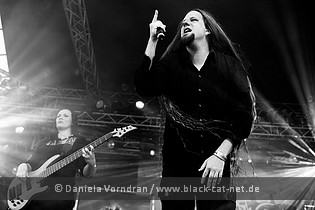 Setlist
01. Intro + Njord
02. My Destiny
03. Emerald Island
04. Take The Devil In Me
05. Ragnarok
06. Elegy
07. Froya's Theme
08. Outro - Mot Fjerne Land
Rating
Music: 7
Performance: 7
Sound: 8
Light: 8
Total: 7.3 / 10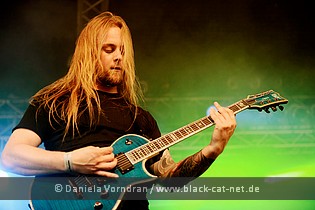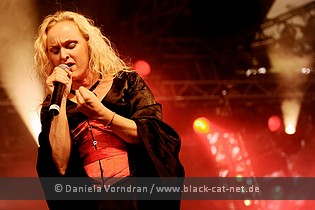 Mesh (Carsten Leopold)
The band from Bristol was founded in 1991 and consists of Mark Hockings and Richard Silverthorn nowadays. Neil Taylor, the third original member left the band in summer 2006 and was compensated by Geoff Pinckney. Live on stage MESH is usually supported by Sean Suleman as live drummer. MESH is still one of my favourite bands - it's ingeniously Synth Pop with beautiful melodies, catchy refrains and significant lyrics. The current album is called 'A perfect solution' and was released in 2009.
http://www.mesh.co.uk/
/
http://www.myspace.com/meshwecollide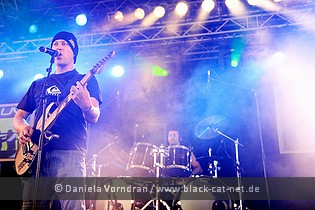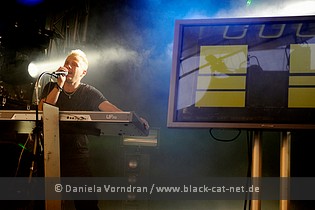 Music & Performance

After the next change over the stage was ready for one of my favourite bands. On stage for large screens were arranged which displayed nice video's and animations during the show. MESH entered the stage and right from the start the crowd was infected by the rousing charismatic performance. Like usual, Richard changed between keyboard and guitar and Marc played an additional guitar during several songs. Marc took some pictures with his pocket camera during the show and I'm sure these pictures will be part of video's or slide shows in future. During the song 'Who says', MESH welcomed a special guest on stage: Julia Beyer entered the stage and sang the song together with Marc. After it the show was finished with 'Everything I made'.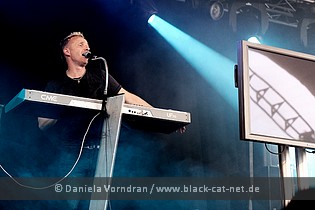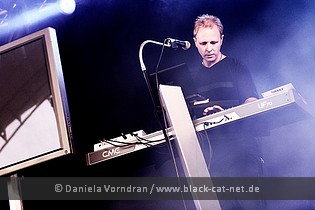 Setlist

01. If We Stay Here
02. Leave You Nothing
03. Only Better
04. Petrified
05. Crash
06. How Long
07. From This Height
08. Who Says
09. Everything I Made
Rating

Music: 10
Performance: 9
Sound: 9
Light: 8
Total: 9.3 / 10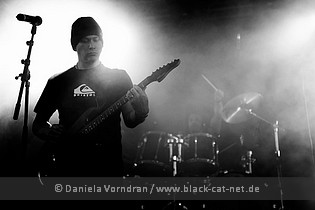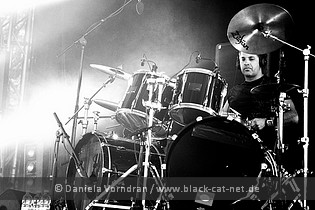 Combichrist (Carsten Leopold)
COMBICHRIST was formed in 2003 by Norwegian Andy LaPlegua (founder of the band ICON OF COIL) as an aggrotech project. The name COMBICHRIST originates from a hardcore fanzine LaPlegua made during the late 90s, with JR Ewing guitarist Håkon Mella. A few years after the band's conception, LaPlegua departed Norway for the United States, which is now the current home base for COMBICHRIST and his other projects. Andy LaPlegua (vocals, lyrics, production), Joe Letz (live drums), Trevor Friedrich (live percussions) and z_marr (live keys, synths).
http://www.combichrist.com/
/
http://www.myspace.com/combichrist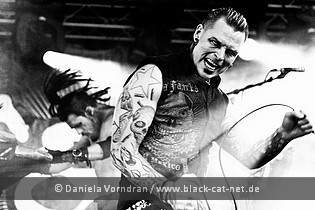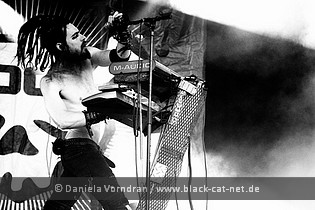 Music & Performance

COMBICHRIST entered the stage and started their show just in time with 'All Pain Is Gone'. Quickly the spirit went over to the crowd who was moving and dancing. Andy, the singer appeared in a new look and was going from side to side and performed the lyrics powerful, the live drums gave much power too to the performance. The set included 11 songs and was finished with 'What the Fuck Is Wrong with You?' after about 60 minutes. Especially both drummers were offering an explosive and powerful show keeping the stage hand very busy with re-arranging the toms or collecting drum sticks. COMBICHRIST is surely a great live band and proved this once more with their show at Amphi. Unfortunately during the show the rain was coming…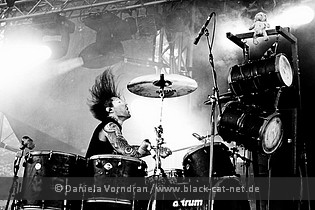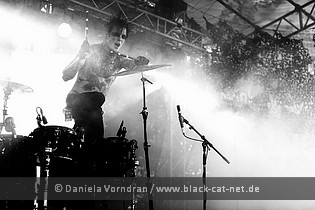 Setlist

01. All Pain Is Gone
02. Today I Woke To The Rain Of Blood
03. Scarred
04. Electrohead
05. Without Emotions
06. Feed the Anger
07. Get Your Body Beat
08. Blut Royale
09. Fuck That Shit
10. Shut Up and Swallow
11. What The Fuck Is Wrong With You?
Rating

Music: 7
Performance: 8
Sound: 8
Light: 8
Total: 7.6 / 10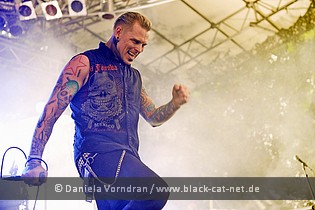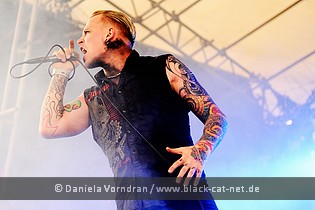 ASP (Carsten Leopold)

ASP is a German Gothic band from Frankfurt / Main. The band was formed in 1999 and named after its lead singer Asp (short for Alexander Spreng). ASP on stage are Asp (mastermind, songwriter and singer), Matthias Ambré (producer, guitar player, backing vocal), Tossi (bass, backing vocal) and Oliver Himmighoffen (live drummer). In the last years ASP evolved into a shooting star of German gothic scene and they were headliner or Co-headliner of many festivals.
http://www.thetalesofasp.com/
/
www.myspace.com/thetalesofasp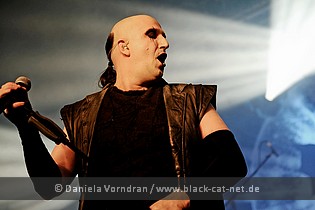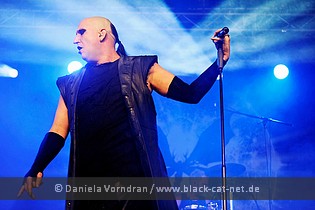 Music & Performance

ASP entered the stage, greatly decorated with a big backdrop showing the black butterfly, with the usual live line up and started the show with 'Denn ich bin Dein Meister'. It was still raining a little bit but despite of this, the area in front of the stage was filled up completely. The people enjoyed the show and followed willingly the animation of charismatic front man Asp. When ASP finished their set after about 60 minutes with 'Schwarzes Blut', the crowd strongly requested an encore which was given with 'Ich will brennen' followed by a nice surprise: in memory of Peter Steele - the singer of TYPE O' NEGATIVE who died in April this year - ASP performed a cover version of 'I don't wanna be me' before they finally left the stage.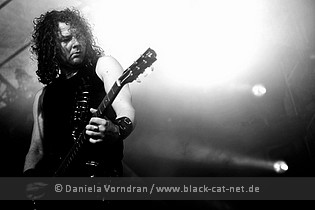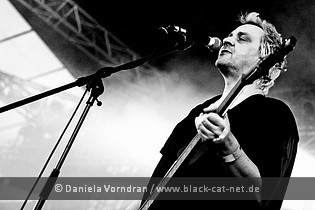 Setlist

01. Denn ich bin Dein Meister
02. Kokon
03. Wer sonst?
04. Lykanthropie
05. Sing Child
06. Krabat
07. Ich bin ein wahrer Satan
08. Und sie tanzten
09. Werben
10. Schwarzes Blut
---
11. Ich will brennen
12. I don't wanna be me (Type O' Negative)
Rating
Music: 8
Performance: 9
Sound: 9
Light: 8
Total: 8.5 / 10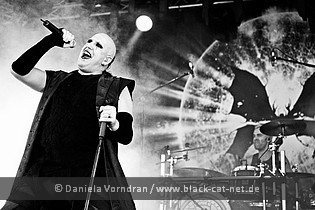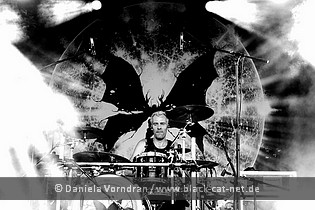 VNV Nation (Carsten Leopold)
VNV NATION is an electronic music band originally from Wexford and London, now based in Hamburg, that combines elements of industrial music, trance, Synth Pop and electronic body music. Earlier works also include some electro-industrial influences. The "VNV" in the name stands for "Victory not Vengeance". Over the years, VNV NATION developed to one of the most important bands of the electro / Synth Pop scene; the current album called 'Of Faith, Power and Glory' was released in June 2009. VNV NATION is Ronan Harris (music, lyrics, vocals) and Mark Jackson (drums); on stage usually they are supported by two additional keyboard players.
http://www.vnvnation.com/
/
http://www.myspace.com/vnvnation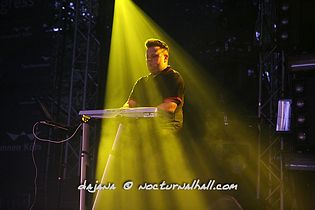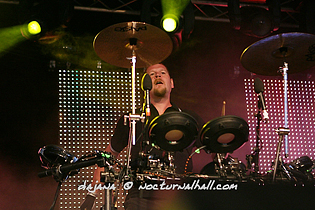 Music & Performance

Sunday evening, time for the headliner and the stage was ready for VNV NATION. It was still raining when VNV NATION entered the main stage, but people didn't care and enjoyed the show. Like usual Ronan performed the set powerful and charismatic and did his jingles and jokes between the songs. He is surely a great entertaining who gets the people going wild. And hell, they did during this Amphi show! The temper in the crowd was great and the people were dancing and singing along, screaming, jumping and clapping. The set included 15 songs starting with 'Tomorrow Never Comes' after the intro 'Pro Victoria', followed by well-known songs from different periods of band history. After 'Nemesis' they did only a very short break, the both keyboard players (this time Tom Lesczenski of [:SITD:]and Andre Winter) left the stage and like usual, Ronan and Mark performed 'Beloved' in twos before Tom and Andre came back for the last song 'Perpetual'.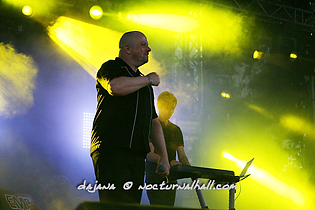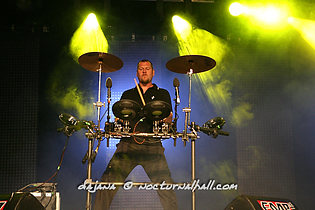 Marc and Ronan were standing in front of the audience and directing a big choir singing along even as the music already was fading. What a great final on the main stage!
Setlist

01. Pro Victoria (Intro)
02. Tomorrow Never Comes
03. Testament
04. Genesis
05. Darkangel
06. Further
07. Sentinel
08. Chrome
09. The Great Divide
10. Illusion
11. Standing
12. Honour 2003
13. Nemesis
---
14. Beloved
15. Perpetual
Rating

Music: 10
Performance: 9
Sound: 9
Light: 9
Total: 9.4 / 10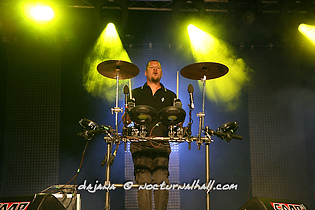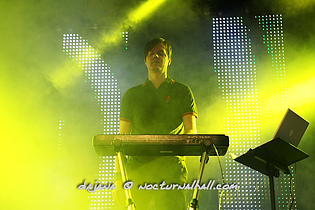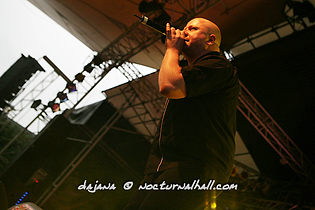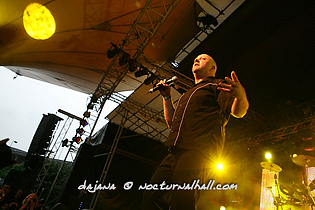 While one half of our crew was watching the VNV NATION show, the other half stayed inside for a fabulous DIARY OF DREAMS concert running meanwhile in the Staatenhaus. But the program of the day was ling not finished, there were two more bands following at the indoor stage while you could already join the after show party at the theatre.
All pictures by Daniela Vorndran (
http://www.vorndranphotography.com/
/
http://www.black-cat-net.de/
/
www.myspace.com/vorndranphotography
) except VNV NATION by Dajana Winkel
Written by Daniela Vorndran (common parts), Dajana Winkel, Janine Szakacs and Carsten Leopold {jos_sb_discuss:17}
See also (all categories):