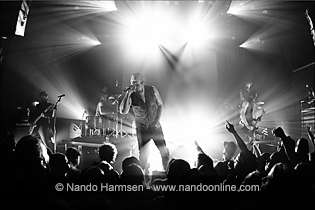 TivoliVredenburg, Utrecht, The Netherlands
16th August 2014
Combichrist, Aesthetic Perfection

With the release of the latest album 'We Love You' COMBICHRIST took another step further from the Hardcore EBM it once started with. For some it feels like the band becomes even more commercialized than before, for other it feels like a step forwards to a new sound. One thing is for sure, COMBICHRIST didn't make another album like 'Everybody Hates You' or 'We Are All Demons', although it is as aggressive as before. But it shows more variation than all the previous work together. Now it combines EBM with punk metal, so the question remains: how will COMBICHRIST perform live. And off course: do they play live?
Aesthetic Perfection

The European tour is supported by AESTHETIC PERFECTION, old friends of COMBICHRIST. They've been supporting them on a regularly basis for years now. But AESTHETIC PERFECTION from Daniel Graves is more that only a support act. They released their fifth full length album ''till Death' in February 2014.
https://www.facebook.com/aestheticperfection
/
http://www.aesthetic-perfection.net/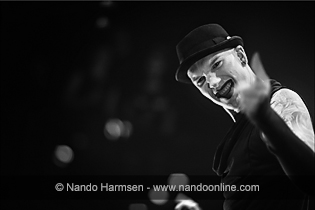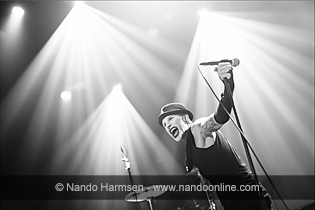 Music & Performance

AESTHETIC PERFECTION is not getting much time to play. A short set, with no more than 40 minutes, is much too short. Singer Graves is energetic as usual, wearing a hat and dark grime around his mouth, clearly having lots of fun. But despite of his enthusiasm there is no time for more than a couple of songs. It is barely enough time to really warm up the audience and AESTHETIC PERFECTION leaves the stage as quickly as they appeared, without any cries for an encore or any other satisfactory response. It feels like they have to ended the show before the audience is really into their music. And that is too bad.
Rating

Music: 8
Performance: 7
Sound: 7
Light: 7
Total: 7.3 / 10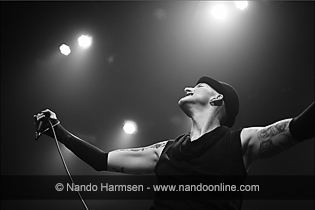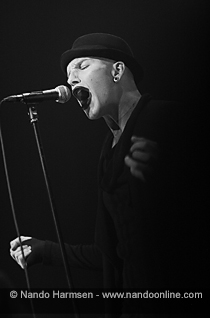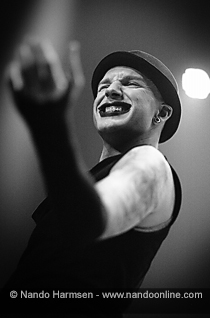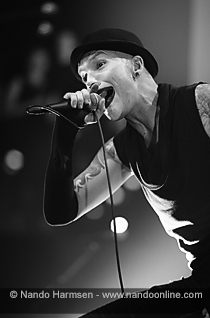 Combichrist

The time COMBICHRIST singer Andy LePlegua was accompanied by only two drummers and a keyboard player is long gone. The band looks like a real band now, with bass player Abby Nex, who's been around for some time now, and guitar player Eric13. Their appearances are as weird as always, complete with facial paint and an insane stage performance. From the moment singer LePlegua enters the stage he is in charge of the audience and all eyes are upon him. But drummer Joe Letz gets a lot of attention too. He is the crazy one, throwing his drums and showing off his skills with the drumsticks. Together with the lunatic act of Nex, COMBICHRIST is one hell of a visual act.
https://www.facebook.com/combichrist
/
http://www.combichrist.com/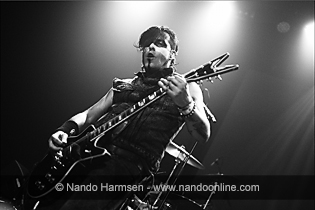 Music & Performance

It is always a question what is live with COMBICHRIST and what is not. Of course LePlegua sings his songs live. No playback there. Letz manages to get some sound from his drums, but it is always uncertain if the drumming is completely live or only half of it. Every time again he throws his drums over the stage, and still the music is not at all influenced by that. You could say, COMBICHRIST has amazing musicians that are still playing perfectly whenever the instruments seems to fail. To be honest, COMBICHRIST is a show and it isn't really important if everything is live or not. They try to be a brutal band that don't care for anyone or anything, not even their instruments. Only Nex and Eric13 have respect for their bass and guitar, taking care of their instruments and not trying to ruin everything. Whatever happens, the music goes on, constant, without any real pause. Well almost. There is only one moment when LePlegua introduces all members, crying "Fuck you, Joe, Fuck you, Abby, Fuck you, Eric", and so on.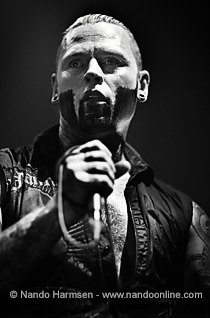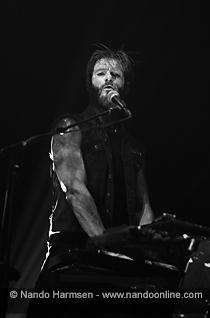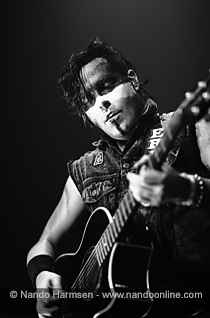 One of the most striking songs from the new album is the ballad 'The Evil In Me'. He holds his hand above the flame of a lighter from one of the girls in the audience for minutes while singing, ignoring the pain of the burns (the lyrics contains "No use to fuel the fire"). This ballad is the only real quiet moment of the show and not appreciated by everyone. Someone throws a beer glass, missing the smiling LePlegua by an inch or so. He doesn't mind, as long as his own beer isn't spilled, he says. The rest of the show is filled with pounding beats and raw aggressive singing while the audience is dancing, jumping, crying and eventually forming a small mosh pit. COMBICHRIST not only performs songs from the latest album, but also the more popular songs from previous albums. One thing is striking; Letz doesn't seem to take the concert really serious.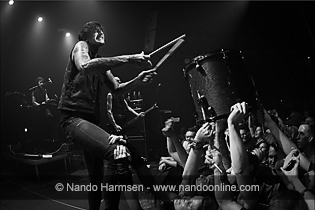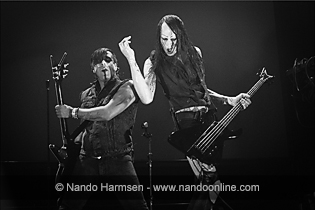 He is constant throwing his drums, making it a hard time for the road crew. Perhaps because it is the first time they have Dutch road crew member. Well, actually we know for sure that's the reason. Fortunately Letz is such a good drummer the music isn't influenced by the destruction of his drum kit.
Rating

Music: 6
Performance: 7
Sound: 8
Light: 8
Total: 7 / 10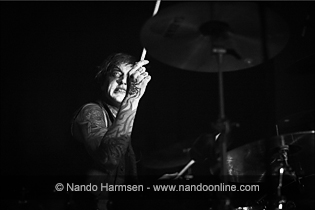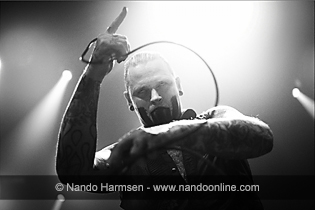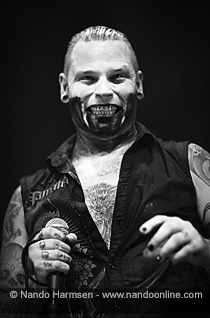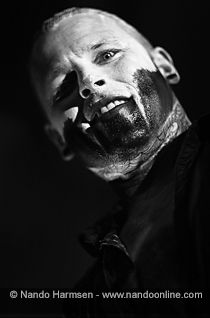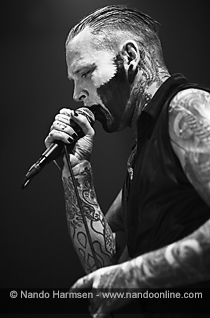 All pictures by Nando Harmsen (
http://www.nandoonline.com
)
See also (all categories):