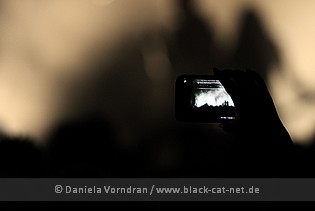 Kulturfabrik, Krefeld, Germany
28th November 2014
Pluswelt Festival 2014 Day 1 with William Control, Protafield, Grendel, Aesthetic Perfection & Combichrist

On this weekend, the concerts agency Pluswelt Promotion celebrated its 15th anniversary. To celebrate this event properly, lots of fine (mostly) electronic bands came to make a big party with the people who arrived from different countries as the PLUSWELT FESTIVAL is known to be one of the finest ones. Conférencier on both evenings was Jens from X-DIVIDE who did this job also at the Blackfield Festival this year with an air of nonchalance. Harsh, powerful and partly aggressive sounds were presented on the first night for the fans of Industrial/ Aggrotech/ Electro music. The setting with the drum set on the left side of the stage made it quite clear who the main act is, as Joe Letz, the drummer of COMBICHRIST has always his position there.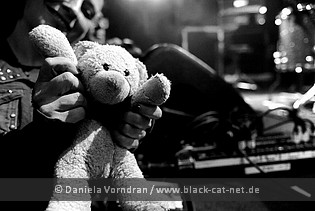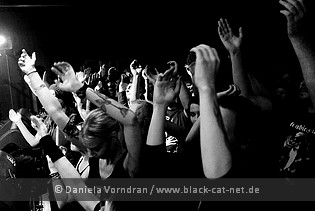 William Control
The AIDEN singer Wil Francis founded the project WILLIAM CONTROL in 2008. Up to now, four albums were released. The project gained increasing attention by touring with COMBICHRIST. Though the singer looks like a Rockabilly musician, the music has more of Darkwave/ Synth Pop/ Synth Rock. For his live performances, the American musician has Kenneth Fletcher (guitar, bass, backing vocals), Ian MacWilliams (synthesizers) and Ben Tourkantonis (drums, percussion) on board. As opening act, the band successfully warmed the audience up, continuously inviting the audience to interact with them. The people liked for sure the performance though the people in the first rows were not happy with the spattering while Wil was singing. //
http://williamcontrol.com
/
https://www.facebook.com/williamcontrolofficial
// Rating: 7.5 / 10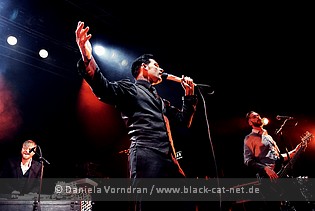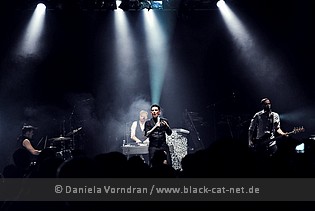 Protafield
In contrast to all other bands on this day and on the next day, there is no keyboarder in this band and thus PROTAFIELD is not really an electronic act of course. The British foursome contains of Jayce Lewis (vocals), Jack Slade (drums), Martin Thompson (bass) and Mark James (guitar). For a moment I thought they are a kind of RAMMSTEIN or COMBICHRIST cover band when they started to play but the more I listened to them, the more I liked it: really cool and powerful mixture of Rock/ Punk/ Crossover. But I could see that lots of people reacted quite irritated to the music of PROTAFIELD as they surely found the band not fitting to the rest of the line-up. Anyway there were other people like me who were positively surprised and some even mentioned that they would like to see this band on the usual German festivals in the future. //
http://www.protafield.com
/
https://www.facebook.com/Protafield
// Setlist: 1. Intro / 2. Severe sever / 3. God forced / 4. Solitaire / 5. Perfect def / 6. Revolution / 7. Wrath / 8. Sinner // Rating: 8 / 10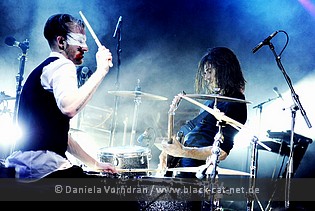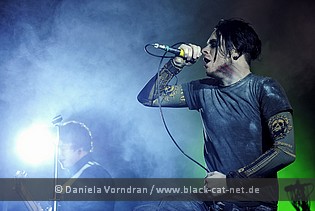 Grendel
The Aggrotech/ EBM/ Industrial band from the Netherlands was founded in 1997 and since then they delight the Cyber Goth scene. The band consists of three guys, JD (vocals, keyboard, programming, sampling), Sascha (live keyboard), Paul (guitar) and a woman, Mel (backing vocals, keyboard). They were introduced by Jens as being just returned from their US tour. Lots of people were dancing to the songs of the band, especially the Cyber Goths with their stereotypical way of dancing. There were some songs I liked, too, but the rest did not really excite me. Every now and then Mel was singing, too, but in my eyes she should leave that to people who can sing as the vocal quality was more than mediocre. Anyway, she is of course an eye catcher with her blonde hair.
https://www.facebook.com/grendel.music
// Ratings: 8 / 10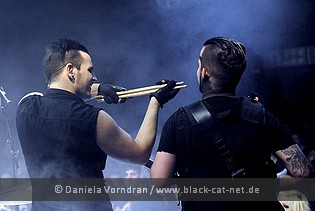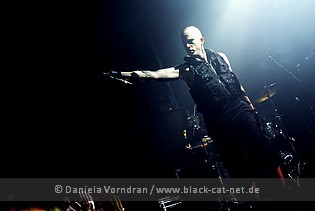 Aesthetic Perfection


From the sunny Hollywood, California, USA, mastermind Daniel Graves set in 2000 off in order to spit his aggression out all over the world. No, for real he is really a darling but the music he creates belongs to the genre Aggrotech/ Electronic/ Alternative. Although he has a good singing voice, he often changes between singing, screaming and growling depending on which mood he wants to express with his lyrics. He is a kind of Dr Jekyll and Mr Hyde. Like COMBICHRIST, AESTHETIC PERFECTION is a one man project but Daniel is supported by a live band consisting of Elliot Berlin (keyboard in Europe) and Tim Van Horn (drums) as well. What started once as a little hidden gem developed soon as a great musical act of this genre. Conférencier Jens now appeared with an artificial Hawaiian wreath of flowers and told us that he was forced by Daniel to put this on. Well, these guys had survived some after show parties together and this was a kind of insider.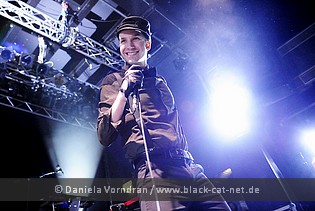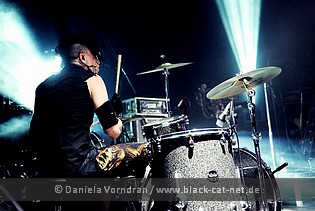 The show started solemn with the opener of the current album 'Happily ever after' where the wedding vow is quoted. But then hell broke loose and presented us songs that invited to party. Apparently Daniel enjoyed very much to perform on this evening and this energy moved over to the audience. Besides it is funny to watch him performing as he surely is a big poser and is continuously busy animating the audience to clap their hands, dance and sing along with him. And while Tim beats his drums energetically, Elliot almost molests his keyboard. Once again the audience got a fantastic and energetic show. Usually there are no encores at festival possible but here the guys returned and performed 'She drives me crazy', a FINE YOUNG CANNIBALS cover as a special wish of Jan Winterfeld.
http://www.aesthetic-perfection.net
/
https://www.facebook.com/aestheticperfection
// Setlist: 1. Happily ever after / 2. Inhuman / 3. The devil's in the details / 4. Pale / 5. Antibody / 6. The siren / 7. The new black / 8. The great depression / 9. Schadenfreude / 10. Spit it out / Encore: 11. She drives me crazy (FINE YOUNG CANNIBALS cover) // Rating: 9 / 10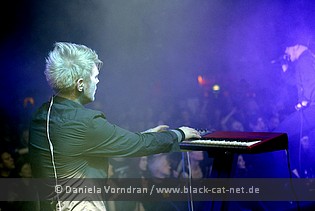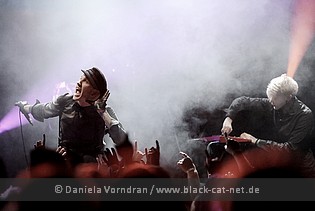 Combichrist

Actually coming from Norway, now living in the USA, mastermind Andy LaPlegua, also known from ICON OF COIL, founded COMBICHRIST in 2003. What started as a one man studio project soon became an explosive and powerful live act with the support of Joe Letz (drums), Z Marr (keyboard), Eric 13 (guitar) and Abbey Nex (bass). Seven albums, nine EPs and a compilation have been launched with several hits that fill the dance floors in gothic clubs. Not only toured they successfully as supporting act for RAMMSTEIN all over Europe and the USA but they also had triumphantly toured as headliner all over the world. Before the show started, Jens informed us that as one of the guitar players was brought to hospital early the day, it was not quite clear that the band would be able to perform. But thanks God they decided that they don't want to give this Birthday party a miss. Brent Ashley filled in for Abby Nex at the bass.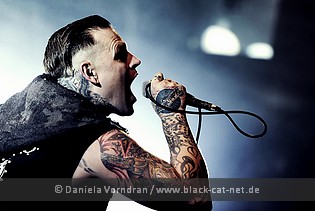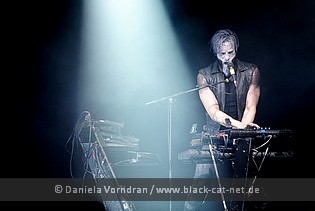 The stage was dark, then an orchestral intro of their Gothic meets Classic show in Leipzig last year was played from the playback and the excitement grew when finally with a lot of fog the band entered the stage and immediately started to raise the roof with their first song. Though the show of AESTHETIC PERFECTION was arduous for the audience, Andy and his guys didn't give us a single chance to get some rest for all songs of the setlist almost forced us to dance and jump. Energetic, powerful with driving beats – COMBICHRIST at its best! Of course the action of (my favourite) drummer Joe Letz contributed a big part of this energy and it is always fun to watch him in action, throwing his drum sticks around, kicking his floor toms around and thus keeping the hands busy. This time he instructed the hands also to get two young ladies on stage that were at first standing close to Joe, a bit embarrassed and seemingly feeling a bit misplaced, but then dancing stiffly and taking selfies of course. The next funny incident was a guy climbing up the stage, turning his back to this audience with the clear intention to do the stage diving. By mistake he thought the crowd would carry him. But Andy saw already what was going on, put on a malicious smile, looked at the guy and shook his head, expressing that it is definitely not a good idea to jump.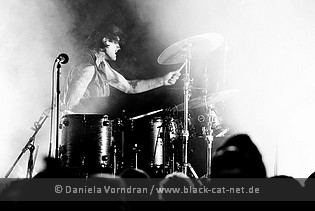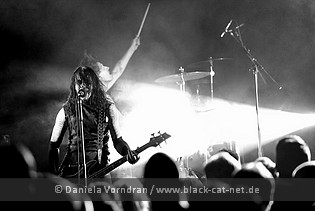 Well, the guy should have believed Andy's facial expression and better have checked what was going on behind his back, but he didn't, just jumped and fell on the floor. Actually I'm not mischievous but I had to laugh like everyone else, too. And Andy was laughing so hard that he at first couldn't speak but then he said 'You are like Moses – you divided the crowd!' which led to another outburst of laughter. At the last song, Joe Letz took his floor tom and some people in the front row had to carry it while he beat it. The show seemed to end far too soon and we all shouted for an encore. Effectively Andy and his guys returned on stage but before they performed another song, Andy sent his get- well wishes to Eric 13, congratulated Pluswelt Promotion and Jan Winterfeld for the anniversary and also thanked Jan for the support throughout all these years. //
http://www.combichrist.com
/
https://www.facebook.com/pages/Combichrist/172700016100136
// Setlist: 1. Intro / 2. Rain of blood / 3. Blut Royale / 4. This is my rifle / 5. Can't control / 6. Throat full of glass / 7. Never surrender / 8. Electrohead / 9. Shut up and swallow / 10. Get your body beat / 11. Fuck this shit / 12. What the fuck is wrong with you / Encore: 13. This shit will fuck you up / 14. Sent to destroy // Rating: 9 / 10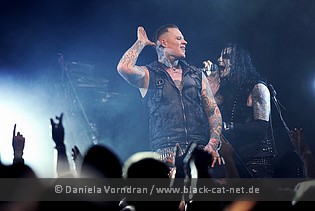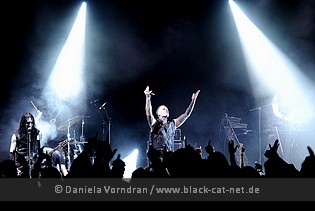 And so the first evening of this special event ended. All the night owls that still were not tired but in the mood for dancing, could party until dawn at the after show party to the music of DJ Daniel (AESTHETIC PERFECTION) and DJ David.
All pictures by Daniela Vorndran (
http://www.vorndranphotography.com
/
http://www.facebook.com/blackcatnet
)
See also (all categories):