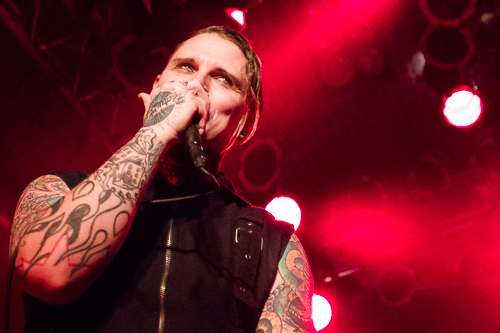 Matrix, Bochum, Germany
26th March 2014
Out Of Line Weekender Warmup with CombiChrist, Rabia Sorda & Miss Construction

As a warm-up for the third Out Of Line Weekender 2014, which took place from the 28th to the 30th March in the Astra Kulturhaus, Berlin, the guys of COMBICHRIST, RABIA SORDA and MISS CONSTRUCTION did themselves the honour to be opener of the event in the Matrix Bochum.
Miss Construction

This band is one of the many other projects founded by Chris Pohl (BLUTENGEL, TERMINAL CHOICE, etc.) in 2008. His band mate Gordon Mocznay from TERMINAL CHOICE joined the project. The musical genre is Electro- Industrial/ Noise. Their stage appearance is dedicated to the Zombie look with Zombie decoration and the guys with latex make up to have the right zombielike look. Nowadays, Chris Pohl does not perform anymore with the band, so it is Gordon as singer with a guy at the electro drums. The lyrics are mainly in German. Until now they have released two albums.
http://www.missconstruction.de
/
https://www.facebook.com/Missconstructionofficial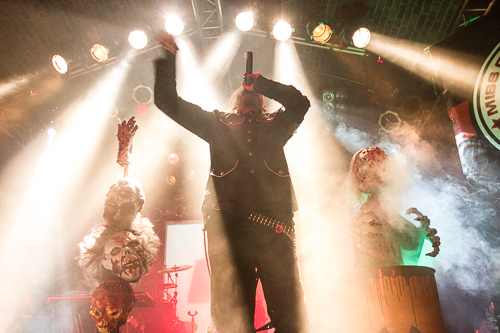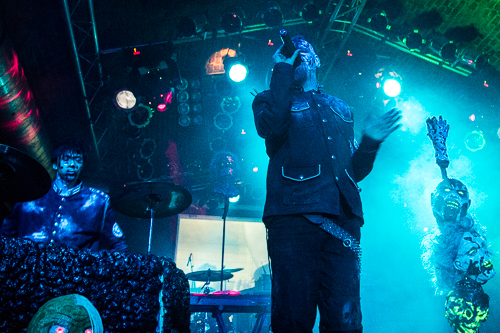 Music & Performance

Due to a traffic jam I didn't arrive on time and the band was already performing the second song. Well, I don't think I have missed much. The zombie decoration draws the attention of the audience for sure and the music itself with the hammering bass is certainly danceable but you better try not to listen to the lyrics. Somehow I got the impression that some misheard lyrics were put together to form a song. Anyway I had not the feeling that many people enjoyed the performance that much.
Setlist

01. Intro/ Totes Fleisch
02. I'm a bitch
03. Kunstprodukt
04. Albtraumclown
05. Pornostar
06. Electrotanz
07. Hey Zombie hey
Rating

Music: 5
Performance: 5
Sound: 7
Light: 7
Total: 6 / 10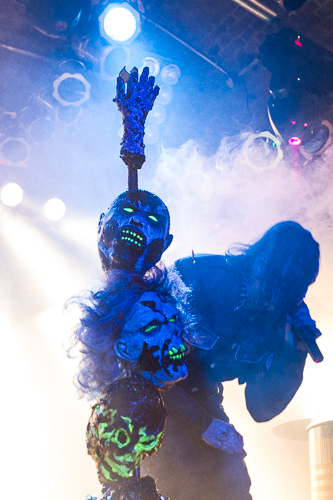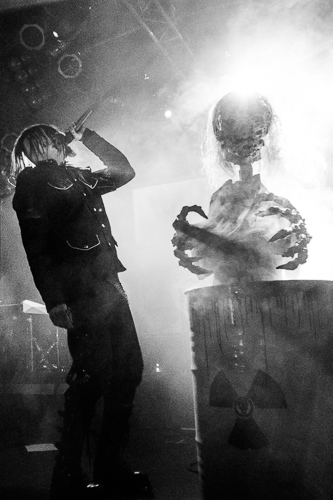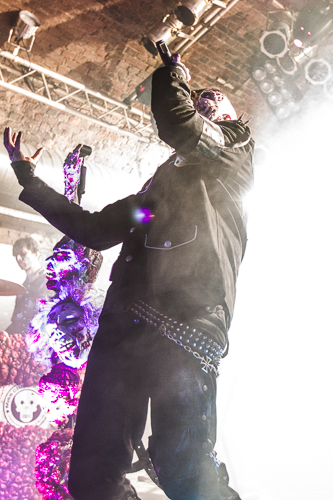 Rabia Sorda

RABIA SORDA is the, in 2003 founded, solo project of the HOCICO singer Erk Aicrag. Until now they have released three albums, one re-released album and three singles. Compared to HOCICO the music of this band is less aggressive and noisy but belongs to the Electro-Industrial/ Post-Punk genre. Besides Erk, Jeans (percussions), Marcus Engel (guitars, keyboards and percussions) and Grigory Feil (keyboards) complete the formation.
http://www.rabiasorda.com
/
https://www.facebook.com/rabiasordaofficial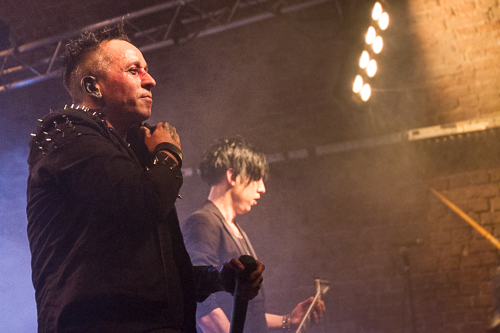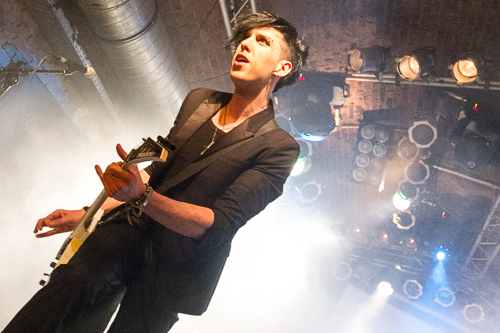 Music & Performance

When the band entered the stage after an instrumental intro the number of people in the audience had increased. Right from the beginning we were presented a very energetically show and Erk was moving fast in front of the stage like we are used to see him performing. I only wondered why he seemed to feel the need to hold his balls while running from one side of the stage to the other, but maybe they are a bit sensitive to speedy movements. They definitely rocked the house and thus the people were dancing and moving to the music. Personally I even enjoyed this concert more than the last HOCICO show I have seen for the singing of Erk instead of screaming and the more melodious sound.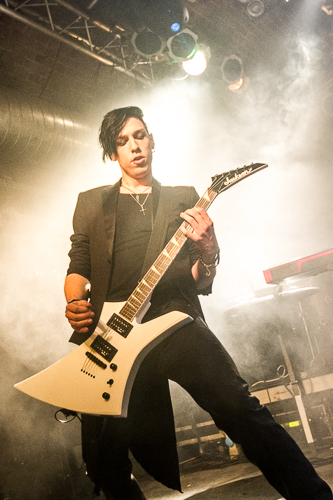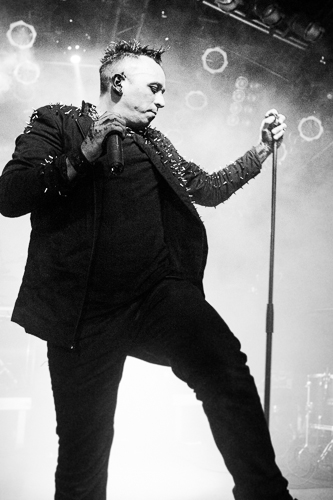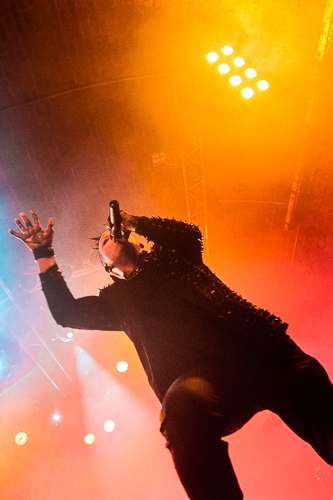 Setlist

01. Intro
02. Eye M the blacksheep
03. Out of control
04. Deaf
05. Radio Paranoia
06. Save me from my curse
07. Turbulence
08. Walking on nails
09. Hotel Suicide
10. Somewhere along the road
---
11. Money talks
Rating

Music: 8
Performance: 8
Sound: 8
Light: 8
Total: 8 / 10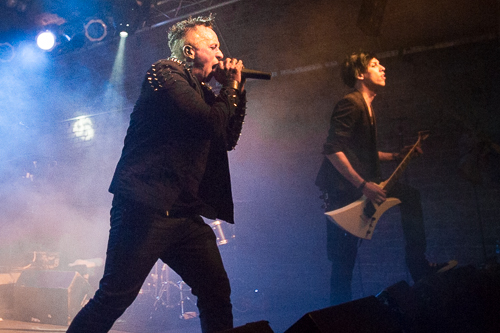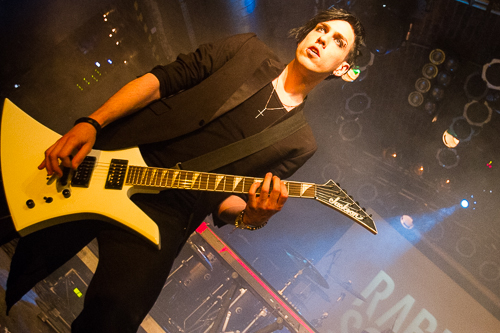 Combichrist

Besides his projects ICON OF COIL and PANZER AG, mastermind Andy LaPlegua founded COMBICHRIST in 2003. With music from the genre Aggrotech/ Techno/ Electro/ Industrial he successfully created songs that soon were played at all dark/ gothic parties in the discotheques. Actually COMBICHRIST was started as a studio project with Andy composing, creating and recording the songs alone in his studio, but soon he engaged live keyboarder, guitarists and drummer for his live performances. COMBICHRIST toured successfully all over Europe, UK and USA and are frequently invited to perform at Gothic/ Electro festivals. One highlight in their career was surely being supporting act of RAMMSTEIN on their Europe tour as well at their concert in New York, USA. The line-up of the live band changed several times. Actually it is Joe Letz (drums), Z Marr (keyboard), Abbey Nex ( bass guitar) and Eric13000 (guitar). COMBICHRIST released six albums, nine EPs and a compilation. The new album 'We love you' is just released in March 2014.
http://www.combichrist.com
/
https://www.facebook.com/pages/Combichrist/172700016100136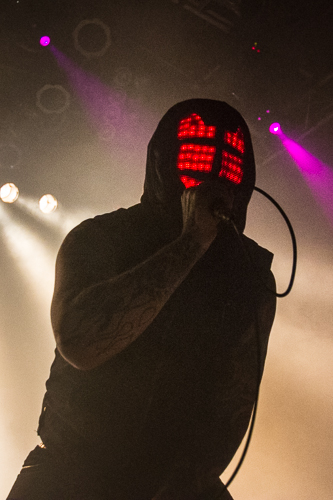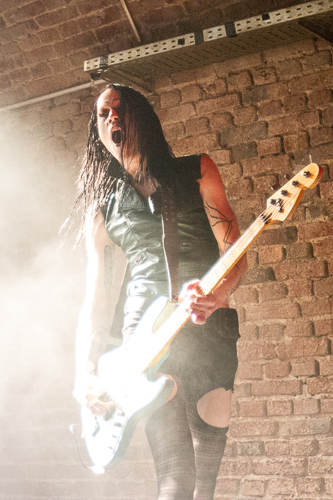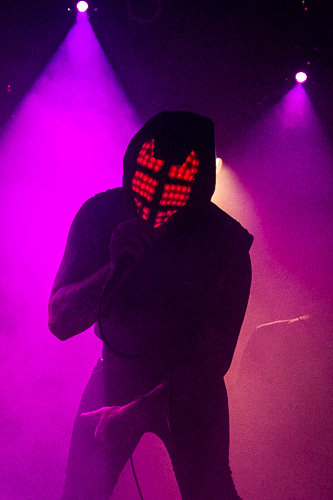 Music & Performance

After an appropriate rebuilding time, the headliner of the evening entered the stage, after an almost classical intro of 'We were made to love you' and was greeted enthusiastically. Quite disappointing was surely that the venue was not sold out on that evening. Surely this had to do with the concert date being in the middle of the week and then there was the strike issue of the public transport. Anyway the 400 people who appeared were in a good spirit and ready to party. At least they had enough space to dance. For the first song Andy had a special outfit with the hood of his hoodie on and a black mask with red LEDs in the shape of a heart. This martial appearance reminded me a bit of a Marvel comic figure but surely fitted perfectly for the first song. For the next song he put away his masquerade and I have to say that Andy looked really fitter and healthier than a while ago. On this evening we also had the chance to see the new guitar player Eric13000 performing with COMBICRIST. I have to say he fitted in quite well. Not only were we presented some new songs of the just released album but a good mixture of songs that work great at concert and even one song of the 'No Redemption' album, that was created for the computer game 'DMC Devil May Cry'.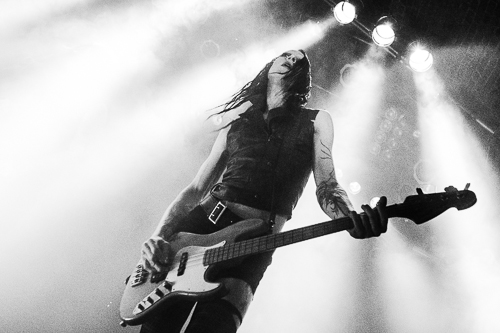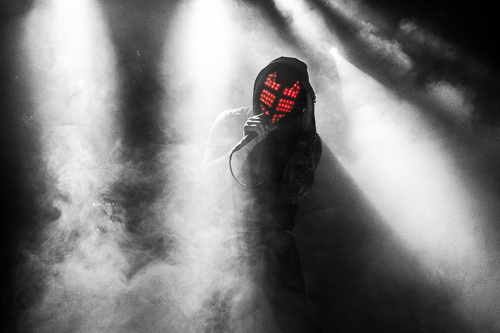 If not before then with 'Blut Royale' the crowd freaked out. My personal pleasure was of course to watch my favourite drummer Joe Letz in action, not only for his impressive playing, but for all the fun he is always doing while performing and keeping the hands busy with throwing his drum sticks around, or leaving his place and just kicking Andy's microphone tripod down. The band was definitely entertaining and the concert seemed to end too soon. But just before the last song Andy held a little speech referring to the negative feedback of some 'fans' to the new album. He made quite clear that he loves what he is doing (music) and that he creates music that he likes and is not willing to do what the people expect him to do. Kudos! If you haven't had the chance to hear already the new album I like to mention that it is now more Metal influenced and not just an Industrial album. But with this development it was quite clear that there will be some people moaning about it. Unfortunately there was only one encore with two songs. Anyway it was a great concert and there were a lot of people who enjoyed it as much as I did.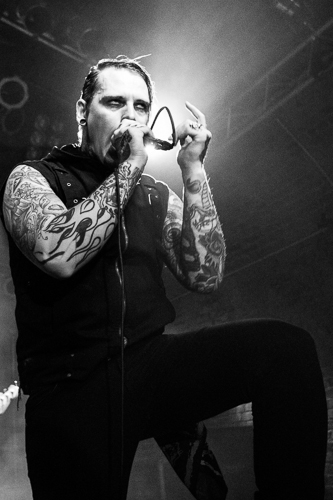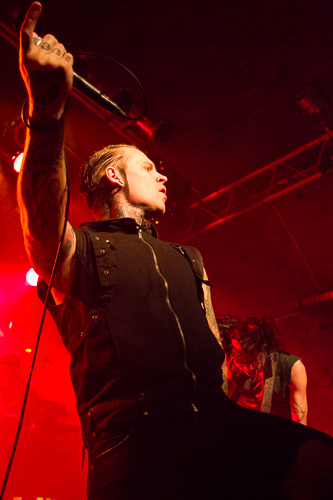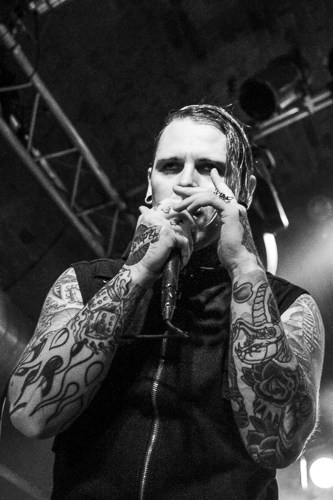 Setlist

01. We were made to love you
02. Every day is war
03. The rain of blood
04. Blut Royale
05. Can't control
06. Throat full of glass (beyond)
07. Maggots at the party
08. Denial
09. What the fuck is wrong?
10. No redemption
11. Follow the trail of blood
12. Shut up and swallow
13. Get your body beat
14. Love is a razorblade
---
15. Fuck that shit
14. Sent to destroy
Rating

Music: 8.5
Performance: 8
Sound: 9
Light: 8
Total: 8.8 / 10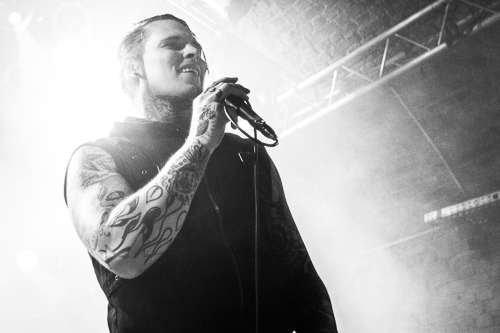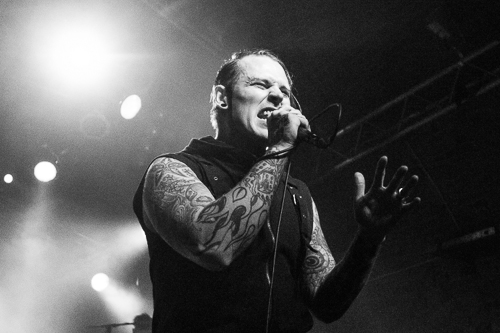 Full Gallery

All pictures by Matthias Irrgang (
www.mindbreed.de
)
See also (all categories):