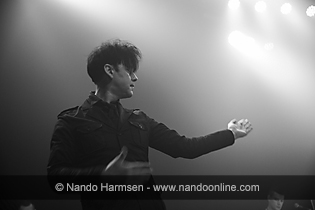 Interview with
Ronny Moorings (vocals) from Clan of Xymox

Just a few days ago, CLAN OF XYMOX were playing at Blackfield Festival in Gelsenkirchen. Prior to the festival show, we had the chance for an interview with mastermind Ronny Moorings and talked about his latest release, vinyl releases in general or his audience…
Reflections of Darkness [RoD]:
A few days ago you released 'In Love We Trust' on vinyl. Any of your albums you also plan to release on vinyl? Are you thinking that vinyl is back again because of many collectors?
Ronny
:
I think there is certainly room again for vinyl. Indeed it is mainly for collectors and vinyl lovers. We already released a box with several vinyl releases in Greece a few years back. ('Hidden Faces', 'Creatures', 'Notes From The Underground' plus Bonus EP). Also in the USA, 'Subsequent Pleasures' was released with the original pink and white design. I am sure the future will bring more vinyl releases. It just depends on the record labels' desire to do this because it is still pretty expensive to produce in small quantities.
RoD
: Last year you have released the album 'Matters Of Mind, Body And Soul'. Did audience and music critics meet your expectations?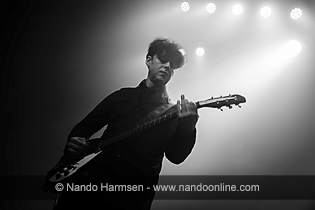 Ronny
:
I never tend to think about what the audience or critics may think about a work to be released as it is too calculated if you want to write just for the sake of getting praise. From what I experienced with this release is that critics and fans liked the album very much, some even declaring it as the best COX album written so far. So I guess I met the expectations of both I am also pleased with the way it turned out to be.
RoD
: Are you watching recession on the dark scene? If yes, do you agree that history is cyclical (especially as CLAN OF XYMOX been through this in '91)? Or what is happening on the dark scene and in the gothic subculture now is totally different?
Ronny
:
I haven't experienced it so far. When we play shows it is always full or sold out. Promoters are always pleased with our draw. I indeed hear that once and a while people declare the scene dead, but they have been doing that since the early eighties, so go figure. I actually notice a revival in many aspects; last three tracks of our first album were used in an American movie 'The Guest'. A lot of people start looking at the beginning of the Wave / EBM / Goth music and start playing the band from this era. Sub cultures always move and change but that makes it only the more interesting. A band, any band, should in the end appeal, not on their looks, but by their merit in song writing.
RoD
: What do you think, does the festival audience at concerts differ from the audience 15-20 years ago?
Ronny
:
Yes, they are 15 to 20 years older, just joking. I see there is a very healthy mixture of people, some fashionably gothic dressed, some dressed in black, young and older, male and female. It depends also what festival you are going to. WGT is more focused on the looks. Amphi is more the average "black scene" concert goer.
RoD
: Mojca returns to your live line-up again. How does she return to a tour life? Easily?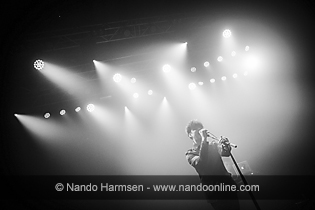 Ronny
:
She only does the bigger concerts with us. It is more practical this way. Sometimes she also joins where it is possible. It is always a pleasure to have her with us on stage and we certainly like to keep it this way. She was present at Blackfield though.
RoD
: Ari Mason made a cover version of 'Out of the Rain' for their release 'Wanted: Songs Of Desire'. Do you like her release?
Ronny
:
Absolutely. I like the version and met her in LA a few weeks ago when we played there.
RoD
: Do you have ideas about the next CLAN OF XYMOX album? Or do you devoted to concert tour completely now?
Ronny
:
I have not started with thinking about a new album yet, no. I am certain I will start this year slowly thinking about writing a new album. So far I am pretty busy with our live shows.
RoD
: Back to the subject releases. It was easier to produce and to promotion albums in the past, or there are more opportunities for this now?
Ronny
:
The classic record company promoting a band and its release is getting rarer. Most bands sell now only through the digital media and bands can promote their works themselves easier when they already established a fan base. I still do believe that major acts can only be this big through the established media. Most people need to hear a song a gazillion times on the radio in order to remember the name of the act. In the alternative scene a lot of music is discovered by word of mouth.
RoD
: You often visit different festivals. This year you were playing on Blackfield Festival. What were your Expectations from this show?
Ronny
:
We never played this festival before so I was pretty excited about this.
RoD
: Were there some surprises or did you present new songs?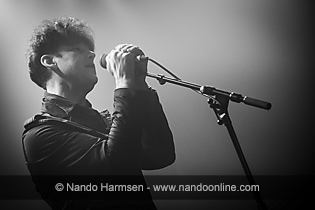 Ronny
:
To be honest I haven't had time to think this far ahead. There are still quite a bit of shows for us to do in different countries, so for each territory we prepare our show. Of course we were presenting also new songs but also our classics.
RoD
: Do you keep track the release of colleagues?
Ronny
:
Not really. I haven't heard that much music lately. At home I prefer the sound of silence and try to read a good book.
RoD
: Incidentally, LEAETHER STRIP releases 'Fools: A Tribute To Alan Wilder'. Do you sometimes think of releasing a tribute to a specific artist too? As a continuation of the idea of 'Kindred Spirits'?
Ronny
:
'Kindred Spirits' was something I always wanted to do and never did until 2012. For me it is a "one off" thing and won't make more cover versions as I want to make my own music…
RoD
: How do you see CLAN OF XYMOX in another ten years?
Ronny
:
That sounds very far away. I rather think not that far ahead. One year at the time is my preferred time span of looking ahead. In any case I hope that we are still around live and kicking.
RoD
: And in the end, please a few words to our readers.
Ronny
: If you don't know our band just look on YouTube and you'll find our videos or videos made by fans. Our face book is
https://www.facebook.com/pages/clan-of-xymox/111769160178
and official home page is
www.clanofxymox.com
. Cheers, Ronny Moorings
Written by Viola Noir and Daria Tessa (Ukrainian Gothic Portal). The Russian version of the article is available
HERE
.
All pictures by Nando Harmsen (
http://www.nandoonline.com
)
See also (all categories):