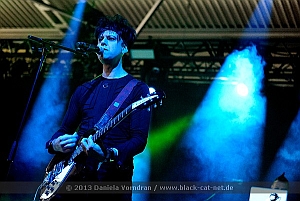 Interview with

Ronny Moorings (vocals) from Clan of Xymox

CLAN OF XYMOX is one of oldest Gothic bands that have started their music way back in the 80s. But after so many years the band still creates wonderful music and conquers new countries and new listeners. This year CLAN OF XYMOX has the first time visited Ukraine and played on festival Deti Nochi (Children of the night) in Kiev. A week before the festival we got possibility to speak with Ronny about new plans and expectation from this trip.


Reflections of Darkness (RoD): What important happened for you in 2013? Which events were for you the brightest and most memorable?
Ronny: The birthday of my daughter.

RoD: As far as we know, you are planning to release a new studio album in February 2014 and organize a tour to promote it. Why do you plan albums release for February 14 (Valentine's Day)? Is it connected with the concept of the album?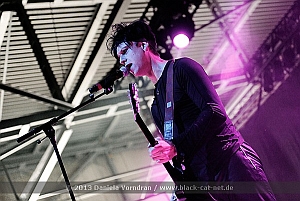 Ronny: The new album is quite romantic, or at least the entire feel of it. A good day to release an album in my book.

RoD: And how you celebrate this day? Are you giving gifts to your loved and dear people? Do you organize a romantic dinner by candlelight on Valentine's Day?
Ronny: No , not really. It is something I don't need a date for. But I respect other people finding it a special day.

RoD: What can your fans expect from the new album? Do you plan to change the style in some way, to add the new elements to the sound? Or now the experiments are in the past?
Ronny: It is more a conceptual album for me this time. The songs interlace perfectly. The music is timeless in my opinion.

RoD: There is an opinion that the latest creation is always one of the most favourite. Is it working for you regarding your recent published CD's?
Ronny: Most likely because it is the fresh kinda feeling. It hasn't worn out for the artist so one can be very enthusiastic about it.

RoD: In contrast to such commercially successful bands like Cocteau Twins and Dead Can Dance, on a par with which you worked in the mid-eighties, you are still afloat, you write the new material and give tours to support of the new albums. How do you manage to stay active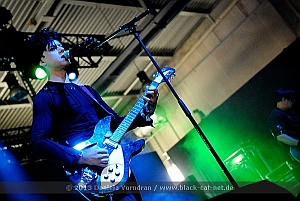 all the time and keep up with the times?
Ronny: Dead Can Dance just reformed so they are pretty much afloat. I just love making music so it is for me just natural that I write new songs as it is to breathe. Because I live my life in the now I know what is going on in the scene. The difference is that I do not have the feeling I have to prove myself but more that I make what I like.

RoD: Was someone for you such an example to follow? After that you became confident to develop the musical direction?
Ronny: I did a cover album last year (Kindred Spirits) and these bands were important to me. So my covers are an ode to them in a way. Without these bands my music could not have existed in the form it was and is now.

RoD: Ronny, your activity goes beyond of only one project, CLAN OF XYMOX. Besides the participation in the band you are also the co-organizer of music festivals and you play as a DJ. Also, as far as we know, you have your own record label and recording studio. Did you think that in the future you can engage fully with the new projects, or it will be always important for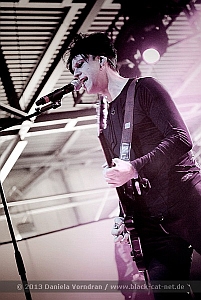 you to work in CLAN OF XYMOX?
Ronny: Yes, I did all that but I concentrate now only on CLAN OF XYMOX. That is more than enough for me. Once and a while I DJ, but not on a regular basis.

RoD: Do you live in Leipzig now? Do you like living in Germany? Has it helped you move to this country in terms of your creativity / work?
Ronny: Yes, I live for 7 years in Leipzig and I love it here. For me the place where I live is not really important for my writing of music. I am more looking inside for inspiration than around me in a city.

RoD: Not so long ago you became a father. Now you have a daughter. How often do you spend time with your family? Would you want your daughter to studying music when she grows up? Would you help her in this work? Would you give her the professional advises, would you direct her on the right track?
Ronny: I spend as much time as possible, so that means every day, unless I am doing a show somewhere. She will have to make her own choices in what she wants but you can of course guide or advice. I had my own ideas about what I wanted so I am sure she will choose her own path to follow. She will always have my support in this.

RoD: In 2011, the song 'In Your Arms Again' from your last album 'Darkest Hour' was part of the soundtrack of David Fincher's 'The Girl with the Dragon Tattoo'. Do you like this movie? What do you think, is there a correspondence between the atmospheres of the movie and created by your composition?
Ronny: I thought it was quite compatible with the Nine Inch Nails tracks. My track just got picked out to my and my label's surprise. In any case a big honour for me. The movie was also very good.

RoD: You have visited Russia with concerts; also CLAN OF XYMOX played as headliners at the one of the most important festivals of Russian electronic music SYNTHETIC SNOW X in 2012.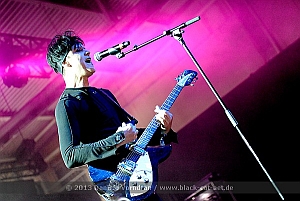 What is your impression about this country and about the audience?
Ronny: I love these festivals in Moscow, so of course nothing but praise about this from me.

RoD: Do you plan to return to the post-Soviet countries during the upcoming tour to support of your new album?
Ronny: If they want us then of course!

RoD: And now some questions away from just music… Do you have often a bad mood? Do you try to fight with them and how?
Ronny: No, not really. If I am grumpy I am mostly locking myself up in the studio and will feel better when I wrote some tunes ;)

RoD: What kind of cooking do you prefer? Are you able to cook?
Ronny: Italian, Spanish and Asian food I prefer. I do not really like the traditional German food like meat, veggie and potatoes. I do not often cook , but I have some dishes I can make pretty good.

RoD: Which period in the world history is closer to you, and why?
Ronny: Today, as I live today in the here and now.

RoD: How do you understand "loneliness"? Did you have this feeling ever in your life?
Ronny: I am rarely alone but of course I can imagine the feeling. Also a lot of people feel alone in a crowd because they feel not being understood.

RoD: Do you agree with the phrase "all songs are only about love?"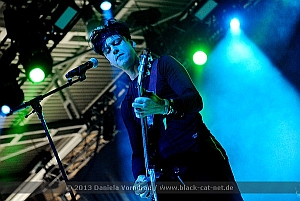 Ronny: Not really because there are many topics you can write about. Love however is a ever returning topic in my book.

RoD: Please give to our reader's three small but vital advices from CLAN OF XYMOX?
Ronny: 1. always listen to good advice! 2. Live your life to the full! 3. Inform yourself as much as possible about anything coming your way.

RoD: Very important question: what is "gothic" for you at this stage of life?
Ronny: It is great the scene is there but it entails now such a wide variety of music that it almost became a brand for something more than it was when it started. In any case it is alternative and against main stream thinking, so that is in my eyes a good thing.

RoD: Since 1999, Deti Nochi is the oldest gothic/dark/electro festival in Russia, Ukraine, Belarus and it's still alive. Have you heard about the event before? If yes – which way and what? Wasn't you surprised that there is such kind of event in post-soviet countries?
Ronny: No, I never heard of it before but I am very curious. In any case it is great that also in the Ukraine this kind of music is listened to.

RoD: What do you know about Ukraine and Kiev?
Ronny: Is this a history test ? ;)

RoD: You made a great video-greeting. Was it difficult for you to pronounce "Deti Nochi" and "Slava Ukraini"?
Ronny: You tell me:) Slavic is not my tongue. Mojca however would be able to pronounce it perfectly.

RoD: Do you know another bands playing at festival and what do you expect from them?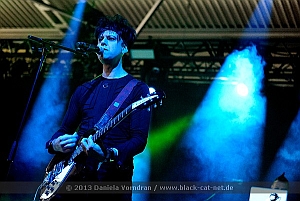 Ronny: Yes, Rabia Sorda. I know Erk for a long time and he also lives in Leipzig. So I know their show is always fantastic. I just saw them at a festival close to Leipzig a few weeks ago. (comment: this was at NCN festival, read our review)

RoD: On September 28, Clan of Xymox will play first time in Ukraine, what you expect from this visit?
Ronny: I hope we are going to have a good time.

RoD: And which surprises did you prepare for audience of the festival?
Ronny: It would be no surprise I would tell you :)

RoD: A few words to your fans in Ukraine that expecting your show at Deti Nochi in Kiev.
Ronny: Looking forward to seeing you there! Slava Ukraini!

Written by Iryna Kalenska and Daria Szegeda (Ukrainian Gothic Portal). The Russian version of the article is available here: http://www.gothic.com.ua/Interviews/interview_clan_of_xymox_2013.html.
All pictures by All pictures by Daniela Vorndran (http://www.vorndranphotography.com / http://www.black-cat-net.de/ / http://www.facebook.com/blackcatnet)



See also (all categories):