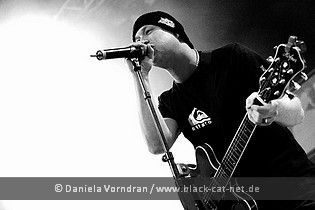 Kulturfabrik, Krefeld, Germany
30th October 2010
Mesh, Clan Of Xymox, Sono, Portion Control, Escape With Romeo, Dupont
Looking at the line-up alone made you want to go to the little festival already, and we didn't even try to resist the urge to travel to Krefeld for the Pluswelt Festival IX, offering us a line-up full of great bands and plenty of fun
Dupont
Swedish DUPONT debuted with the release of the demo 'Deliver'. Back then the band consisted of Riccardo, Danucci and Johan Damm on vocals. That same year they signed a record deal with German label LIP Records and the first official single 'Behave' which climbed up Germany's Alternative Chart very swiftly, was fired out at the beginning of 2000 and attracted the attention of a wider audience followed by the debut album 'Ukrainia' in 2001. End of 2002 the guys supported COVENANT on their "Northern Lights" tour. During the recording of the second album 'Intermezzo', singer Johan Damm called it quits leaving Danucci and Riccardo without a vocalist. Everything went on hiatus for quite some time and solution on how to continue the band were considered which eventually led to Riccardo becoming the new singer so they could finally complete and release 'Intermezzo' in 2005. The duo's newest long player 'Entering The Ice Age', released in August 2009.
http://www.facebook.com/dupontmusic
/
http://www.myspace.com/dupontsweden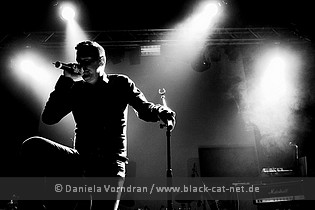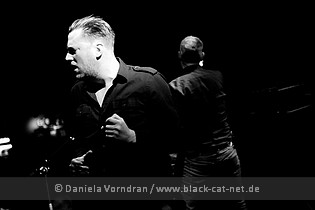 Music & Performance
The evening would be opened by the Swedish duo to warm up the crowd a bit after the little waiting time. Contrary to what the opening title 'Entering The Ice Age' suggests it's not half as cold, but melodic and insisting coinciding with the easy performance of Riccardo while Danucci was twiddling the knobs on that track. For the next song he was leaving the machines to support Riccardo with shouting and hyping. The material all was completely danceable; some more some less melodic. Still I haven't had the feeling it could unfold its effect on the entire crowd properly since there were only comparatively few of them doing it, really. The joy of the two guys on stage couldn't be broken by that at all and so they danced and sang their way through the short set, ending with applause and leaving a crowd in anticipation for the next act.
Setlist

01. Entering the ice age
02. Casino
03. Ghostdance
04. Dope of Love
05. Money
06. Motel lover
Rating
Music: 7
Performance: 7
Sound: 7
Light: 7
Total: 7 / 10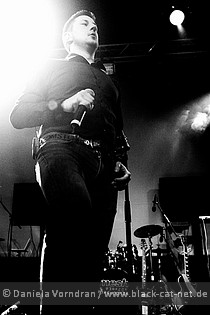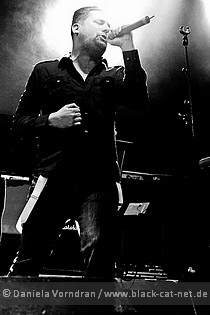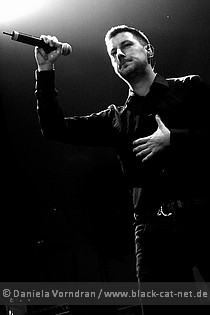 Escape With Romeo
Founded in 1989 by Thomas Elbern after leaving PINK TURNS BLUE, ESCAPE WITH ROMEO soon was joined by keyboard player Martin Pott. Right in the year of foundation, the band released its first, self-titled album. One year later, the first concerts were played and in 1991 the second album 'Autumn on Venus' followed. Meanwhile, the band has entered the year of their 20th anniversary, have released nine albums, and enjoy a high reputation. On 13th March 2009, they've released a retrospective aptly titled 'History'. ESCAPE WITH ROMEO is Thomas Elbern (vocals/guitars), Martin Pott (keyboards), Frenzy (drums) and Ralf (bass).
http://www.escape-with-romeo.de/
/
http://www.myspace.com/escapewithromeo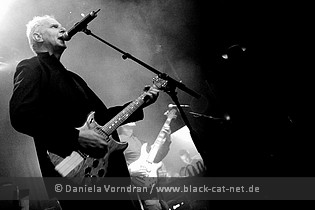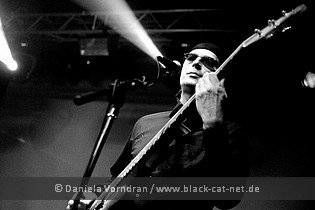 Music & Performance
Definitely one band I was looking forward the most on this evening. ESCAPE WITH ROMEO is amongst the cult bands of melancholy wave music and my expectations were accordingly high. An intro preceded the first track 'Helicopters In The Falling Rain', an urgent mid-tempo track with rock accents and the depth of melancholy in the voice of Thomas Elbern and the melodies. Besides that, the track benefited quite a lot of the employment of real drums in its live version. A soft force was lying in the rhythms of following 'Glitter On The Snow' and the low-key moods alighting heavier on your temper. It's been the first song for the audience to clap along and one having a deep impact on keyboard player Martin somewhat getting into a state of trance when playing. A cheering of the happiest kind went through the audience like a wave on the beginning of 'Somebody' and sing-a-longs around me were not uncommonly. Also Thomas Elbern deserves credit for that long, wicked guitar solo he did. Incredible!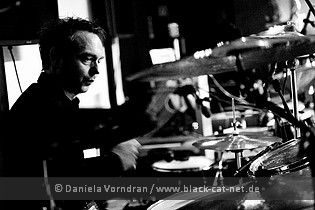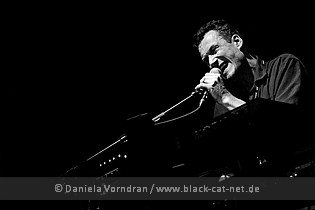 With 'Anterrom For Your Love' and 'It's Loneliness', another package of favourites arrived to get completely lost in thoughts upon dancing. Before 'White Room' commenced, Thomas mentioned the band would do a creative break for a while and return with a new concept. We're already curious now how it's going to turn out. The song again saw him doing a lengthy solo, something you could just watch in awe and enjoy. To sum this show up I can only say it excelled my expectations by far.
Setlist
01. Intro
02. Helicopters In The Falling Rain
03. Glitter On The Snow
04. Somebody
05. It's Loneliness
06. Anterroom For Your Love
07. White Room
08. Addiction
Rating
Music: 9
Performance: 9
Sound: 8
Light: 7
Total: 8.6 / 10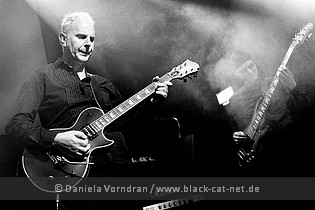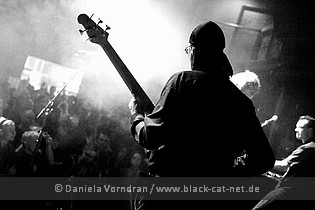 Portion Control
The British electronic and industrial project formed in London in 1979 and is considered one of the most influential harder electronic bands worldwide. They have been name checked by bands like DEPECHE MODE, SKINNY PUPPY or FRONTLINE ASSEMBLY. Until 1986, they constantly released critically acclaimed albums, but when they signed to the label London Records in 1987 they vanished; just to re-appear under the name SOLAR ENEMY, which existed from 1990 to 1993. About 17 years after the last life sign, the band surprisingly returned to the scene with a brand new album 'Wellcome' followed by a retrospective CD release 'Archive' containing a vast majority of their vinyl back catalogue for the first time in a digital format. The newest album 'SLUG' was released end of May 2008. In the meantime new release by the name of 'Crop' (2009) and 'Violently Alive' (2010) have been unleashed. PORTION CONTROL is Dean Piavani (vocals) and John Whybrew (synths).
http://www.portion-control.net/
/
http://www.myspace.com/porcon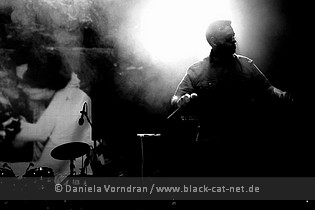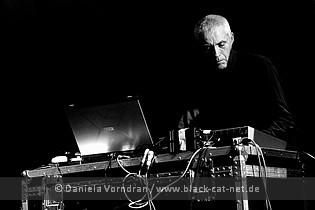 Music & Performance
Another cult formation, this time in electronic music, came up with British PORTION CONTROL and just like with DUPONT we had only two guys on stage. This time, however, parts were clearly set and John never moved away from the machines in the course of the show. The show opened with a clean mid-tempo stomper which gave Dean, wandering the stage, the opportunity to introduce us to his very unique style of dancing to those rhythms that with PORTION CONTROL always are laden with cunning and innovative sounds. Those who own the latest of the Septic compilations might be pleased to know that exactly the song 'Amnesia' had been played on the festival set as well and it fulfilled its purpose very well in making the crowd dance. It was not clear whether Dean liked what he was seeing at all since he was hardly moving a muscle in his face while his body was twitching all the time and songs like 'Addiction Rising' or 'Relapse' continued to raise that reaction in the crowd. But the guys seemed to have forgotten time and during one song it seemed that power was just cut and that's how it ended.
Rating
Music: 7
Performance: 7
Sound: 8
Light: 7
Total: 7.2 / 10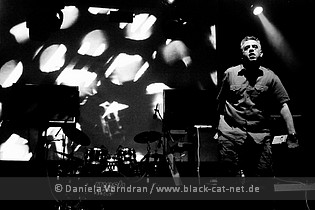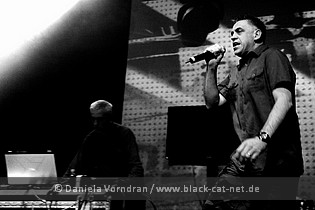 Sono
SONO's first single 'Keep Control' became a hit; in Germany and even in the American billboard charts where the single stayed for six weeks. 'Keep Control' was also the first German hit ever, which was awarded with the title "Track of the Year". With their first album 'Solid State' - which also became a great success they also attracted the attention of people from the most different scenes and was also an indicator for the variety - SONO provided that they are not limited to a specific scene or genre. The second album is called 'Off' and was released in October 2005. The third album with the title 'Panoramic View' has been released in October 2007, followed by the fourth one 'Plus' in 2009. SONO are Lennart A. Salomon (vocals, guitars, writing, production), Florian Sikorski (keyboards, writing, production) and Martin Weiland (keyboards, writing, production, DJ).
http://www.sono.fm/
/
http://www.myspace.com/sonomusic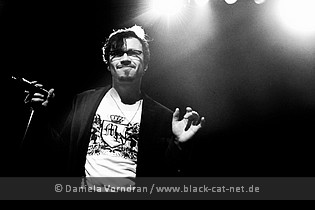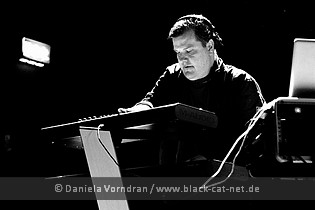 Music & Performance
Last time we were supposed to see SONO, which was at the Blackfield Festival, they experienced a major traffic problem and thus couldn't make it to the festival. Fortunately, no such troubles crossed their path this time and when the lights dimmed and '2.000 Guns' started the show, it was all forgotten anyway and you had to focus on giving up control almost completely to the frigid atmospheres and subtle rhythms of the track. A switch had been turned and the audience danced. Next up was something from the newest album with 'What You Do', something to keep the crowd going and which was appreciated by the guys on stage! 'Blame' went straight back to the first album with a groovy beat and vocal line up its sleeves.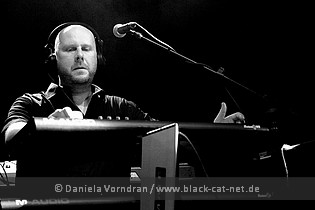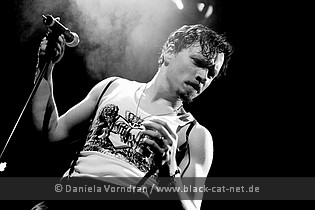 Taken to the illuminated streets of a city at night we were with 'All Those City Lights' and got infected just as quick with the virus to singing along to its catchy chorus. 'A New Cage' with its pumping beats and melancholy moods continued the right and featured one of those cool instrumental passages that are working best live. 'The latest album's single 'Better' and the uber hit 'Keep Control' wrapped up a big party and from secret sources I learned SONO have won over a few new fans that night.
Setlist
01. 2.000 Guns
02. What You Do
03. Blame
04. All Those City Lights
05. A New Cage
06. Always Something Better
07. The Brightest Star
08. Better
09. Keep Control
Rating
Music: 8
Performance: 8
Sound: 8
Light: 8
Total: 8 / 10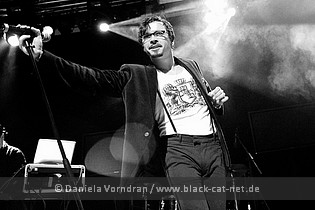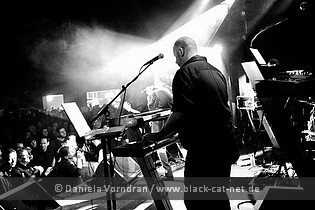 Clan of Xymox
There are bands, who seem to exist for an eternity and who seem to be timeless. Well, CLAN OF XYMOX surely doesn't exist for an eternity now, but they're one of the veteran bands of the scene, founded in the early 1980s by Ronny Moorings and Anke Wolbert and over the years they became one of the most important representatives of the Dark Wave genre, though their music never stayed inside the boundaries of that genre. OK, maybe with their earliest work like the self-titled debut and the follow-up 'Medusa' they did, but in their later career, they combined their traditional sound with dance rhythms and techno elements or changed to more Rock orientated songs like on their comeback in 1997. CLAN OF XYMOX is Ronny (vocals, guitar), Mojca (bass), Yvonne (keyboard) and Mario (guitar).
http://www.clanofxymox.com/
/
www.myspace.com/clanofxymox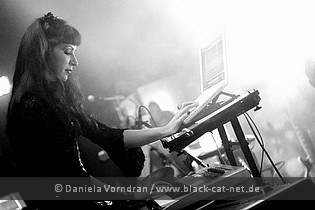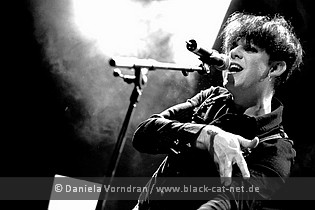 Music & Performance
With the arrival of CLAN OF XYMOX on stage, a trip would begin whose trajectory pointed straight backwards in time musically. But before that would happen there had to be a live sound check first, because the band was arriving later than actually planned. The band chose for 'Stranger' as the track to get the sound tuned correctly yet that wouldn't work out as intended and at various points of the show there had to be made corrections which caused Ronny to comment "Sound checks can take a long time sometimes". The set, as planned, began with the clubby and electronically flavoured 'Love Got Lost' that sent out waves to bind the audience to its will which suggested dancing. 'In Love We Trust' continued the show in a rather Goth rock inspired vain, also giving time to Ronny moving around a bit more. A survey, conducted in the following resulted in people wanting to hear 'Emily. In fact, they were screaming for it, but the track really coming up was bearing the name 'Jasmine & Rose', carving into the minds with a charmingly dark piano melody to venture into gloomy wave territory afterwards.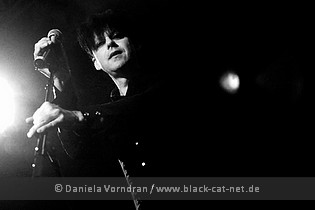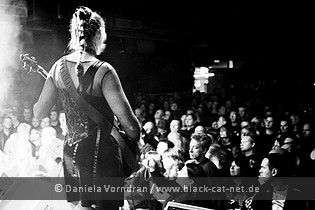 'This World' was one of the tracks I had hoped to hear live once and was extremely happy once I heard its ethereal beginning and the song developing into an everlasting anthem. Finally, it happened what many in the crowd were asking for and which was requited with plenty of happy noise. It's been time for 'Emily' and as you can imagine it was celebrated. Next song built on slow industrial rhythms and wide soundscapes: The CLAN OF XYMOX interpretation of DAVID BOWIE's 'Heroes', carrying a kind of morose beauty in its melody. A sinister concluding announcement was given with 'There's No Tomorrow' and it became a gloomy celebration just as expected. A brilliant show with a very talkative Ronny!
Setlist
01. Stranger
02. Love Got Lost
03. In Love We Trust
04. Jasmine & Rose
05. Hail Mary
06. This World
07. Emily
08. Heroes
09. Farewell
10. There's No Tomorrow
---
11. A Day
Rating
Music: 9
Performance: 8
Sound: 7
Light: 8
Total: 8.3 / 10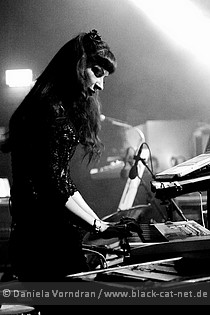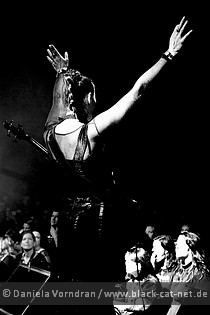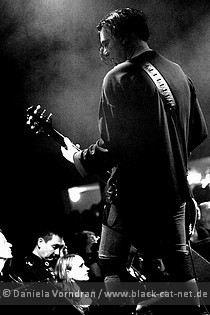 Mesh
Today their musical direction is referred to as Industrial Rock, but the roots MESH can be clearly targeted in the 80s Synth Pop, influenced by bands like DEPECHE MODE and the like, Neil Taylor, Rich Silverthorn und Mark Hockings formed MESH in 1992 after meeting each other at a concert and a brief conversation afterwards. Their debut, the 'Fragile EP' was self-released under the moniker of their own label Tolerance Records but re-issued in Europe early in 1996 on Memento Materia with some additional tracks. From there on you could almost see the popularity of the sympathetic British guys grow. If they played in small clubs at the beginning they could now fill bigger and bigger venues. Also the sound has very much developed through the years and those almost mandatory DEPECHE MODE comparisons are relics from the past by now. Their newest album 'A Perfect Solution' gives way more prominence to the guitar and incorporates an overall organic and much rawer sound. MESH is Mark Hockings (vocals, guitar), Richard Silverthorn (guitar, keyboard, backing vocals), Sean Suleman (live drums) and Geoff Pinckney (keyboards, backing vocals).
http://www.mesh.co.uk/
/
http://www.myspace.com/mesh_a_perfect_solution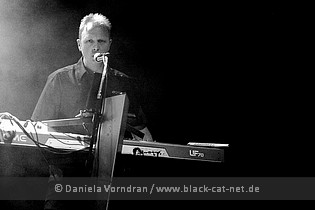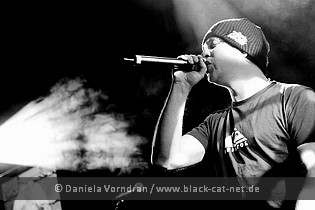 Music & Performance
It's gotten late and that meant time was right for the regular headliner of the festival here in Krefeld: MESH! Everything got changed quickly and sound check was getting along fast as well so that soon we would be introduced to the show with the powerful 'If We Stay Here', an impulse activated muscles and first heads started to nod when Mark started delivering the vocals to the heavy piece. With the second song 'Leave You Nothing' it was time for some - really loud - sing-a-longs. In fact, we were louder than Mark was in the chorus. Quite an achievement, isn't it? Not lingering with too many statements the show moved on with two tracks from the 'A Perfect Solution' album, namely 'Hold It Together' and 'Only Better', both made to at least keep the mood at the same level if not pumping it even higher. 'I Don't Think They Know' was next. I can't recall when I've heard that song on CD the last time, so it's been a nice live reunion with that song.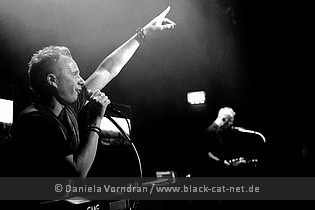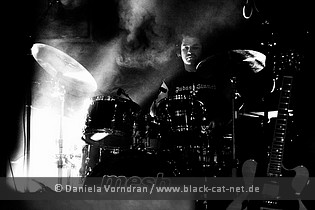 'We Collide' has quite some hits to offer, one particular one of which advanced to a hymn that is celebrated equally every time it gets played on a show, which is 'Petrified'. Normally, that would be serving as a closing track to a MESH set, but 'Crash' this time was placed very early in the set. Not a problem since it's a party song wherever and whenever it's played. I never understood why 'From This Height' became a B-side of the 'Friends Like These' single back in the day. It's such a strong track and one that could've been released as a single just as well - if it made the cut on any album, that is. For 'Who Says?', Julia Beyer came on stage to perform with Mark but I must say she couldn't compete with his vocal strength at all. As cool as it might be able to sound on a studio recording, as thin it was within this live performance. 'Confined' off the second MESH album was the song of choice to close the set and it reminded me of how compelled I felt when listening to this song for the first time many, many years ago, and I still feel the same about it today.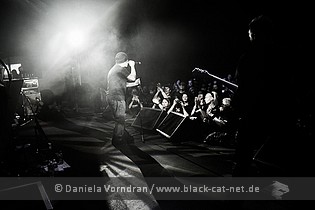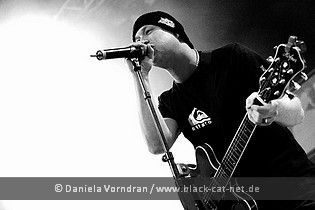 No one was willing to let MESH off the hook that easily afterwards and loud "We Want More" chants were started and kept going until the band returned to give us two more songs to wrap this show up for good. The particular song, having the honour to do this was 'Friends Like These' and made for a worthy celebration I can tell you. The live music part of the night found its end that way and while some decided to start the journey back home; others opted for joining the party. We left soon for our hotel to at least get some hours of sleep. We had quite a long day ahead of us after all. We just couldn't know how long at the time…
Setlist
01. If We Stay Here
02. Leave You Nothing
03. Hold It Together
04. Only Better
05. I Don't Think They Know
06. Petrified
07. Crash
08. How Long?
09. From This Height
10. Who Says?
11. Trust You
12. Everything I Made
13. Confined
---
14. Can You Mend Hearts?
15. Friends Like These
Rating
Music: 9
Performance: 9
Sound: 8
Light: 9
Total: 8.9 / 10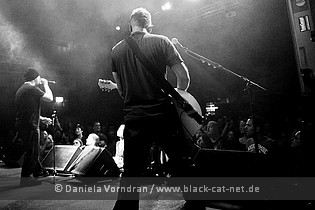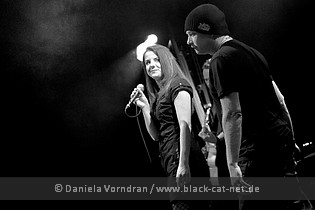 All pictures by Daniela Vorndran (
http://www.vorndranphotography.com/
/
http://www.black-cat-net.de/
/
www.myspace.com/vorndranphotography
)
{jos_sb_discuss:17}
See also (all categories):