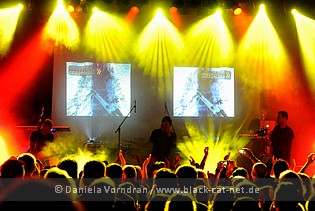 Kulturfabrik, Krefeld, Germany
22nd December 2012
Plusweltfestival X: Vic Anselmo, Microclocks, OBK, De/Vision, Mesh

7th December 2002 was the birthday of Pluswelt festival. And now ten years later, the tenth anniversary is celebrated – as kind of tradition – at the Kulturfabrik Krefeld when all signals were on Electro-Pop with headliner MESH or DE/VISION. Also the rest of the billing promised a diversified evening.



Vic Anselmo

No one less than Latvian singer / songwriter VIC ANSELMO was opening the festival with an acoustic set. The artist released its debut album 'Trapped in a Dream' in October 2008 in Europe and afterwards supported DEINE LAKEIEN on their tour. Her latest album, 'In my Fragile' was released in August 2011. Due to some delays with sound checks, her show started about 30 minutes later than planned. But with good mood she welcomed the audience. An acoustic performance might be a bit unusual as first set of a festival, but Vic impressed with her brilliant voice. You did not really recognize she's caught a heavy cold. With wonderful ballads presented accompanied by piano alone, she bewitched the audience. // Setlist: 1. Who / 2. Basilisk´s eyes / 3. Beverly / 4. The day / 5. Open Wide / 6. Wellspring / 7. I am the one // Rating: 8 / 10 // http://www.vicanselmo.com / https://www.facebook.com/vicanselmomusic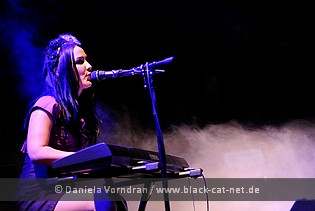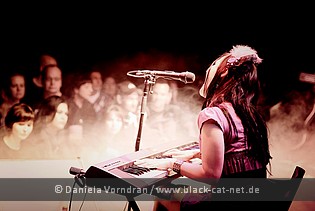 Microclocks

After a short rebuilding break, time has come for local matadors MICROCLOCKS to enter the stage. The band from the Ruhr area, presenting Electro-Rock, is quite new in the business, releasing first single 'Is there anybody out there' in October 2011 and the debut album 'Opinions are on Sale' in November of the same year. For most people in the hall, the band consisting of JT (vocals), Stevie Jay (keyboards, backing vocals), ShapeShifter (guitars) and Hendrik House (drums) was totally unknown and no one knew what to expect really. But with their pushing electronic rhythms and a modern sound, the band around front man Jens know how to impress. I think some attendees will keep an eye on future releases of the band. // Setlist: 1. Hyperion / 2. Hero / 3. Stars from diffuse Matter / 4. All Eyes on you / 5. The Root of all Evil / 6. The Spirit that denies // Rating: 7/ 10 // http://www.microclocks.de / https://www.facebook.com/microclocks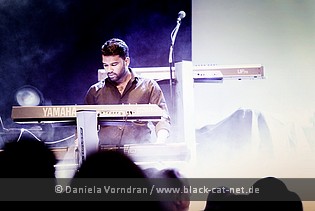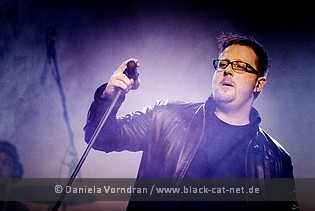 OBK

Spanish band OBK hailing from Barcelona is really new in the Pluswelt roster. Influenced by musicians like DEPECHE MODE, YAZOO or OMD, also the band's name hints to their idols. OBK is short for 'Oberkorn (It's a Small Town)', the B-site of the DEPECHE MODE single 'The Meaning of Love'. The band is already active since the early 90s and are stars in their home country. Their debut single was sold 400,000 times and their current compilation of old and new songs, 'Nuevas versiones Singles 1991-2011', made it to top position of Spanish charts. OBK consists of founding members Jordi Sánchez and Miguel Arjona but was live extended to a fill band with second keyboard and guitar. Now, the band played for the first time ever in Germany and was awaited by many fans and impressed with typical Southern charm and a lot of temperament. Singer Jordi was pushing the audience to excitement, culminating probably in the DEPECHE MODE cover mix of 'Personal Jesus' and 'I Feel You', called by the band 'I Feel Jesus'. The audience was stunned! Great show of OBL indeed! // Setlist: 1. Intro + Tu Sigue Asi / 2. Oculta Realidad '11 / 3. Resignacion / 4. Quiereme Otra Vez / 5. Siempre Tu / 6. Dicen / 7. Tocado Y Hundido / 8. Promises / 9. El Cielo No Entiende / 10. Lucifer / Encore: 11. I Feel Jesus (Depeche Mode Cover of Personal Jesus & I Feel You) / 12. Historias De Amor // Rating: 8.5 / 10 // http://www.obkmusic.net / https://www.facebook.com/obkoficial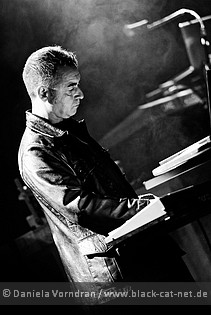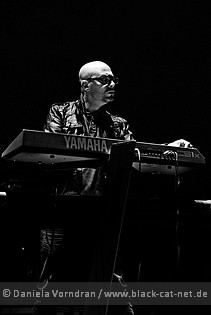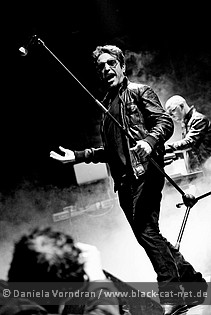 De/Vision

In upcoming year, Steffen Keth and Thomas Adam, aka DE/VISION, can celebrate their 25th band anniversary. The guys, belonging to the spearheads of German Synth scene, do not show any wear marks during their shows. AS during their latest tour accompanying the release of the new album 'Rockets and Swords', the duo was live supported by drummer Markus Köstner. DE/VISION are also kind of residents at Pluswelt Festival, presenting now a varied set which was a real delectation for Synth Pop fans. Time was much too short to include all great hits of the band, but still DE/VISION presented a nice selection of songs from their current album and some absolute classics, like 'Try to Forget' or 'I Regret'.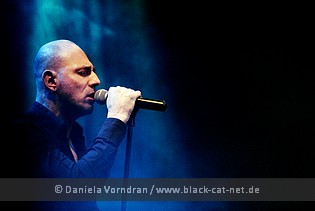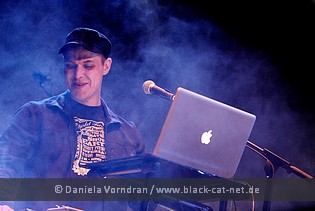 Quite uncommon and surely a surprise was the first encore: the current single 'Kamikaze' was presented by Thomas on microphone whereas Steffen took place behind a second keyboard. With all-time classic 'Your Hands on my Skin', the much too short set ended. // Setlist: 1. Bipolar / 2. Rage / 3. What's Love all about / 4. Try to forget / 5. I Regret / 6. Binary Soldier / 7. Mystified / 8. Time tob e alive / 9. Flavour of the Week / Encore: 10. Kamikaze / 11. Your Hands on my Skin // Rating: 8.5 / 10 // http://www.devision-music.de / https://www.facebook.com/pages/DEVISION/24741337633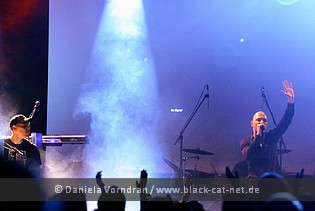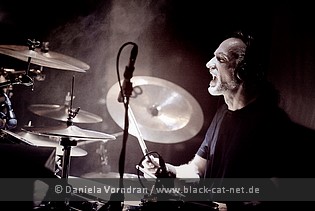 Mesh

MESH is a Synth-Pop outfit from Bristol, England, founded in 1991 by Mark Hockings (vocals, guitars, keyboards, programming) and Richard Silverthorn (keyboards, programming); during live performances they are currently supported by Richard Broadhead (keyboards, backing vocals) and Sean Suleman (drums). Not for the first time, MESH were holding the headliner position of Pluswelt Festival. And also not for the first time, the band was playing the Kulturfabrik. In fact, the British band did not play any other location in the world more often than the club in Krefeld. And just this club was chosen by Mark and Richard for the live premier of their new single 'Born to lie', included on the new album 'Automation Baby' to be out in February 2013. Luckily, the band had a lot of time for a full set, lasting about 90 minutes and including lots of older hits like 'Trust You', 'Not Prepared' or 'Petrified'. The new single 'Born to Lie' was presented quite early in the set and many people already knew all the words, singing along with the band. The song was, among others, also filmed for a later YouTube release. So watch out!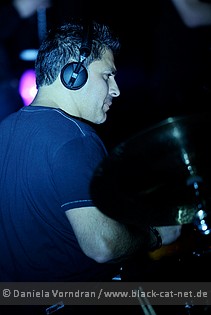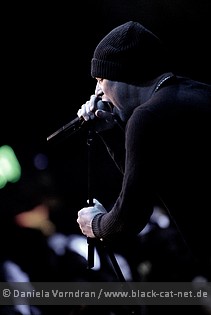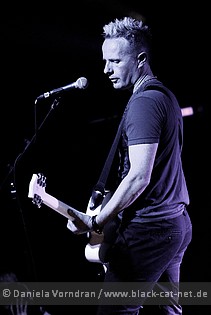 Towards the end of the show, it was time for some female support on stage: Wonderful Vic Anselmo joined the band to present 'You'll never understand' as duet together with Mark. 'Taken for Granted' finally ended the main set. But guess what! Of course there was room for something more. Fan favourite 'Friends like these' could not be missed and when Mark afterwards left stage, people might think the show was over now. But no, it was not at all. The band prepared a little surprise for the end: there was a little acoustic stage right in front of mixing desk at the other end of the hall which mark now entered armoured with his guitar to present a wonderful, touching version of 'Can you mend Heart'. What a worthy end of the festival this was! // Setlist: 1. Want You / 2. Only Better / 3. Trust You / 4. Leave You Nothing / 5. How Long? / 6. Hold It Together / 7. Born To Lie / 8. My Hands Are Tied / 9. Petrified / 10. Not Prepared / 11. Crash / 12. Everything I Made / 13. From This Height / 14. You'll Never Understand (with Vic Anselmo) / 15. Taken For Granted / Encores: 16. Friends Like These / 17. Can You Mend Hearts (acoustic) // Rating: 9 / 10 // http://www.mesh.co.uk / https://www.facebook.com/mesh.official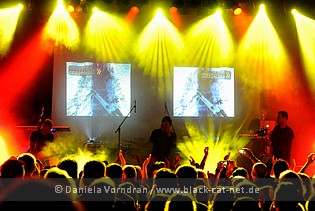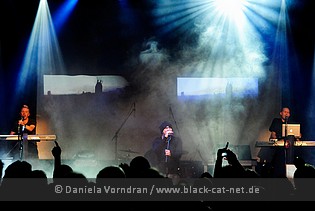 All pictures by Daniela Vorndran (http://www.vorndranphotography.com / http://www.black-cat-net.de/ / http://www.myspace.com/vorndranphotography / http://www.facebook.com/blackcatnet)



See also (all categories):