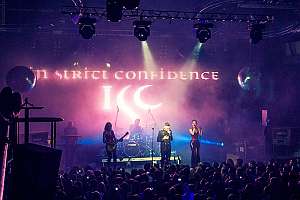 ARMA Music Hall, Moscow, Russia
7th & 8th December 2012
X Moscow Synthetic Snow Festival 2012 Day 2: DSTR (Instead of Project Pitchfork), Covenant (Instead of T.O.Y), DBS, In Strict Confidence, De/Vision

Ten years ago the first Moscow Synthetic Snow Festival was the biggest alternative electronic and synth music event in Russia and it managed to maintain this status up to the present, when Russian Synth Community invited admirers of dark synths and pushing rhythms to celebrate its first anniversary with 2 days of excellent music, unforgettable performances and festive atmosphere. Unfortunately, it didn't go off as smoothly as it had been planned because of the unprecedented cancellation of 3 out of 10 acts right before the beginning of the festival (PROJECT PITCHFORK and DIORAMA – due to vocalists' health conditions and T.O.Y. – due to flight problems). Nevertheless promoters managed to cope with this situation with the help of remaining acts.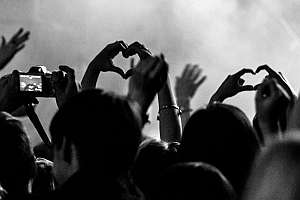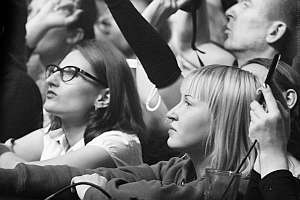 DSTR (Destroid) (Vera Petrij)

DSTR (formerly DESTROID) is one of numerous projects of Daniel Myer, who is best known for his main band HAUJOBB. Formed in 2004, DSTR represents more melodious and danceable side of Myer's versatile talent. Experiments with such genres as EBM, dark electro and futurepop resulted in two critically acclaimed studio albums: darker 'Future Prophecies' and a bit lighter 'Loudspeaker'. The latest band's release came to life in 2010, it is an EP 'Silent World', that features several new tracks, a cover version and remixes. https://www.facebook.com/dstrmusic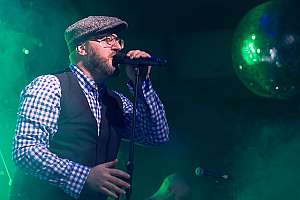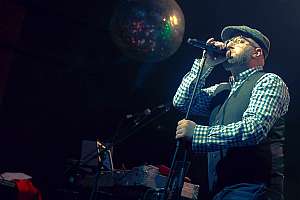 Music & Performance
DSTR had to play instead of PROJECT PITCHFORK, who cancelled their concert a day before the festival due to a serious illness of vocalist Peter Spilles. Thus Daniel Myer entered the stage for the third time in two days and, what is more, right after this gig he had to return on stage with COVENANT, performing their second show. So it all turned into a kind of impromptu Russian version of Planet Myer Day, though Daniel himself called it a festival of chaos. For some reason DSTR changed places with Russian band DBS and were to open the festival. Despite very limited time the band managed to heat up the audience and to set the joyful mood. Daniel Myer hadn't lost not a bit of his energy since the previous day, he was radiating enthusiasm and infecting the public with it. During 'Judgement Throne' he even stopped the music to show the audience how to wave hands synchronously and when the song was restarted and the entire dance-floor rhythmically waved their hands it was truly uniting feeling and an amazing experience.

Rating
Music: 9
Performance: 9
Sound: 8
Total: 8.6 / 10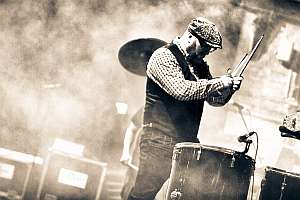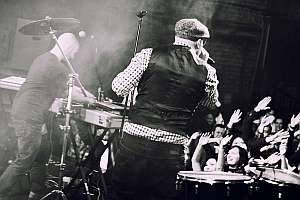 Covenant (Kira Kalinina)

COVENANT was founded back in 1986 and with time deserved a legendary status. These Swedish musicians managed to stay on the top through all of the years, releasing one successful album after another and providing new hits all the time. Their current album 'Modern Ruin' (2011) is featured with the song 'Wir sind die Nacht', recorded for the movie with the same name. Live on stage, COVENANT consisted of Eskil Simonsson, Daniel Myer and Daniel Jonasson. Short after the Festival, Daniel Myer announced he would leave COVENANT. http://www.covenant.se / https://www.facebook.com/pages/Covenant-OFFICIAL/156626197713557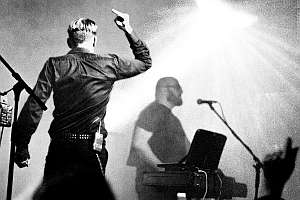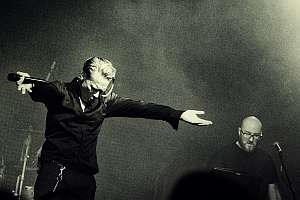 Music & Performance
As Daniel Myer called this festival, it was a synthetic chaos festival. Unfortunately the last moment T.O.Y. had to cancel their show, as their flight to Moscow was cancelled. However, COVENANT were very kind to play for the second time. Comparing to the evening before, Eskil seemed to be more sober, so the show was calmer but still quite emotional and impressing. The setlist was changed a bit, and there were no hits like 'Ritual Noise'. COVENANT managed to cheer up the guests, who could be probably disappointed because of the program changing, and surely made those happy, who missed the show the evening before or die hard fans. It was a great party and a nice beginning of the festival.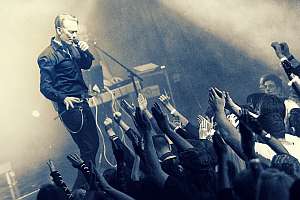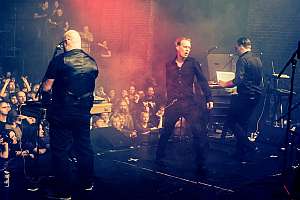 Setlist
01. Intro
02. Feedback
03. Theremin
04. Replicant
05. Dead Stars
06. Edge Of Dawn
07. Shelter
08. Voices
09. Speed
10. Like Tears In Rain

Rating
Music: 9
Performance: 9
Sound: 9
Total: 9 / 10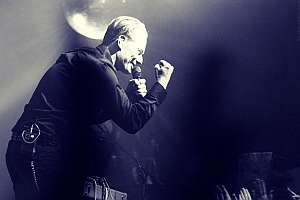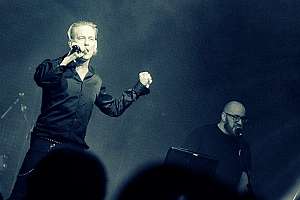 DBS (Kira Kalinina)

DBS is a Moscow electro "Bodybilly" band which drove mad a lot of music lovers not just around Russia, but also in Europe. Their crazy stories of the World War I as well as play with military clichés of all epochs make a lot of fun. The real success of the band could be named a release of their debut album on the German label Trisol. The current album of covers is available for free download. http://www.myspace.com/dbselectro

Music & Performance
DBS was a big disappointment of the evening. Still because of some program troubles the band performed just three songs. No charisma of the front man, no hits, no conversations and jokes could save the situation. It was nice to listen to those three songs, and somebody maybe even had fun. The band finished their performance with words "you could ask IN STRICT CONFIDENCE to present a bit of their time for us" and left the stage accompanied with shouts "go away" from the public.

Rating
Music: 6
Performance: 1
Sound: 5
Total: 4 / 10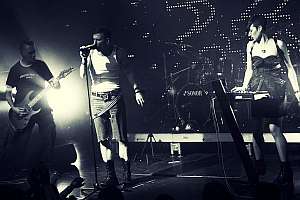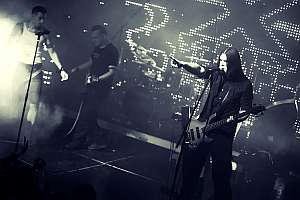 In Strict Confidence (Kira Kalinina)

This German electro band was founded back in 1990. Although through all the years it changed a lot, its trend quality was always as high. The mastermind Dennis Ostermann managed to make out of his band quite a bright recognizable project, which is considered to be EBM, but in fact no genres' frames were ever able to limit it. 2009 the charming singer Nina de Lianin joined the band. Having great experience in performing she brought a bit of magic to IN STRICT CONFIDENCE's records, as well as the band's shows. http://www.instrictconfidence.com / https://www.facebook.com/instrictconfidence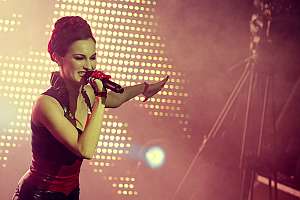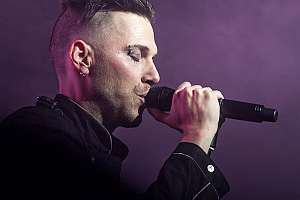 Music & Performance
Any concert of IN STRICT CONFIDENCE is a big deal in Moscow. There are always a lot of fans, a lot of drive and a lot of positive emotions. This time was no exception. Charismatic Dennis and beautiful charming Nina burned the fire in souls of hundreds of people this evening. Hard, danceable and tender and quiet at the same time this show was one of the best if not the best during this festival. Each component, weather the enchanting guitarist Haydee in her red latex suit, or seductive dances of Nina, or the hungry looks with which Dennis complimented Nina during the concert - everything made a perfect puzzle for this show. Of course special attitude of Dennis to the Russian public played a big role. It was possible to feel his own excitement, and he infected the public with it.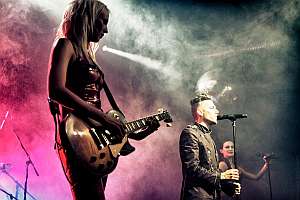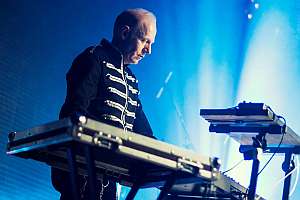 One of the presents for the Russian fans was the song 'Morpheus', sang partly in Russian. The public was pretty happy and didn't want to let the band go.

Setlist
01. My Despair
02. Promised Land
03. Justice
04. Seven Lives
05. Being Born
06. Forbidden Fruit
07. Set Me Free
08. Away From Here
09. Morpheus
10. Tiefer
11. Silver Bullets
12. Herzattacke
13. Zaubershloss
14. Engelsstaub

Rating
Music: 9
Performance: 9
Sound: 10
Total: 9.3 / 10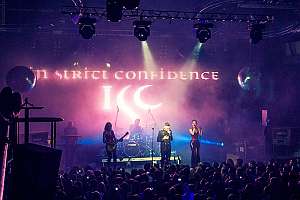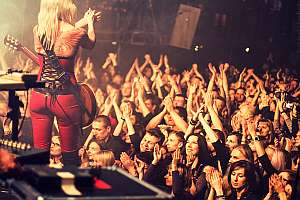 De/Vision (Vera Petrij)

A band that doesn't really need to be introduced, DE/VISION, are one of the milestones of Synth Pop in their native Germany and worldwide. They have begun their journey in the remote 1988 and now their massive back catalogue numbers 12 full-length albums and countless singles and EPs full of moving and lyrical melancholic music with meaningful touching lyrics. This year, 'Rockets & Swords' was released, an album that one more time proves band's ability to produce high-quality sound in their prominent recognizable style. http://www.devision-music.de / https://www.facebook.com/pages/DEVISION/24741337633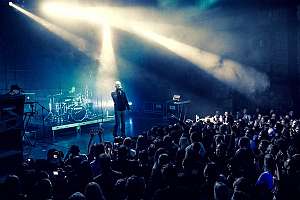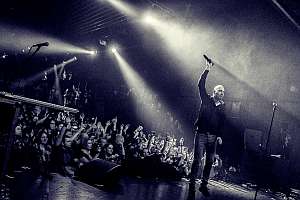 Music & Performance
Their emotional melodiousness had long ago won over Russian audience, so DE/VISION have always been warmly welcomed in Russia. This time wasn't an exception, also a change in the line-up has played its part: the constant duo of Steffen Keth and Thomas Adam was joined by live drummer Markus Köstner, which turned out to be a winning decision, as live drums filled the lack of drive of band's live shows. DE/VISION were visibly enjoying what they were doing and this sheer pleasure ignited the audience so that it felt like the entire club was packed only with their fans.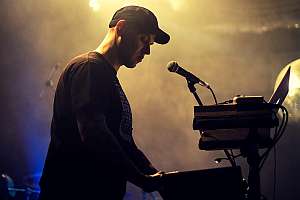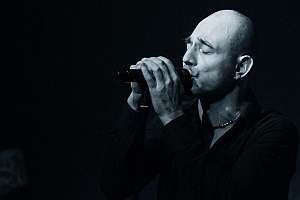 The setlist was focused on the newest material interchanging with some classic hits and almost every song was sung along by the public. After a short break the band returned on stage for a 3-song encore, in the middle of which Thomas left his usual place behind the keyboard and took the microphone to perform a German-language song 'Kamikaze' from the latest release 'Rockets & Swords'. The concert came to an end with 'Your Hands On My Skin', during which the audience released Steffen from the need to sing, as the singing along choir nearly drowned his voice, so he just turned the mic to the public on refrains, which surely was an unquestionable sign of a successful show.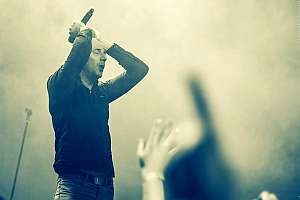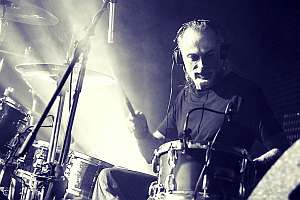 Setlist
01. Bipolar
02. Try To Forget
03. What Love Is All About
04. Strange Affection
05. Superhuman
06. Binary Soldier
07. Beauty Of Decay
08. I Regret
09. mAndroids
10. Time To Be Alive
11. Flavour Of The Week
---
12. Rage
13. Kamikaze
14. Your Hands On My Skin

Rating
Music: 9
Performance: 9
Sound: 8
Total: 8.6 / 10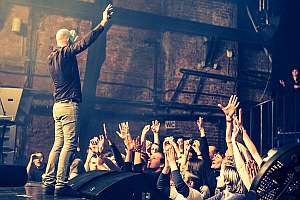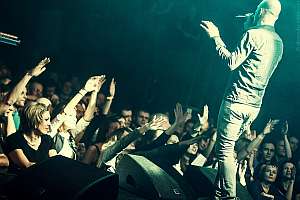 All Pictures by Alexander Kondrusev



See also (all categories):