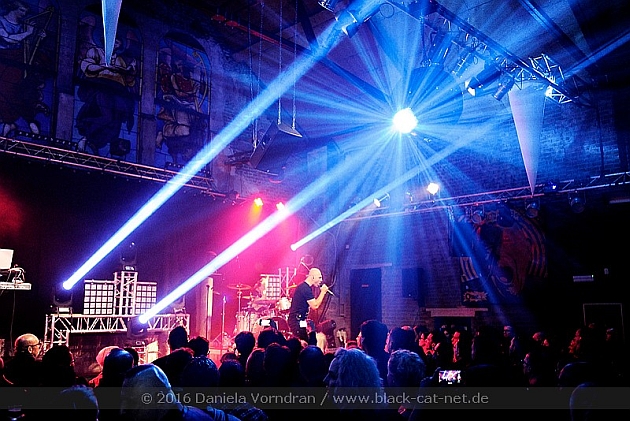 Kulttempel, Oberhausen, Germany
28th October 2016
De/Vision, Nina & Neocoma

On occasion of the release of their 13th album, simply called '13', DE/VISION is on tour again and performed also in Oberhausen to present some of the new songs but also a lot of older songs. On this evening the guys were supported by two Synth Pop bands.
Neocoma
Founder and mastermind of this German, Göttingen based, Synth Pop/ Electro project is Thomas Borchert who had already his musical appearance with INDEX ID in 1999. Between 2013 and 2014, he started his new project NEOCOMA. Its first acknowledgement was reaching the 6th place at the band battle of the Sonic Seducer magazine with the track 'Mirror in your eyes'. Ralf Uhrlandt joined this project but Thomas doesn't exclude yet that probably more other musicians will be added in the future. The debut album is planned to be released soon.
https://soundcloud.com/neocoma-1
/
https://www.facebook.com/neocomamusic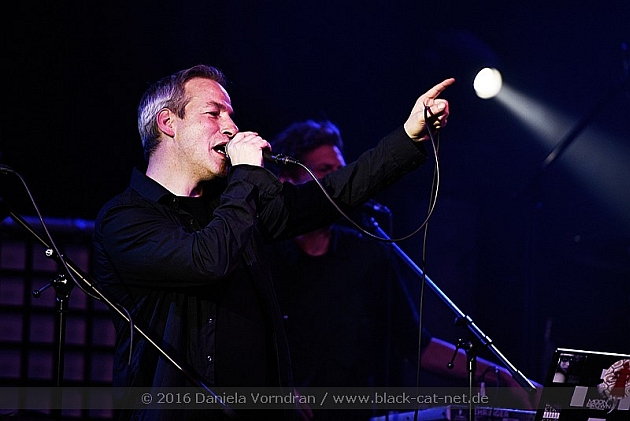 Music & Performance

Actually the show didn't start well with too much bass that it was almost painful and this happened later during another song as well. Anyway the guys started at first with some slower songs but fortunately more up-tempo songs followed before it got too relaxed and boring. Despite the packed stage Thomas made it to use the tiny space for dancing a bit. Apparently both Thomas and Ralf enjoyed performing on this evening very much. The songs were well received by the audience and some of the people who were already there, danced to them and when the guys left the stage they got a big applause.
Setlist

01. Like an angel
02. Shut up
03. Mirror in your eyes
04. Let you fall
05. Save your soul
06. All I need
Rating
Music: 7
Performance: 7
Sound: 7
Light: 7
Total: 7 / 10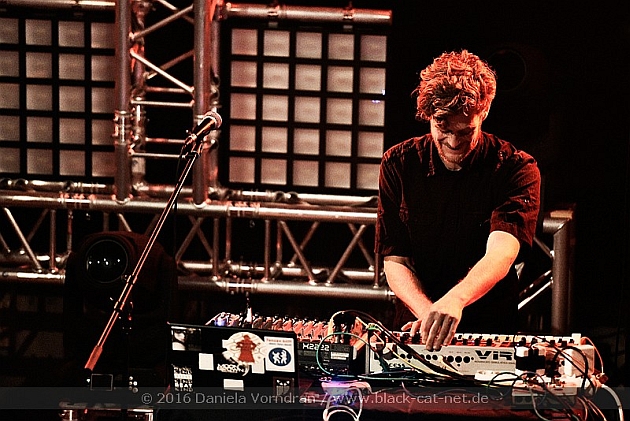 Nina

NINA is a German singer-songwriter band based in London, UK. Naming DEPECHE MODE as her musical influence, the singer creates beautiful Synth Pop songs that caught already with the release of her first single 'We are the wild ones' in 2013 great media attention, especially as this song was used in the US Sci-Fi TV series 'Being Human'. The second single 'My mistake' was included in Hugo Boss' 20 years compilation that you could buy in all Hugo Boss stores worldwide. Also other brands like Asos, Adidas and Net-a-porter licensed her music. The band was supporting act with seven shows at the US tour of ERASURE. In the US morning show "6 in the mix", NINA had a live appearance which was rewarded with great reviews that lead to performances at the CBGB festival in NYC and further shows. Furthermore the band was supporting act for MONARCHY in London and toured with MESH and DE/VISION in Germany. NINA has launched three EPs until now and is currently working on its first album.
http://www.ninasounduk.com
/
https://www.facebook.com/NinaSoundUK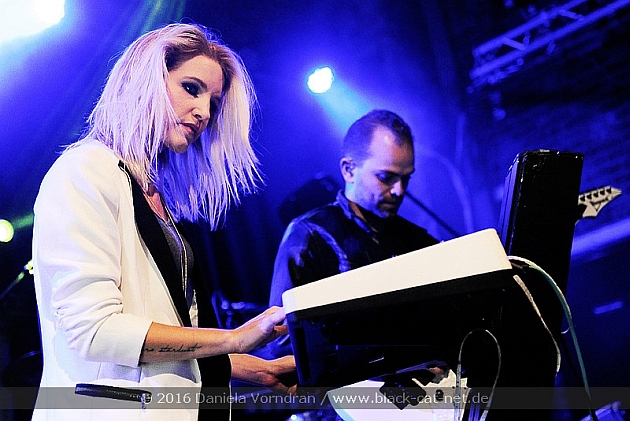 Music & Performance

When the band entered the stage the crowd has grown in the venue. For her live appearance, NINA was supported by Laura on the e-drums who also did the backing vocals and Dylan on the guitar. I have to admit that I never heard the music of NINA before but apparently there were already a lot of fans of the band in the audience as each song was rewarded with big applause. The songs were catchy Synth Pop melodies that underlined the beautiful voice of the singer. The e-drums gave the songs a great dynamic and made the tracks very danceable. And so it was no wonder that a lot of people were moving and dancing to the songs right from the beginning. It really was a pity that the set was so short and as people liked to hear and see more they called for an encore but due to the tight schedule it was not possible.
Setlist

01. Beyond memory
02. My mistake
03. One of us
04. We are the wild ones
05. It kills me
06. Heart of glass (BLONDIE cover)
07. Purple sun
Rating

Music: 8
Performance: 8
Sound: 9
Light: 7
Total: 8 / 10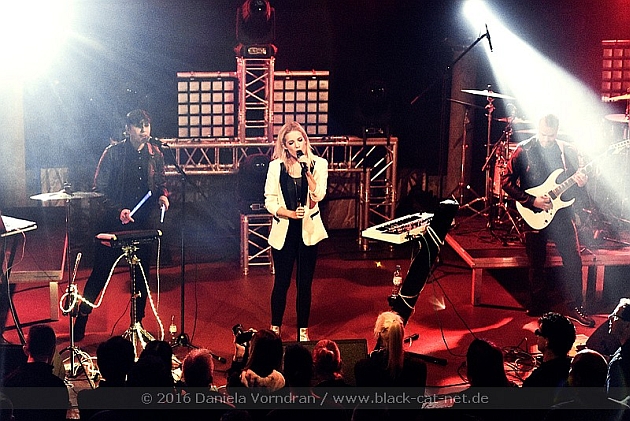 De/Vision

The Synth Pop scene is unthinkable without DE/VISION. Since almost 30 years the band is an inherent part of this genre and has fans all over the world. Starting in 1988 as a quartet the band shrank to a duo consisting of Thomas Adam (keyboard, backing vocals) and Steffen Keth (vocals) in 2000. For live appearances they have Markus as drummer on board. Apart from the now 13 studio albums, the band's discography incorporates 2 live albums, 8 Best of, Remix, Special edition albums, 2 EPs, 19 singles as well as 12 promo, limited and tape editions. DE/VISION has toured worldwide and has the reputation to be an amazing live band.
http://www.devision-music.de
/
https://www.facebook.com/DEVISION-24741337633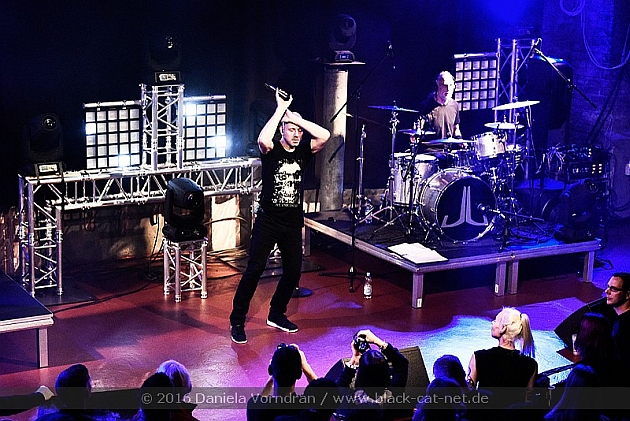 Music & Performance

The stage rebuilding didn't take long and meanwhile more people have entered the venue. Then Markus and Thomas entered the stage, took their position and started to play the first instrumental song before Steffen hit the stage for the second song. Have the audience been a bit restricted at the first two songs no invitation was needed to sing and dance along at the more well-known songs. While Markus set accurately the beats to the songs, Steffen sang with good vocal qualities and danced light-footed as he is known for at live shows and even Thomas who usually hides behind his MacBook was dancing behind his keyboard. The new songs that were carefully mixed with the older ones were well received but of course the fans couldn't hold their horses when songs like 'Time to be alive', 'Rage' or 'Try to forget' to mention only a few were played. It didn't matter that the show wasn't sold out as the audience partied happily with the band.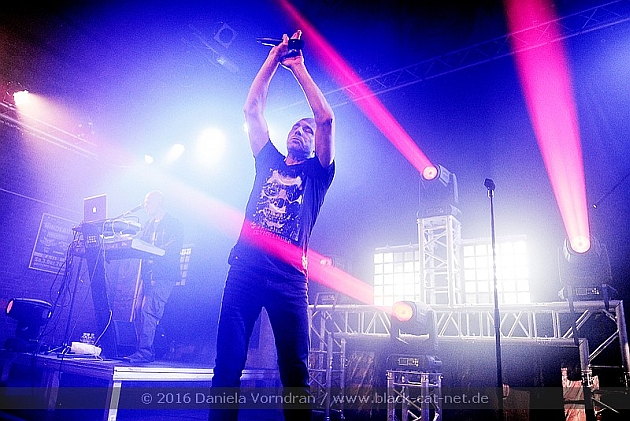 Thus it was no wonder that people shouted loudly for an encore after the main set. Of course they got one and so the band was still performing while the first guests of the party that should start after the concert arrived.
Setlist
01. In the cold light of day
02. Their world
03. Brothers in arms
04. Gasoline
05. Who am I
06. Starchild
07. Essence
08. I regret
09. Time to be alive
10. I'm you son
11. Read your mind
12. Strange affection
13. Where's the light?
14. Synchronize
15. Moments we shared
16. Rage
17. Try to forget
---
18. No one's land
19. Flavour of the week
---
20. Your hands on my skin
21. The firing line
Rating

Music: 9
Performance: 9
Sound: 9
Light: 9
Total: 9 / 10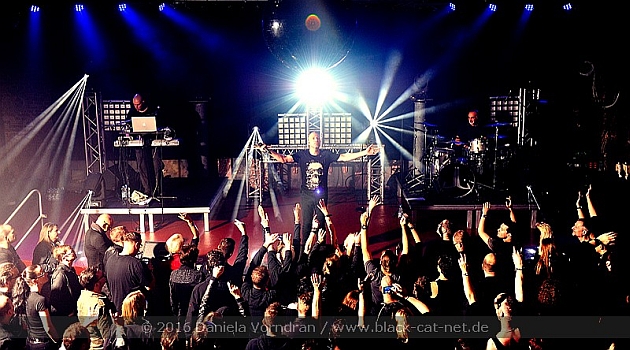 All pictures by Daniela Vorndran (
http://www.vorndranphotography.com
/
http://www.facebook.com/blackcatnet
)
See also (all categories):