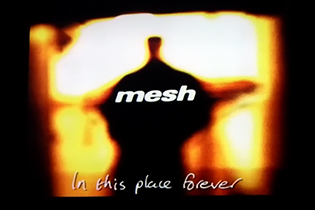 Werk II, Leipzig, Germany
17th May 2014
10 years POPoNAUT with Cryo, Mind.In.A.Box, De/Vision & Mesh

POPoNAUT, you specialised ticket and music shop for Synth Pop, invited the lovers of the Electronic music to celebrate their 10th anniversary on this evening at the Werk II in Leipzig. Heiko Schröder and Sebastian Stolle of POPoNAUT invited four of their favourite bands as there were: Synth Pop legends MESH from England and DE/VISION from Germany, supported by the Austrian sound explorers called MIND.IN.A.BOX and the Swedish electro project CRYO to make this special evening a memorable one. Thus it is no wonder that this concert event was sold out and 500 people showed up.
Cryo

The duo from Sweden was opener of the evening. It is hard to find information about this band as neither their homepage nor their Facebook profile is helpful. But Google is your friend and so I could – at least – find some sparse information. The project was founded in 2002 by Martin Rudefelt, the mastermind of CRYO, who does all the composing, performing and producing in his Cryodome studio in Malmö, Sweden. For live performances he is supported by Torny Gottberg who sings the backing vocals and plays the keyboard. The music is described as a kind of industrial/ electronic music where much focus is put on heavy bass lines and drums to create a repetitive, aggressive pattern throughout the music. On top of this foundation, melodies and vocals create variation, warmth and softness. Reading some reviews about CRYO someone stated them to be the finest EBM act coming from Sweden and another one comparing them with COVENANT. I think the latter comparison is far-fetched.
http://www.cryodome.com
/
https://www.facebook.com/pages/Cryo/278251140549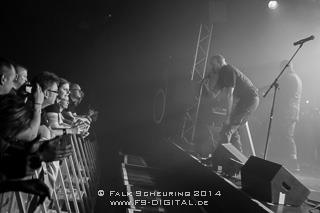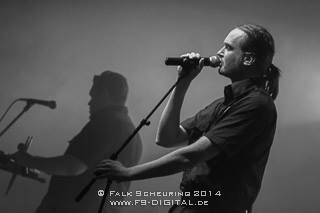 Music & Performance

At first Martin Rudefelt entered the stage and started to sing before Torny Gottberg joined him. Quite typical for EBM music, Torny ran from one side of the stage to the other while Martin was singing. Every now and then Torny played a mini keyboard or the electric drums, the rest of music came from the playback. Their music was a kind of EBM with some Synth Pop à la VNV NATION mixed with SPETSNAZ. Surely danceable but not innovative or exciting and thus it was no wonder that CRYO could not really convince the audience.
Setlist

01. Forgotten
02. The portal
03. In your eyes
04. Common man
05. Freedom
06. In the shadows
07. Zero- G
Rating

Music: 5
Performance: 5
Sound: 7
Light: 6
Total: 5.5 / 10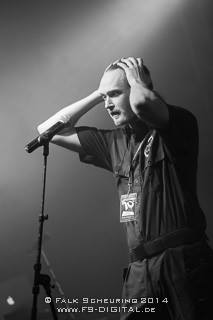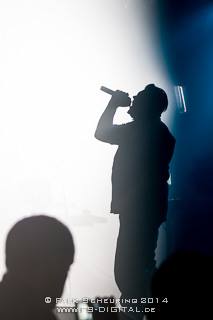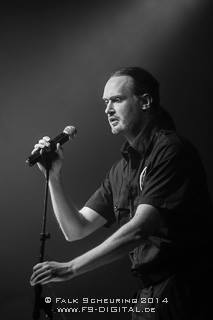 Mind.In.A.Box

MIND.IN.A.BOX is an Austrian Future Pop act, with Trance and Ambient influences, founded in 2002 by Stefan Poiss (music, vocals) and Markus Hadwiger (lyrics). In the beginning this project showed up as a pure electronic melange, influenced by the sound of bands/ projects like KRAFTWERK, YELLO and JEAN MICHEL JARRE, but with every album they developed their style by putting acoustic elements to it with guitars, drums and piano. Nowadays they even put orchestral and soundtrack like arrangements to their sound. Quite typical is their frequent use of the vocoder. The band subordinates with regards to content a science fiction concept, containing elements of George Orwell's '1984', and the worlds of 'The Matrix' and 'Ghost in the shell'. Thus their albums are concept albums and the songs tell serial stories.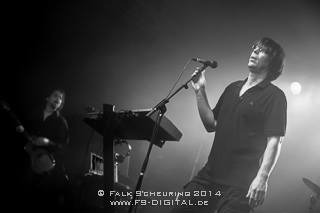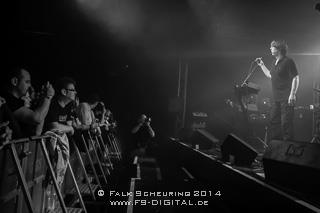 As this is apparently not easy to transport into a live performances MIND.IN.A.BOX started quite late with touring. The planning for it started in 2007 and in 2009 they showcased their live concept for the first time at the Arvika festival in Sweden. For live shows they are supported by: Roman Stift, Adam Wehsely-Swiczinsky and Gerhard Höffler.
http://www.mindinabox.com
/
https://www.facebook.com/mindinabox.official
Music & Performance

As mentioned above it is really a rare pleasure to see this band live and thus more people have arrived in order to experience the show. I guess when the band turned up on stage there were approximately 300 people in the venue. Actually most of the audience enjoyed the show very much but what a pity that the sound was so bad. It was an unusual experience that the songs were quite long. The sound was a kind of danceable Synth Pop with some spherical elements so that I was reminded of the music of ALAN PARSON'S PROJECT or PINK FLOYD.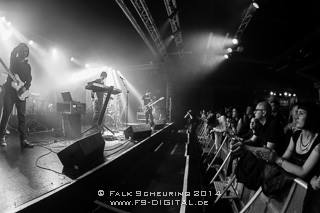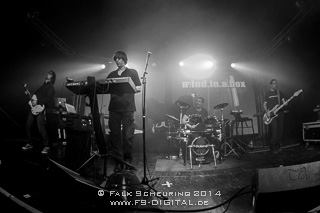 It is a good thing that for live performances they have a guitarist and a bassist, as they both were making a nice show together on stage, preventing the concert for being too stark. Anyway it was a nice concert and I'm glad that I had the chance to see MIND.IN.A.BOX live.
Setlist

01. Into the night*
02. Questions
03. Change
04. Control
05. The dream*
06. Machine run*
07. Remember
08. The place*
*performed live for the first time
Rating

Music: 8
Performance: 8
Sound: 7
Lights: 7
Total: 7.5 / 10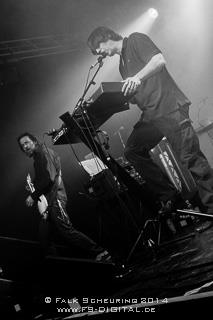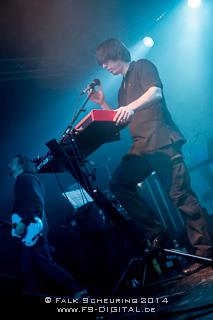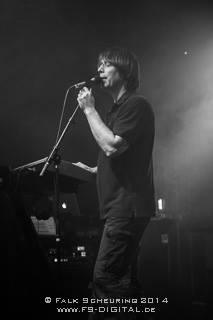 De/Vision

With a career of more than 25 years, DE/VISION are some kind of old stager of the Synth Pop scene. Founded in 1988 the German band actually consisted of four members: Thomas Adam, Stefan Blender, Steffen Keth and Markus Ganßert. In 1991 Stefan Blender left the band and in 2000 Markus Ganßert left as well. Luckily Steffen and Thomas decided to go on with the band. Their pleasing Synth Pop sound helped them to establish in the gothic scene and inspired a lot of other bands/ musicians. And if you like Synth Pop music there is no way to avoid this band as there are quite a few songs of them on diverse gothic sampler albums so that you have the chance to get a little appetiser. No wonder that they have a growing fan base and toured successfully worldwide and of course they have inspired other bands of this genre with their prominent style. Until now they have released 2 EPs, 13 albums, 2 live albums, 19 singles, as well as 8 mix, best of and remixed albums. For live shows they are supported by Markus as drummer.
http://www.devision-music.de
/
https://www.facebook.com/pages/DEVISION/24741337633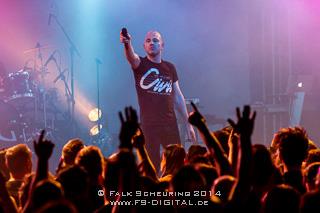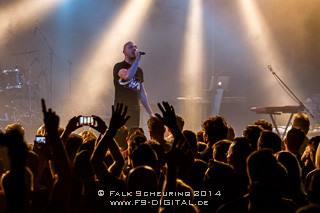 Music & Performance

During the stage rebuilding the venue was completely filled. When the Thomas and Markus entered the stage they were greeted loudly by the audience. They started immediately with an instrumental intro on the keyboard and drums before Steffen appeared under enthusiastically cheers of the fans. And so the party started as the people were dancing and singing the refrains with the band. As we are used to Steffen was dancing in his own distinctive style. I always like to jest that he is dancing his name or dancing a tree, reminding me of eurhythmy at Rudolf-Steiner schools. But for real I appreciate that he is dancing and shows some passion in his performance. As I have seen DE/VISION several times live it was quite a surprise that Thomas was singing one song, too, while Steffen was playing the keyboard. Despite their habit to sing in English, this song ('Kamikaze') has German lyrics and the style reminded me strongly of the sound of FEHLFARBEN and the like of the 80's.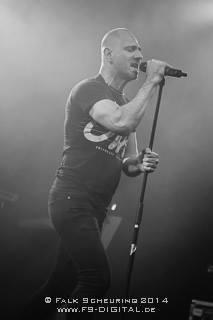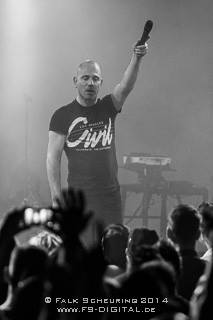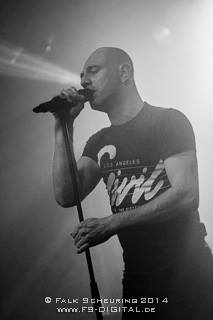 Lots of songs they performed are definitely no-brainer at concerts as the audience immediately starts to sing and dance. And there are songs I really like but somehow I have always an ambivalent feeling at their concerts. In a way they are too mid- tempo for my taste and if they slow down for some songs it is not really animating. But hey, they have some really wonderful songs in between and then it is worth to see them live.
Setlist

01. The day before yesterday
02. Dinner without grace
03. Strange affection
04. I'm not dreaming of you
05. Love will find a way
06. Brothers in arms
07. Kamikaze
08. Aimee
09. Bipolar
10. Binary soldier
11. Try to forget
12. I regret
13. Rage
14. Time to be alive
15. Your hands on my skin
---
16. Addict
17. What's love all about
18. Flavour of the week
Rating

Music: 8.5
Performance: 9
Sound: 9
Lights: 7
Total: 8.5 / 10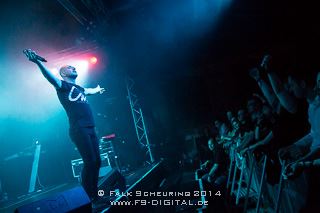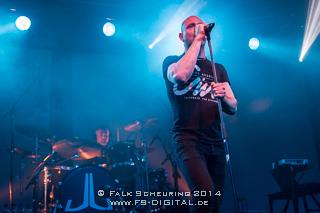 Mesh

Founded in 1991 in Bristol, UK, the Synth Pop band was a trio until October 2006, when Neil Taylor left the band. But fortunately Mark Hockings (lyrics, vocals, guitar) and Richard Silverthorn (music, keyboard, guitar, backing vocals) decided to go on with MESH. Despite the intelligent songwriting and creating catchy melodies, the guys are shamefully ignored in their own country while they have a continuously growing fan base in Europe, Russia and the USA. Their music is often compared with DEPECHE MODE but except the musical genre you will soon find out that MESH has definitely its own style. Up to now they have released 7 studio albums, 5 compilations/ live albums, 16 singles as well as 2 live DVDs. For live performances Mark and Richard are accompanied by Sean Suleman (drums) and Lord-Richard Broadhead (keyboards, backing vocals).
http://www.mesh.co.uk/
/
https://www.facebook.com/meshtheband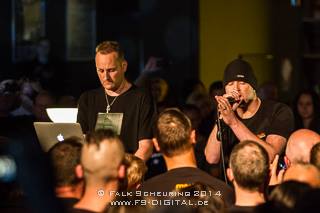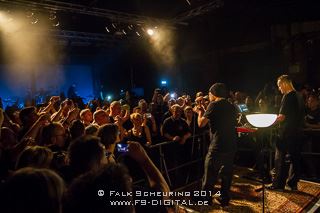 Music & Performance

When DE/VISION left the stage we noticed that there was a small stage at the FOH with a microphone tripod on the right and a keyboard on the left. As some of us have already experienced at the 'Automation Baby' tour that this stage is used for Mark's performance at the last encore. Thus we didn't take more heed of it. How great was our surprise when suddenly, while the stage rebuilding was still going on, we heard Mark singing accompanied by the piano keyboard. Slightly confused we turned our heads just to find out that the MESH gig started with an acoustic intro. With the acoustic interpretation of 'Not prepared' and 'Trust you' the concert started quite solemn before we could move our dancing feet when all guys were on the main stage. And we all had enough reasons to dance and sing along as we were presented a fantastic set list of old and new songs.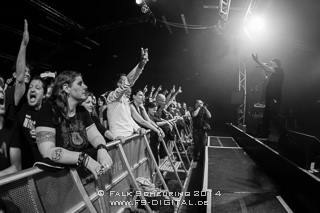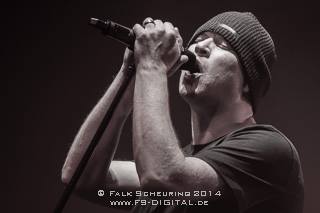 It became a kind of tradition that MESH end their first encore with 'Taken for granted' with the audience singing the refrain loudly with the band. And when the guys have left the stage, the fans sing even louder in order to call them back for the second encore. But Mark did not leave the stage without congratulating Sebastian Stolle and Heiko Schröder from POPoNAUT for their 10th anniversary and thanking them for all the support they gave MESH all the years of their career. The performance was really delightful but unfortunately the light show was not of the high quality we are used to due to the poor equipment of the venue. After the concert the fans had the chance to have a short chat or get an autograph from almost all the guys of the bands which performed on this evening.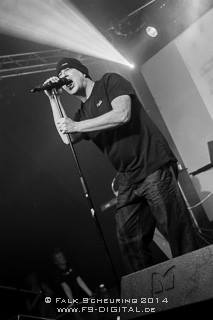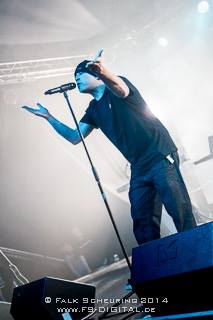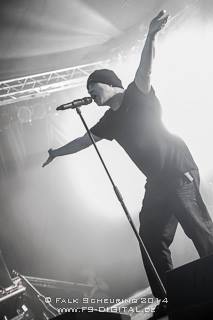 Setlist: (First two songs as acoustic intro on small stage at FOH)

01. Not prepared
02. Trust you
03. Fragile
04. You didn't want me
05. Automation Baby
06. Crash
07. Adjust your set
08. Confined
09. People like me (with a gun)
10. Flawless (alternative intro)
11. You want what owed to you
12. Never meet your heroes
13. Step by step
14. Leave us alone
15. From this height
16. Born to lie
---
17. You couldn't see this coming
18. Taken for granted
---
19. Friends like these
Rating

Music: 10
Performance: 9
Sound:9
Lights: 7
Total: 9 / 10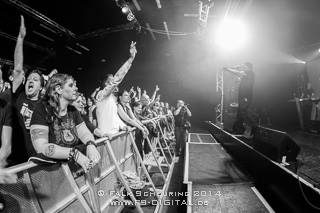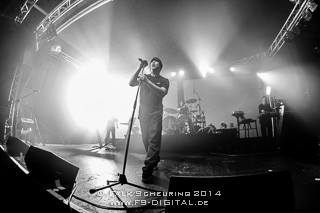 Full Gallery
Pictures by Falk Scheuring (
http://www.hell-zone.de
)
See also (all categories):