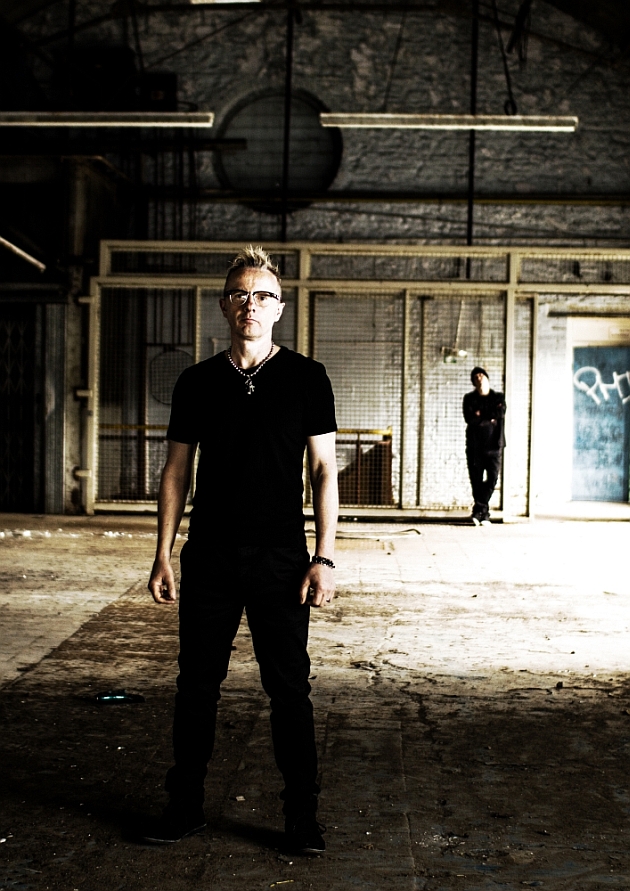 Interview with
Richard Silverthorn (keyboards, programming) from Mesh

After the release of the eighth studio album and before the 'Looking skyward' tour begins, we were keen to talk with one half of MESH, Richard Silverthorn, about the new album that will be launched soon, the sources of inspiration that flew in the making- of process and some more. He kindly took his time to answer the questions I sent him per email.
Reflections of Darkness [RoD]
: Hi Richard. It was a pleasure to review your upcoming album. I'm sure your fans will also love it.
Richard
:
Hi, Thank you. I hope so it's been a long time in the writing process.
RoD
: I read that you were walking around with recorders and microphones in order to records sounds/ noises and to make samples and loops of it for the album. This reminded me of DEPECHE MODE back in the 80's when they did that, too, though the technical opportunities for sampling was surely a bit more complicated than nowadays. Was this the inspiration to try that, too, or how did you come up with the idea?
Richard
:
With our early albums we used to spend hours and hours creating/ recording samples of all different things we could find. Back then we were using Emax and Akai samplers. The whole process was quite time consuming but the results we amazing. It really did feel like you were creating something very original. As technology moved on this art has been lost. Things are too easy and very clinical sounding these days. Listening to our older albums there is something very cool in the imperfections of it. This is something we wanted to recreate again. It is very atmospheric. To capture these sound bites we took to the streets with digital recorders and created a library of everyday noises which we then processed in Maschine (a versatile sampler player/ drum machine). So it was more to do with our early material for the inspiration for this.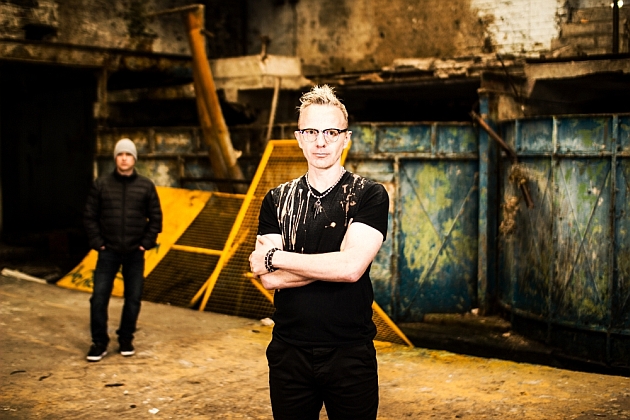 RoD
: You listened to your back catalogue as well as to older stuff of other bands/ musicians to get some ideas for the new album. I'm just wondering if there was any album of E.L.O. you were listening to by chance?
Richard
:
Erm... No. There is a track on 'Looking Skyward' where we have used a vocoder perhaps that's where you can hear the ELO reference. Again I think the older more atmospheric albums of bands we like were a source of inspiration. We wanted to create something that sounded very modern using the latest technology but have an element of imperfection.
RoD
: And apart from that: what other albums have you been listening to during the creative process?
Richard
:
To be honest for the last few years I have been struggling to find anything that really inspires me. Certainly mainstream music. I think that really has hit an all-time low. I personally listen to Craig Armstrong a lot. He is a composer who does a lot of orchestral film scores and soundtracks. His work is amazing and so emotional. I certainly think his music has had an influence and crept into some of the songs on 'Looking Skyward'. Another artist I have been listening to is Emma Hewitt. She is an Australian singer songwriter with an amazing voice. Her album 'Burn The Sky Down' is great.
RoD
: What are you currently listening to which did not influence the album? Any recommendations?
Richard
:
EDITORS, CHVRCHES, GESAFFELSTEIN, IAMX and LEGEND are quite often played in my house :-)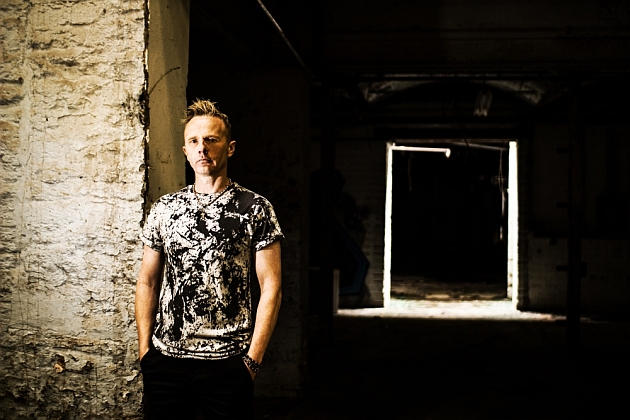 RoD
: There are some bands, starting as friends who, after decades of successfully producing music, only meet for live shows. I understand that, even after being MESH for a quarter century, you are still friends and you are doing frequently spare time activities together. Do you believe that this friendship and being like- minded is the key for your successful working?
Richard
:
Yes probably. Mark and I have pretty much grown up together. We share the same interest in music but so much more too. We both are big kids really and love things like Motocross, Downhill mountain biking, Cars etc. so we have a lot to talk about besides music. Our children are also of similar age too so all the things to do with parenting are also a common topic.
RoD
: I learned that Mark creates new software for the live shows where possibly the audience can interact. Does it mean that we all have to have our smartphones at hand during the shows?
Richard
:
No I don't think so haha. We are playing around with new ideas for the live shows so can't say too much just yet but you might just find yourself part of the live show ;-)
RoD
: And as we are talking about touring: you have already toured the USA, Europe, Russia. What countries are on your personal bucket list you would love to tour?
Richard
:
Oh wow... loads of places. The US tour was an amazing experience we would love to do that again. We do get a lot of offers from Argentina, Mexico and other South American countries so perhaps one day we will try to do this one day. A lot of the time it's all about logistics and costs as to whether you can fulfil these destinations.
RoD
: I noticed that you and a lot of other British musicians/ bands are quite unhappy about the Brexit. Do you think that due to this decision it will be more complicated for you to tour Europe?
Richard
:
Its early days yet. I'm not really sure what the effect will be. I hope all our European relations remain intact. I still think the whole of the UK are in shock and never really expected the outcome.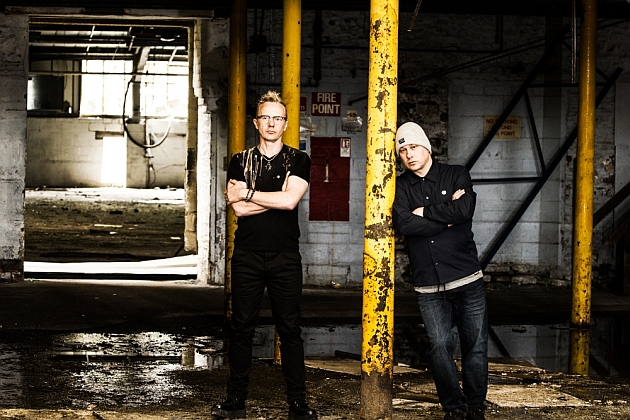 RoD
: The Brexit will surely have an influence on your shop with the customs for continental Europe. Are you planning to have a branch for it here as you are touring more here than in the UK?
Richard
:
*lol* no not just yet :-) Although I do like the idea of an international MESH shop :-)
RoD
: In autumn the recording of the "Gothic meets Klassik" show will also be released. Will it be the complete concert you performed?
Richard
:
Yes, the five songs we played live will be on there along with three other studio recordings. We have done versions of two new tracks from 'Looking Skyward' and one old song too. With the studio recordings we recorded Mark's vocal in one take. No backing vocals of processing just sang from start to finish. The idea behind it was to make it sound very natural and more fitting to the orchestral arrangements. One of the songs was just been played on a piano with Mark singing. The whole experience that night was amazing. The response from the audience was quite overwhelming and emotional. I hope this recording actually captures some of that feeling.
RoD
: And as many fans are asking for it: Will there be a DVD of this special show produced?
Richard
:
We keep thinking about this. It does take a lot of arranging and preparation. Also to try and produce something more interesting than your average "Live DVD" needs some thought. Who knows... We may do something.
RoD
: Where do you see or wish to see MESH in 10 years?
Richard
:
Retired *lol*. I don't tend to think that far ahead. At the moment we are still enjoying what we are doing. This new album is going to take up a lot of our time and after that we will sit down and re-evaluate things again. This is kind of how we work. Mesh has taken us on a long journey and visited many places as long as it keeps going from strength to strength I think we will hang in there.
RoD
: Thank you for taking your time. See you soon at the tour.
Richard
: Thank you very much. I hope so :-)
Photo credit: Derek Milliner
See also (all categories):