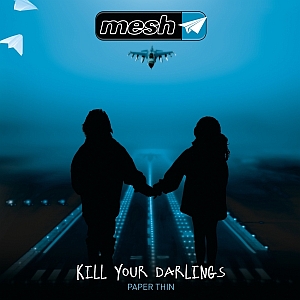 Artist: Mesh
Title: Kill your darlings! EP
Genre: Synth Pop / Synth Rock
Release Date: 8th July 2016
Label: Dependent Records
Single Review

2016 will be an exciting year for the fans of the Bristol, UK, based band. In autumn the live album of the "Gothic meets Klassik" event will be released. And soon the eighth studio album "Looking skyward" will be launched. As an appetiser for the upcoming album the first EP can now be purchased.
Once again the guys of MESH challenged themselves to create something new but be recognisably MESH. And so they successfully created a song with danceable synth sound underlined with powerful rocking guitars and driving beats. The connoisseurs of this band will be also pleased with the smart lyrics Mark Hockings wrote once more. The b- side song 'Paper thin' is also a jewel itself, not that rocking but a Synth Pop song of high quality. But that is what the band is known for - creating wonderful b- side songs. And above all the wonderful voice of the singer Mark Hockings. Besides the club and the normal single version of 'Kill your darlings' there is a fantastic remix version by AESTHETIC PERFECTION which is quite likely to be another favourite song on the dance floors.
Concluding I would like to mention for the non-native speakers that 'Kill your darlings' is not an invitation for murder but a stylistic device e.g. for writers: "In writing, you must kill your darlings." -William Faulkner This literary advice refers to the dangers of an author using personal favorite elements. While these may hold special meaning for the author, they can cause readers to roll their eyes for reasons such as:
-Purple prose
-Narm
-Egregious overuse of a word or phrase
Did he seriously just use the word "egregious" up there? Dude, kill your darlings.
The EP is available as CD, limited edition collectors' vinyl, download version but you can also only download each song of it.
Tracklist

01. Kill your darlings (club edit)
02. Paper thin
03. Kill your darlings (AESTHETIC PERFECTION remix)
04. Kill your darlings (single)
Line-up

Mark Hockings - vocals, lyrics, programming, guitars, keyboards
Richard Silverthorn - keyboards, guitar, backing vocals, programming)
Website

http://www.mesh.co.uk
/
https://www.facebook.com/meshtheband
Cover Picture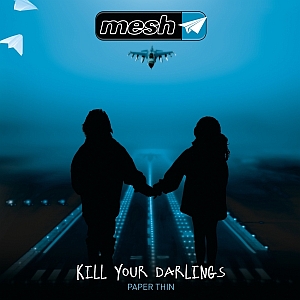 Rating

Music: 10
Sound: 10
Total: 10 / 10
See also (all categories):