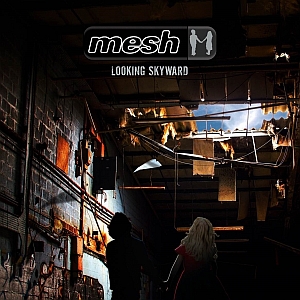 Artist: Mesh
Title: Looking skyward
Genre: Synth Pop / Synth Rock
Release Date: 26th August 2016
Label: Dependent Records
Album Review

A quarter century the Bristol, UK, based band delights the fans of Synth Pop/ Synth Rock music. Three years after its critically acclaimed album 'Automation baby', creating the successor was surely a challenge. But it wouldn't be MESH if both masterminds, Mark Hockings and Richard Silverthorn weren't setting themselves a task. And so they took their time to blend old (walking around with a recorder and a microphone in order to record noises and sounds) and new technologies (smartphones, laptops, tablets, machine studios for creating samplers, loops, etc.), composing songs and writing lyrics. Unlike other bands or musicians it was not their intention now to create a perfect sound but something that is beautiful because of the imperfection. With the release of the first single 'Kill your darlings' some weeks ago we already got our first appetizer. And with reaching N° 1 in the DAC (German Alternative Charts) as well as in iTunes Germany MESH's approach to create the album this way paid already off.
Catchy melodies, smart lyrics and above all the expressive singing of Mark is a well-known trademark of MESH from the very beginning. And this hasn't changed. Nevertheless, despite the recognisable elements, this album doesn't sound like the predecessors. This is clearly the quality of the band to create always something new and fresh. Also on this album the lyrics are quite sombre but always with positive aspects and signs of hope, about the different aspects of an individual in a relationship or interacting in society. They are about the failures, the repetitive mistakes despite better knowledge, the vulnerability but also the reliability of relationships, the love and hope - everything that makes us imperfect but human. This all packed in catchy melodies and partly danceable songs. By listening to the album several times my thoughts to some songs were that MESH seems to be working on being more mainstream. But then again before it gets too appealing, too smooth or becomes too trivial there are all these rough, edgy elements that keeps the songs from being mainstream material you are listening and singing to before you forget them. I will not write down what I think of every song but pick up 5 of the album.
'The traps we made' contains Dubstep elements but unlike the last album in a downgraded version. Regarding the fact that the peak of Dubstep sound is over it is nice to hear it used in this way as a stylistic device. I really like that but I still like Dubstep music too. Of course we don't have to miss a short instrumental interlude with 'Iris'. I know there are discussions about it as some people, even die-hard fans, think that these interludes are redundant. Personally I would miss them. It just belongs to the MESH albums. My absolute favourite song, apart from the already launched single, is 'The ride'. Fantastic danceable song and definitely with a high potential to be another single! While preparing for the review I read diverse statements and an interview where Richard mentioned that he listened to the old albums as well as to older albums of other bands. Well, I wonder if there was E.L.O. amongst it as 'There must be a way' really has a touch of the sound of this band with the partly distorted vocals. After the also very danceable and more light-footed 'The fixer', 'Once surrounded' comes along more ponderously at the first beats but soon you get into it. Surely it's because of the change from the faster Synth Pop to a slower but heavier Synth Rock song with guitars and driving beats.
Recapitulating I have to say it is another MESH album of solid quality that doesn't disappoint. A must have for the fans and for the Synth Pop/ Synth Rock lovers clearly a recommendation. The album is available as CD, vinyl 2-LP gatefold, book 2- CD, limited complete box set (500 pieces).
Tracklist

01. My protector
02. Tactile
03. The last one standing
04. The traps we made
05. Kill your darlings
06. Iris
07. Runway
08. Before this world ends
09. Two + 1
10. The ride
11. There must be a way
12. The fixer
13. Once surrounded
Line-up

Mark Hockings - vocals, lyrics, programming, guitars, keyboards
Richard Silverthorn - keyboards, guitar, backing vocals, programming
Additional live members:
Sean Suleman - drums
Richard Broadhead - keyboard
Website

http://www.mesh.co.uk
/
https://www.facebook.com/meshtheband
Cover Picture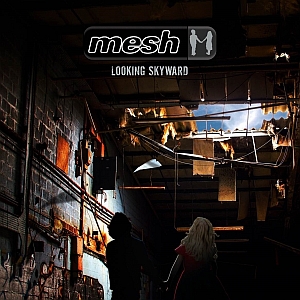 Rating

Music: 10
Sound: 10
Total: 10 / 10
See also (all categories):