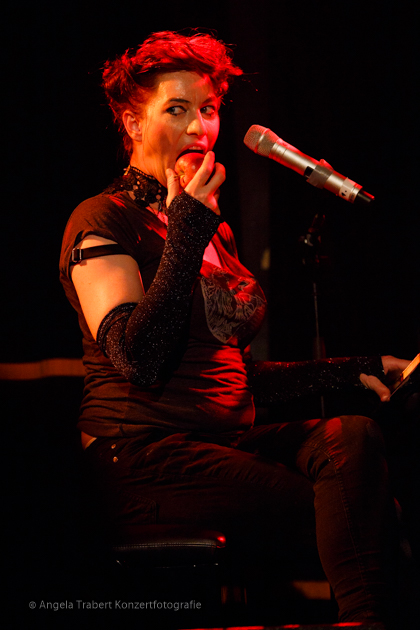 Kantine, Cologne, Germany
3rd November 2016
Amanda Palmer

When I learnt that AMANDA will perform for a few dates in Germany and one in my region even, in Cologne, I was so happy and excited. And once more my anticipation was not disappointed. Once again she chose a venue that was not too big so that she has a close contact to her fans. Having a huge faithful fan base, the show was quickly sold out after the announcement.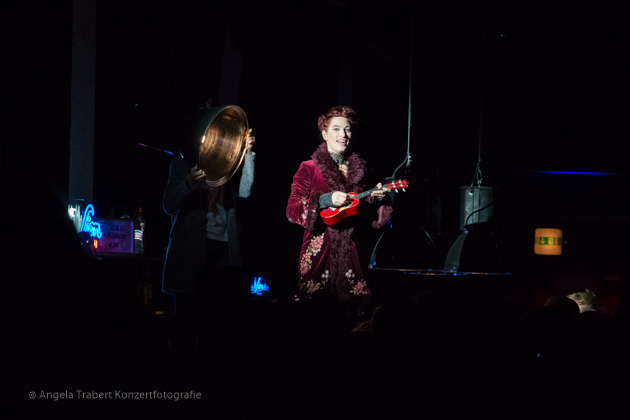 AMANDA PALMER is not only a musician but a multi-talented artist. As a living statue, better known as "The eight foot bride", she earned quite good for her livelihood. Many people might know the American musician as being one half of the Punk Cabaret duo THE DRESDEN DOLLS, or from the band EVELYN EVELYN she founded with Jason Webley in 2007. She started her solo career in 2008 and released her album 'Who killed Amanda Palmer'. After fighting two years to get out of the contract with her former label, that she felt to be restrictive for her as an artist, she celebrated her victory by releasing an album 'Amanda Palmer Performs the Popular Hits of Radiohead on Her Magical Ukulele' in 2011 and released two albums under Creative Commons.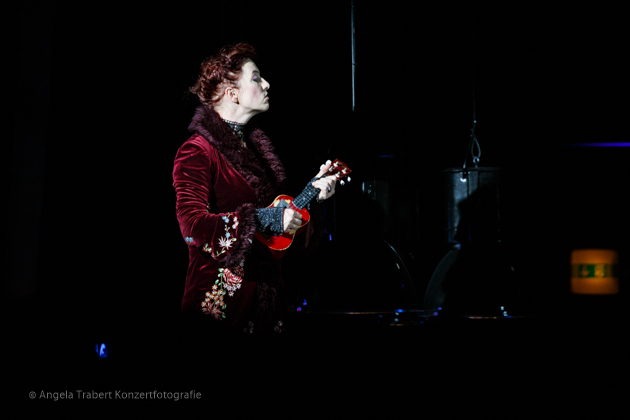 Believing in the freedom of art and deeply trusting her fans she decided in 2012 to produce and release her album 'Theatre is evil' with the help of Kickstarter. Not only was this project a massive success but she was also heavily criticised for doing it. But the amazing success of her Kickstarter project lead to an invitation to the TED talk which also, amongst all the talks she had with fans and friends in real life and online, gave her the inspiration to write a book (The art of asking) which quickly became a bestseller. She then took it one step further by joining patreon, a platform where an artist gets money from his/ her patrons every time something new was created and released - an opportunity to make a regular living from ones art and gives the artist freedom to create. AMANDA PALMER is known for using intensely the social media in order to communicate with her fans and friends.
http://amandapalmer.net
/
https://www.facebook.com/amandapalmer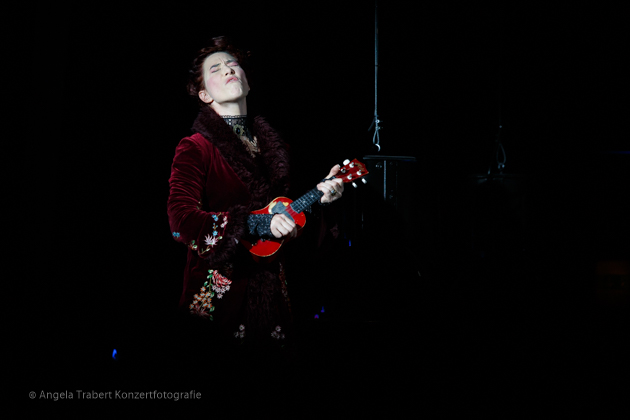 Music & Performance

"Expect the unexpected!" Actually this should be the headline or at least the subtitle of her shows. Though this exceptional musician is a kind of old stager you will not experience a show that follows a routine or rule. Surely there is a rough plan and a setlist but AMANDA always leaves enough space for the results of the spontaneous interaction with the audience. And there is a lot of interaction I can tell you. Usually when I go to concerts as writer, I scribble down at most four pages in my book, sometimes including the setlist if I know the songs or if they were announced and supporting act. And sometimes it is only two including the setlist which indicates usually that I was clueless about what was happening on stage or bored to death. On this evening I wrote down ten pages! And at the end of the show I already knew that it will be hard for me not to write a novel but a concert review.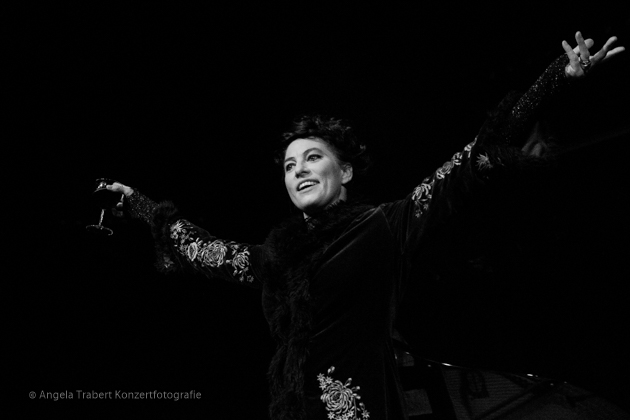 Her shows live from the interaction with the audience. There are the songs, there are the stories, and there is the talking with the fans. And with her very strong and special fan base it is unthinkable that they won't interact with AMANDA PALMER. There is no going to a show as a kind of consumer and being entertained by the musician and then go home. But with all the stories she is telling in between you won't be bored that you might think "When does she/ he finally sing the next song?" like you might have experienced at other musicians' shows. Well the show started with some delays and the fans were impatient. Maybe Amanda was singing her baby to sleep in the backstage area. But then…. she is always good for a surprise. Instead of appearing on stage you suddenly spotted her on one of the bars with her ukulele starting with a German song of the child star HEINTJE back in the late 60's which was really funny, followed by a RADIOHEAD cover where everybody joined her in the singing.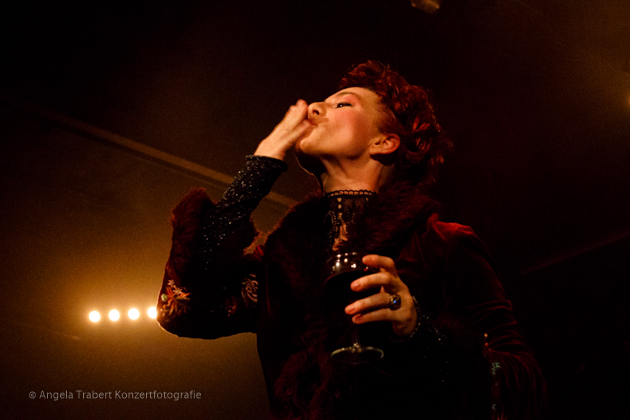 After reaching the stage she greeted the people in German language and then started to play the piano. Especially at 'Missed me' it was clear that it is not about singing beautifully and perfectly but altering the singing style by prolonging the syllables, making pauses, singing exaggerated high notes, all to stress the moods of the song and of the mood of the evening. Performance in a true Punk Cabaret style for sure! She then asked the audience which songs she should perform on that evening and wrote down some suggestions on a paper. And as she was clueless for a short moment with which song to start, she decided that she begins with drinking some wine because everything is better with wine. Most of her songs are very personal and so we, or those who didn't know already, learn about the background stories of her songs, like 'Machete' which is actually a sad story as she lost her very best friend Anthony while she was seven months pregnant.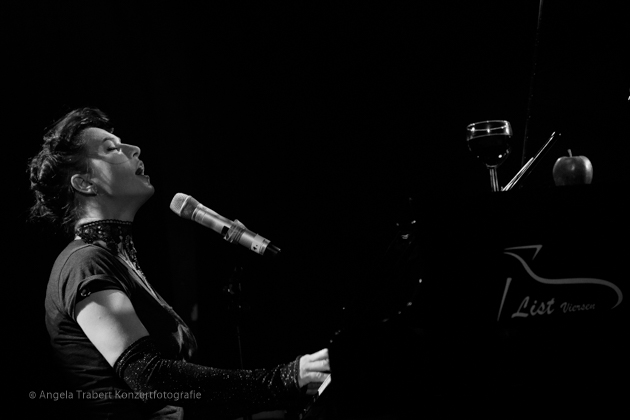 She always found it strange that her pacifist friend had such a liking for martial art weapons and he used to joke that she will inherit them when he's dead. So this part of the show was kind of sad and surely not only me had tears in the eyes. But there was also a lot of laughter and comic relief with songs like 'Vegemite'. AMANDA was asked to perform a song of DAVID BOWIE but she declined, explaining that this is a project she's doing with JHEREK BISCHOFF who couldn't make it on this evening but that tomorrow a video will be uploaded of 'Space oddity' where she is performing this song together with the latter mentioned and AL GORE at the TED talks. Later she introduced Whitney Moses to us, her very good friend and stage manager and artist on her own, who sang a duet to 'Delilah' with her.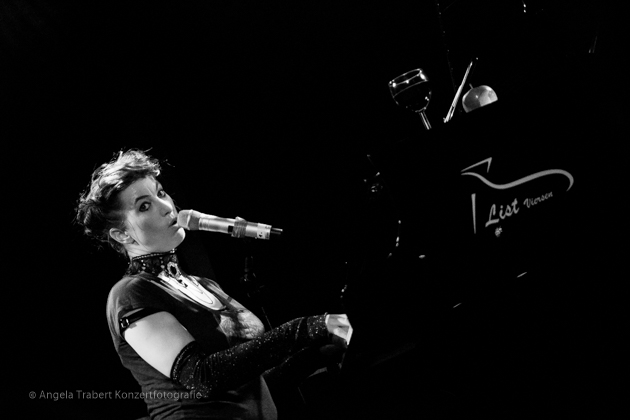 Furthermore she told us about the two amazing THE DRESDEN DOLLS show in the US and more important: chances are good that she and Brian will do some more shows here as well. And even better: they will record a new album! This information was rewarded with loud cheering of course. Like Richard Patrick from FILTER she kind of apologised for what is currently going on in the USA with the upcoming Presidential election, stating that if Trump becomes President, which is actually a job as she stressed, America is fucked up. A few songs later she performed a cover version of THE CLASH song with a Les Paul (electric) ukulele which Frank, a photographer, brought her to this show. Actually she asked a fan on stage to translate the lyrics simultaneously but this young woman was so terribly nervous and overstrained that she hardly couldn't make it.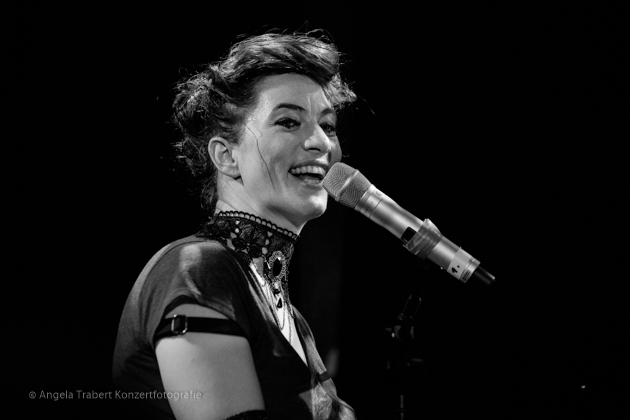 So AMANDA asked her to do the stage diving and it was so great to see that the audience was carrying her around on a wave of hands and gave her a thunderous applause after that. As AMANDA expressed her love for the German language which she studied and speaks very well she performed a BRECHT/ KURT WEILL song which of course fits perfectly to the Punk Cabaret style. We learnt why she chose the stage name 'Berlin' when she worked as a stripper and dominatrix which inspired her for the eponymous song before the main part of the show ended with two THE DRESDEN DOLL songs - the last 'Coin operated boy' was sung loudly by the audience of course. Though the main set contained already 20 songs the audiences shouted for an encore and so AMANDA returned for further four songs, amongst them the very funny sing - along song 'Map of Tasmania'.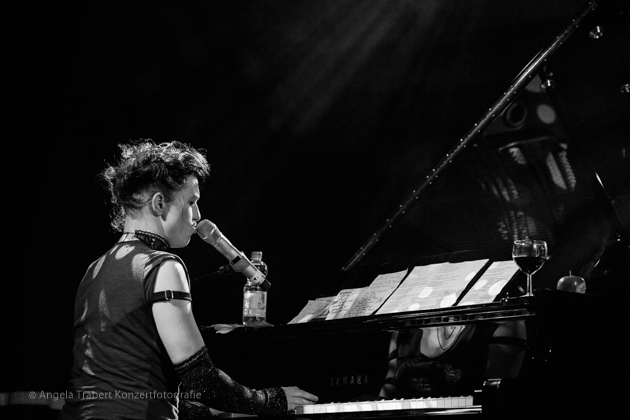 The very last song then was quite special as Amanda joined the audience with her ukulele, standing in the middle with everyone sitting around her, performing 'The ukulele anthem'. And even though she confused a bit the lyrics it was just great fun. After the show there was the chance for signing the CD 'Piano is evil' which was produced exclusively for the shows or her book some fans brought to the concert, have a short chat and taking a photo. So this incredible fantastic evening ended. One more time it was clear to me that AMANDA Palmer is one of the best entertainers with the best fan base ever. We all laugh and cry and sing and shout and enjoy a most excellent time together. And if I could my rating would be 10++++. Sorry folks that this is not just a concert review but a novel.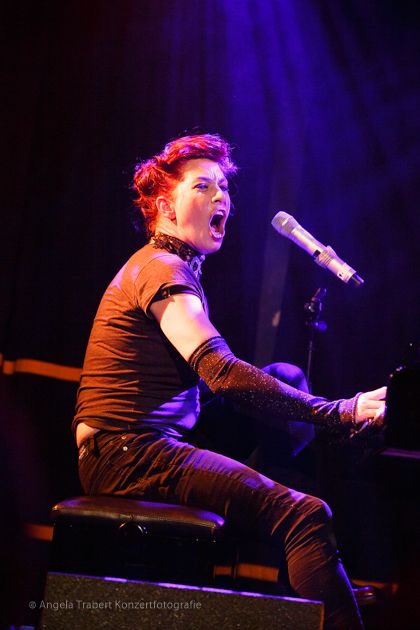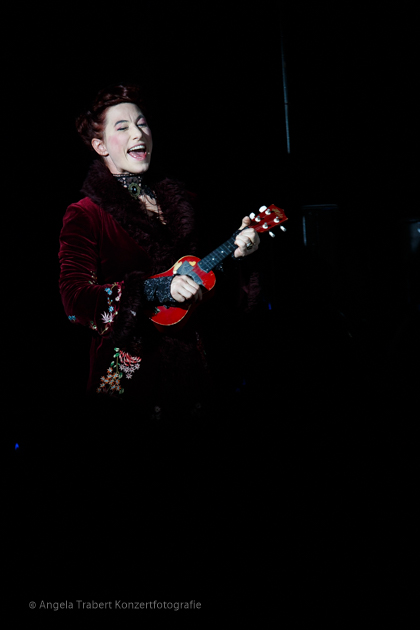 Setlist

01. Ich bau Dir ein Schloss (HEINTJE cover)
02. Creep (RADIOHEAD cover)
03. The killing type
04. Missed me (THE DRESDEN DOLLS)
05. Ampersand
06. Machete
07. Vegemite
08. A mother's confession
09. Astronaut
10. Delilah (THE DRESDEN DOLLS)
11. Paperback writer (THE BEATLES cover)
12. The bed song
13. Strength through music
14. Guitar hero
15. Should I stay or should I go (THE CLASH cover)
16. In my mind
17. Nannas Lied (BRECHT/ KURT WEILL)
18. Berlin
19. Half Jack (THE DRESDEN DOLLS)
20. Coin operated boy (THE DRESDEN DOLLS)
---
21. Map of Tasmania
22. Judy Blume
23. Sing
24. Ukulele Anthem
Rating

Music: 10
Performance: 10
Sound: 9
Light: 9
Total: 9.5 / 10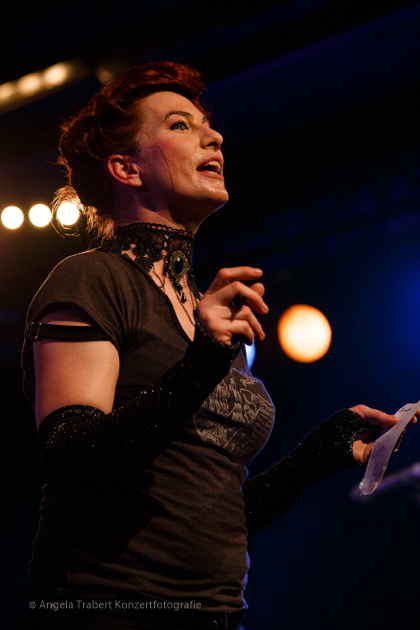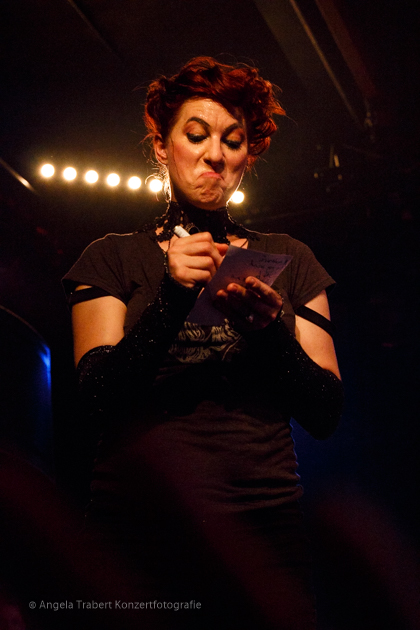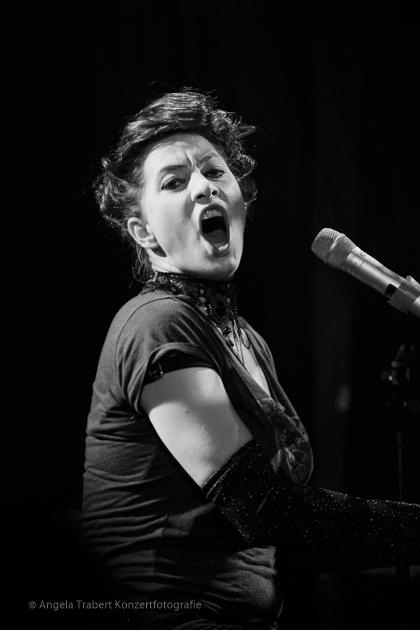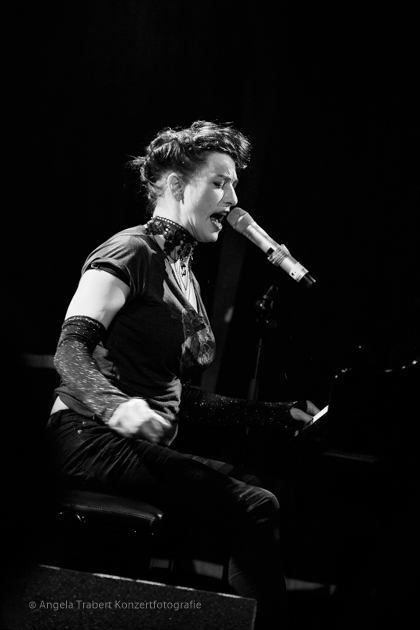 All Pictures by Angela Trabert
See also (all categories):