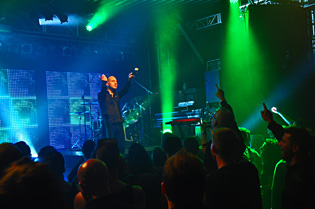 Backstage Halle, Munich, Germany
2nd November 2013
De/Vision - '25 Years - Best Of Tour' & Support: Tenek

Rain and cold were not a nice Saturday in Munich for going out... How well, that there was at least a little bit special for the ears on that day: DE/VISION were coming to town for a concert celebrating their 25-year-jubilee.



Tenek

TENEK is a British duet which was founded in 2007. Already in the same year their debut EP which was limited on 200 copies, wearing the band's name as title, was released. The debut album 'Stateless' followed in 2009. This year, the band gave many concerts, among others also as support for THE HUMAN LEAGUE and celebrated their unforgettable European debut at the Pluswelt Festival. Appearances with bands like FRONT 242 or also MESH followed. www.tenek.info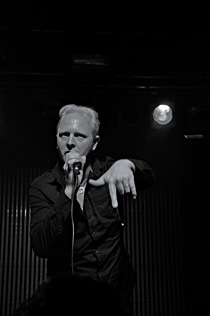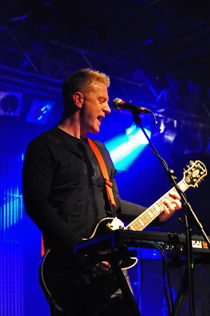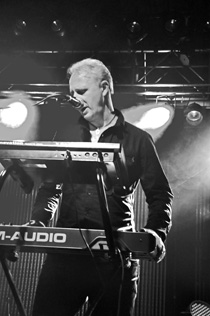 Music & Performance
Already 10 minutes before the announced beginning time, Geoff Pinckney and Peter Steel of TENEK appeared on stage. At that time the hall was not filled yet too much and therefore the already present persons had enough place to shake a leg to the electronic sounds. The band was accepted exceedingly friendly, there was a lot of applause and one could see many engaged listeners in the audience. The band emitted big self-confidence, even when a guitar string broke… nothing what could not be repaired with adhesive tape again. Both likeable Britons were the perfect choice to warm up the audience. Everything simply fitted: The easy to remember voice of Geoff as well as the sound. Unfortunately, everything was over already after 45 minutes and the guests bet farewell to the band again with adequate applause. Now the party with DE/VISION could start...

Setlist
01. Losing Something
02. Higher Ground
03. If I Should Fall
04. Synchronise
05. A New Foundation
06. Submission
07. Elusive
08. Another Day
09. Blinded By You

Rating
Music: 7
Performance: 7
Sound: 7
Light: 5
Total: 6.8 / 10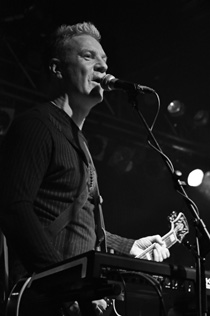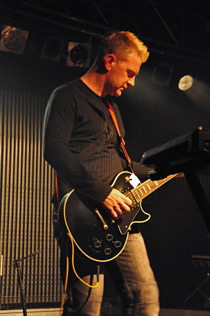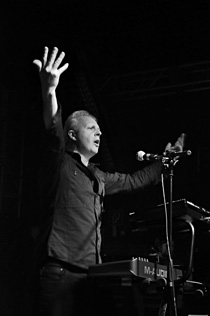 De/Vision

DE/VISION is a German Synth-Pop-Band. In 1988, the band was founded by Thomas Adam, Steffen Blender, Steffen Keth and Markus Ganßert in Bensheim near Darmstadt. Then in 2000, DE/VISION became a duet, consisting of Steffen Keth and Thomas Adam. Their current album 'Rockets & Swords', was released in 2012 for the first time on the band's own label and reached place 39 of the German Alternative Charts. On this year's jubilee tour, audio and DVD are recorded and then be to be released exclusively via Pledgemusic. www.devision.de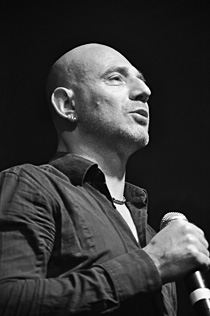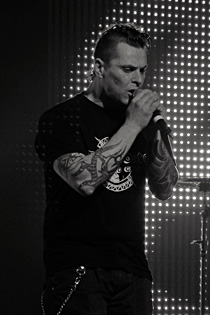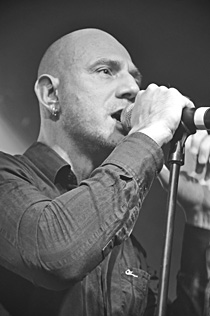 Music & Performance
After a short rebuilding break and an almost endlessly lasting intro, approx. 250 listeners could not be hold back any more: Finally, Steffen Keth appeared on stage. Immediately, he had the audience at his feet. People were joining in the singing at the top of the voice, clapped, danced together and it could not be overseen or overheard that all persons present had a lot of fun. DE/VISION presented a show of about two hours and their performance was a fantastically nice and unforgettable trip into 25 years of DE/VISION. 25 elective songs reflected the whole history. From older pieces, like 'Try To Forget' or also 'Blue Moon' with which - as I find - Steffen's voice is very special and great, up to newer pieces, as for example 'Rage', everything was present. Thomas had also his song appearance with 'Kamikaze'.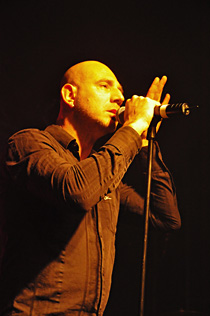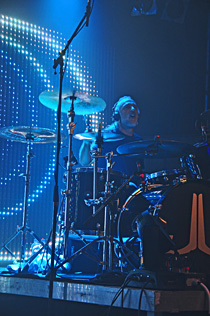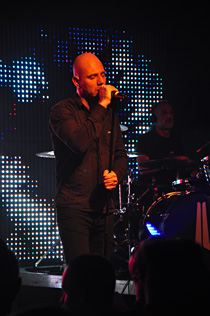 During the whole concert, there was not a moment for boredom to arise. The songs offered something for every taste: Sometime a little bit more quiet and then again with a lot of drive. The stage background consisted of a LED-wall on which either diverse motives lighted up in all colours or also headwords to the respective songs were shown. Steffen's performance also was more than perfect and there were situations, as for example his dance inserts over and over again, which reminded me strongly of Dave Gahan of DEPECHE MODE. The magnificent end of the evening formed 'Flavour Of The Week' with which everybody could properly let off steam once again, before the band left under blustering applause.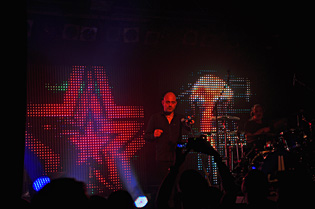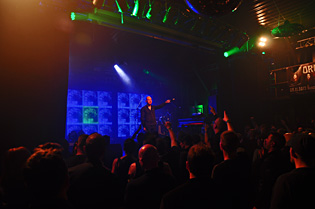 A brilliant evening for dancing, joining in the singing and simply to have a nice time! Over and over again with pleasure. The next opportunity to see DE/VISION in Munich is offered next April with the Dark Munich Festival.

Setlist
01. The Day Before Yesterday
02. Dinner Without Grace
03. Blue Moon
04. Strange Affection
05. Foreigner
06. Miss You More
07. Love Will Find A Way
08. Kamikaze
09. Aimee
10. I'm Not Dreaming Of You
11. Unputdownable
12. Binary Soldier
13. Brothers In Arms
14. Addict
15. Bipolar
16. Try To Forget
17. I Regret
18. Rage
19. Time To Be Alive
20. Still Unknown
21. What's Love All About
22. Endlose Träume
23. Your Hands On My Skin
24. Uncaring Machine
25. Flavour Of The Week

Rating
Music: 9
Performance: 9
Sound: 9
Light: 7
Total: 8.5 / 10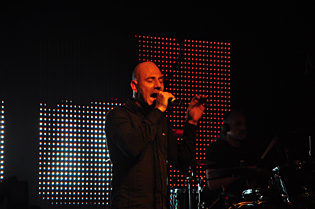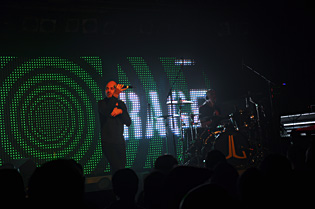 All pictures by Erika Knepper (This email address is being protected from spambots. You need JavaScript enabled to view it., www.facebook.com/erikaknepper)



See also (all categories):