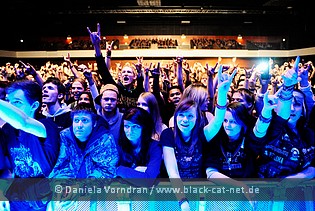 RuhrCongress, Bochum, Germany
17th November 2013
Avenged Sevenfold, Five Finger Death Punch, Avatar

Usually on Sundays you relax, chill out, watch TV and sit on the couch. Maybe even order pizza but once in a while you get to do something else, something more exciting on this holy day. Sometimes on Sunday there is the opportunity to rock hard and bang some head…



Avatar

Formed in the year 2001 and hailing from Goteborg, Sweden, the band now known as AVATAR started their career as an outfit named LOST SOUL. People didn't like the band name, naming it the main reason of disinterest, so the band changed the name to AVATAR and soon got more musicians on board due to growing interest in the band. Starting as a cover band they stayed in limbo until 2003 which saw them perform their first gigs. Singer Johannes Eckerström briefly left the band but soon returned, due to Henrik Sandelin und Simon Andersson joining the band, to record the first demo of the band in the summer of 2003. In the summer of 2003 the band sat together and wrote their first own material and recorded their first Demo Personal Observations. Soon after they started to play life. This resulted in the first AVATAR EP '4 Reason to Die'. Soon the band became better known in and out of Sweden. They had to work hard for four more years to score their first big tours with the likes of SOILWORK, VOLBEAT and PAIN. Big tours in 2008 followed but AVATAR is yet still waiting for the big breakthrough. AVATAR plays a crude mix of Black Metal and Shock Rock, melodic most of the time. AVATAR is Johannes Eckerström (vocals), Jonas Jarlsby (guitar, vocals), Simon Andersson (Guitar), Henrik Sandelin (Bass), John Alfredsson (drums). http://avatar.net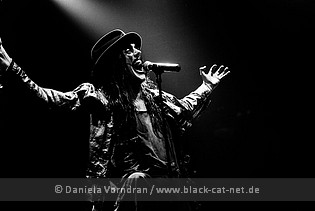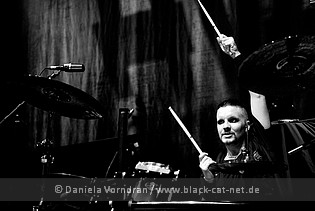 Music & Performance
I got to the venue expecting nothing due to not knowing the support, originally DEVICE, the new project of DISTURBED singer David Draiman, should have supported this gig but thye cancelled the whole tour since Davif became a father. So here I was getting to know a band through a gig (which can be great). The whole demeanour of the frontman was very shock rock from the outfit he wore, to stage (over)acting. AVATAR is depicted as melodic death metal but often sounds rather mainstream and more than once reminded me of MARYLIN MANSON. The whole performance was not my cup of tea, though not bad musically. The crowd had a lot of fun that at least has to be said but I don't think they will run short on merchandise

Setlist
01. Torn apart
02. Let it burn
03. Paint me red
04. Ready for the ride
05. Vultures fly
06. Freak show

Rating
Music: 4
Performance: 5
Sound: 6
Light: 4
Total: 4.7 / 10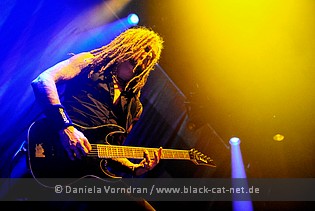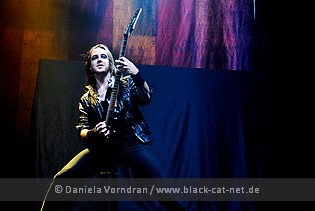 Five Finger Death Punch

This US Metal combo came into existence in year of 2006, founded by guitarist Zoltan Bathory. Zoltan soon gathered singer Ivan L. Moody, guitarist Caleb Bingham, drummer Jeremy Spencer and last but not least bassist Matt Snell. The band's name refers to a fictitious martial arts style that kills people with a punch to the chest. FIVE FINGER DEATH PUNCH or 5FDP debuted in 2007 with the album 'The Way of the Fist'. The band had a few personal changes over the years but did stay true to their style of hardcore influenced Groove Metal with bits of catchy Rock parts. Now in the year of 2013 the bands discography increased to five Albums and they don`t seem to capitulate or slow-down a bit. FIVE FINGER DEATH PUNCH is Zoltan Bathory (guitar), Jeremy Spencer (drums), Ivan Moody (vocals), Jason Hook (guitar), and Chris Kael (bass). http://www.fivefingerdeathpunch.com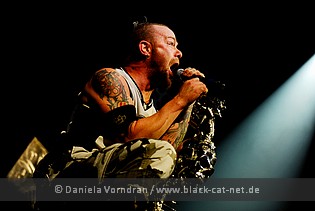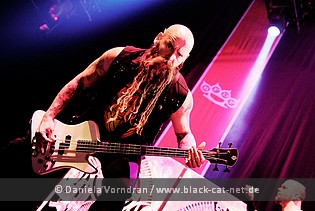 Music & Performance
Only knowing the band very superficial I got to the gig without any expectations, but I was pleasantly surprised after a few songs. At first the Hardcore influenced vocals discouraged me a little bit, but after about three songs the catchy stuff happened and I started to feel a bit better about the bands output. Most people who first listen to 5FDP are plenty surprised hearing that Ivan actually can sing if he wants to or the song demands it. 'Lift me up' is a smash hit in my opinion and so is the BAD COMPANY cover 'Bad Company'. The overall experience was a pleasant one even under the circumstances that I like it better if the vocalist sings all the time (no offense meant). Performance wise 5FDP had a fierce grip on the crowd which was very impressive. There were moments Ivan didn`t even have to sing because the crowd did it for him. Well done guys!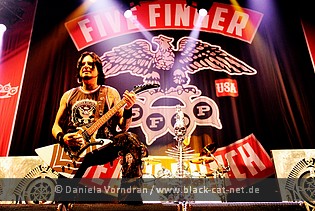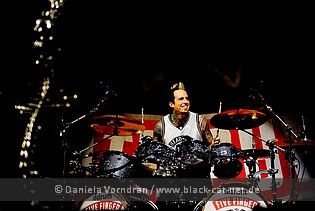 Setlist
01. Under and Over It
02. Burn It Down
03. Hard to See
04. Lift Me Up
05. Bad Company(Cover)
06. Burn MF
07. Coming Down
08. Never Enough
09. Far from Home
10. The Bleeding

Rating
Music: 7
Performance: 7
Sound: 8.5
Light: 7
Total: 7.5 / 10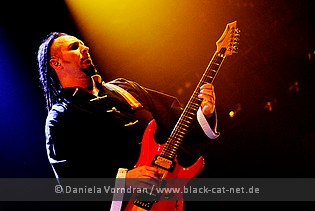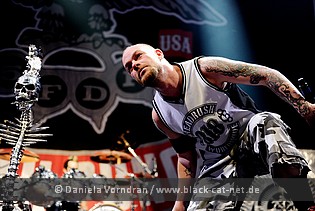 Avenged Sevenfold

AVENGED SEVENFOLD or A7X are a American Rock/ Metal band from Huntington Beach, California consisting of lead vocalist M. Shadows, rhythm guitarist and backing vocalist Zacky Vengeance, lead guitarist and backing vocalist Synyster Gates, bassist Johnny Christ and drummer Arin Ilejay. Formed in 1999 this now popular Heavy Rock outfit started as Metalcore (ugh) but evolved to a modern Metal band that is heavily influenced by bands like METALLICA, GUNS`N`ROSES and other heavy bands. A7X went their way and went it straight until founding member Jimmy "the Rev" Sullivan died the rock star death, the cause of his death was an overdose of several tranquilizers, he was found dead in his home on the 28th of December 2009. The band considered to disband but ultimately re-entered the studio to record the album 'Nightmare' with DREAM THEATER DRUMMER Mike Portnoy. Now in 2013 they are conquering the charts with their new record 'Hail to the King'. http://www.avengedsevenfold.com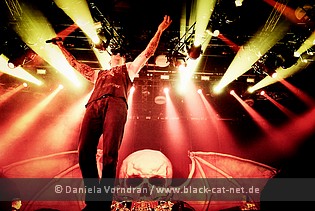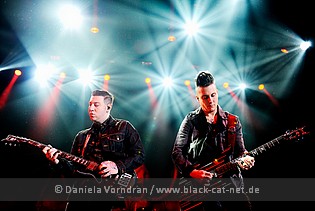 Music & Performance
AVENGES SEVENFOLD ruled from the start, the crowd responded strongly to musical performance and stage acting and singer M. Shadows thrones above it all, the mix was good too. Vocals were loud enough but not too loud and the guitars went along well. Bass and drums held everything together making it a fine musical experience. Besides that, the stage design was perfect, with a huge backdrop showing the skull of the current album cover. Anything was underlined by a fabulous light show as well as lots of pyrotechnic effects and fire on stage. Of course, the musicians showed that they are great musicians, there was a guitars solo as well as a band jam session where anyone could prove his abilities. All in all me, and the rest of the crowd (or so I believe) were satisfied with the gig, so that I was driven into buying an A7X shirt.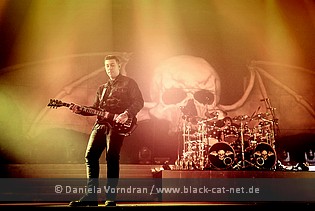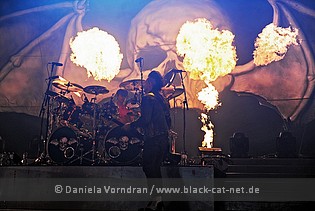 Setlist
01. Shepherd of Fire
02. Critical Acclaim
03. Welcome to the Family
04. Hail to the King
05. Doing Time
06. Buried Alive
07. Fiction
08. Nightmare
09. Afterlife
10. Guitar Solo / Band Jam Session
11. Requiem
12. Bat Country
---
13. Chapter Four
14. Unholy Confessions

Rating
Music: 8.5
Performance: 7.5
Sound: 9
Light: 8
Total: 8.2 / 10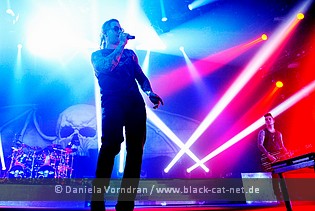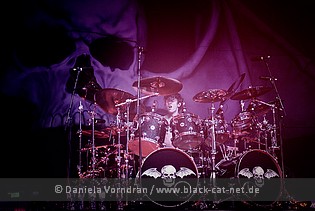 All pictures by Daniela Vorndran (http://www.vorndranphotography.com / http://www.black-cat-net.de/ / http://www.facebook.com/blackcatnet)



See also (all categories):