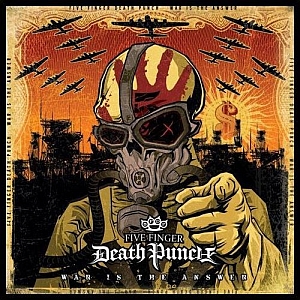 Title: War is the Answer
Artist: Five Finger Death Punch

Genre: Thrash Metal, Hardcore
Release Date: 25th September 2009
Label: Spinefarm
Album Review

FIVE FINGER DEATH PUNCH was formed in 2005 and in about a year, the formation recorded the first album 'The Way of the Fist' that appeared to be rather successful, immediately attracted the attention of the audience and even got Metal Hammer's Golden God Award for Best New International Band. Now the quintet from Los Angeles which is also known for the devastating live shows, comes with the sophomore CD 'War is the Answer' released in September 2009. For me this album became the first introduction to the band's music and after the fourth listening to it I can say that FIVE FINGER DEATH PUNCH produces a rather good impression.
The first song, powerful and aggressive 'Dying Breed', not just attacks a listener with its heavy guitars, drastic drums and extremely catchy chorus, but storms into one's head. But the rush slightly slackens as the album proceeds and the next composition is already not so tough, nevertheless greatly energetic and a bit dark. Thanks to the clean vocals and more measured melody it's getting easier to follow the lyrics. 'Bulletproof' and 'No One Gets Left Behind' continue the whole style of the CD when harshness and heaviness of the music combine with melodic catchy choruses. One more distinctive feature of 'War is the Answer' is lyrics, rather simple and violent yet thought-provoking and in this respect the songs that impressed me a lot are 'My Own Hell' and 'Walk Away'. The latter track also can stick in one's mind because of the great singing which goes perfectly with the melody. Instrumental 'Canto 34' is one of the best compositions on the album and pleasant to listen to. The final track 'War is the Answer' is the quintessence of all the aggression and brutality expressing in both music and lyrics and the logical completion for the CD.
In general FIVE FINGER DEATH PUNCH's new creation turned out to be a good and qualitative work containing interesting and meaningful songs some of which can be regarded as potential hits worthy to listen to.
Tracklist

01. Dying Breed – 2:54
02. Hard to See – 3:29
03. Bulletproof – 3:16
04. No One Gets Left behind – 3:23
05. Crossing Over – 2:54
06. Burn it down – 3:33
07. Far from Home – 3:32
08. Falling in Hate – 3:00
09. My Own Hell – 3:35
10. Walk Away – 3:42
11. Canto 34 – 4:09
12. Bad Company – 4:22
13. War is the Answer – 3:18
Line-up

Ivan Moody – Vocals
Zoltan Bathory – Guitars
Jeremy Spencer – Drums
Matt Snell – Bass
Jason Hook – Guitars
Website

http://www.fivefingerdeathpunch.com/
/
http://www.myspace.com/ffdp
Cover Picture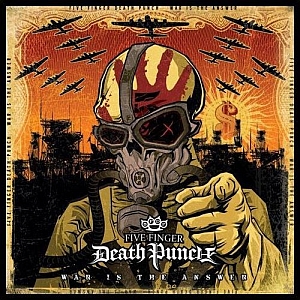 Rating

Music: 9
Sound: 9
Extras: -
Total: 9 / 10
{jos_sb_discuss:19}
See also (all categories):