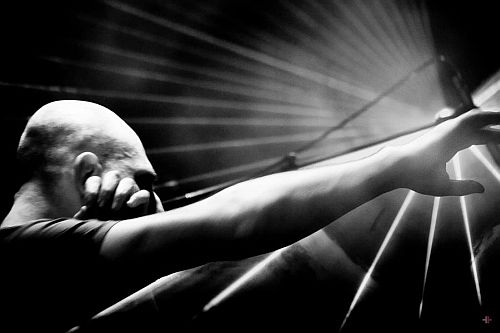 La Scene Bastille, Paris, France
23rd March 2013
De/Vision & Waiting For Words

Having missed the recent "We Love Synthpop Festival" in Oberhausen, I promised myself I will take the next opportunity to see by myself if WAITING FOR WORDS live reputation of performers was that deserved. Seeing that the French duet was on top of that sharing the stage with the cult DE/VISION for the last date of their "Rocket And Swords" tour, I spent days to catch the best plane tickets to Paris. It was with great pleasure I could make it and here I am in this very nice venue named La Scène Bastille. We must be around 150 people in the club when lights shut down and the intro of WAITING FOR WORDS starts...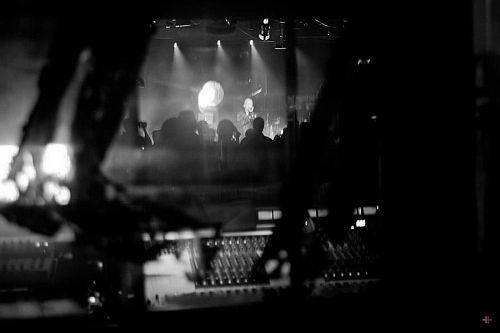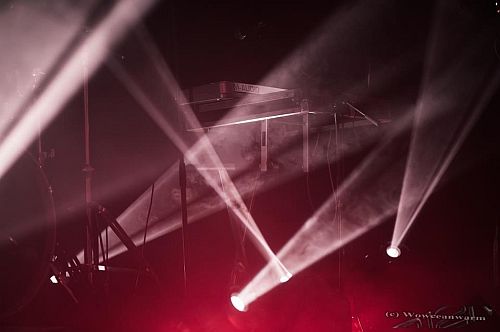 Waiting For Words

French band WAITING FOR WORDS was formed in 1990. After 9 years and 3 albums the band split up in 1999 before being back in 2004 with the album 'A Walk Through The Night' which marked a return to the electronic roots of the band. Since 9 years now, the band established themselves through massive touring (more than a hundred gigs in UK, Germany, Belgium, Switzerland, Spain, France, USA...) as one of the most important synth pop act from France. They plaid with bands like ONETWO, TRISOMIE 21, A FLOCK OF SEAGULLS, DE/VISION, PSYCHE and have been invited by no less than ORCHESTRAL MANOEUVRES IN THE DARK to open for them in Paris on May 18th . Their last album, 'Follow The Signs' released in January 2012' was critically acclaimed around the world, charting in US (a different drum), Germany (poponaut) and many other places for weeks, featuring hits like 'Miles Away', 'The Curve' or 'Pain'. The Follow The Signs Tour started in January 2011 is scheduled to last at least until July 2013. WAITING FOR WORDS is ZeN (vocals, keyboards, programming) and Soe V (vocals, keyboards) and live additional keyboards played Peter Rainman of People Theatre. http://www.waitingforwords.com / https://www.facebook.com/Waiting.for.Words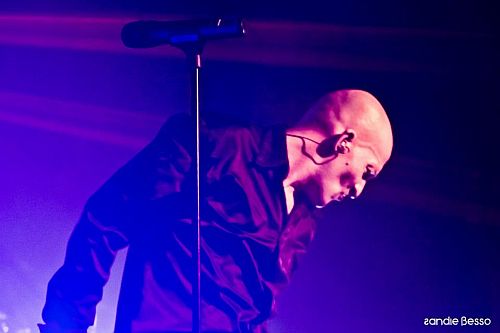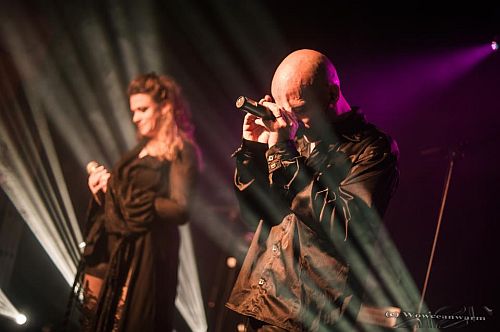 Music & Performance
For this gig, celebrating the 23rd birthday of the band, WAITING FOR WORDS didn't use the video projections and completely re worked their set, promising to their fans it would be a unique list, mixing long time no plaid song, never performed ones and classics. On the "long time no play", the band starts the show with a reworked version of Commuter's remix of 'Here Comes The Shame', not played for years. A great kick ass start! Strong electro bass on hard beats, close to EBM. For this date, ZeN and Soe are accompanied by Peter Rainman from the act People Theatre on keyboards and backing vocals. The light show is absolutely superb and the audience welcome is very loud! Obviously, WAITING FOR WORDS have a strong fan base and it's a real communion between the band and their fans I'm witnessing. 'Above The Sky' in its remixed version, very groovy, follows. The mix of ZeN and Soe's voices is fantastic. The now classic of the band's repertoire 'The Curve' is sounding very, very powerful and the performance of ZeN on this track is awesome. With such a light show and such a band, I imagine easily this on a large live stage in front of thousands EBM/ Synth Pop fans! ZeN's ends up on his knees while Soe's voice is haunting the place.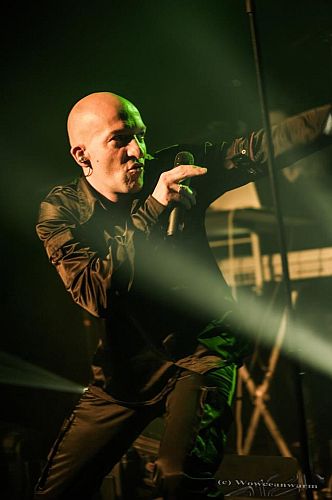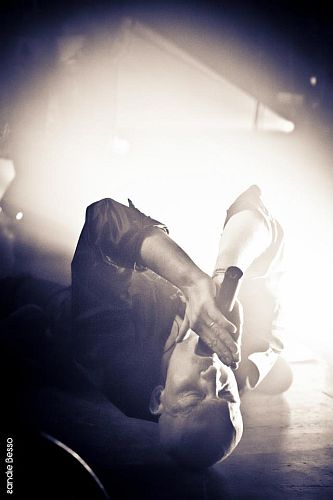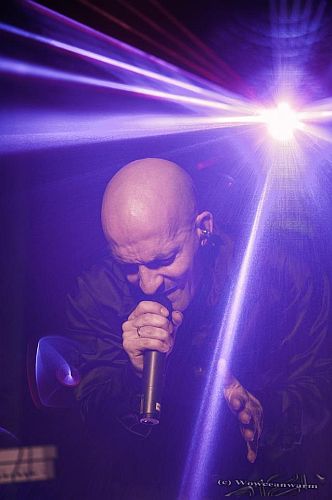 Following is the first surprise of the set, a smashing cover of HEAVEN 17's classic 'Let Me Go'. They appropriate the song and makes it like one of their own (like many of the covers they do). Vocals are perfect and Peter's backing are a great addition. At this point, the celebration with their fans is complete and will not decline. A strong 'Travelling Man' (Rings The Phone Remix) follows before ZeN moves back to keyboards switching the front stage with Soe that performs live for the first time a song on her own. It's the French track from the last album 'Mon Ami', that, from what I heard, has never been performed live on the tour. Amazingly, we have the feeling Soe has done that all of her life, joking with the audience and feeling comfortable. ZeN comes back to the front for another French song, 'Alice Dans La Lune'. I thought, as well as a lot of fans in the place, it was a totally new song from WAITING FOR WORDS. I then learnt it was an obscure cover of the French singer Nicola Sirkis, the leader of the band INDOCHINE, that was released in the early 90's on his solo album. The results is stunning and they could easily release it as a single on their own. Very pop, very synth, great vocal melody, the audience loves it.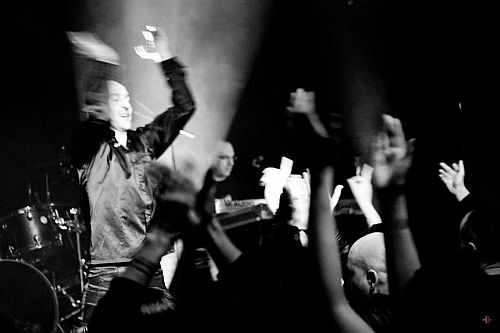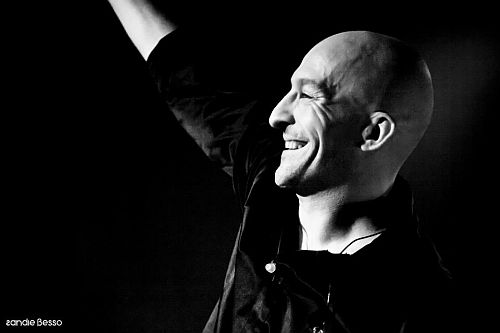 Soe is then joining ZeN on the front for their hit 'Miles Away'. This special version starts as People Theatre's almost acoustic remix, Airport Version. The emotion is there, a piano, the 2 voices and the audience literally hypnotized when, after the first chorus, a strong kick drum starts to introduce the "normal version". The fans are going mad and sing along the "Oh oh oh you're Miles Away" which seems to moves ZeN a lot. The rest of the show is a pure succession of hits and the pressure will never goes down, still embellished by splendid laser and light show: 'Cause I Do Believe' (the first single of the band in 1992 consistently reworked over the years), 'Someone Somewhere in Summertime' (SIMPLE MINDS cover that seems to become a classic of their set) and the second solo number of Soe, a cover of DEPECHE MODE's 'See You'. Very interesting and minimal electronic, ZeN on keyboards is performing some great solo lines and Soe still enjoys her solo part. The show ends up on an apocalyptic version of 'Follow My Voice' (2012 Arrow version) that put the house on fire.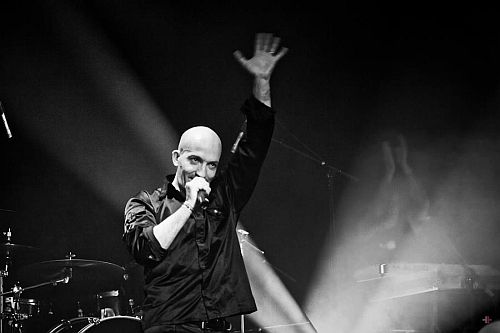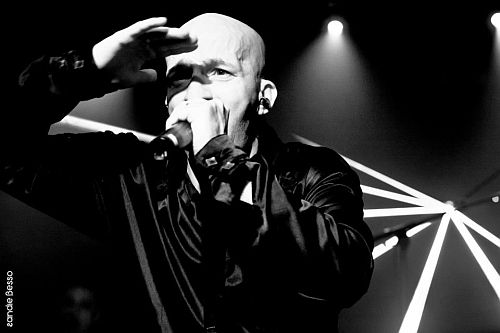 Too bad the band can't do an encore and it's with great emotion in their voices that the 3 lads say goodbye to a screaming a crazy audience.

Setlist
01. Here Comes The Shame
02. Above The Sky (Remix)
03. The Curve
04. Let Me Go (Heaven 17 cover)
05. Traveling Man (Rings The Phone Remix)
06. Mon Ami
07. Alice Dans La Lune (Nicola Sirkis cover)
08. Miles Away
09. Cause I Do Believe
10. Someone, Somewhere in Summertime (Simple Minds cover)
11. See you (Depeche Mode cover)
12. Follow My Voice (2012 Arrow Version)

Rating
Music: 9
Performance: 9
Sound: 9
Light: 9
Total: 9 / 10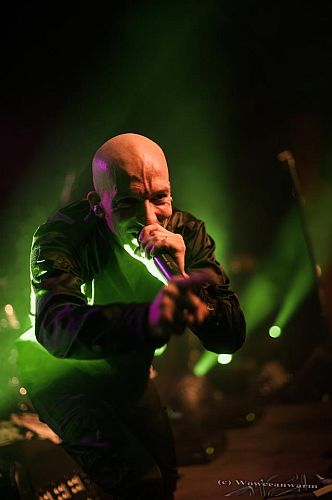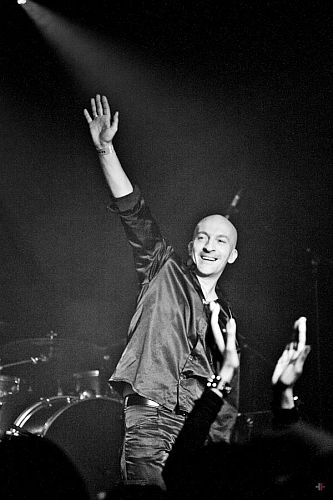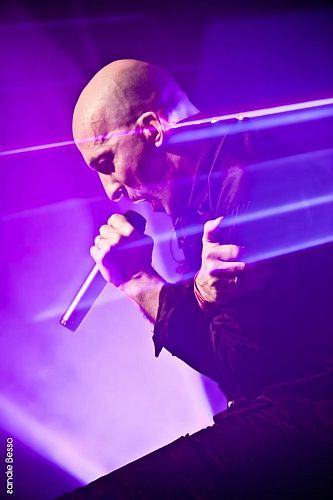 De/Vision

A band that doesn't really need to be introduced, DE/VISION, are one of the milestones of Synth Pop in their native Germany and worldwide. They have begun their journey in the remote 1988 and now their massive back catalogue numbers 12 full-length albums and countless singles and EPs full of moving and lyrical melancholic music with meaningful touching lyrics. Last year, 'Rockets & Swords' was released, an album that one more time proves band's ability to produce high-quality sound in their prominent recognizable style. This show is the last of the Rockets and Swords Tour before the band focus on a series of shows in UK supporting MESH, then some festival and later this year a 25 years Best Of Tour in Germany. DE/VISION is Steffen Keth (vocals), Thomas Adam (keyboards) and additionally live on drums there is Markus. http://www.devision-music.de / https://www.facebook.com/pages/DEVISION/24741337633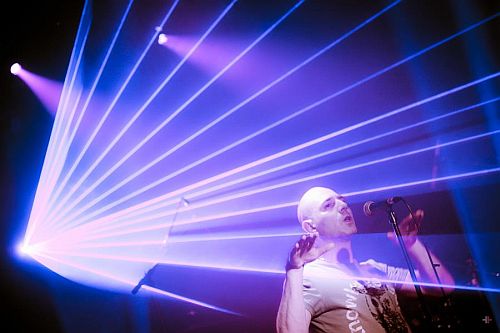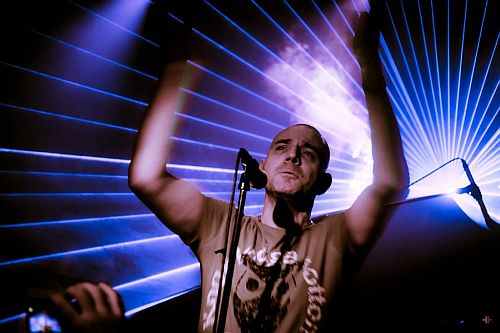 Music & Performance
Not even 15 minutes after WAITING FOR WORDS performance, lights go down again and DE/VISION enters on stage on 'Bipolar'. The audience welcome is loud, the sound is pure and powerful and the lights, still operated by the same guy, are pure magic. The only and major downside to DE/VISION is the use of acoustic drums, a statement shared with many, many fans over the world since the beginning of this tour. Not that Markus is a bad drummer, far from it. Not that drums are not a great addition to an electronic act. I'm a huge fan of 2003's Devolution Tour... but the mix of electronic music on one side with all programming and stuffs and this Rock rough drums on the other side gives a feeling of incoherence in the sound that often wastes the end of result. Once you pass over this disappointment, hopefully, the band's charisma and incredible setlist allows everyone to spend a really enjoyable moment. The set list focuses a lot on 'Rockets And Swords' with 'Bipolar', 'Superhuman', 'Beauty Of Decay', 'Binary Soldier' and the splendid Mystified.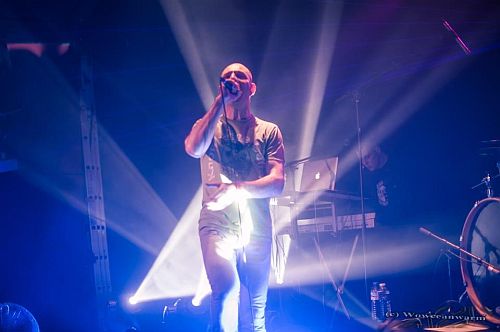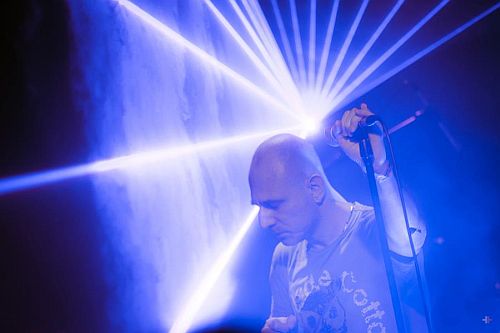 It's also very pleasant to see that, over the last tours, the band managed to have its latest releases becoming classics of their sets: 'What's Love All About', 'Time To Be Alive', 'mAndroids', 'Rage' or 'Flavour Of The Week' are as well received as past classics. And on those past "moments we shared", we enjoyed 'Try To Forget', still a very efficient and powerful live track, 'Strange Affection', 'I Regret' and of course, the ultimate classic of the band, 'Your Hands On My Skin'. From what I've been told, DE/VISION has been running a bit out of luck for this show: Thomas took the wrong laptop and they couldn't perform 'Brotherhood Of Man' as intended, and Thomas again had a problem to his ribs, avoiding him to sing the already cult track 'Kamikaze'. The great moment of the show was undoubtedly the end sequence from 'mAndroids' to 'Flavour Of The Week'. It's great to see what a great vocalist Steffen became over the years. I remember seeing him live in the late 90's and I was a bit disappointed by his vocal performance often out of tone. No signs of that times here. His vocal performance is perfect, haunting and powerful. This compensates a not very talkative feel. Hopefully, Thomas often speaks to the audience... a bit like A-HA where all communication from the band to the audience pass through Magne while Morten remains silent and focused on his vocals.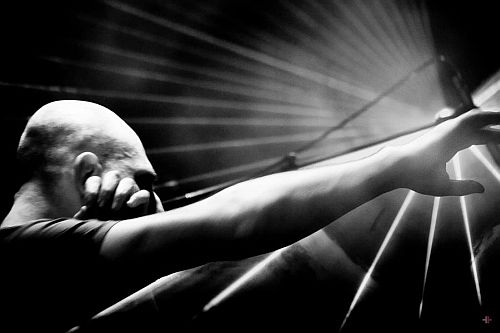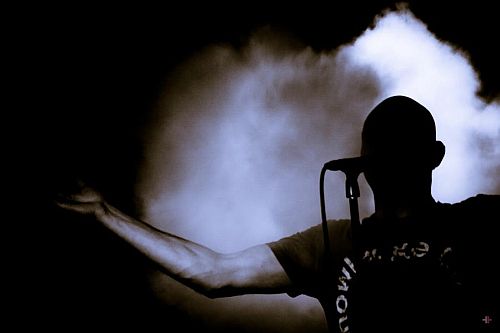 Unfortunately I couldn't stay at the end of the show, but from what I've been told, the evening was far from being finished. The two bands spent times with the public around the merchandising stand, signing stuffs and taking pictures with fans before moving to a bar close to the venue for an after-show with the fans that lasted late after 2 o'clock in the morning! To sum it up, a great show that I will remember for sure for many years. It's hard and useless to compare the two bands but the rule is I have to rate the two shows. I must admit that to me, WAITING FOR WORDS was a real surprise and their show carried on much more emotions. Their sound was more coherent and the contact with the audience much more emotional and human. To DE/VISION credit, their tour was long and exhausting and Steffen has never been known to be the greatest performer and talkative person on earth. As ZeN told at the end of his set, with the two bands that night, we had 48 years of Synth Pop on stage (23 years for WFW, 25 for D/V). Surely an event not to miss!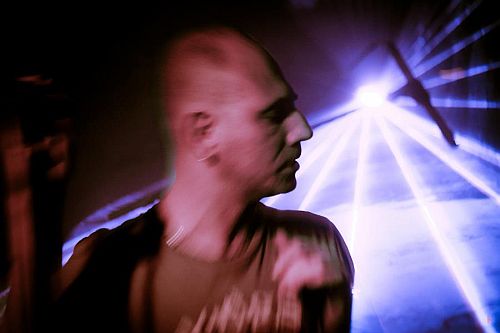 Setlist
01. Bipolar
02. Try to forget
03. Strange affection
04. Superhuman
05. What's love all about (Kant Kino)
06. Time to be alive
07. Beauty of decay
08. Binary soldier
09. I regret
10. mAndroids
11. Rage
12. Mystified
13. Flavour of the week
---
14. Your hands on my skin

Rating
Music: 8
Performance: 7
Sound: 9
Light: 9
Total: 8.3 / 10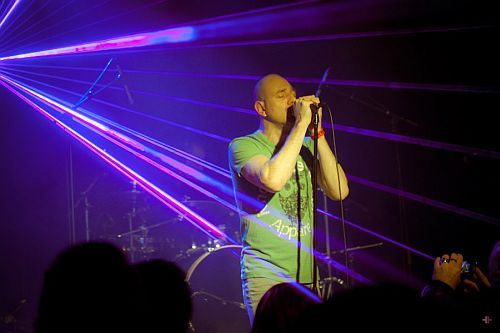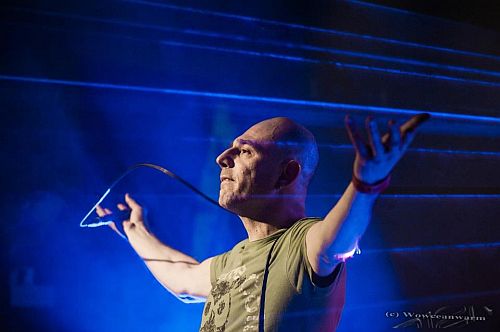 All pictures by Sandie Besso, Marc O' Carion Moc and Mark Kultajev



See also (all categories):