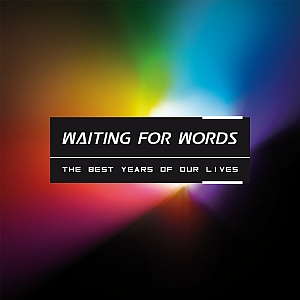 Artist: Waiting For Words
Title: The Best Years Of Our Lives
Genre: Cold Pop / Synth Pop / New Wave
Release Date: 27th April (Digital) / 16th May (CD) 2015
Label : Foundry Records/WFW
Album Review

March 2015 marked the 25th anniversary of the French synth pop act WAITING FOR WORDS. But the band could not celebrate the event without something. The duet comes back today with a full 16 covers album (+ 6 digital bonus tracks). 'The Best Years Of Our Lives' also marks a new step in the long time collaboration with Peter Rainman, from People Theatre and Adan & Isle as the full album is co-produced, co-mixed and mastered by the man. He is also part of the line up on keyboards, programs and backing vocals. Some of the covers were known for having been performed live during the tour, but most of them are new.
So, who do we have here? On the, not to say expected, but not surprising artists covered: Yazoo, Joy Division, INXS, The Cure, Simple Minds, Heaven 17... And on the other side, Waiting For Words explores some new territories: The Beatles, Niagara (a famous French band that had some major successes in the 80's and 90's in France), David Bowie, Nirvana and even... Bob Marley. You've noticed too? A synth pop act releases a cover album without any track from Depeche Mode! Already an achievement in itself... I'll cut the story short... this is one of the best cover albums I've heard in a while. And for sure, one of the best albums heard since the beginning of the year.
As someone said in the past:
"When you cover a song, make it better or make it different"
. WAITING FOR WORDS does both. And most of all, they appropriate each song and add their own twist to it. 'Someone Somewhere in Summertime' and 'Let Me Go' for example won't be a shock to anyone compared to the original, but at the same time, they come with something unique out of it. The album starts with INXS' 'Elegantly Wasted'. Not the most famous hit of the Aussie cult band. Strongly driven by an hypnotic bass line and metallic sounds, it merges with a true organic feel with the performance of the first guest, Frank Tizzoni, a French musician playing in a band named The Blues Experience, on harmonica. ZeN's vocals are supported by some great ethereal backing vocals from Soe and Peter. A real smash, very promising for the live shows, bringing both Blues AND Cold Electronic.
Then, the cult CURE's 'Lullaby'... and the ability to draw inspiration from other sources in one track. Funny though, I reviewed recently the Alfa Matrix tribute to THE CURE and this track just blows the all tribute in one shot! A weird mixture of EBM sounds with ethereal layers. ZeN's vocals are on top and Soe's angel voice taking the song to a higher level. HEAVEN 17's 'Let Me Go' is a perfect follow up. Pure synth pop style and not much to add since the EP's review. This song became a key song in their repertoire over the last months of their previous tour and this studio version set it in the stone with a massive production. It's now Soe's turn to take the lead for a great French song, 'Pendant Que Les Champs Brûlent' ('While the fields are burning') from the French cult band NIAGARA. I was a bit young to know about that band at the time but I can remember this song and the great video coming with it. From a bluesy pop song, WAITING FOR WORDS turns it into a trip hop / electro ballad and Soe's vocal performance is mind blowing. Without any doubt one of her best performance. She's now full of insurance. Having performed live for a full tour surely straightened her vocal skills. The song ends up on a great analogue synth solo jamming with soulful vocal.
OMD's 'Secret' comes next with another guest, former WAITING FOR WORDS' guitar player, Théo Crepet. It sounds fresh and new, driven by a nice crystal guitar riff reminding of SIOUXSIE's early guitar sound. A perfect summer hit. Vocals harmonies between ZeN and Soe are just perfect and their cover reminds how great this song is, and how under estimated it is in OMD's repertoire. There again, the work in terms of production is massive and the performance absolutely fantastic. The 2nd single of the EP, NEW ORDER's 'Vanishing Point' comes in perfectly (see EP Review), bringing a House / Synth pop Hi Energy feel. One of the most awaited collaboration comes next with the featuring of PSYCHE for YAZOO's 'Bring Your Love Down'. And this is a major one! Darrin and ZeN deliver a strong vocal performance on a track they had the opportunity to perform often live on their common tour. They manage to capture the live energy on to the studio recording and ZeN explores some soul rock ranges we're not used too, and it works perfectly. As Darrin himself told on his Facebook page: "funky". Great synth solo and multitude of different breaks embellish it.
As per the surprises, the superb 'Dear Prudence', very trip hop / electro. The band presented it as a "Beatles produced by Kraftwerk". ZeN explores some high notes and it suits him pretty well indeed. He probably delivers one of his best vocal performance as well as a solid drum performance. Another French song follows. A strange one in fact. From what I understood, INDOCHINE's leader, Nicola Sirkis released a cover album early 90's. Covering music and writing some new French lyrics to those. 'Alice Dans La Lune' is in fact a YOUNG MARBLE GIANT song, 'Brand New day'... but there's no common point between the two songs as Sirkis made it at the time a fresh pop song much more elaborated than the original punkie song. And WAITING FOR WORDS follow those footsteps turning it into a stunning and uplifting synth pop hymn. Much more electronic than the live version released last year in their DVD/CD 'Live In Paris, Volume 2'. Even for non-French speakers, this one is another hit.
A 2nd INXS cover of the album comes next: the cult 'Don't Change' and it is another smash! At this point of the album, we realize how much work have been put into the vocal arrangements and performances. The combination of Soe's and ZeN's vocals can give some absolute wonders, and this one is the perfect example of it. 'Iron Lion Zion' follows. BOB MARLEY covered by a synth pop act? Might sound weird on the paper, but "Synth Reggae" works quite well, driven by a strong bass and some excellent synth parts. THE CURE is again covered, this time with Soe on vocal for 'A Forest'. A true TR808 beat, built by layers, brings a progressive feel to the track and a crescendo pressure. It starts very smoothly minimal electro and ends up on a great synth solo duetting with Soe's ethereal feel to the cult "Again and again and again..." part. Stunning and closer to early NEW ORDER than THE CURE to be honest. And here is where this album scores points. You completely forget about the original songs and discover some totally new approaches to those.
Another awaited featuring with YS ATLOV', for whom ZeN performs live keyboards on tour. The vocal duet is on PET SHOP BOYS' 'So Hard'. On a very Hi Energy / Disco / Giorgio Moroder uplifting dance hit, the 2 voices mixes perfectly, Ys bringing her soul feeling. A serious contender to drive the 3rd EP already planned for the summer. Coming next, DAVID BOWIE's 'Heroes'. What could someone bring to this multi times covered song? Obviously a lot. Another KRAFTWERK approach and a very interesting vocal appearance of a French artist, AUBE L. An absolutely amazing voice! Deep, soul, exploring from the lowest possible vocal range to the highest. And not only Aube L is an amazing vocalist... she also performs some very interesting guitar parts while ZeN is exploring drums again on top of pure electro loops. An eight minutes progressive trip, once again built with multiple layers coming next after next.
And to conclude the album, the JOY DIVISION 'New Dawn Fade' with another smashing vocal performance of ZeN on a minimalist electro chill out version of it. In fact, the cover is closest to MOBY's version than the original but with a darker tone with haunting choirs and dark and deep synth pads on top of industrial/ Trip Hop drums. To sum it up, this album is much more than a simple cover album. This collection of song is an incredible summary of 25 years of music. It also brings some great encounters with all those great artists participating to this album. It's a beautiful and really creative album. The choice of the artists and songs is to be also credited. The right balance between big hits, but not big enough to suffer the shadow of the original or lesser known tracks that will certainly live a 2nd life. Clearly, the best years of their lives are the ones to come! If I could, I would have score it a 20!
NOTE: The album is only available through the band's store and their Bandcamp. Two 5 tracks digital EP's are included for free. The first one already released last month with 3 exclusive covers (see review HERE) and the next one scheduled for June with some more exclusive tracks.
Purchase links:
https://www.weezevent.com/Waiting-For-Words-FR
/
https://waitingforwords.bandcamp.com/
Tracklist

THE BEST YEARS OF OUR LIVES - CD/Digital

01. Elegantly Wasted (INXS - feat Frank Tizzoni on Harmonica)
02. Lullaby (The Cure)
03. Let Me Go (Heaven 17)
04. Pendant Que Les Champs Brulent (Niagara)
05. Secret (OMD, feat Theo Crepet on guitar)
06. Vanishing Point (New Order)
07. Bring Your Love Down (Yazoo - Duet with Psyche)
08. Dear Prudence (The Beatles)
09. Alice Dans La Lune (Nicola Sirkis)
10. Don't Change (INXS)
11. Someone, Somewhere in Summertime (Simple Minds)
12. Iron Lion Zion (Bob Marley)
13. A Forest (The Cure)
14. So Hard (Pet Shop Boys - Duet with Ys Atlov)
15. Heroes (David Bowie - Duet with Aube L)
16. New Dawn Fades (Joy Division)
LET ME GO/ VANISHING POINT Digital EP

01. Let Me Go (Heaven 17)
02. Vanishing Point (New Order)
03. Living On A Celling (Blancmange)
04. Come Together (The Beatles)
05. All Apologies (Nirvana)
DON'T CHANGE / BRING YOUR LOVE DOWN Digital EP

01. Don't Change (INXS)
02. Bring Your Love Down (Yazoo - duet with Psyche)
03. Le Baiser (Indochine)
04. Duel (Propaganda)
05. Lullaby (The Cure, Alternative Radio Live Session)
Line-up

Vocals, keyboards, programming and drums – ZeN
Vocals and Keyboards - Soe V
Vocals, keyboards, programming - Peter Rainman (from People Theatre)
Guests:
Guitars - Theo Crepet
Harmonica - Frank Tizzoni
Vocals - Darrin Huss (from Psyche), Ys Atlov & Aube L
Website

www.waitingforwords.com
/
www.facebook.com/Waiting.for.Words
Cover Picture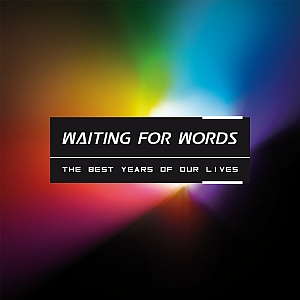 Rating

Music: 10
Sound: 10
Bonus: 10
Total: 10 / 10
See also (all categories):