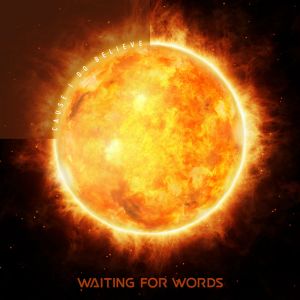 Artist: Waiting For Words
Title Cause I Do Believe EP
Genre: Synth Pop / New Wave
Release Date: 2nd September 2017
Label: Foundry Records
Review Flash

After having explored covers for a couple of years, and just three months after their THE CURE project, WAITING FOR WORDS is back in real business and announces the release of their 9th album, 'Egocracy', due for release on January 2nd 2018, 25 years after their debut album 'Tranquility'. As a preview of it, they re-recorded their first single 'Cause I Do Believe'.
It might be a well-known track as it has been re-recorded a couple of time in the past (1998 and 2005, not to mention multiple remixes over the years), is always a strong moment in their live show and their 2006 video of it (the band appearing in a SIMS animation) was very popular, somehow, they manage to make it sound like a fresh brand new track. The production is massive and see the return of the long-time collaborator, Steve Prestage, at the mixing desk. "This song is really the band's anthem since decades. But somehow, I was never quite satisfied with the studio versions. And most of all, there was no version of it with Soe's splendid vocals and Peter's touch" says the press release.
And the result is a pure anthem that will stick to your brain… again. A standard that summarize what WAITING FOR WORDS is all about: a crossroad between synth pop, new wave, modern electro and melancholic pop. The EP also presents a surprising smashing electro club cover of PRINCE's 'The Future', the radio edit of THE CURE's 'Pictures Of You' and a refreshed Club Mix of 'Cause I Do Believe'.
Conclusion: This EP is a brilliant way to have WAITING FOR WORDS back and have us eagerly waiting for their new album. A very good transition between their past… and the future.
Rating: 9 / 10
See also (all categories):