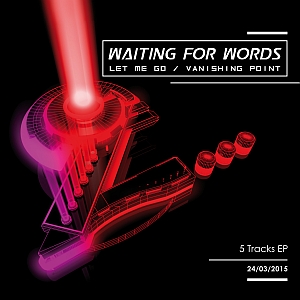 Artist: Waiting For Words
Title: Let Me Go / Vanishing Point EP
Genre: Synth Pop
Release Date: 24th March 2015
Label: Foundry Records / WFW
EP Review

While WATING FOR WORDS' leader, ZeN, was more focused on performing keyboards live for artists such as YS ATLOV or his long-time friends Peter Rainman, aka PEOPLE THEATRE, nothing new was expected from the band so soon after the end of their tour last year and the release of two live DVDs. It came a bit as surprise when a couple of weeks ago, a press release was sent out announcing a new album, singles and some live shows to celebrate their 30th anniversary. 30 years... sounds quite amazing for an indie band, especially in France where nothing is really made to help alternative artists to survive that long. We'll have time to discuss that in a later interview with the band for sure! So, the album 'The Best Years Of Our Lives' to be released on May 16th will consist in covers from various artists, from THE BEATLES to NEW ORDER, OMD to BOB MARLEY (yes, a synth act covering Bob), BOWIE, THE CURE to PET SHOP BOYS, INXS and many more. For this project, Peter Rainman is involved as a full member of the band on keyboards, production and even some vocals. As ZeN stated in the press release:
"This is not just a simple cover collection. It's a real new album we've been working on for a year"
. To prove it, they release a 5-track digital EP – only available for those who pre order the album now – 'Let Me Go / Vanishing Point'. Three of those tracks are non-album tracks and exclusive to this EP.
As in the old times, they chose to promote two songs at the same time (Double A side as we called that): First comes HEAVEN 17's 'Let Me Go'. The band already used to cover it on the last leg of the tour and it soon became an instant fan favourite. What a symbol to choose this song to celebrate three decades of independence. As soon as the beat starts, we know what will come: a massive wall of sound strongly drive by beat and bass. The vocal is aerial and smooth to start with and Soe's voice to double ZeN's is perfectly mixed. Peter's vocals on the chorus and bridges re enforces this vocal wall. Progressive layers comes the ones after the others, Arpeggiator and synth basses with very smart pan effects really put you IN the song. Very loyal to the original, it brings a freshness to this gold hit that already passed more 35 years without being dated. 2nd single is NEW ORDER's 'Vanishing Point'. Not the most famous NO's hits, it was the 3rd or 4th single taken from the, at the time, underrated Ibiza album 'Technique' (1989). The cover, at first listen, is not a major shock compared to the original. Even some sounds are quite similar... but the more you listen to it, the more you find the WFW touch. They got rid of the house rhythm piano to replace it by a melody that was on the 12" version, basses are stronger and the background is full of very nice synth sounds. But the main thing here is definitely vocals. We have here one of the best performance of ZeN. And when you don't expect it... Soe's aerial and so magical voice appeared for the last verse to conclude what is certainly mean to be a future live classic of the band.
And now come the real surprises... First of which, THE BEATLES' 'Come Together'. What a challenge to cover a track so driven by real bass and drum. Guess what? It works damn well. Huge synth bass upon electronic drums (recorded live), guitar solo replaced by large sounding synths surrounding all the space. Note that Peter brings also some very, very good backing vocals. And the last 1min 20-ish are just smashing... Psychedelic synth solo, drums getting stronger and stronger and ZeN going to high range. Then 'Living On A Ceiling', the cult BLANCMANGE 1983 hit takes you straight to the dance floor. Very clubby rhythm, strong basses. Once again, the production and mixing work is to be highlighted. It seems the team ZeN / Soe / Peter is going to bring some rarely heard type of arrangement in the synth pop area, the three lads completing each other. I don't think I ever heard any PEOPLE THEATRE production going in such a wild style. We're million "miles away" from his future pop or club productions. And he brings to the band his production skills and sense of groove that makes him one of the most requested talent.
And the EP concludes by THE smashing bomb: NIRVANA's 'All Apologies'. While the band already performed a nice chill out version of it a couple of months back for a French radio show... we would have expect a similar version but no. They turned it into a powerful, almost EBM, kick ass version that will certainly set a couple of dance floors on fire. The production is even bigger than the previous tracks. And those three last tracks are "only" B Sides! What to expect on the forthcoming album? While most of the French synth pop scene just delivered what to me is probably one of the worse synth pop album of all times (not to say simply worse album), a tribute to the French pop artist Etienne Daho that certainly didn't deserved such a crap tribute, WAITING FOR WORDS, without any crowd funding, without publicity, without a lot of support, carries on their own way. Let's wait for the album... but as it sound, it's probably time to honour them as they deserve.
Note that the peer 'Let Me Go/ Vanishing Point' is available as Digital Single on the Bandcamp of WAITING FOR WORDS, but the three other tracks, once again, are strictly limited to the ones who will buy the album.
Tracklist

01. Let Me Go (cover from Heaven 17)
02. Vanishing Point (cover from New Order)
03. Come Together (cover from The Beatles)
04. Living On A Ceiling (cover from Blancmange)
05. All Apologies (cover from Nirvana)
Line-up

ZeN – Vocals, Keyboards, Drums, Programming
Soe – Vocals, Keyboards, Programming
Peter – Backing Vocals, Keyboards, Programming
Website

www.facebook.com/Waiting-for-Words
EP Available only with CD orders:
https://www.weezevent.com/Waiting-For-Words-FR
Digital 2 tracks single available:
https://waitingforwords.bandcamp.com/
Cover Picture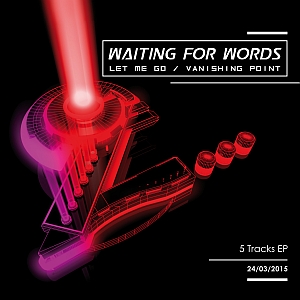 Rating

Music: 10
Sound: 10
Total: 10 / 10
See also (all categories):