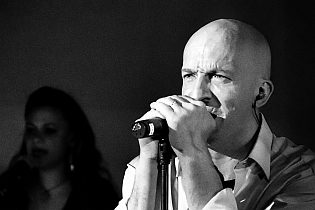 La Comédie, Nimes, France
16th July 2013
Live Act : Waiting For Words - Party : After show Depeche Mode

On most of DEPECHE MODE's dates, since ages, the after shows are generally part of a good devotee evening. The occasion to meet some other fans from different parts of the world, have some drinks with long time no see friends and occasionally, enjoy another live acts. Having been in a lot of after show parties in Germany in the past, and once in Italy, those events can sometimes be massive with up to 500 fans even more. And just like any DM related topic, debates often take place wherever an after show should be a 100% DM or not. I've always been against the DM brainwashing machine and always prefer mixed atmospheres and ZeN's after show in Nimes were advertised as such. On top of that, WAITING FOR WORDS (ZeN's band) was programmed for a special concert, out of the tour context with promised surprises.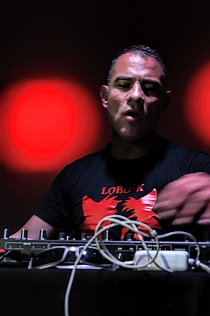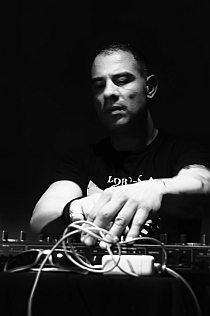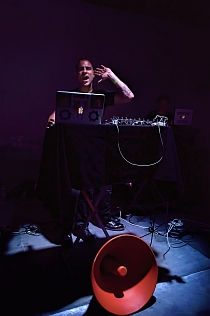 As soon as the last echoes of DEPECHE MODE's 'Never Let Me Down Again' faded away in the beautiful summer night at the Nimes arena, we then took the direction of La Comédie, a night club located 200 meters away from the arena. The venue is already half filled when we arrive and the air conditioning is probably the best thing we've felt since arrived in the heat of Nimes! The club has an industrial feel in the decoration, very metal and the sound is pretty good. Lobo-K, a DJ and event organizer is on the mix while WAITING FOR WORDS is getting ready for their live show. A lot of DEPECHE MODE but also some New Wave classics (OMD, Cure, ABC...). As the lights go down, clocks of 'New Town', the instrumental intro of their current tour, starts ticking. And obviously, there are some Wordies (the name given to WFW's fans) in the place. The band is playing in their duet formula, without Peter from People Theatre on their side, and starts with two of their latest singles : 'Pain' and 'The Curve'.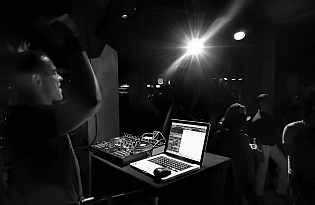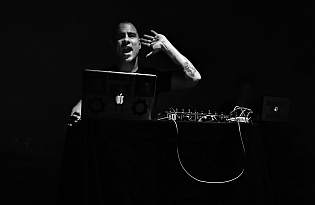 The welcome of the audience is pretty cool, although, strangely, people seems a bit "shy" to go close to the stage and everyone is packed in the back of the dance floor... close to the bar. ZeN is then announcing the great news he was teasing about since a week on his Facebook : they will give a special show to end up their 3 years tour in Paris, on November 10th. And to share the bill that night, they invited the cult new wave band HEAVEN 17 to perform for their first time ever in France. Wordies go wild as their cover of 'Let Me Go' starts then... and the dance floor starts to be filled (at last). ZeN is then moving backward to synthesizers as Soe takes the lead for a great cover of EURYTHMICS' classic 'Sweet Dreams'.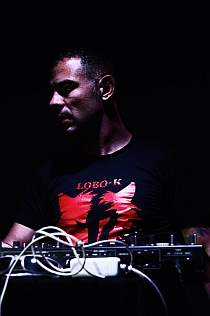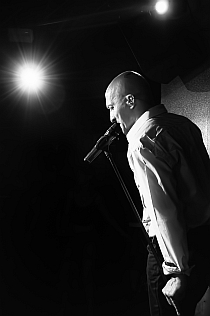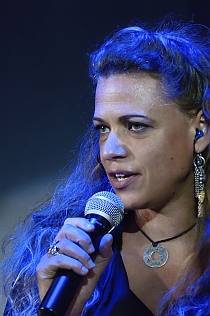 The set continues then to alternate their own hits (Miles Away, Cause I Do Believe...) with covers of HUMAN LEAGUE (Don't You Want Me) and of course, two DEPECHE MODE songs. 'Photographic', sung by ZeN receives logically a great success, fans singing along the " Bright Lights, Dark Room". ZeN is handling some keyboards parts on the long trancy electro break in the middle alongside some robotic effects on Soe's voice... Soe that will later sing their minimalist cover of 'See You'. But WAITING FOR WORDS is not just a simple cover band and it's pleasant to see that their own also receive a great welcome, the peak being their atomic 'Arrow Version' of 'Follow My Voice'. The band concludes their set by an amazing cover of YAZOO's 'Bring Their Love Down', also quite extended with some nice keyboards parts mixing synth bass of 'World In My Eyes', synth gimmick of 'Never Let Me Down Again' Aggro Mix, and the ones of 'Policy Of Truth' followed by 'Just Can't Get Enough'!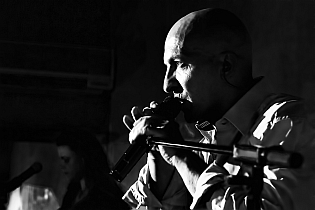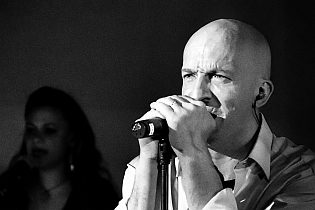 Wordies were on the moon and the ones who didn't know the band before were pleased to discover a great synth act. Once again, WAITING FOR WORDS gave a great show, both in terms of quality in the sound, arrangements, vocal performances and in terms of human skills: simple, generous and passionate, proving there was not a lot of competition in their league to dispute their position of leaders on the French scene. As soon as the live show ends up, Lobo-K is back in the mix for more Depeche Mode, New Wave (B 52's, Ultravox, Dead Or Alive, softCell, Smiths) and EBM (Front 242, Nitzer Ebb). ZeN will also mix twice, both DM and other stuffs such as Camouflage, Covenant or OMD. As per DM a good combination of album tracks, singles, remixes official or non-official and live. Highlights of DM's were - at least to me – 'Here Is The House' (Gabriel & Dresden Bootleg Reworked), 'Everything Counts' from World Violation soundboard, 'Puppets' (dominatrix Mix) or 'My Little Universe' (Universe Remix).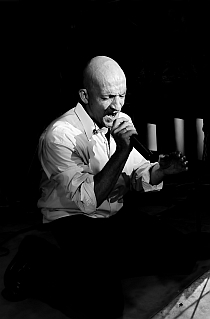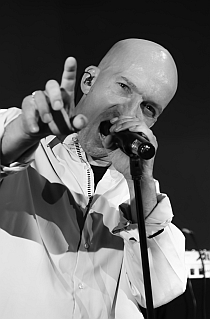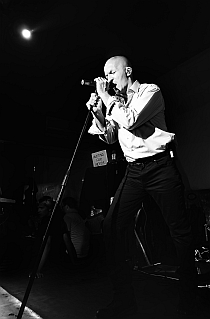 To sum it up, a great, great after show party, on a less larger scale than German ones (between 200 and 250 persons), but in terms of quality, nothing to be ashamed of or that would suffer any comparison. Nice venue, very good choices in the DJ set, wherever DM or other, good sound and a great live show. I was quite shocked when going back to the hotel to see many DM fans hanging around in the streets or having a drink in bars and not even going to such an event! It must be very frustrating for the organizers to put so much efforts in setting those kind of events and not receiving support from fans... that will then certainly complain, like we often do here in UK, on internet nothing either happens. Anyway, the band was happy, DJs were happy and the public was more than happy and 200+ is a very successful event. That matters the most in the end!

Waiting For Words setlist
New Town (Live Intro Edit)
Pain
The Curve
Let Me Go (Heaven 17 cover)
Sweet Dreams (Eurythmics cover)
Miles Away
Photographic (Club Version - Depeche Mode cover)
Cause I Do Believe
Don't You Want Me (Human League cover)
Follow My Voice (Arrow Version)
See You (Depeche Mode cover)
Bring Your Love Down (Extended - Yazoo cover)

Line-up
ZeN: Lead vocals, Synths
Soe: Vocals, Synths

DJ Sets track list available here.
DJs: Lobo-K and ZeN

Pictures by Cyril Pariaud (http://www.flickr.com/photos/cilou101/sets/)



See also (all categories):