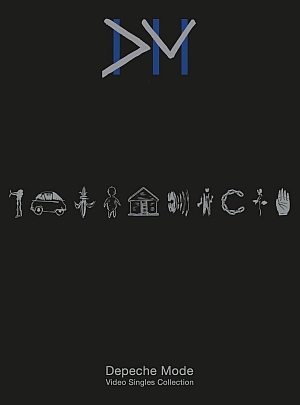 Artist: Depeche Mode
Title: Video Singles Collection
Genre: New Wave / Synth Pop / Pop / Rock
Release Date: 18th November 2016
Label: Mute Films / Sony Music
DVD Review

DEPECHE MODE - despite not making any mention of it during their recent so called press conference - just released THE 'Video Singles Collection'. And there are some very mixed news about it. The good news first. At least in 2016, DEPECHE MODE realizes the band had an history prior to 1986. This DVD is already worth it as we finally have all the video singles from 1981 to 1986. Yes… ALL, even the funny 'See You', 'The Meaning Of Love' and many more interesting pieces of history. And of course, you got all the videos post 2006 (the recent 'Singles Volume 1' included most of the 2001-2006 era). More good news come with the inclusion of rare ones such as 'Strangelove '88', 'But Not Tonight' or 'One Caress'. The bonus section presents also some interesting pieces with the 12" version of 'People Are People', the extended of 'Soothe My Soul' and alternate versions of 'But Not Tonight' and 'Stripped'. But to be honest, it's a bit poor. Daniel Barassi (the band's archivist) must have hundreds of more interesting bonus in his desk.
Not only this anthology covers the evolution over almost 40 years of one of the greatest band in the history of contemporary music, but also, somehow, the history of the promo video format appeared in the late 70's / early 80's. As Fletch says in one of his commentaries, this format appeared and nobody, from record companies to directors, TV's to artists really knew what to do about it. So they experienced and if some of them look really funny, not to say ridiculous, in 2016, you have to place them back in the context of the times. Of course, this anthology proves, if it was still necessary, that DEPECHE MODE has a massive single repertoire. And of course, the unique collaboration between DEPECHE and Anton Corbijn that gave birth to some of the best videos from 1986 to 1996. As such, this video collection is a must have.
However, there are multiple down sides to this release. Some would say some "die-hard fans" issues and it's pretty clear from the shameful press conference that the band doesn't give a single damn about them apart being the target of their jokes. First of all, the obvious one, the packaging and poor booklet. Come on. Pull out 'Strange', 'Strange Too', 'Devotional' or 'The Singles 86-98' from your library and compare. It's ugly. Simple as that. But okay, let's say the content supersedes the packaging. Hey guys. You pull out a so called complete video anthology and you don't take the opportunity to include the full 'Strange' / 'Strange Too' videos? Wouldn't it have been far more interesting to finally have on DVD the full 87-88 sequence with 'Pimpf' and the cult extended version of 'Never Let Me Down Again' and the 1990 era with 'Halo' (to many, one of the best Anton video) and 'Clean', as well as the interludes? But hold on, there is much worse to come. Really. I must warn you that if you're a long-time fan - no die-hard… just long-time - you ain't going to appreciate the band's commentary section. First of all, we can say the band was not very keen on spending too much time on it as 20 videos upon the 55 are commented. And not by all of the band members.
Most surprising, very few post 1993 videos are commented: 'Freelove', 'Suffer Well' and 'Wrong'. Yes, that's it. Three videos to cover five albums over 20 years. That gives a clue, if still needed, on the importance they give to their recent work. Worse is the content of the commentaries. Surprisingly, the most interesting and serious comments come from Fletch who gives a lot of insights on the making of those. Funny to learn that one of the 'Just Can't Get Enough' girls was Budgie's (from SIOUXSIE & THE BANSHEES) girlfriend. I won't go into many details, but to give you a hint, Dave discovers that there was no video of 'Dreaming Of Me' and 'New Life'. Should a journalist or a fan have done that, he would have been crucified by thousands of pissed off fans. We also learn from the same Dave that 'Just Can't Get Enough' is loved by fans and that they go "nuts" when it's plaid live. Should I elaborate on this or leave you to your own thoughts. And almost all of Dave's comments are at down to this level. Useless. If I was mean, I would put that on memory losses caused by his 91-96 substance abuse. Ooops, just did.
But Martin doesn't do any better. The guy doesn't even remember what Clive Richardson looks like. The man just worked with them on 'JCGE' and ALL the videos from 'Everything Counts' to 'Blasphemous Rumours'. Seven videos over five years and he doesn't remember his face? We also learn that 'It's Called A Heart' was the only one off single and they never did it again afterward. Okay. What about 'Get The Balance Right', 'Shake The Disease', 'Only When I Lose Myself' and 'Martyr'? I could go on but I ain't gonna spoil too much, letting you discover with your own ears what Martin think about their music from 1981, no surprise here, to 1985, which is a bit more disturbing. But to be fair, he's not more interested in things after 'Songs Of Faith And Devotion' either. Basically, everything, as usual, is based upon 1986-1993 to them. This will give a lot credit to all the ones claiming DEPECHE MODE has turned into a cash machine.
Conclusion: Despite the huge deception on packaging and bonus, once again, this is a must have, as, let's not forget, the primary content is the video singles collection in itself. How could anyone be totally disappointed having in one go 55 videos of our favourite band?
Tracklist

Disc 1

01. Just Can't Get Enough (directed by Clive Richardson)
02. See You (directed by Julien Temple)
03. The Meaning Of Love (directed by Julien Temple)
04. Leave In Silence (directed by Julien Temple)
05. Get The Balance Right (directed by Kevin Hewitt)
06. Everything Counts (directed by Clive Richardson)
07. Love, In Itself (directed by Clive Richardson)
08. People Are People (directed by Clive Richardson)
09. Master And Servant (directed by Clive Richardson)
10. Blasphemous Rumours (directed by Clive Richardson)
11. Somebody (directed by Clive Richardson)
12. Shake The Disease (directed by Peter Care)
13. It's Called A Heart (directed by Peter Care)
14. Stripped (directed by Peter Care)
15. But Not Tonight (directed by Tamra Davis)
16. A Question Of Lust (directed by Clive Richardson)
17. A Question Of Time (directed by Anton Corbijn)
18. Strangelove (directed by Anton Corbijn)
19. Never Let Me Down Again (directed by Anton Corbijn)
20. Behind The Wheel (directed by Anton Corbijn)
Disc 2

01. Little 15 (directed by Martyn Atkins)
02. Strangelove '88 (directed by Martyn Atkins)
03. Everything Counts (Live – from "101") (directed by D.A. Pennebaker)
04. Personal Jesus (directed by Anton Corbijn)
05. Enjoy The Silence (directed by Anton Corbijn)
06. Policy Of Truth (directed by Anton Corbijn)
07. World In My Eyes (directed by Anton Corbijn)
08. I Feel You (directed by Anton Corbijn)
09. Walking In My Shoes (directed by Anton Corbijn)
10. Condemnation (Paris Mix) (directed by Anton Corbijn)
11. One Caress (directed by Kevin Kerslake)
12. In Your Room (directed by Anton Corbijn)
13. Barrel Of A Gun (directed by Anton Corbijn)
14. It's No Good (directed by Anton Corbijn)
15. Home (directed by Steven Green)
16. Useless (directed by Anton Corbijn)
17. Only When I Lose Myself (directed by Brian Griffin)
18. Dream On (directed by Stephane Sednaoui)
19. I Feel Loved (directed by John Hillcoat)
Disc 3

01. Freelove (directed by John Hillcoat)
02. Goodnight Lovers (directed by John Hillcoat)
03. Enjoy The Silence '04 (directed by Uwe Flade)
04. Precious (directed by Uwe Flade)
05. A Pain That I'm Used To (directed by Uwe Flade)
06. Suffer Well (directed by Anton Corbijn)
07. John The Revelator (directed by Blue Leach)
08. Martyr (directed by Robert Chandler)
09. Wrong (directed by Patrick Daughters)
10. Peace (directed by Jonas and François)
11. Hole To Feed (directed by Eric Wareheim)
12. Fragile Tension (directed by Rob Chandler and Barney Steel)
13. Personal Jesus 2011 (directed by Patrick Daughters)
14. Heaven (directed by Timothy Saccenti)
15. Soothe My Soul (directed by Warren Fu)
16. Should Be Higher (directed by Anton Corbijn)
17. People Are People (12″ Version) (directed by Clive Richardson)
18. But Not Tonight (Pool Version) (directed by Tamra Davis)
19. Soothe My Soul (Extended) (directed by Warren Fu)
20. Stripped (Unreleased Alternate Cut) (directed by Peter Care)
Cover Pictures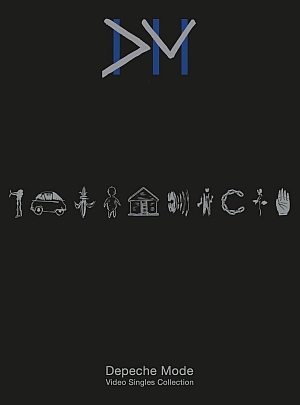 Rating

Music: 9
Images: 9
Bonus: 3
Total: 7 / 10 for the record… Packaging: 0 / 10
See also (all categories):