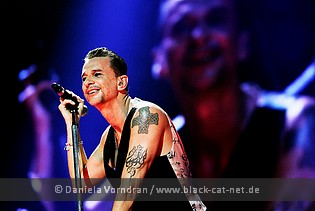 Esprit Arena Düsseldorf, Düsseldorf, Germany
3rd July 2013
Depeche Mode & Matthew Dear

With the two dates in Düsseldorf, the stadium shows in Germany were coming to an end. On 3rd July, the first of two Düsseldorf dates was taking place. Even though it was a stadium show, it had more the feeling of a huge indoor event since the roof of the arena was closed.



Matthew Dear

I arrived a little late so that I didn't see all of his show but what could listen to was really quite nice. His music can be described as electronic pop. Matthew Dear is an American (Texas) musician, dance music producer and DJ. On stage he was supported by a guitarist and drummer. Unfortunately I couldn't find a setlist and as I haven't heard of him before I don't know any of his songs, and I was not the only one since it seemed Mr Dear was unknown to the biggest part of the attending crowd. But anyway I think it was a good choice to take him as support as I liked his music and it fitted quite perfectly to the upcoming main act. http://www.matthewdear.com/ / https://www.facebook.com/matthewdear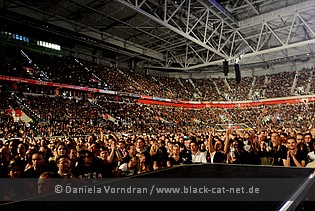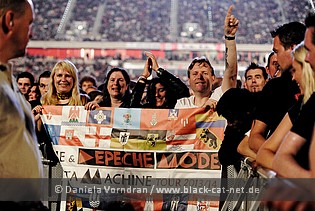 Depeche Mode

According to the local promoter, there would be 89,000 people attending both Düsseldorf shows. And with more than 44,000 fans, also the first date was packed. Only a few seats were free. Before the show started, as usually a Martin Gore compiled DJ set was warming up the masses more after Matthew Dear had left the stage. People were in quite good mood, in the front of stage area, there were several attempts starting a Mexican wave. But I guess due to the immense size of the venue, those attempts were not more than attempts and a real Mexican wave could not be seen. I remember indoor shows in the past when the waves were starting in the standing area and then rolling around the infield over the tribunes. But well, we were in a stadium and anything is different.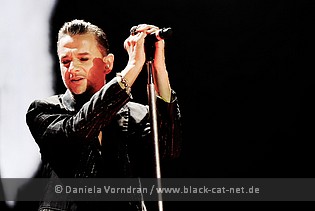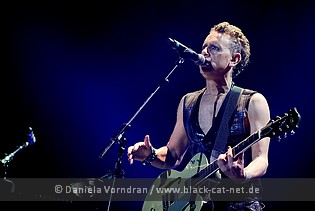 Having a stadium show, also means that there are not really experiments in the setlist. With almost only playing the older singles they were of course on the safe side. Those singles were alternated with several new songs, more new ones than in the past, and a few surprises any other show presented by Martin L. Gore. The setlist changes would probably occur during the second Düsseldorf show, since the band has a setlist B in stock, already presented during the previous double-date in London in May. Even though the changes back than were "standard" Dave songs, I was surprised since Dave is not really known for changing anything in his program.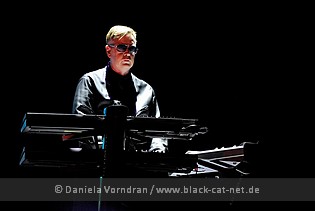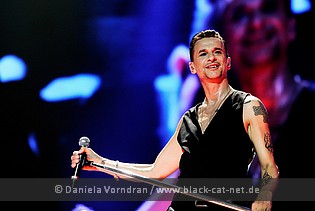 I have to mention that this was my first DEPECHE MODE concert after 30 years and it felt quite strange to find myself in such a huge venue sitting somewhere up at the side of the stage and seeing the guys on the monitors as the stage seemed to be miles away. The last time I visited concerts of them was in smaller venues and being able to walk right in front of the stage without any problems. But then nowadays you meet generations of fans which is nice in a way. Nowadays, DEPECHE MODE's venues are bigger, their light show as well (the light show was really excellent btw.) and their technical equipment for sure is better than in the older days. But nevertheless technical problems can happen and so for a minute there was almost no sound during 'Walking in my shoes' but this was fixed immediately and the show went on without any further problems.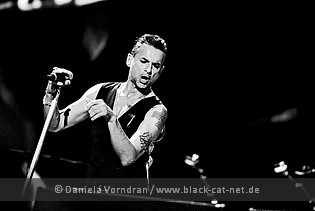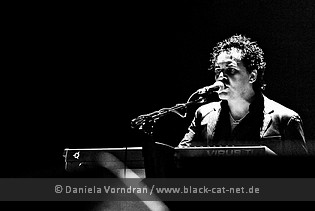 As mentioned they had three huge screens which showed the guys from different views or only parts of them as well as videos. They also showed movies created by long-time collaborator Anton Corbijn, which I think are really nice this time. Just thinking of the fire bursting during 'Should be Higher' or the nice Berlin video during 'Halo'. For their live show they had as always in the last years Peter Gordeno as additional keyboarder and Christian Eigner on drums. Duringr 'The pain that I'm used to', Gordeno changed his keys for a bass to accompany Martin Gore on front. I must say that I liked this live version for the bass line quite much. The presented Jacques Lu Cont's Remix works really well in my opinion and is quite a change to the standard version of the song.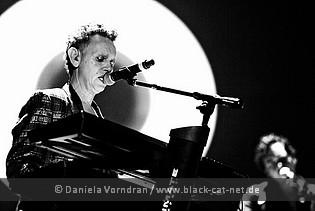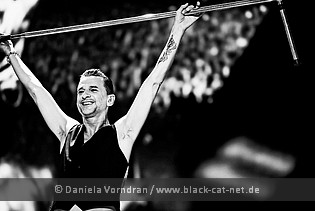 At 'Judas' Martin was accompanied only by the piano keyboard which created a very intimate atmosphere. Therefore people applauded frenetically. Just the fans' chant afterwards did not work as well as expected, but anyway Martin had a big smile on his face when demanding more from the audience. Both Dave and Martin showed up with good vocal qualities. But in my eyes the show was not that energetic as the shows I have watched on videos and in my eyes there was too much of a routine in it. Surely Dave knows that he has to make his moves every now and then to make the girls scream. And of course there are the well-known moments when they invite the audience to sing alone or with him or to wave their arms.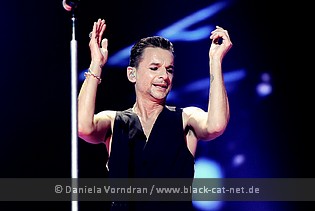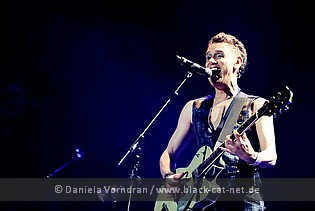 The setlist was quite long and thus there was only one encore but the guys let us wait for almost five minutes which I found quite odd. Until they were coming back, there was a collage of band photographs shown. That was something new compared to past tours, I've been told. The encore started with 'Home' sung by Martin, followed by the fantastic Goldfrapp Remix of 'Halo', presented by Dave where he showed extremely good singing qualities. Those two songs calmed extremely down and thus all people who were at the tribune took their seat. As I began to wonder if the encore will end as a kind of lullaby fortunately the next song, 'Just can't get enough', woke us up again and animated the audience to dance again.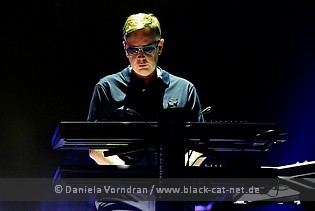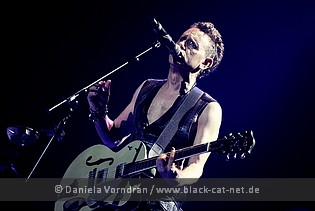 The concert ended with 'Never let me down again' and I have to say it is quite moving and impressive when almost the whole audience is waving simultaneously. All in all it was a solid concert. http://www.depechemode.com/ / https://www.facebook.com/depechemode

Setlist
01. Intro
02. Welcome to My World
03. Angel
04. Walking in My Shoes
05. Precious
06. Black Celebration
07. Policy of Truth
08. Should Be Higher
09. Barrel of a Gun
10. Higher Love (Sung by Martin)
11. Judas (Acoustic- Sung by Martin)
12. Heaven
13. Soothe My Soul
14. A Pain That I'm Used To ('Jacques Lu Cont's Remix' version)
15. A Question of Time
16. Secret to the End
17. Enjoy the Silence
18. Personal Jesus
19. Goodbye
---
20. Home (Acoustic- Sung by Martin)
21. Halo ('Goldfrapp Remix' version)
22. Just Can't Get Enough
23. I Feel You
24. Never Let Me Down Again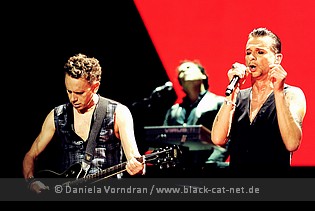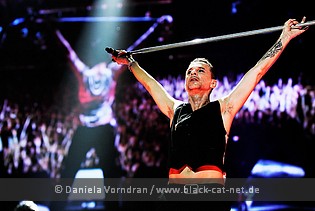 Rating
Music: 8
Performance: 9
Sound: 7
Light: 9
Total 8.5 / 10

All pictures by Daniela Vorndran (http://www.vorndranphotography.com / http://www.black-cat-net.de/ / http://www.facebook.com/blackcatnet)
See also (all categories):