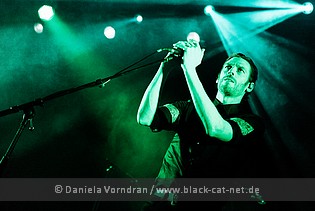 Kulturfabrik (KuFa), Cologne, Germany
10th April 2013
Archive "With Us Until You're Dead" tour & support Robin Foster

Already last November, ARCHIVE were touring through Germany and could excite their audience totally, supported also by Englishman ROBIN FOSTER, who now in Krefeld also was supporting with his band. There might be some people saying that there is no reason to see the band again just five month after their last show in the region and see the show again… on a weekday. But yes, there is a reason! And not only one! ARCHIVE delivered a fantastic show in Krefeld and also the support act could convince.



Robin Foster

ROBIN FOSTER is a British songwriter/composer based in France playing Post-Rock, Ambient music. In 2008, he released its largely instrumental debut album 'Life Is Elsewhere'. His second album, 'Where do we go from here?', followed in 2011 and featured guest vocals from Dave Pen (Archive/ BirdPen) and Ndidi O. Due to the instrumental character of the songs, Foster's music is often used for films, TV and advertising i.e. by Hugo Boss, Barclay's or HBO. He also works closely with Oscar nominated director Sean Ellis; he's currently scoring the soundtrack to 'Metro Manila' to be released in 2013. At the moment, ROBIN FOSTER is finishing his third studio album, again including collaborations with singers Dave Pen and Ndidi O. Working with Dave again might also be the reason for his current tour support. http://www.robinfoster.fr / https://www.facebook.com/pages/Robin-Foster/46536990065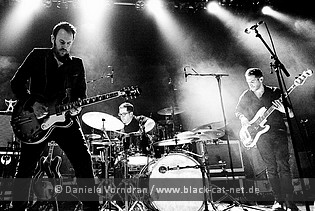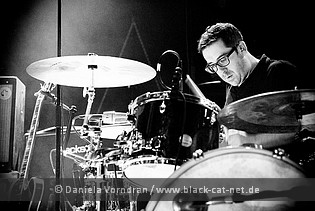 Music & Performance
Fist it did not really look like that the old slaughterhouse (that's what the Kulturfabrik once was) would fill up. But when at 20:20 the born Brit ROBIN FOSTER and his band, consisting of Gaeton Fagot (guitar), Hikit Corbel (bass), Steven Prigent (keys) and Hibu Corbel (drums), entered the stage, the hall was filled very well and at the end, I guess that nearly 1,000 fans attended the show to enjoy a wonderful evening. Robin's show started with a ELVIS PRESLEY (The king of Rock'n'Roll was also present on stage in form of several little Elvis figures) intro, and then, the black dressed musicians entered the stage, took their positions and started the show with powerful 'Loop' from the 2008 debut album 'Life is Elsewhere'. The man, mainly specialised to instrumental music influenced by bands like TALK TALK, MOGWAI, SIGUR ROS, GODSPEED YOU BLACK EMPEROR!, RADIOHEAD, NEW ORDER or also THE SMITHS, consequently went without vocals (well, there would be one exception later) and lets the instruments speak for themselves, like for example during following 'Last Exit - Brest By Night' from same titles album, presenting also fine tunes in-between lots of tempo.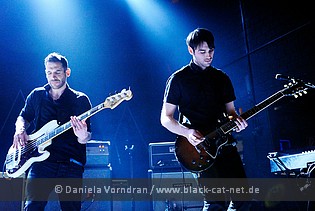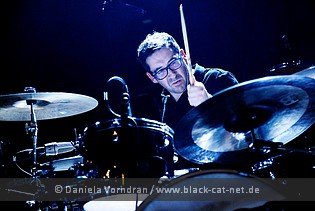 From the upcoming album 'Peninsular', the grumbling song 'Finis Terrae' was taken, which was vehemently creeping slowly into your brain. The record was financed by crowd-funding and currently only available at concerts. If you are lucky, even for free, since front man Robin likes to give away one or another copy. And so, also in Krefeld one man and one woman received a free CD. The lady even stormed the security pit, stood right in front of the artist who could not do anything else than give the album to her. A present for all was given away with the swirling soundscapes of 'This Is Not An Exit/Pen Had' following next. Soon, the song gained more dramatics and power wherefore the band received lots of applause. Foster was not only sharing stage and catering with ARCHIVE, also in the studio there were collaborations. And so, ARCHIVE singer Dave Pen entered the stage for the lively 'Forgiveness' from 2011 album 'Where Do You Go From Here?'. On the record, he took over vocal duties during several songs and also this song was completed with his slightly melancholic chant.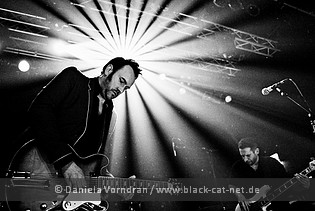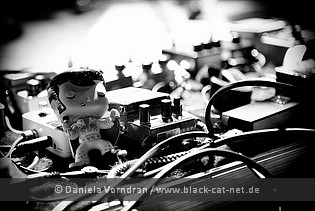 Also during final song 'Save The Cheerleader', some more support from ARCHIVE was given. This time, it was drummer Smiley, taking a seat behind the drum set and taking care for a special rhythm accentuated final of the show. One after another, the musicians left the stage – among them btw France's "second sexiest" bassist, if you want to believe Robin's saying. This was really a nice start of the evening, making you want some more…

Setlist
01. Loop
02. Last Exit – Brest By Night
03. Finis Terrae
04. This Is Not An Exit/Pen Had
05. Forgiveness
06. Save The Cheerleader

Rating
Music: 9
Performance: 8
Sound: 7
Light: 8
Total: 8 / 10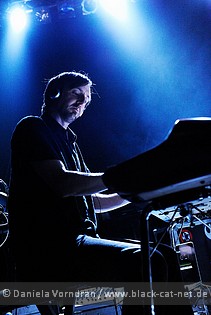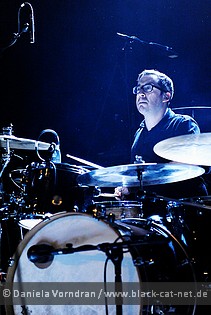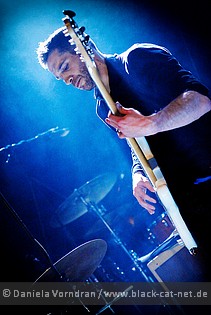 Archive

It's been 16 years that the ARCHIVE project started around Darius Keeler and Danny Griffiths in 1994. Together with the female singer Roya Arab and the young rapper Rosko John, the band released their first album 'Londinium' on Island Records in 1996. But ARCHIVE was doomed to break up the same year due to internal problems. The bands reformation, however, came to pass already in 1997 with an altered line-up surrounding Keeler and Griffiths with which they recorded and released the follow-up 'Take My Head' in 1999 which in hindsight is described by the band as their least favourite. The next three albums, released in the following years brought them back to a more progressive approach to composing their music after the poppy foray with the second album. That back to the roots attitude brought forth milestones such as 'Noise' and a few years later the highly regarded 'Lights'. 'Controlling Crowds', released in 2009 started of a four part conceptual cycle completed within the same year. The latest album, 'With Us Until You're Dead', was released in late summer 2012. ARCHIVE is Darius Keeler (synths, piano), Danny Griffiths (keys, samples), Pollard Berrier (vocals, guitar), Rosko John (vocals), Dave Penney (guitar, vocals), Maria Q (vocals), Smiley (drums), Steve Harris (guitar), Steve Davis (bass), Jonathan Noyce (bass) and Holly Martin (vocals). http://www.archiveofficial.com / http://www.facebook.com/ArchiveOfficial / http://www.myspace.com/archiveuk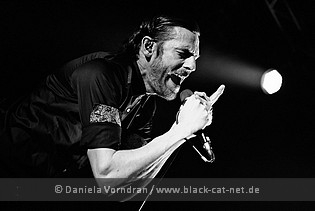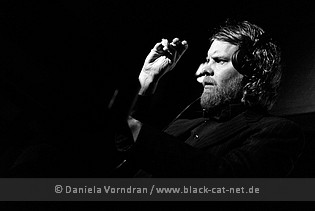 Music & Performance
Currently, ARCHIVE are not touring with the full line-up. At least in Krefeld, singer Maria Q was missing and the band completely went without a live bassist. In the back at six-string, "only" replacement Mike Bird (member of BIRDPEN, Dave Penny's second band) was acting. On their usual positions, you could find Smiley behind the drums, keyboarder Danny Griffiths on the right side, Darius Keeler with his keys on the left as well as Dave Pen and Pollard Berrier on the microphone. Latter one was active with two rattles during the opulent opener 'Finding It So Hard' from the eleven years old 'You All Look The Same To Me', before he changed to the guitars for the floating 'Wiped Out' from current studio album 'With Us Until You're Dead', making it to position 35 in German charts. Light flashes were meeting eruptive melodies now, while in the back the known band logo /\ was glowing due to LEDs in various colours. 'System' from the 2006 'Lights' album was rocking a lot with Pollard at the microphone and made people move. Then, Holly Martin (not brunet and not blonde, like in autumn) presented new material with the driving 'Hatchet'.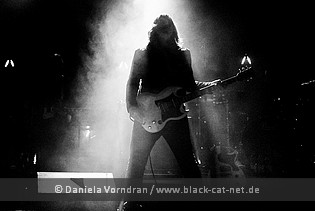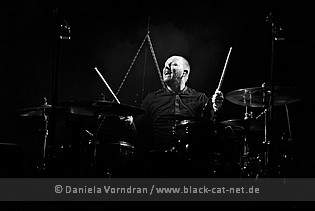 Convoluted organ sounds by the always cheerful Mr Keeler (on his keyboard a mini Eiffel tower was placed) opened the crunchy 'Sit Back Down', being presented by all three vocalists, seeing Mike Bird changing to the keyboards as well. In the background, the LEDs were changing constantly its colours and seamlessly, 'Conflict' was following with its superb sound cosmos. The track was presented by the male singers alone. For 'Violently', Miss Martin was back on board. Her voice met shimmering electronic sounds, resulting finally in staccato guitar riffs. 'Kings of Speed' from 2009 album 'Controlling Crowds' was not as fast as the title makes you assume. But it convinced with intensity and power. Following 'Fuch U' from the 2004 'Noise' album stripped down the instruments first before the song totally exploded. The audience enjoyed this one a lot and celebrated the spherical stomper 'Interlace' when both singers also grabbed their guitars. The vocals of the last piece of the main set 'Bullets' were taken over once more by Mr Berrier while the stage was coloured in cool black light and the logo LEDs were glowing once more. At the very end, Dave grabbed the microphone and under thundering applause, the band left the stage.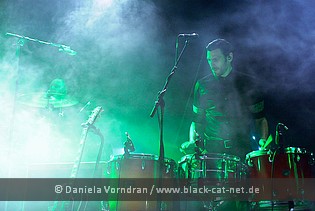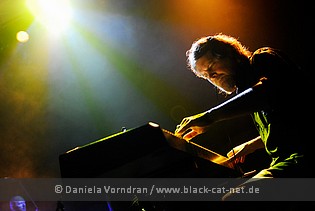 But there was no chance to leave without a good second serving. With 'You Make Me Feel', the band presented a real treat. Usually, Maria Q and Holly Martin are singing this song together. Today, Pollard was taking over the second vocal part – a realisation being more than just a compromise. But of course it would have been great to see also Maria in action. This song, taken from the second studio album 'Take My Head', out 1999, is currently used in a L'Oreal commercial and surely is one of the highlights in the enormous discography of the Trip-Hop / Post-Rock band, who now presented 'Words On Sign' based on solemn piano chords. With the final 'Dangervisit', they increased the power again. For a last time, the band pressed every button to send the fans out into the night with happy smiles on their faces. And the night was not as unpleasant as in November, even if spring not yet totally arrived in Germany. But London based ARCHIVE are used to grey, rainy weather and the all-over successful concert made up for any cloud and inconvenient temperatures.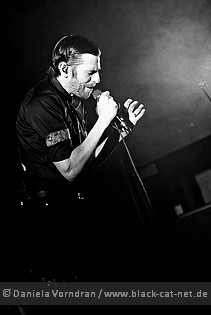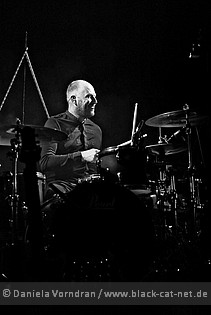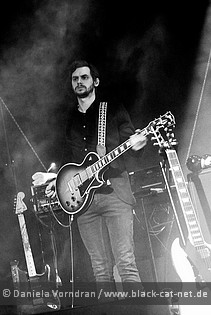 Just like happening in autumn in Cologne, ARCHIVE said goodbye to their audience and will continue their tour in France. In summer, the band will come back to Germany for some festival gigs at Hurricane and Southside festival. And guess what! I will be there to see the band again!

Setlist
01. Finding It So Hard
02. Wiped Out
03. System
04. Hatchet
05. Stick Me in My Heart
06. Conflict
07. Violently
08. Kings of Speed
09. Fuck U
10. Interlace
11. Bullets
---
12. You Make Me Feel
13. Words on Signs
14. Dangervisit

Rating
Music: 10
Performance: 10
Sound: 8
Light: 8
Total: 9 / 10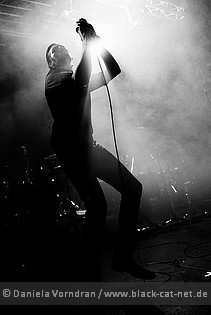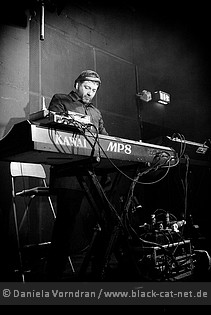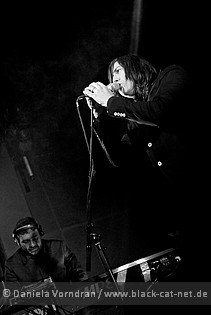 All pictures by Daniela Vorndran (http://www.vorndranphotography.com / http://www.black-cat-net.de/ / http://www.myspace.com/vorndranphotography / http://www.facebook.com/blackcatnet)



See also (all categories):