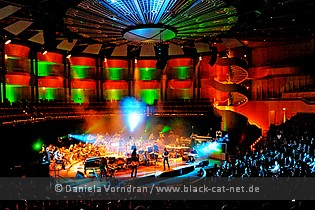 Philharmonie, Cologne, Germany
11th November 2011
Archive & Supersonic Orchestra

It's been 16 years that the ARCHIVE project started around Darius Keeler and Danny Griffiths in 1994. Together with the female singer Roya Arab and the young rapper Rosko John, the band released their first album 'Londinium' on Island Records in 1996. But ARCHIVE was doomed to break up the same year due to internal problems. The bands reformation, however, came to pass already in 1997 with an altered line-up surrounding Keeler and Griffiths with which they recorded and released the follow-up 'Take My Head' in 1999 which in hindsight is described by the band as their least favourite.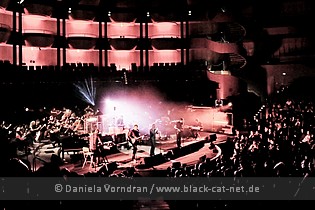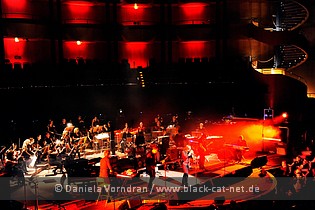 The next three albums, released in the following years brought them back to a more progressive approach to composing their music after the poppy foray with the second album. That back to the roots attitude brought forth milestones such as 'Noise' and a few years later the highly regarded 'Lights'. 'Controlling Crowds', released in 2009 started of a four part conceptual cycle completed within the same year. ARCHIVE is Darius Keeler (synths, piano), Danny Griffiths (keys, samples), Maria Q (vocals), Pollard Berrier (vocals, guitar), Dave Penney (guitar, vocals), Rosko John (vocals, MC), Steve Harris (guitar), Lee Pomeroy (bass) and Smiley (drums). http://www.archiveofficial.com / http://www.myspace.com/archiveuk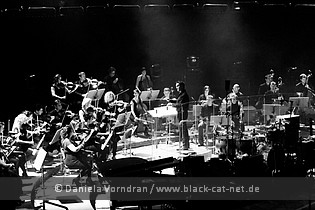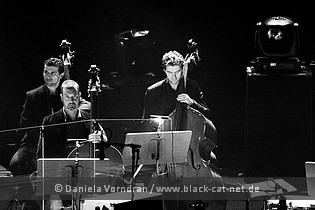 Music & Performance
An evening with ARCHIVE and a philharmonic orchestra it was supposed to be. Everything started out quite promising actually. After finding the venue and a little waiting time, first the orchestra and later the band entered to more than generous lauds from the entire audience! The first chords of the strings revealed then that it was 'Controlling Crowds' to open the evening. Quite honestly the addition of an orchestra added a few extra layers of emotional depth. You really got one chill after the other down your spine in a positive way. Already while the track was still running you could notice slight glitches. At first we thought it might be intentional. Turns out it wasn't and that there was a serious technical problem. So after the first track had been played the band left the stage, saying they were coming back soon. In fact it took about an hour to fix things. An hour we spend with chatting and figuring what might have happened.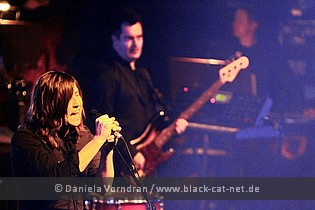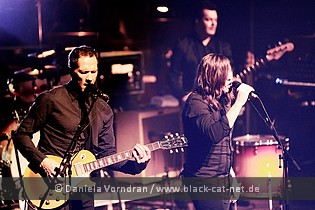 Some people might have just left sick of the waiting and I can fully relate to that. Something like that must not happen. 9:30 PM was not so far away anymore when the band was finally coming back to continue with the set as planned. 'Fuck You' was up on schedule and saw the band rocking the stage while the orchestra remained awfully quite to re-emerge from the shadows with the following 'Sane' which you could see quite a swinging their heads to. It appeared the enthusiasm was still unbroken. Once again Dave Penney delivered an intriguing vocal performance. He had literally left this world and was one with the song. At this point it was sadly time to leave for us. We still had quite a way home ahead of us and if we'd stayed we could just as well spend the night at the train station. What we've seen however was just great. I just hope that someday we'll get another chance without any interruptions.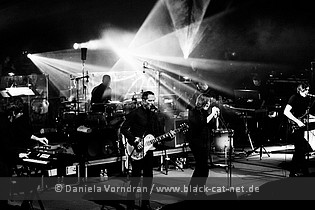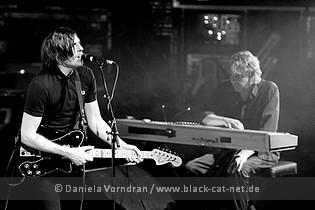 Setlist
01. Controlling Crowds
02. Fuck You
03. Sane
04. Finding it So Hard
05. Bastardized Ink
06. Slowing
07. The Feeling Of Losing Everything
08. Lines
09. The Empty Bottle
10. System
11. Kings Of Speed
12. Bullets
13. Danger Visit
14. Again
---
15. Quiet Time
16. Numb

Rating
Music: 9
Performance: 9
Sound: 8
Light: 8
Total: 8.7 / 10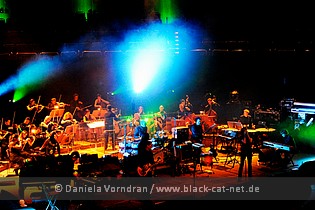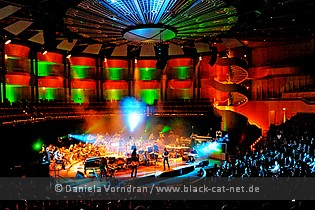 All pictures by Daniela Vorndran (http://www.vorndranphotography.com / http://www.black-cat-net.de/ / http://www.myspace.com/vorndranphotography / http://www.facebook.com/blackcatnet)



See also (all categories):