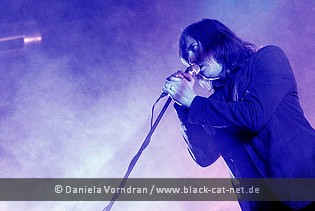 FZW, Dortmund, Germany
1st November 2012
Archive, Coheed And Cambria, Fighting With Wire

With the genre defying Quadriology of 'Controlling Crowds', ARCHIVE had done a return to form turning their focus on big socio-political subject matter. I am mentioning this specifically because with their direct successor 'With Us Until You're Dead' the collective opts for a smaller scale and a more personal perspective on things. In the course of the Visions Westend Festival, ARCHIVE were guest in Dortmund, but they were not playing alone, they brought two other fantastic bands with then, namely COHEED AND CAMBRIA and FIGHTING WITH WIRE.



Fighting With Wire

3 piece rock band FIGHTING WITH WIRE comes from Northern Irish Derry. The band released its debut album 'Man Vs Monster' via Smalltown America Records in 2008. Known for their explosive live shows, the band toured extensively throughout Ireland, UK and Europe, including big festivals like download or Sonisphere. Their second album, 'colonel Blood', was out end of September 2012 via Xtra Mile Records. FIGHTING WITH WIRE is Cahir O'Doherty (guitar, vocals), Craig McKean (drums, vocals) and Jamie King (bass). http://www.fightingwithwire.co.uk / https://www.facebook.com/FightingwithWire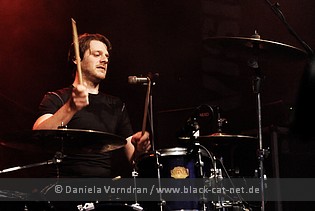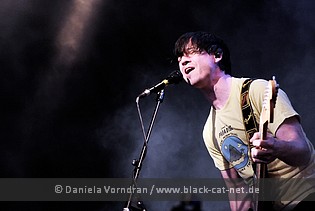 Music & Performance
When the three guys from Derry entered the stage at 8:00, the venue was not yet filled up. But people being already present were eager to check out the band, some of them seemed to know them already. On the other hand-side, there were enough people who did not hear of the band before and I was one of them, being curious what was presented. And let me tell you, the band indeed put on an energetic show, presenting half of the set songs from their current album, including title track 'Colonel Blood', and the other half belonged to stuff from their debut album. Having soon infected present audience, they let people know that they'll be later at the merch stand for some beer… and that they still look for someone showing them the city on the other day since they have a day off. Really a cool start of the evening with well-crafted pop-rock tunes full of catchy melodies

Setlist
01. A Call To Arms
02. Didn't Wanna Come Back Home
03. Waiting On A Way To Believe
04. Colonel Blood
05. I Won't Let You Down
06. My Armoury
07. Make A Fist
08. I Am Ursus

Rating
Music: 8
Performance: 7
Sound: 8
Light: 7
Total: 7.5 / 10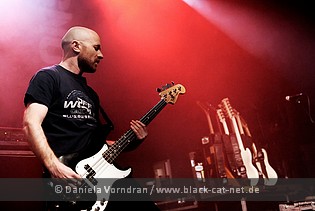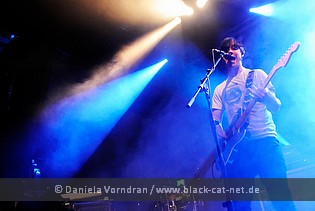 Coheed And Cambria

Formed in 1995, American rock band from Nyack is presenting a mix of progressive rock, punk rock, metal and post-hardcore. So far, the band released six studio albums, besides some live albums and special editions, all being concept albums telling a science fiction storyline called "The Amory Wars" which is a story written by lead singer Claudio. This story has been also transcribed into a series of comic books. The latest album being released is 'The Afterman: Ascension' in 2012. Second part, 'The Afterman: Descension', is planned for release in 2013. COHEED AND CAMBRIA is Claudio Sanchez (vocals, guitar), Travis Stever (guitar), Josh Eppard (drums) and Zach Cooper (bass). http://www.coheedandcambria.com / https://www.facebook.com/coheedandcambria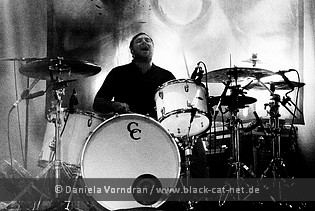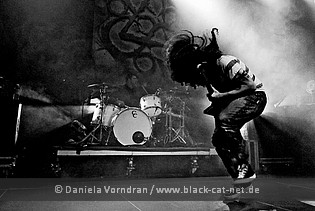 Music & Performance
Now, short before the band entered the stage, the venue was really packed – even more packed than it shall be later when ARCHIVE played their set. Seemed that COHEED AND CAMBRIA have a big following, also in Germany. And this is well deserved since the four guys from USA are able to put up an exciting live show with lots of energy. Influence by bands like Led Zeppelin, Pink Floyd or The Police and integrating various styles including also post-hardcore or heavy metal, the band presents a very interesting musical mixture. Starting with 'No World for Tomorrow', the face of singer Sanchez was nearly invisible during this and the following song, 'Gravemakers and Gunslingers' due to his huge hair. But soon after, he made some tail and you could finally see his facial expressions when presenting the songs or jumping across the stage like mad. The audience was really into the show, celebrating, screaming, clapping and jumping along. When the band left the stage with 'Welcome Home' after 45 minutes, long-lasting applause and screams for encores tried to get them back for an additional song. But there was no time in the schedule and so, the band left for good… and many people did the same since they obviously only cam to see the America quartet.

Setlist
01. No World for Tomorrow
02. Gravemakers and Gunslingers
03. Blood Red Summer
04. The Afterman
05. Key Entity Extraction I: Domino the Destitute
06. A Favor House Atlantic
07. In Keeping Secrets of Silent Earth: 3
08. Welcome Home

Rating
Music: 8
Performance: 8
Sound: 8
Light: 9
Total: 8.2 / 10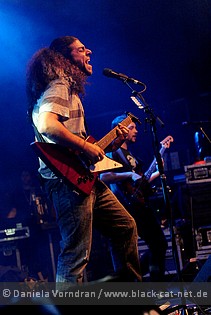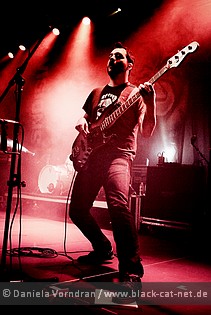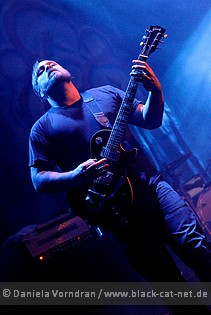 Archive

It's been 16 years that the ARCHIVE project started around Darius Keeler and Danny Griffiths in 1994. Together with the female singer Roya Arab and the young rapper Rosko John, the band released their first album 'Londinium' on Island Records in 1996. But ARCHIVE was doomed to break up the same year due to internal problems. The bands reformation, however, came to pass already in 1997 with an altered line-up surrounding Keeler and Griffiths with which they recorded and released the follow-up 'Take My Head' in 1999 which in hindsight is described by the band as their least favourite. The next three albums, released in the following years brought them back to a more progressive approach to composing their music after the poppy foray with the second album. That back to the roots attitude brought forth milestones such as 'Noise' and a few years later the highly regarded 'Lights'. 'Controlling Crowds', released in 2009 started of a four part conceptual cycle completed within the same year. The latest album, 'With Us Until You're Dead', was released in late summer 2012. ARCHIVE is Darius Keeler (synths, piano), Danny Griffiths (keys, samples), Pollard Berrier (vocals, guitar), Rosko John (vocals), Dave Penney (guitar, vocals), Maria Q (vocals), Smiley (drums), Steve Harris (guitar), Steve Davis (bass), Jonathan Noyce (bass) and Holly Martin (vocals). http://www.archiveofficial.com / http://www.facebook.com/ArchiveOfficial / http://www.myspace.com/archiveuk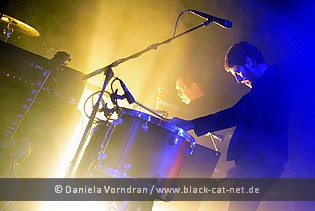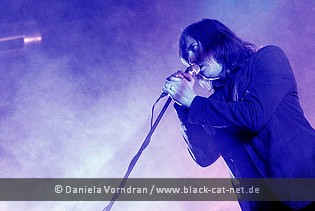 Music & Performance
Thirty minutes rebuilding break were needed before ARCHIVE entered the stage short before 11. Since they were playing in the course of a festival, the band had little less time for their set than usually. Extensively sounding bells opened the concert and soon, first male members of the band entered the stage for the first song, 'Wiped Out', and took their places behind drums, percussions, keyboards, guitar and microphone stands. 'Wiped Out' was an impressive start with a lot of drama and fantastic light arrangements. Soon for 'You Make Me Feel', also the band's two ladies, Maria Q and Holly Martin, entered the stage, accompanied by perfect guitar work, and received huge applause for their performance. Following 'Sane' again was presented by the male members of the band alone while Dave changed from percussions to guitar and vocals, to present a wonderful duet with Pollard. Also following 'Interlace' was based more on the guitar work. For calm song 'Stick Me in My Heart', blonde lady Holly came back to stage to deliver vocals while moody lights were illuminating the scene. In the course of the song, speed grew, culminating in a heavy drum solo and then merging into 'Conflict' when again guitars dominated and people started to move again. 'Violently' came with harsh staccato sound and afterwards it was time for my personal concert highlight, 'Fuck U'. First a bit held back, the song was illuminated with green light, then speed grew and heavy guitars with a thunderstorm of lights were leading the song to its climax while Pollard and Dave vocally perfectly matched together. Following 'Pills', presented by Maria, was very rhythmically accompanied by percussions and people could not stand still.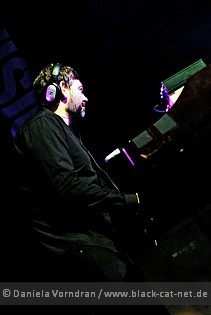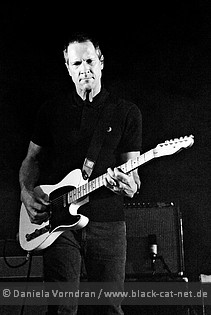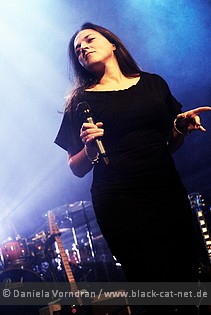 With spoken-work-like chant of Holly, 'Hatchet' was next before 'Dangervisit' brought heavy light flashes. Accompanied by sounding bells again, 'Damage' ended the set after about 1:15. Quite short you might think and people thought so too, demanding more with heavy applause. The bells were still sounding when the band came back for one more song. Sadly, anything was over already and I missed especially the song 'Controlling Crowds', especially after seeing setlist of other concerts of the tour like Cologne, when the band played the song and presented concerts of more than 2 hours length. Curse of a festival that you don't get it all. Anyway, the concert was amazing and ARCHIVE proved that they have much more to offer than the Trip-Hop or earlier years. Underlined with a phantastic light show, they knew how to put up a perfect concert experience.

Setlist
01. Intro: Bells
02. Wiped Out
03. You Make Me Feel
04. Sane
05. Interlace
06. Stick Me in My Heart
07. Conflict
08. Violently
09. Fuck U
10. Pills
11. Hatchet
12. Dangervisit
13. Damage
---
14. Kings of Speed

Rating
Music: 9
Performance: 9
Sound: 8
Light: 8
Total: 8.8 / 10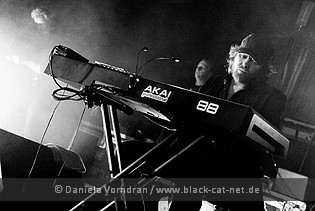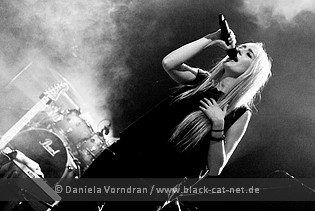 All pictures by Daniela Vorndran (http://www.vorndranphotography.com / http://www.black-cat-net.de/ / http://www.myspace.com/vorndranphotography / http://www.facebook.com/blackcatnet)



See also (all categories):