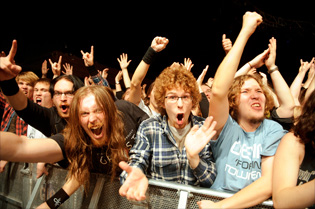 The Circus, Helsinki, Finland
7th November 2012
The Devin Townsend Project & Fear Factory

And again, The Circus - a medium-size venue in the heart of Helsinki - hosts a big project. DEVIN TOWNSEND is a widely known Canadian musician who started to play banjo at the age of 5 and got his first electric guitar at 12. He has a very rich and colourful biography, and had experimented with many styles, from heavy styles to a light ones. Presently he ended up with a band called THE DEVIN TOWNSEND PROJECT. The project began in 2008, about the same time Devin cut off his trademark hair and gave up drinking, smoking and using drugs.



Fear Factory

Devin is always welcome in Finland, and in recent past he was coming here as much as two times per year. The reason why it happens so often became obvious the moment I entered the hot club: a tremendous attention. Not only club was packed, but Devin made two shows in a row of two days, with first one catered for children audience. (The club is built so that it is impossible to separate drinking area from the main floor, so it apparently was not an option to let under-18 in otherwise). Devin is co-touring with FEAR FACTORY, an American industrial band. Sound of the band sounds more like trash. At the gig, listeners reported that the vocals was a bit off at times, but band made a strong performance while band was barely seen on stage. The band had a full hour playing.

Rating
Music: 7
Performance: 6
Sound: 7
Light: 2
Total: 5.5 / 10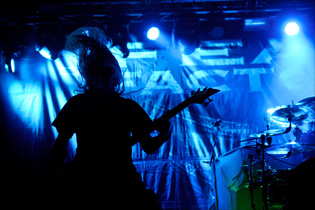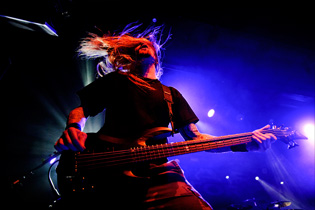 The Devin Townsend Project

I seen indeed a couple of people leaving this quite expensive gig after FEAR FACTORY, but it was clear that people came for DEVIN. The crowd increased towards the beginning of the show, so it even became difficult to move around the club. For those interested, DEVIN neither brought Anneke van Giersbergen with him, nor Ziltoid "presentations". A video projection remained in place but did not played any part in the show. It is again difficult to describe in words what you would hear at the gig. Some bands think that play hard and loud is enough. It is not just that, and DEVIN knows that well. I read that DEVIN experimented in records in some special effect, a wall of sound. This is what you will hear for sure. Very technical, focused, powerful rhythmic sound, heavy at its best, complemented by metal vocals of DEVIN and his trademark outstanding gesturing and making faces onstage.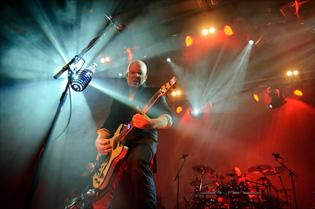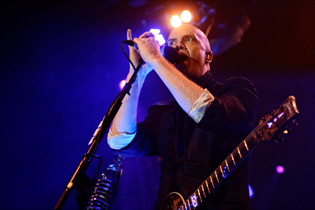 The crowd went wild from the first song, you simply can not expect the situation when people start shouting at 10th song here. It's 10th second, when people start go nuts. Can not really tell if the light was great again, as it was largely aimed at audience. That was more than happy. Thanks DEVIN, till next time!

Setlist
01. Supercrush!
02. Kingdom (Devin Townsend song)
03. Regulator (Devin Townsend song)
04. Truth (Devin Townsend song)
05. Planet of the Apes
06. Where We Belong
07. War (Devin Townsend song)
08. Colonial Boy (Devin Townsend song)
09. Vampira (The Devin Townsend Band cover)
10. Lucky Animals
11. Juular
12. Grace
---
13. Color Your World (Devin Townsend song)
14. Bad Devil (Devin Townsend song)

Rating
Music: 8
Performance: 10
Sound: 9
Light: 7
Total: 8.5 / 10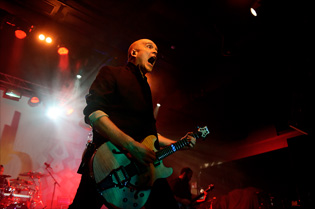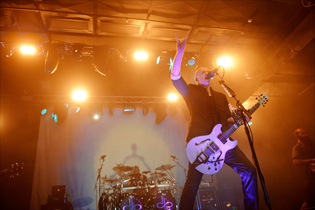 Full Gallery


Warning: No images in specified directory. Please check the directory!

Debug: specified directory - https://www.reflectionsofdarkness.com/images/concert/2012/november/devintownsend20121107
All pictures by Askar Ibragimov
See also (all categories):